Laurence Graff. Maestro of The Jewelry World
British billionaire Laurence Graff, whom connoisseurs of the jewelry business called new Harry Winston, the last romantic, maestro of the jewelry world, has still sometimes become, by his own admission, frozen in delight at the sight of impressive stones. Laurence Graff argues that diamonds is the most sensible luxury that saves money and his main objective is finding new gems for constant clients, rather than new customers. So Graff stands in splendid isolation at the height of the upper segment of the jewelry industry.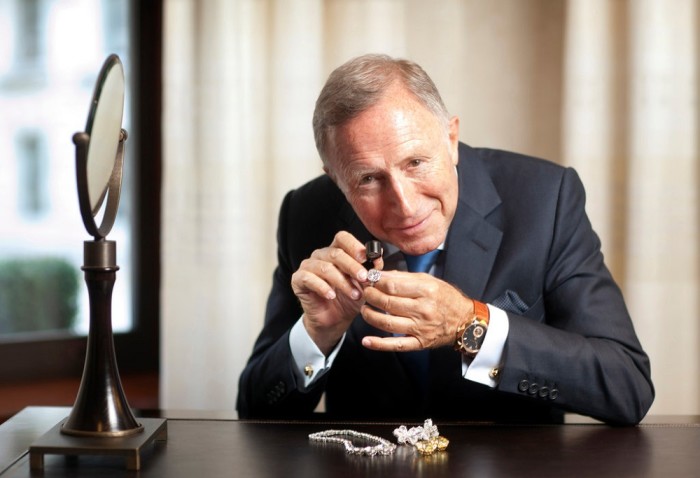 Laurence Graff
In his advanced age, Graff remains Chairman of the Board and Director of Graff Diamonds International and does not think to leave. Laurence himself still goes to each important deal. And this incredible diligence is the secret of his success. Graff himself defines it as follows: "Yes, Graff's business is successful, because I have excellent managerial capacity, there is no doubt. Which other showroom can client attend and see the brand's owner behind the counter? The risky steps I took were often rewarded. But besides the fact that I'm a businessman, I'm also an artist, a connoisseur of the finest gemstones in the world. Who is more in me? These are two equivalent components of the Graff company.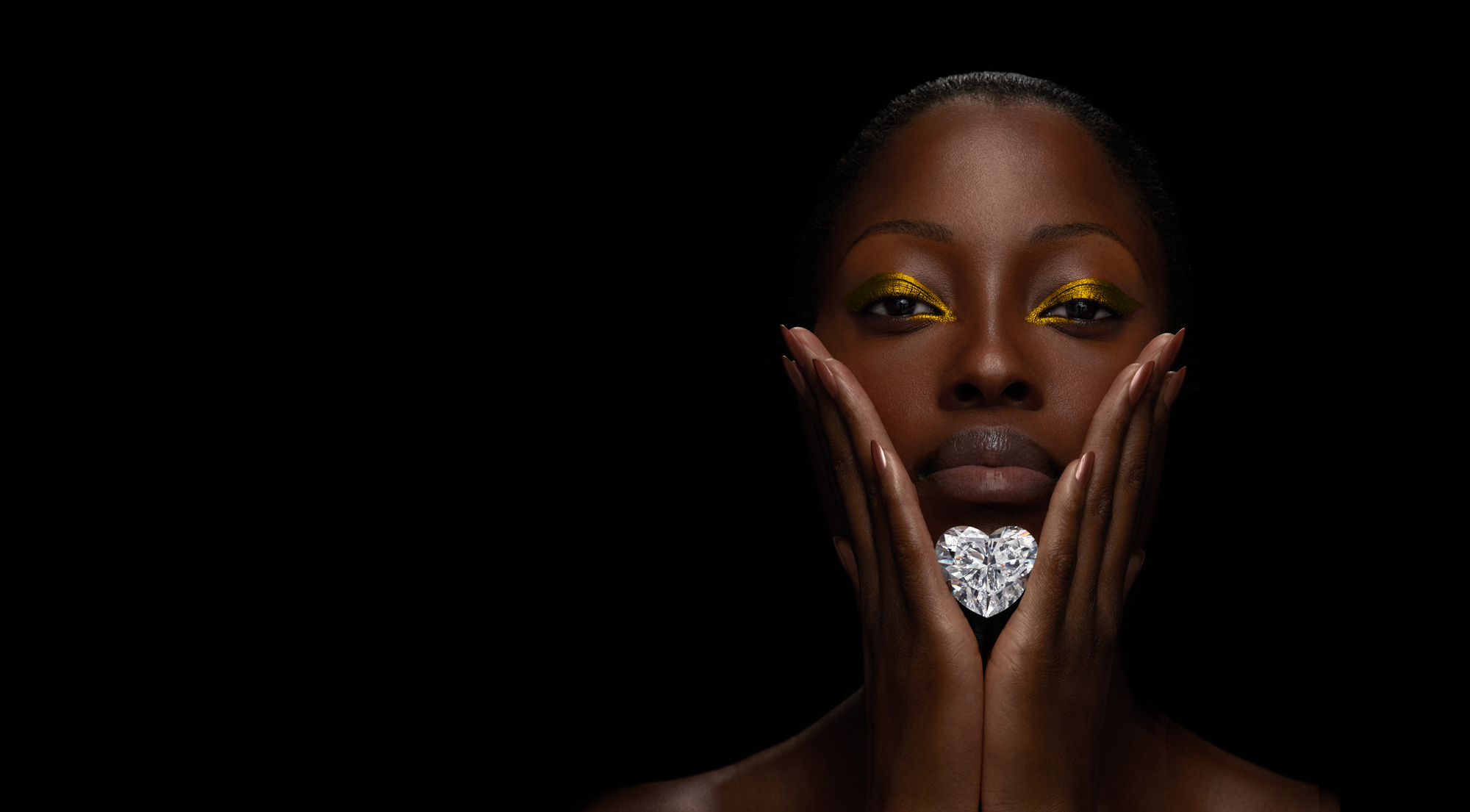 Graff Diamonds
The world's largest diamonds are transformed in the hands of Laurence Graff into jewelry that just a shame not to flaunt it. The latest record-holding purchase of the Lesedi La Rona 1109-carat diamond, in September this year for 53 million United States dollars, well reflects the atmosphere surrounding his business, which is located in the most expensive segment of the jewelry industry. Also, according to Graff Diamonds International, the company had to redeem a part of the diamond "Lesedi La Rona" weighing 373 carats.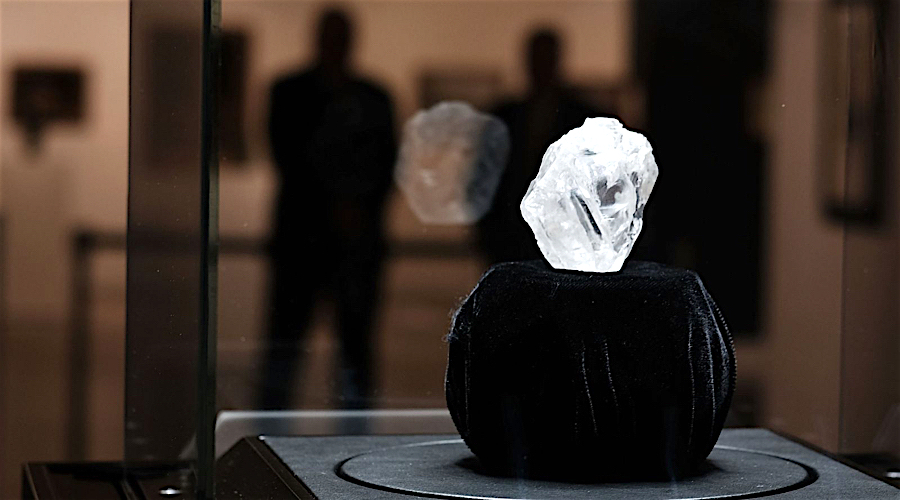 The Lesedi La Rona diamond.
Laurence Graff is the best illustration of the English dream. Once Laurence Graff cleaned toilets in London, and now he's 79-year-old pride of the British Empire, owner of the world-famous brand and 15 shops in the most expensive cities in the world — from Monte Carlo and Dubai to Moscow and personal fortune more than four and a half billion dollars. Graff sells stones of unprecedented magnitude and of excellent quality, assuring that the average purchase price in his showrooms is four hundred thousand dollars. According to this indicator it easily bypasses such esteemed competitors like Cartier, Harry Winston, Van Cleef & Arpels and Tiffany.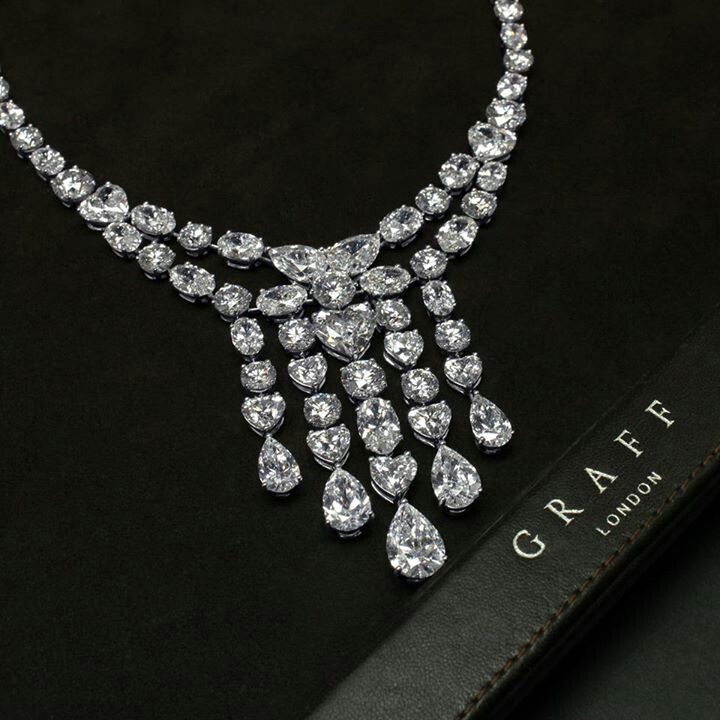 Graff's family lived in Tsarist Russia. His grandparents, the Jews, were forced to leave their native Kyiv after a wave of pogroms. Their grandson Laurence was born in 1938 in a poor district of Stepney of proletarian East End in London, and it is known a little about the past of his family: relatives preferred to forget about it. There were not enough earnings of tailor father Harry Graff and Romanian mother, the same emigrant, who held the tobacco shop. Before leaving for war, Harry Graff managed to open a small confectionery shop next door to the house.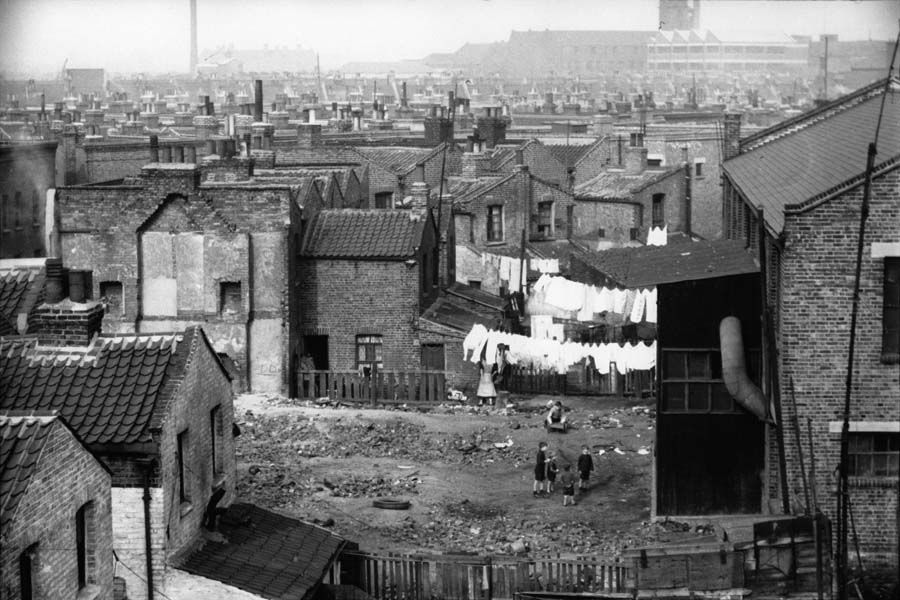 East end, London, mid-1930s.
And here, Laurence Graff decided his future quite early: in his 14 years, in 1952, Laurence did so badly at school that his family demanded that he quit school and went to work. The first work of the future billionaire became an apprentice position (including cleaning floors and toilets) at jeweler named Schindler in London's Hatton Garden, the historic center of jewelry. Laurence lasted only three months, after which he was fired, but it was exactly here for him to see the precious stones and realize what he wants to do in his life. Laurence soon finds a new job, where he is taught to select, cut, polish, set the stones and to work with gold. Three years after, he became to restore articles, and then make jewels.
When Laurence turned eighteen, he persuaded one of the older companions take him as an apprentice in the new case. When their debts to suppliers have exceeded six thousand dollars, Laurence persuaded his older partner to give his debts, together with his business. By 1960, having reached the age of 22, Laurence wasn't afraid to start his own business, by having founded Graff Diamonds company and when he was 24, he has already owned two small jewelry shops in London. However, Laurence was unable to persuade leading the London Jewelers to buy his professionally made, but faceless jewelry. And he went into the path. With jewelry worth of $1000 in black leather briefcase Laurence Graff appeared at the Mall at Robinson & Co in Singapore. Having accustomed himself, he began to hold monthly sale exhibitions there.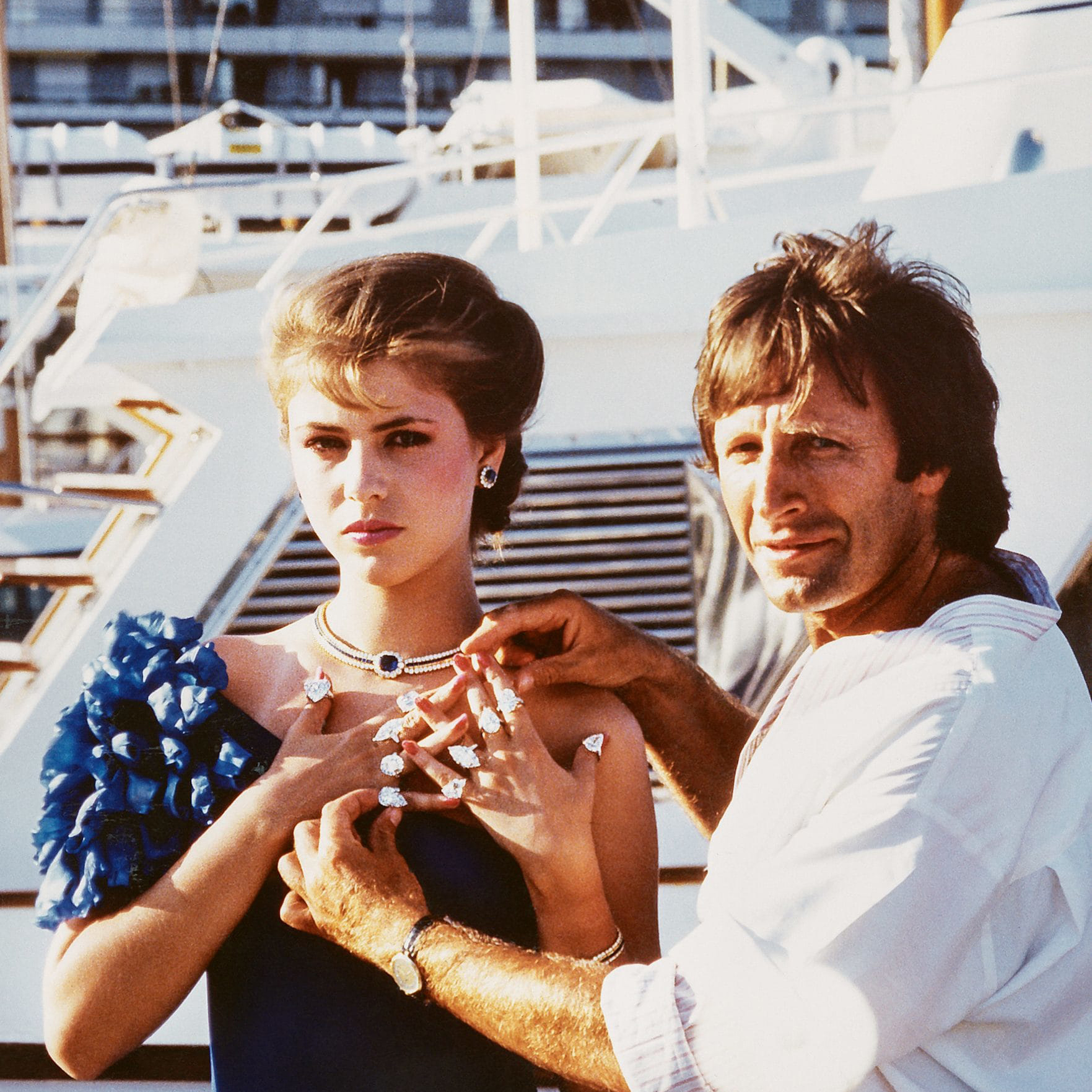 Laurence Graff on the yacht in the Principality of Monaco in the 1970s,
with a model wearing jewelry from Graff
It is in Singapore he met his first important clients — heir to the 20 billion fortune, the Crown Prince of Brunei Hassanal Bolkiah and his wife, well-known collectors of art and jewelry, and became literally the Court Goldsmith of the Royal family, which for twenty years has purchased diamonds from Graff to the amount of tens of millions of dollars. From 1966 to 1986 year Graff visited Brunei at least once a month, he was taken to the Royal Lodge at polo matches, and was given Aston Martin to travel around the country. And, needless to say, during all these journeys he was accompanied by a briefcase with diamond jewelry. In a rare interview, Laurence admitted that he owes his fortune to the Sultan of Brunei, and by the way, not only to him. Many wealthy persons from India, Malaysia and China made their choice in favor of Graff jewelry.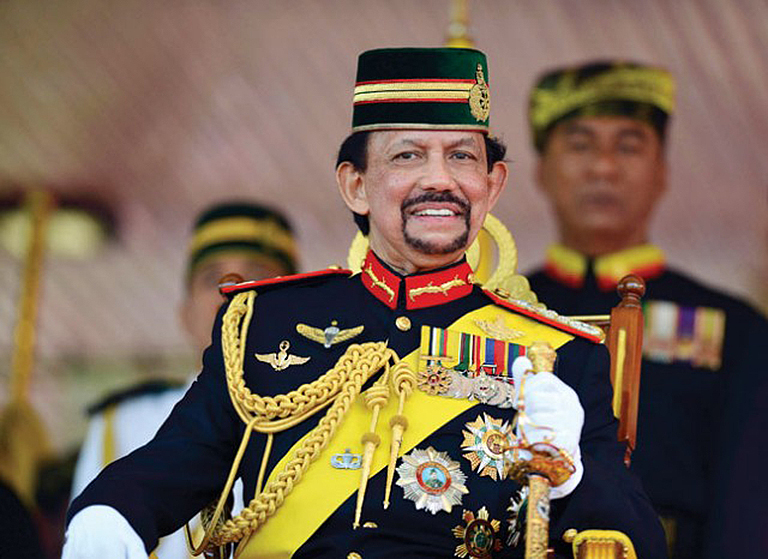 Brunei Prince Hassan Bolkiah
In 1966, Graff's bracelet with diamonds, emeralds, amethysts gets the prestigious Diamond International Award, the first of the company's future ones. Laurence Graff soon becomes one of the largest buyers of diamonds. In the 1970s and the 1980s, the representatives of Diversity Jewellery Ltd came to him with diamonds twice a week. The goldsmith chose the best stones out of them, created jewels and started on a journey with suitcase, the contents of which were already millions worth. In the 1970s, Laurence was a regular visitor at the Middle East, where many oil millionaires had appeared. The Arabs began to fly to London and flush with oil money. Graff is able to please a client. Laurence becomes "one of the lads" for this public. "If they needed a doctor, I found a doctor. If they needed a car, I found it. Princess of Saudi Arabia went shopping and then came to my office to change," he recalls.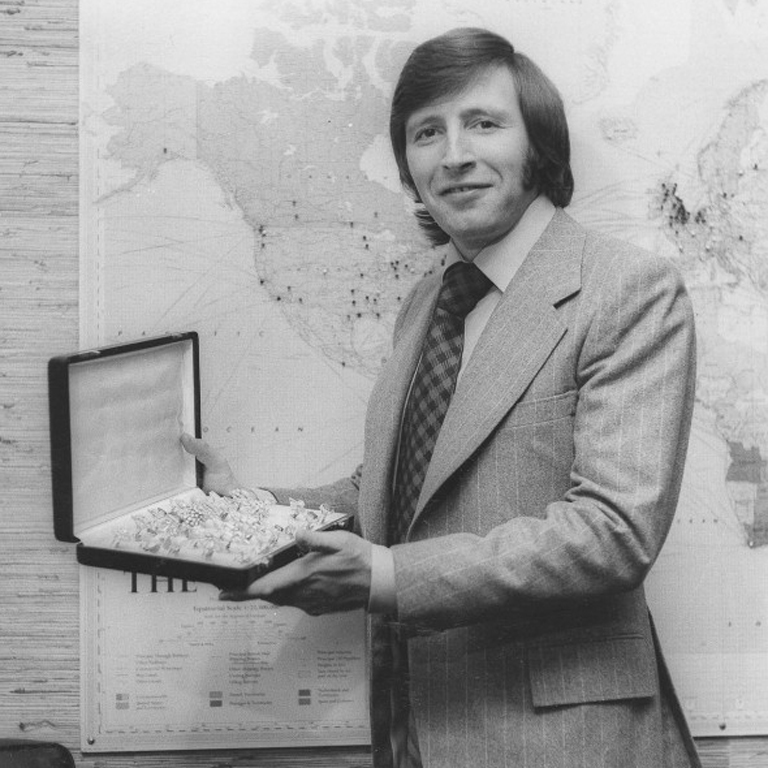 Laurence Graff.
Graff will be awarded with his first order by the British Queen Elizabeth II in his thirty-five. The entrepreneurial activity of Graff in the Middle East, Singapore, Malaysia, the Philippines, Australia, India, and later in Hong Kong and Japan was so successful that in 1973, he became the first British jeweler, who got The Queen's Award for Enterprise for the development of trade, and won it three times, in 1977, 1994 and 2006.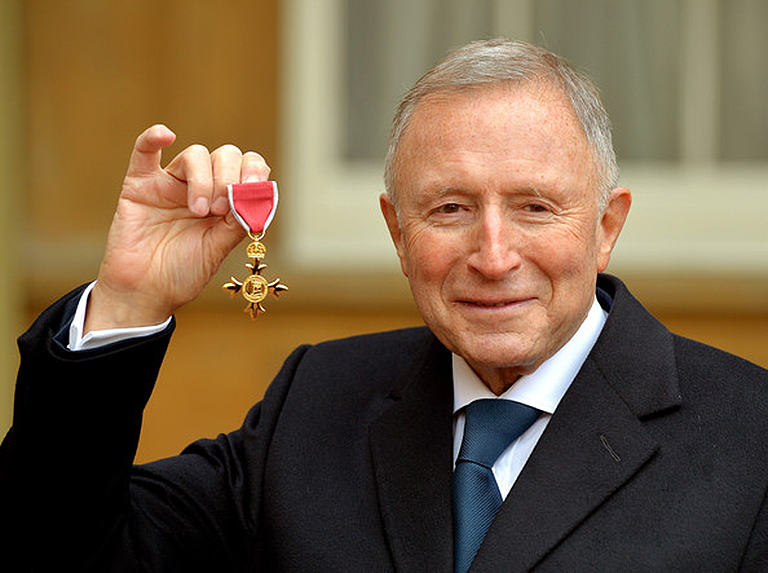 Laurence Graff with the order of the British Queen.
In 1974, Graff opens a full shop close to Harrods in London, having closed the existing two small showrooms. Once without notice, Saudi Arabia's Prince Turki Bin Faisal Al Saud went in his shop, as Graff recalls, "he bought up the entire range, including the largest of my diamonds, which was 14-carat one." By the early 1990s, when oil money stopped flowing like water, and the Sultan of Brunei has reduced his spending on jewelry, Graff decided to upgrade his showroom in London. In 1993, Laurence moved it to New Bond Street in Mayfair district. The guest of honor at the opening of the boutique will be Prince Michael of Kent.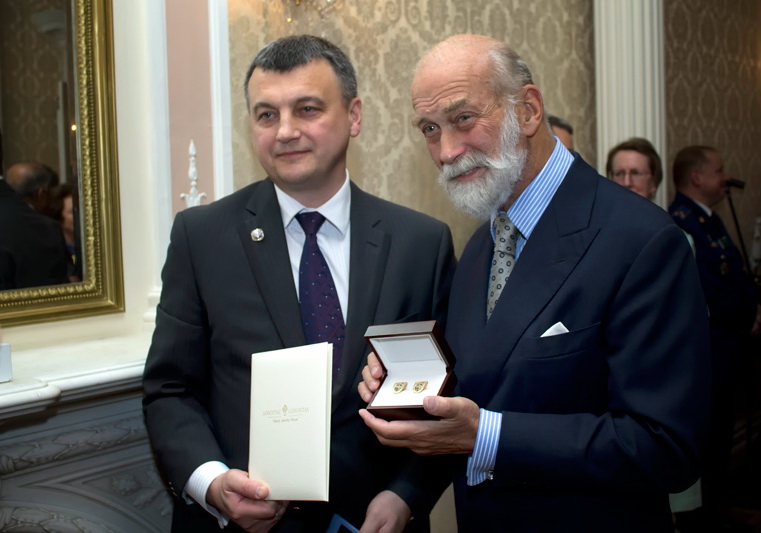 Prince Michael of Kent and Igor Lobortas, Classic Jewelry House "Lobortas".
The Graff's next step was to approach the American market, where a half of all world's diamond jewelry is sold. His competitors, Cartier and Van Cleef & Arpels, by that point had already been bought by the Richemont conglomerate. Harry Winston, the leading diamond brand of America, was plunged into chaos after the death of its founder in 1978 and subsequent litigation between his sons Ronald and Bruce. "There was nobody at the top of the pyramid. All of our competitors have ignored this segment of the market," Graff recalls.
With the 2001, Graff opens showrooms in New York, Chicago, Las Vegas (in the institution, owned by Steve Winn, the King of Gambling) and Florida. Eccentric American billionaire Donald Trump becomes one of Laurence's first clients. Graff and Trump have much in common: they are both charming and presumptuous, roughish, boastful and loving all the great. In 2004, it was not surprising that Trump ordered an engagement ring of one million dollars' worth with a 12-carat diamond from Graff for his third wife, Slovenian supermodel Melania. "Laurence is an outstanding jeweler," says Trump. "The quality of his gems, level of service and reputation is beyond praise."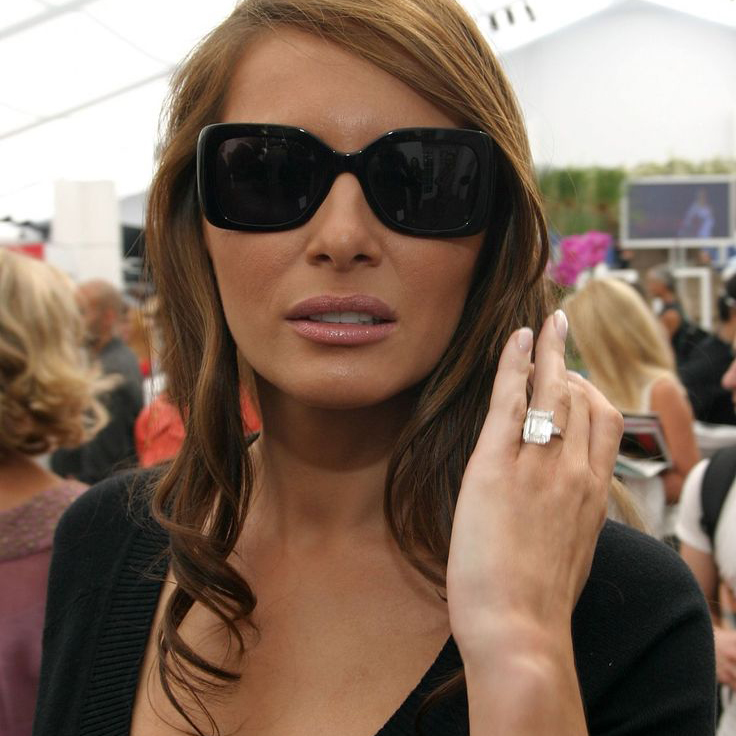 Melania Trump
The most famous and largest diamonds in the world including Idol's Eye (71.21 carats), the Hope of Africa (115.91 carats), Paragon (137.82 carats), The Star of America (100.57 carats) and Light of Letseng (102.79 carats) passed through the hands of Laurence Graff. Today the goldsmith has one of the world's most impressive collections of precious stones, which, according to experts, is one and a half billion dollars' worth. Even the audacious heist of the boutique in London in 2009, when the criminals took the jewels costing 65 million dollars, didn't give a death blow to Graff.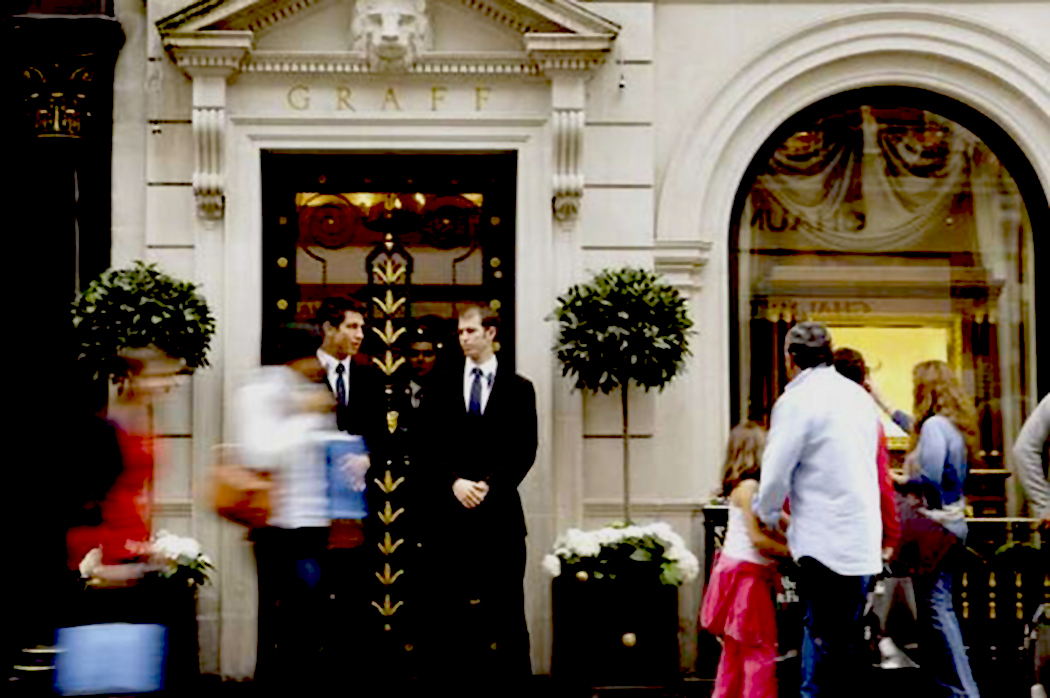 Graff. London.
Laurence still personally supervises every aspect of his business, including marketing. He does not intend to sell a business or even a fraction of it, although private investment funds are now actively investing in British jewelry houses Garrard and Stephen Webster.
The number of people with the surname Graff in business grows. The jeweler has already taken three members of his family, including son François, holding the second position in importance today in the company of Graff Diamonds International. According to Graff, in the end, he will lead the company.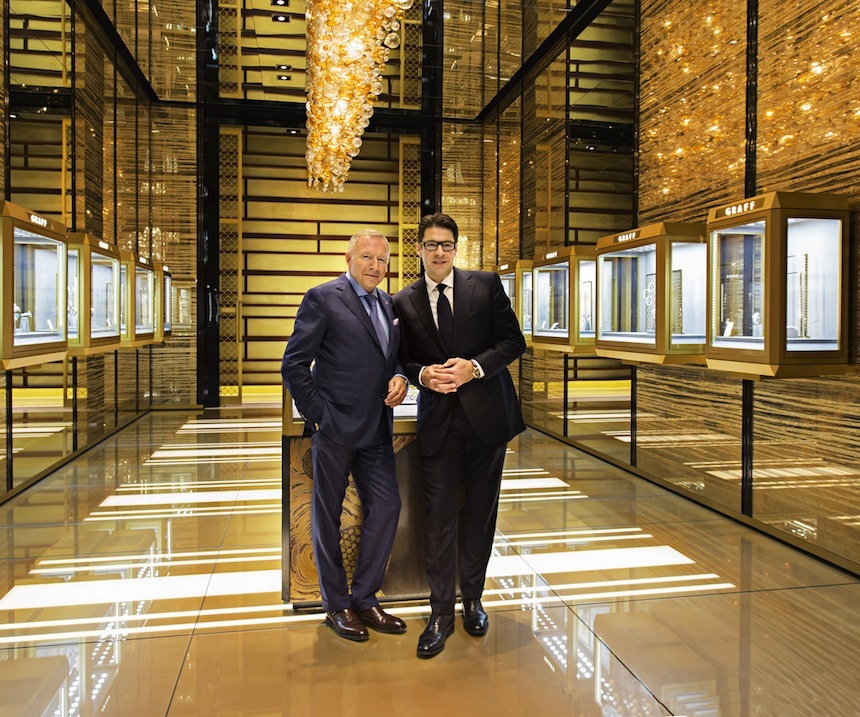 Laurence Graff and his son François.
Empire created by Laurence Graff is impressive. In addition to a completely private Graff Diamonds International, the vertically integrated company that unites the whole chain: from production and wholesale to cutting and retail sales, Graff owns a controlling stake in South African Diamond Corporation in South Africa, which is engaged in mining, cutting and polishing of diamonds, and has offices and workshops in Johannesburg, Antwerp, Mauritius and Botswana. In the same place in South Africa, in Stellenbosch, Graff owns the Delaire Graff Estate, wine farm, hotel with spa, the lion's park and crocodile farm. Today there are fifty-five boutiques worldwide, selling Graff jewelry and watches.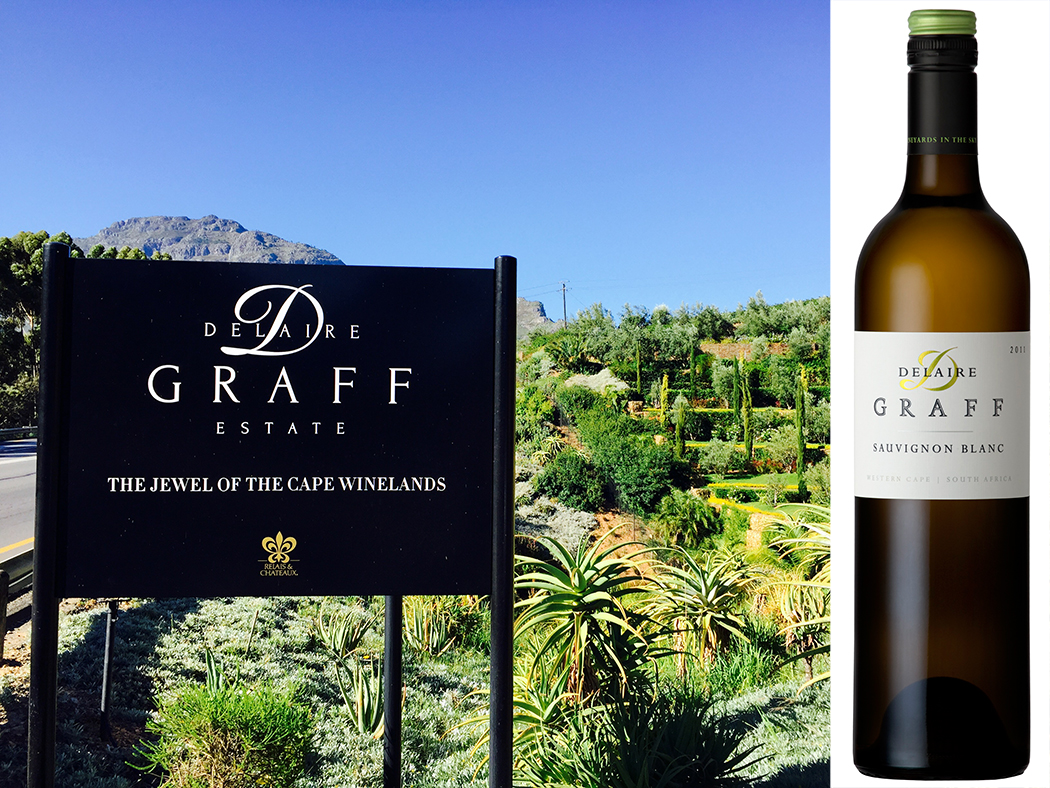 Graff's wine farm Delaire Graff Estate.
Most of the time the businessman is living in a mansion in Gstaad in the Swiss Alps with his wife Frenchwoman Anne-Marie, and their three children. In addition to the mansion, Graff owns real estate in Switzerland, as well as houses in London, at Cap-Ferrat in France and in New York. Approximate cost of one of his collection of modern painting, containing Picasso, Warhol and Basquiat, amounts to more than $250 million. Between his lots of holdings, Graff plies in his 45-meter Feadship yacht or private plane Global Express XRS.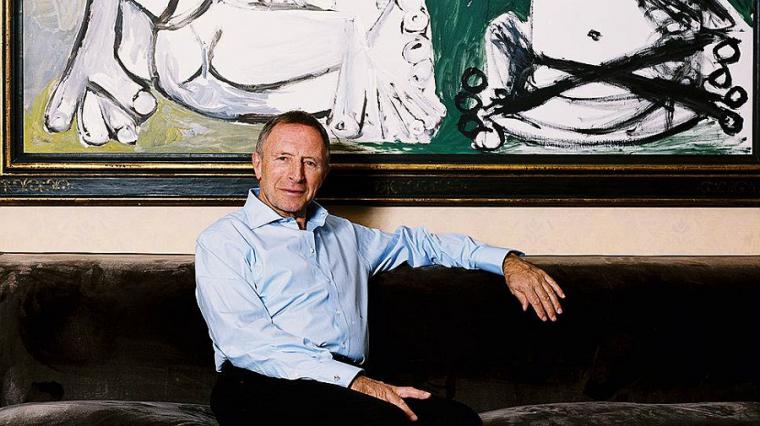 Laurence Graff.
Laurence Graff's perseverance and determination, with which he ran hard with a goal against all the odds, sometimes stumbling and falling, but once again rising, driven by his unwavering faith in himself and in the future, deserves special respect.
"Diamonds go through generations. But the best moment in their lives is when they turn into jewelry. Them, as a work of art, it is necessary to exhibit on display and not hide in a safe." Laurence Graff.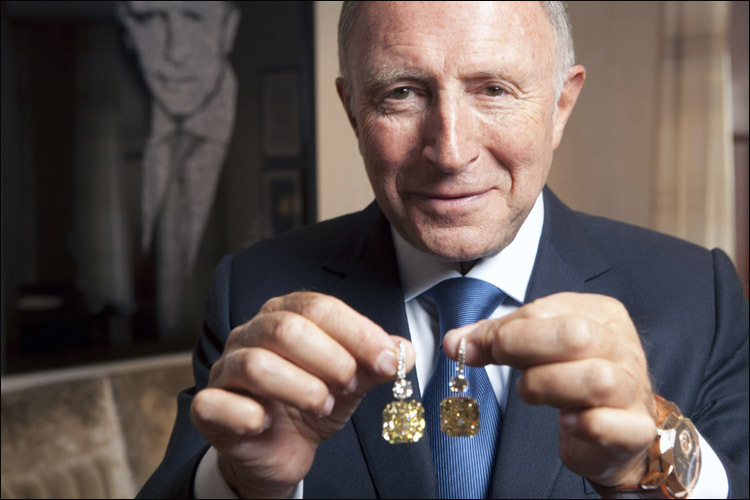 Laurence Graff.