The Cartier
Рart one
By the beginning of XX century, Cartier Jewelry House was quite well known in France, its family dynasty had had three generations already. Cartier family did not so much prosper, but still didn't live in poverty and they were completely satisfied with their lives. Until in 1900... for curiosity's sake, three young men – Louis, Jacques and Pierre (Cartier in the third generation) – took part in the World Exhibition in Paris. And there they saw fifteen Easter eggs with secrets of masterly, dizzying work and unprecedented hitherto small mechanics.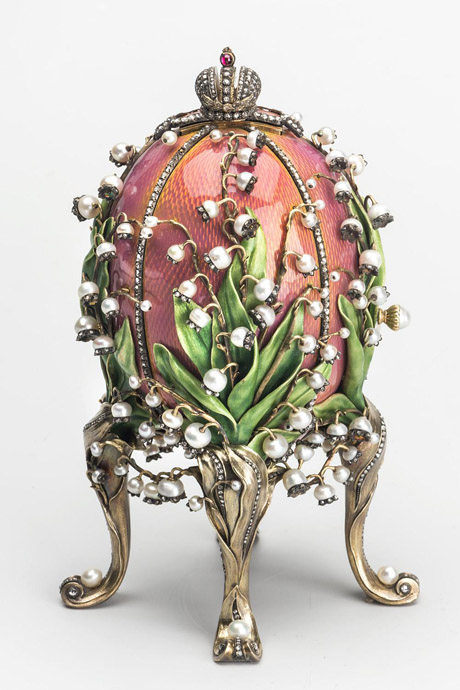 Easter egg of Lilies of the Valley. The firm of Carl Faberge.
The Gift of Emperor Nicholas II to his wife Alexandra Feodorovna
on Easter 1898. Saint-Petersburg. Photo: Fabergé Museum.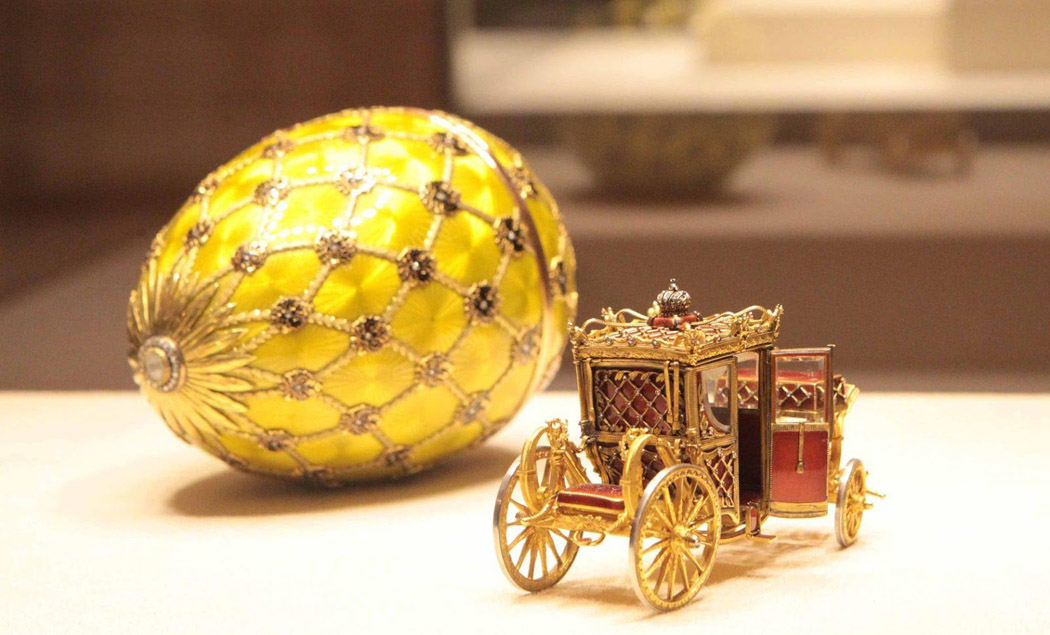 The Imperial Coronation egg. The firm of Carl Faberge, 1897.
It was made in memory of the coronation ceremony of Nicholas II in 1896.
It is necessary for such an ill luck to happen: this year the Russian jeweler Carl Faberge decided to present his collection to the court of France, and it did make a splash. All France started talking about the Russian jeweler. They talked about a jeweler from the Russia, where there cannot be anything except for forests, bears and drunken men according to the deepest conviction of the most of France! Moreover, at the same exhibition, the young artisan Eugene Faberge, as young as Louis, became a member of the French Academy of Fine Arts. The Cartier brothers' pride was hurt.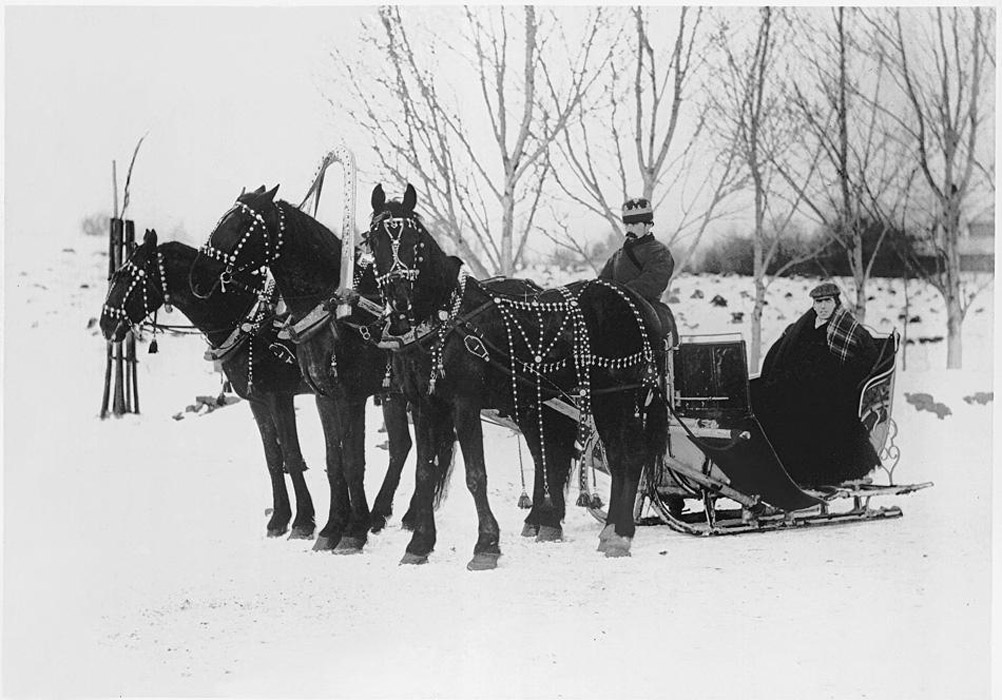 Cartier on their first trip to Russia, 1904.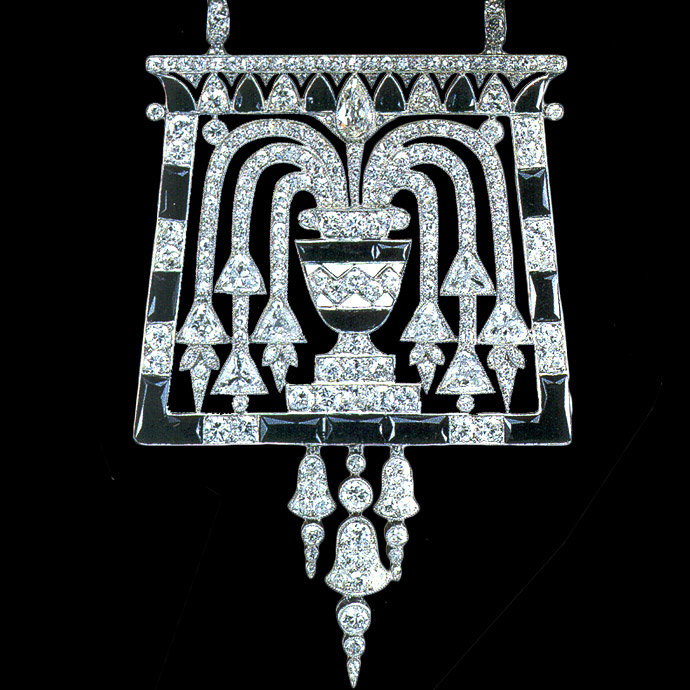 Pendant in Egyptian style. Cartier, 1913. The motif of the vase with flowers in the "architectural" frame.
Diamonds, onyxes, platinum.
The 1900 World's Fair really pushed the Cartier House to the development. Although people wore delicate and expensive gadgets produced by the firm of Cartier with pleasure in prudish England, that success was not enough for ambitious young men. In addition to expensive household items and jewelry, there appeared engineering "toys" striking not only with the beauty and elegance, but also with uniqueness. As for the quality, it could be vouched for. In the House of Cartier, there was an indisputable law: jewelry that did not meet the high criteria was destroyed.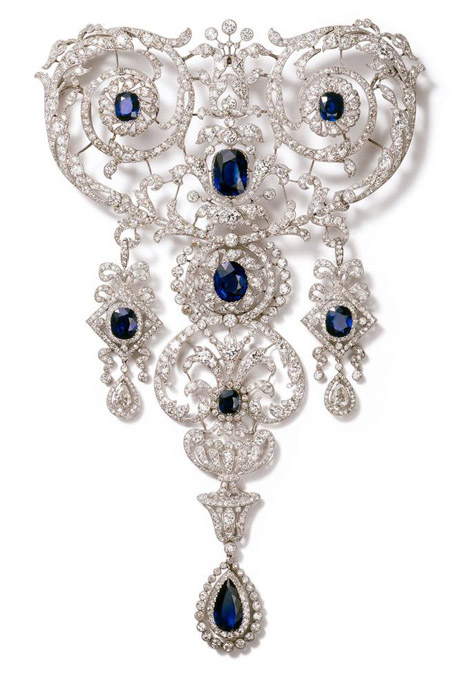 Corsage adornment. Cartier Paris, 1907. 21 x 12.9 cm. Platinum, old European cut round diamonds, rose cut diamonds, pear cut sapphires, seven (antique) cushion cut sapphires. This corsage decoration is a great example of the Cartier's "garland" style.
In 1906 and 1907, Louis Cartier created two Easter eggs. In 1912, one of them was bought by the Municipal Council of Paris, in order to be presented during an official visit to Russia as a gift to Emperor Nicholas II. It should be noted that both Easter eggs were made exclusively. Apparently, in the manufacture of traditional Easter gifts, there was not only a desire to compete with the skill of Russian jewelers. Russia rich and greedy for overseas curiosities was interested in Cartier house as one of the greatest markets. Infiltration tactics on the Russian market was worked out politically correctly and carefully. Before opening a permanent store in St. Petersburg, it was decided to hold several exhibitions. The first one took place in 1907. High quality, original ideas, excellent enamel and talented cut... not only Cartier could boast of such things. Therefore, in the Russian market it was necessary not so much to please as to bewitch, to charm.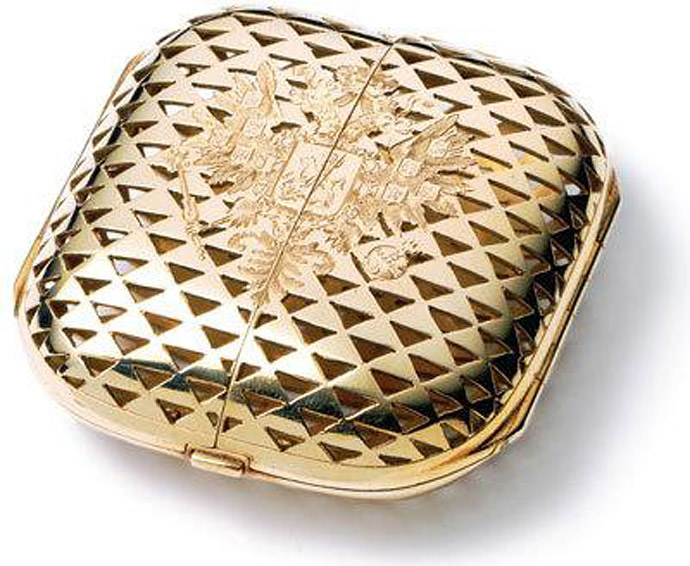 Louis Cartier admired the luxury of the Russian court<br
The works of the House of Cartier fell to the taste of the Russian aristocracy. However, Russian princes were in no hurry to shower foreign jewelers with gold. Neither the reception in Tsarskoye Selo, nor talks with the Emperor and Empress made a proper stir around the purchase of jewelry by Cartier. Russia amazed, groaned, sighed. And paid the money to others. And only after Cartier established the exhibition to be held twice a year in the St. Petersburg, the Northern Pearl fell. But as soon as the House of Cartier gained new fans, it lost them. In 1914, the World War I broke out, followed by the revolution in Russia.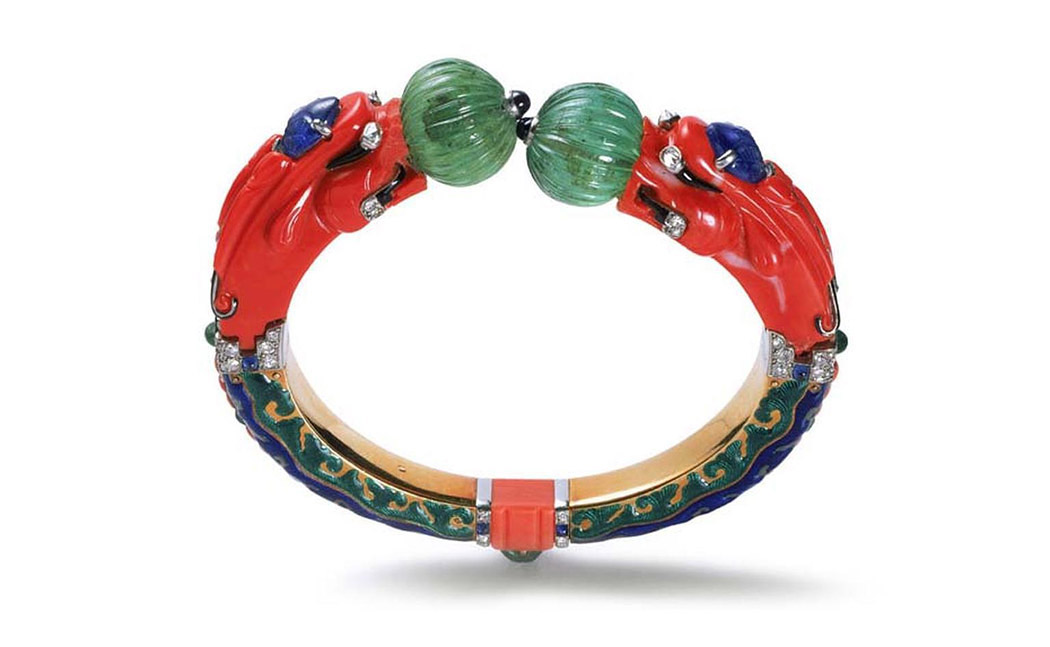 Bracelet of Ganna Walska. Cartier, 1928.
The company sought to produce works out of time, and not for the sake of fashion. Art Nouveau and symbolism popular at the time mixed everything. But at the same time, with a firm hierarchy of genres, chilling freedom of search has gone with them as well. The Cartier brothers deliberately rejected the Art Nouveau style as imperfect and repeating itself in drawings, in florid lines. And they both deepened in studying the art of eras passed. Louis Cartier was engaged in a thorough study of the XVIII century, sent his assistants to Paris to draw all kinds of decorations and ornaments in architecture, studied Oriental patterns, curves forged fences. A style of Garland was thus created.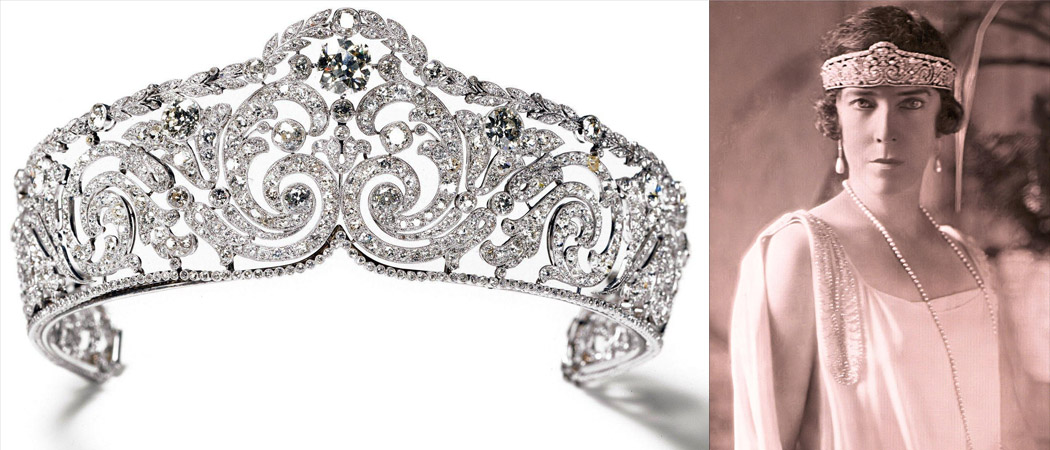 Tiara of Elisabeth of Bavaria, Queen of Belgium. Cartier Paris, 1910. Height in the central part: 5.5 cm. Platinum, cushion (antique) cut diamond, old round diamonds of old cut, millegrain setting.
Charles Jaco, whom Louis Cartier hired to work in 1909, was fond of the art of Egypt, India, China, Japan, Muslim countries as much as Cartier Sr. Together they created a series of jewelry pieces. Their work surprisingly organically complemented and emphasized the beauty of the female body and costume, claiming to be an independent piece of art. Creative thought and complex technical work were out of competition. French artisans of Varangos and Trevi, and Russian ones Svechnikov, Werfel, Ovchinnikov cut and carved stones for Cartier.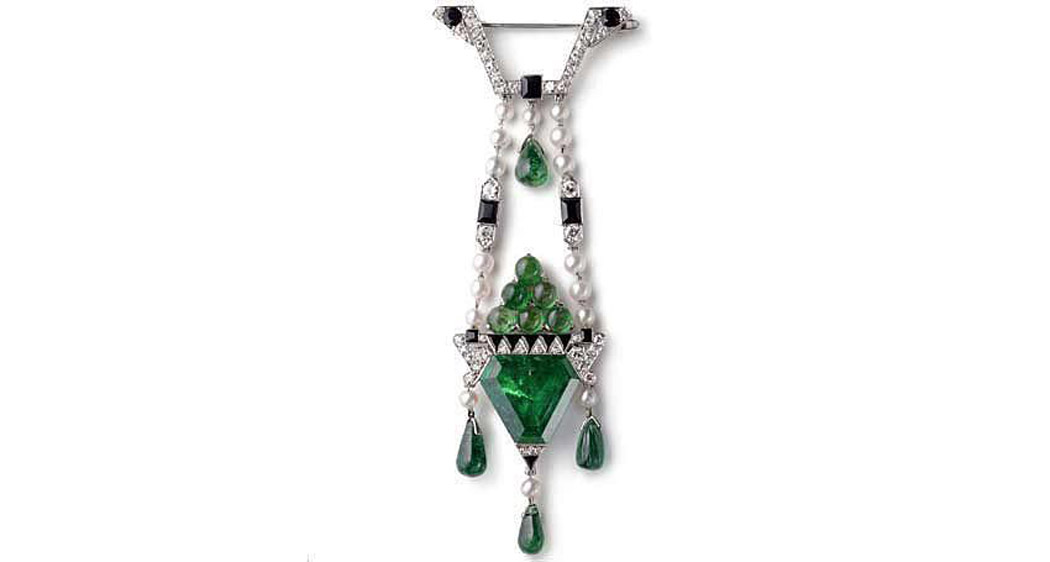 Emerald diamond brooch. Cartier, 1913.
This brooch combines classic Parisian style with more avant-garde features
to create a modern piece of jewelry.
Louis Cartier, who admired the work of French watchmakers of the XVIII century, decided to seriously engage himself in the manufacture of watches. Firstly, he ordered the clockwork from some firms for the clock having a Louis XVI-styled rotating face and a small enameled clock.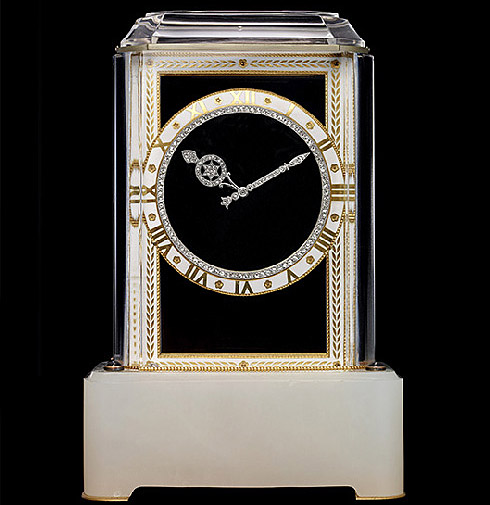 Model A table clock. Cartier Paris, 1914, made in Paris in 1914, is one of the earliest "mystical" models by Cartier. Platinum, gold, rhinestone, white agate, sapphires, diamonds, white enamel. Were sold to Count de Griffulis. Photo: Niels Herrmann, Cartier Collection © Cartier.
Then came the wristwatch. Watch bracelets, however, were considered practical, but not too aesthetic among the elegant public. Therefore, the House of Cartier also produced pocket watches. Long sleeves and long evening gloves were out of fashion by 1900, and watch-bracelet, a novelty by Cartier, came at an opportune moment.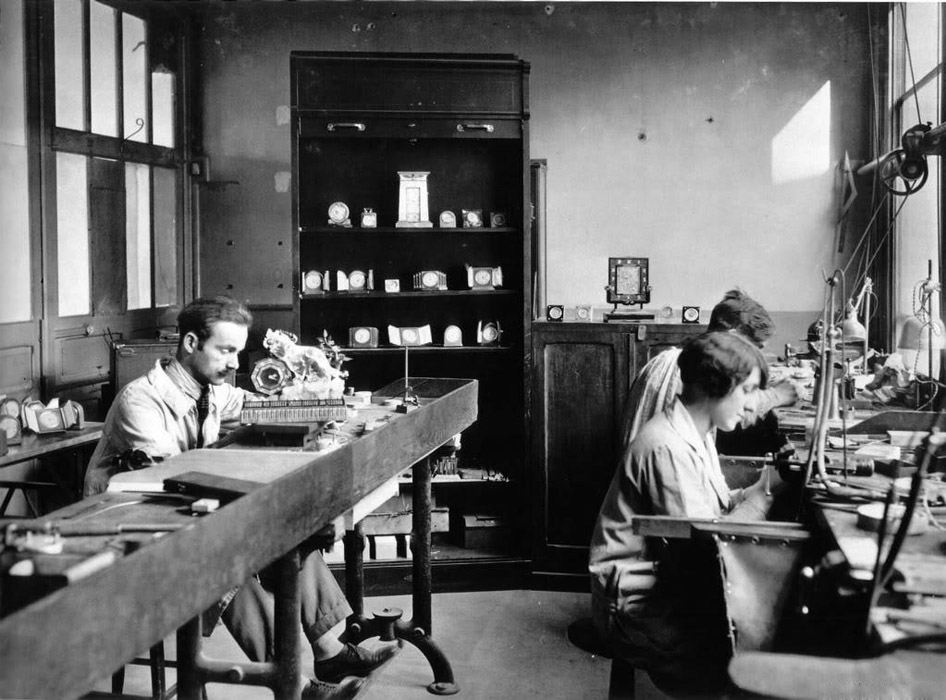 Maurice Couet in the workshop of Cartier, 1927. On the shelf behind, there is the famous Egyptian clock. On the workbench, the Chimera Mystery Clock is being made. Photo: The Archives of Cartier © Cartier.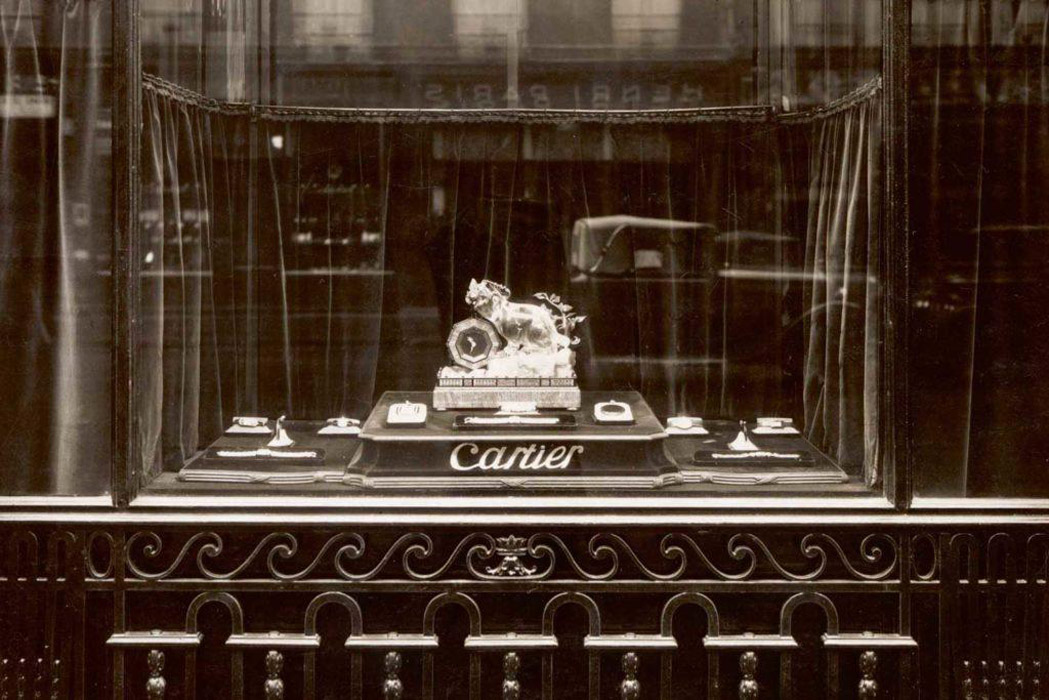 The window of Cartier at Rue de la Paix 13 with the "magical" Chimera Mystery Clock in 1927. Photo: Cartier.
A good acquaintance turned out to be here: Louis Cartier met Maurice Couet, the grandson of one of the Breguet artisans, and since 1911, he began to work exclusively for the House of Cartier. Maurice had an ingenious mind and a great imagination. Under his leadership, there were amazing clocks with ingenious works and spectacular faces, the so-called Cartier Mystery Clocks, around which an aura of mystery has always hovered. Magic shows by illusionist Jean Eugène Robert-Houdin pushed Louis Cartier and Maurice Couet to create "mysterious" clocks. The first clocks of the Cartier Mystery Clocks series "came to life" in 1912.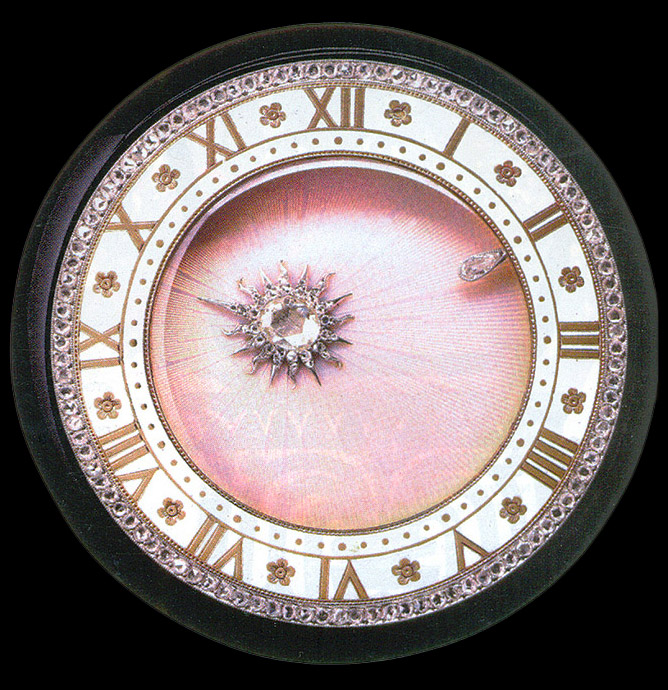 Easel Clock. Cartier, 1919. On a rotating disk covered with enamel,
the sun lined with diamonds indicates hours, pear-shaped diamond — minutes.
One of the most unique works of the House of Cartier was a magic clock. In the transparent half-Eastern faces, the hands moved as if by themselves. The entire secret was that each hand was mounted on a disk of glass or crystal, inserted in a frame of gears, and these gears were driven by a screw. The clockwork was hidden in the socle. In search of holders to "magic" clock, Louis Cartier bought Eastern statuettes of agate, rock crystal, jade, coral...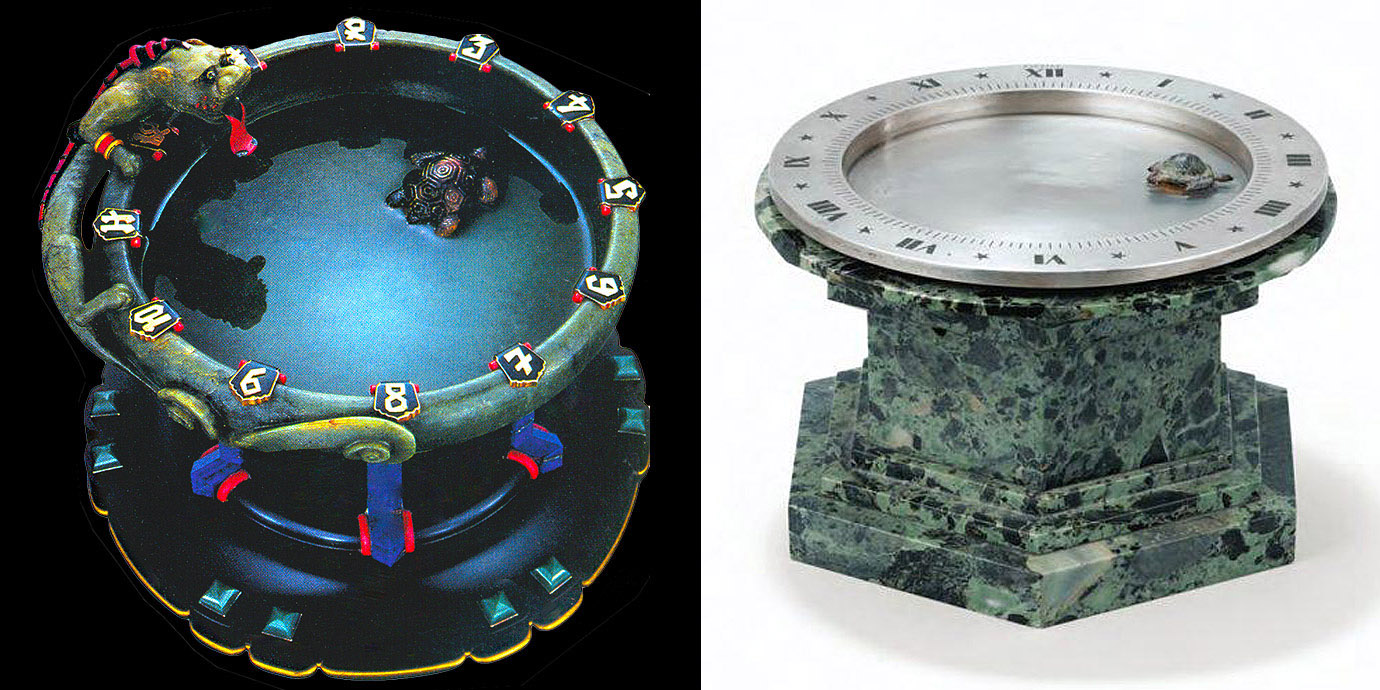 Water clock. Cartier, 1929. A unique work in the style of art deco. Jadeite, black marble, lapis lazuli, coral, aventurine, mother-of-pearl and enamel. The face is a Chinese bowl with a Chimera of the XVIII century made of jadeite. The ridge of the Chimera is painted with enamel. Chimera's eyes are emerald cabochons. The stand is made of black marble, decorated with cabochons of aventurine, decorative elements of lapis lazuli and coral in a silver frame. The "hand" is a turtle of a natural turtle shell.