Jean Michel Schlumberger's Universe of Jewelry
Jean Michel Schlumberger, one of the geniuses of jewelry design of the twentieth century, had, in essence, no special training in the development of jewelry. He had a lively, rich imagination, he was able to notice the beauty in every detail and loved the design in all its manifestations. This was enough for him to dictate his style for three decades from the highest, perhaps, top of the jewelry Olympus – the world-famous House of Tiffany & Co. When his works were compared with the works of the great artisans of the Renaissance, Schlumberger winced: "Design, images are important. Jewelry is a mere trifle without them."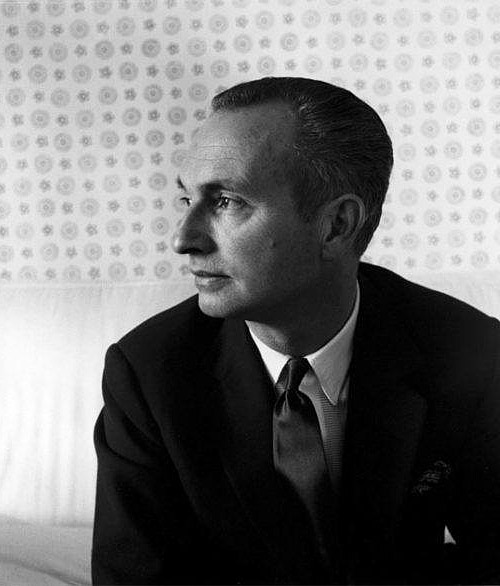 Jean Michel Schlumberger
There were no impossible ideas for Jean Schlumberger. He did not go into the technical limitations and complexity of the execution of certain items – he was not a jeweler, being one of the most inventive artists with a striking imaginative thinking, with a vivid imagination. In the most ordinary thing, unremarkable to others, Jean saw a lovely jewel. Through smooth continuous lines, he traced the future piece of jewelry to the smallest detail, which was reproduced in gold and stone by virtuoso jewelers under his vigilant control.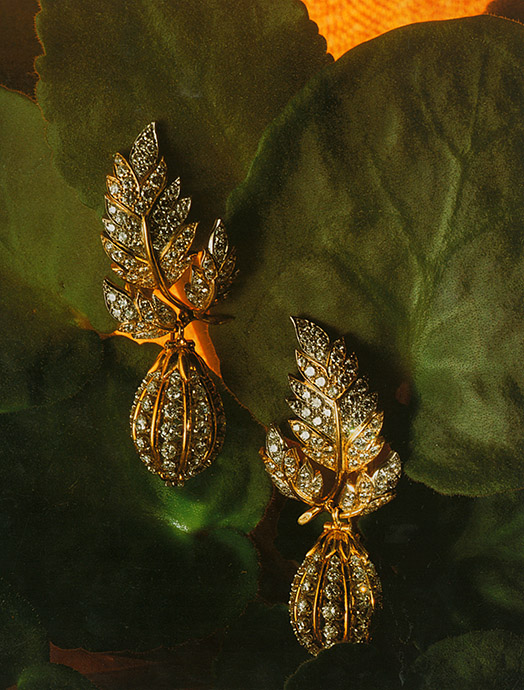 Earrings. The 1958 model. Platinum, gold, diamonds./span>
For several generations Schlumberger was engaged in the production and sale of textiles, so it is not surprising that, after school, Jean took up the study of business and finance. His first trip to the United States of America was related to textile production – he went to work at a textile factory in New Jersey. This was followed by an "internship" in the field of finance in one of the banks of Berlin, work in the Braun art publishing house in Paris, the position of a director in the well-known company of Lelong Parfums. In one way or another, Schlumberger was associated with art and design, but by no means in jewelry business. For him, jewelry was only one of many forms of applied creativity, as much as the development of models of clothes or shoes. Design of fabrics, lace. Jean was constantly looking at ordinary objects, animals and plants visiting different cities and countries, trying to keep in mind every fleeting impression, something sketched in a road notebook...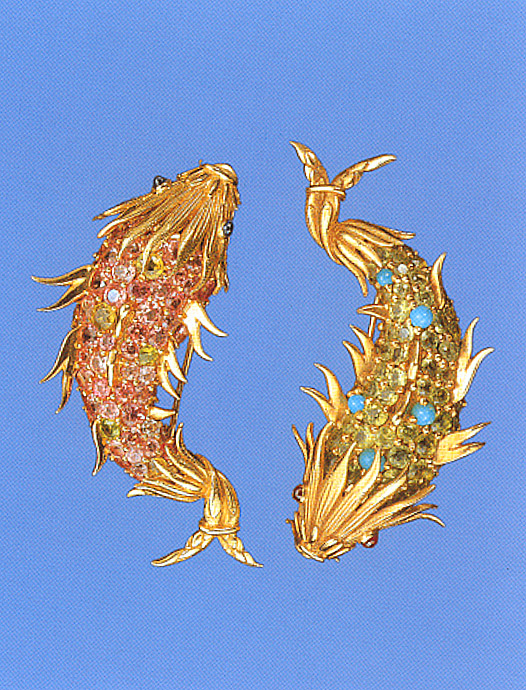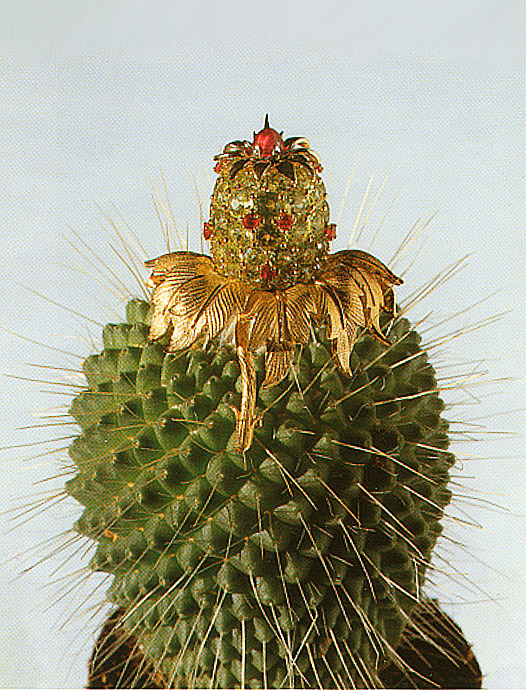 Brooches. 1956/1959. Gold, pink and blue sapphires, demantoid, chrysolite, turquoise, rubies.
Brooch. 1957. Gold, chrysolite, and rubies.
In the late 1930s, the Parisian fashion world was buzzing like a beehive. A little-known young designer Jean Schlumberger, recently presented in high society, came up with inexpensive, but very original jewelry for several of his friends. Diana Vreeland, editor of the Harper's Bazaar, tried on one of the first jewels by Schlumberger. Of course, it was unthinkable not to notice the new faint notes in the suit of such an influential person. Fashion designer Elsa Schiaparelli, an admirer of bold, eccentric ideas, became interested in talented inventor immediately.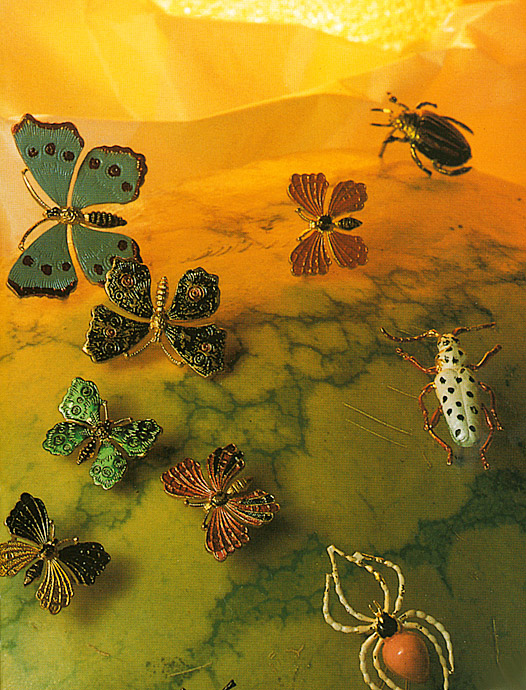 Decorative elements of hats. 1938. Gilding, hot enamels.
Madame Schiaparelli offered the young man a place, and in two years, from 1937 to 1939, Schlumberger created many intricate things for her. Funny fish earrings, hand- or cupid-shaped clips, painted metal insects and feathers – hairpins for hats, a collection of buttons with reliefs of real and mythical animals, shells, insects, fruits and berries. Ideas of extraordinary jewelry appeared everywhere. A flea market, for example, was an inexhaustible source of inspiration. Schlumberger sought clues to future exquisite works of art among the shabby, out-of-use trinkets. Once he came across a children's wicker basket with a lid made of ordinary metal wire. Unnecessary toy served as a model for a series of charming sheaths wattled of gold thread: tubes for lipstick, cigarette cases, evening bags, puff-boxes. Notorious Fish lighter that conquered France and America overnight came from the flea market as well.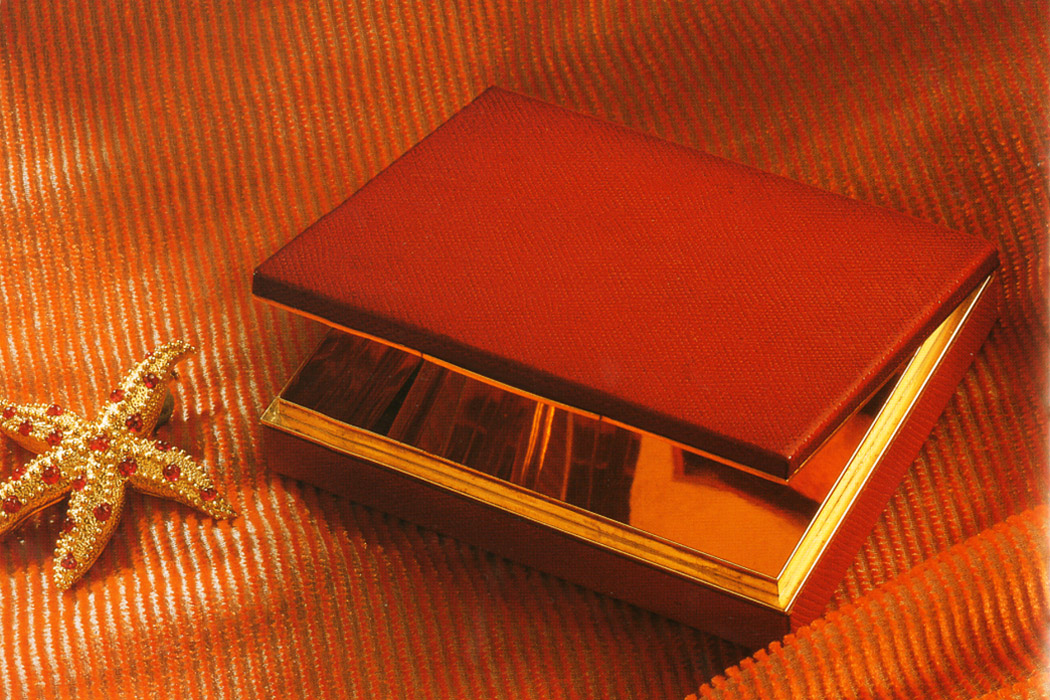 Brooch, cigarette case, 1965. Gold, rubies, Moroccan leather.
Nevertheless, no matter how diverse were the forms, textures and materials of jewelry by Schlumberger, in his works, there was no precious stones, indispensable components of jewelry, for a long time. Gold-plated metal, glass, gold wire, rich-colored enamels, sometimes corals, pearls, turquoise... all these materials are enough for a talented designer to implement his or her intricate fantasies. Only in 1938, Schlumberger "allowed" colored precious stones in the work for the first time. A bouquet of amethysts and pink sapphires looks more than modest in comparison with the later works by the artisan. There are no catchy defiant color combinations, dynamic forms, asymmetric details, without which the works of Schlumberger are not conceivable, but some characteristic techniques of the Maestro are already guessed. Therefore, over time, they took shape of a unique style "imposed" by the Tiffany & Co.'s overseas designer.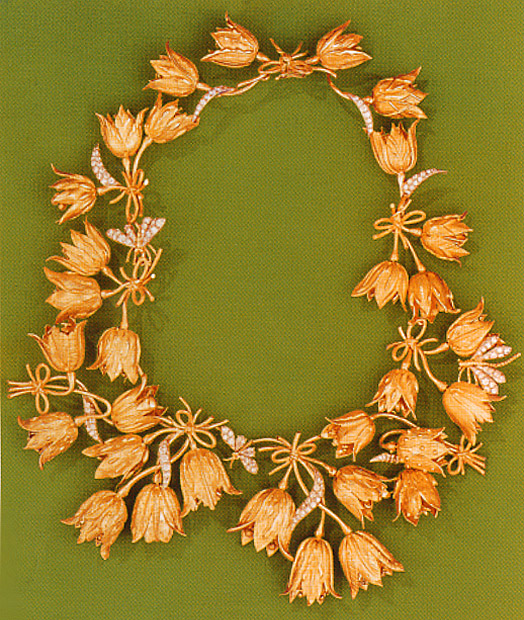 Necklace. 1959.
Gold, platinum, diamonds.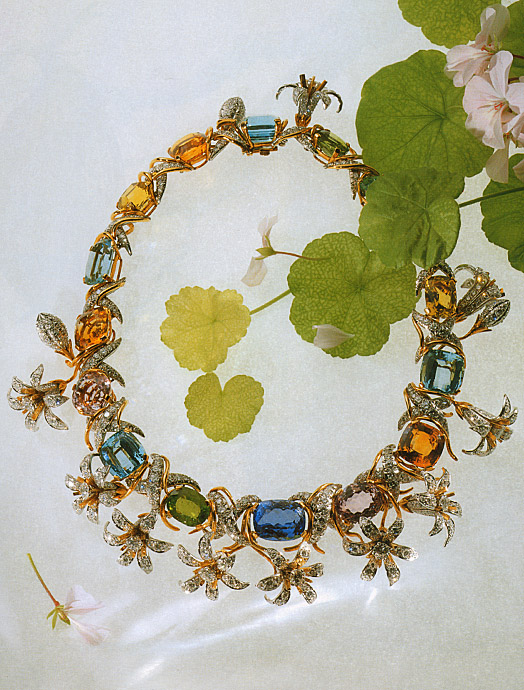 Necklace. 1973. Model 1962.
Gold, platinum, diamonds, gems.
He came to New York on the eve of the war, in 1939. A foreign country, a strange city, one of the most crowded ones. Still, the world is small. One day Jean Schlumberger met his childhood friend Nicolas Bongar. Nicolas, by that time, was already a professional jeweler, worked for a long time with his uncle Rene Boivin. He perfected his skill at Lacloche. Old friends ironically met not somewhere, but in front of the building of the Tiffany & Co. However, it is unlikely that they gave meaning to that coincidence then.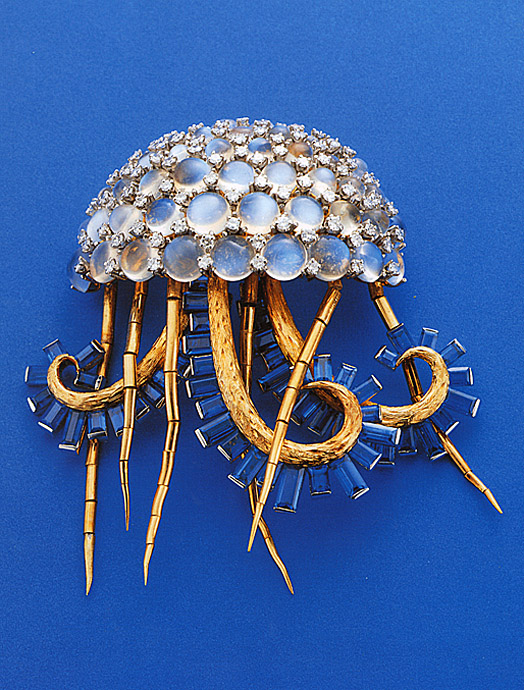 Brooch. 1965. Gold, moonstone, diamonds, sapphires.
A year later, young people opened a small jewelry store with a Studio in a very fashionable area of New York, in the Fifth Avenue. Jean Schlumberger made sketches of ingenious bizarre jewelry, Nicolas Bongar turned beautiful pictures into no less beautiful finished jewelry. A skilled jeweler and a talented designer worked hand in hand for nearly fifty years, forty of those were at Tiffany & Co. Schlumberger approached to the choice of the executors pretty rigorously. Over the years, he cooperated with only a few jewelry studios in New York and Paris, most of his sketches "came to life" owing to the skill of Nicolas Bongar.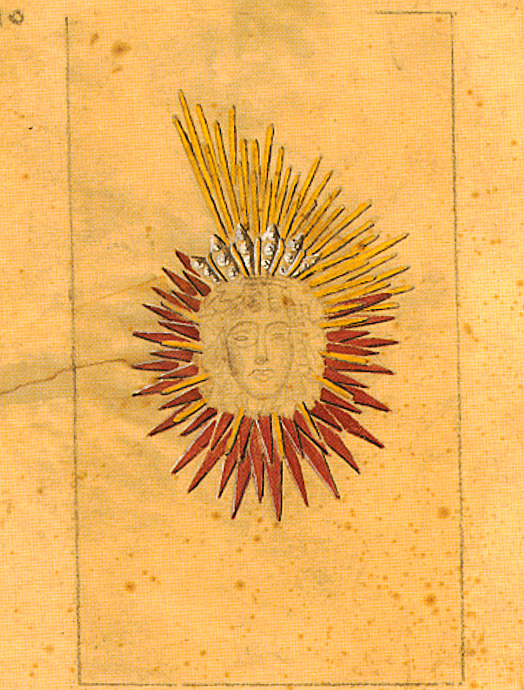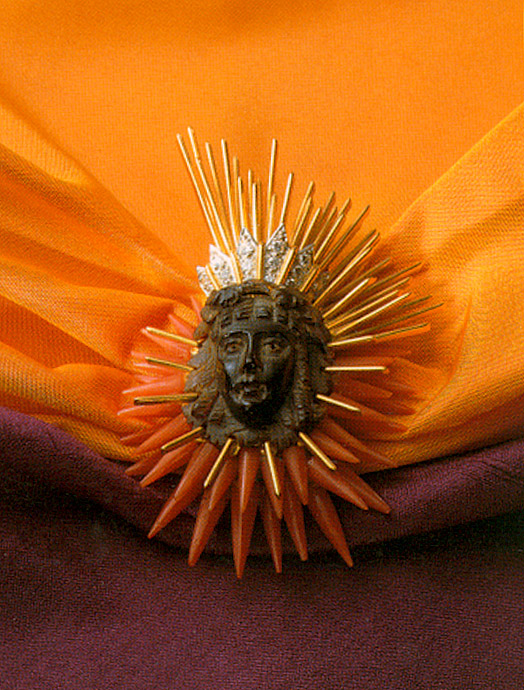 Figure of a brooch. Musée des Arts décoratifs. Paris
The brooch. 1956. Gold, platinum, coral, diamonds, shell.
World War II began, and Jean Schlumberger, like thousands of others, put on the uniform of French soldier. His military unit fought in Lebanon in 1943. However, at the end of the hostilities, the designer stayed in the exotic country for another three years: The Lebanese Arts and Crafts Committee asked Schlumberger to make drawings for textiles. Intricate patterns were transferred to the fabric by skilled embroiderers. The collection of textiles, created by the design of a European artist, enjoyed tremendous success in Lebanon and throughout Asia. Having returned from Beirut to New York, Schlumberger and his constant companion Bongar resumed the work of their studios and shop. Now the company was located at East 21st Street. One of the first orders was the one of the Egyptian Royal couple: King Farouk and Queen Paripe. Ordering jewelry from Schlumberger became fashionable and prestigious. Here, Greta Garbo, Baroness de Rothschild selected elegant additions to the chic attires. The relationship of the maestro with clients (and he really was a maestro of artistic jewelry) was more like a portraitist communicating with a model. For each customer, he created something original and unique, a little thing that would be ideal for this particular person, would reflect his or her individuality.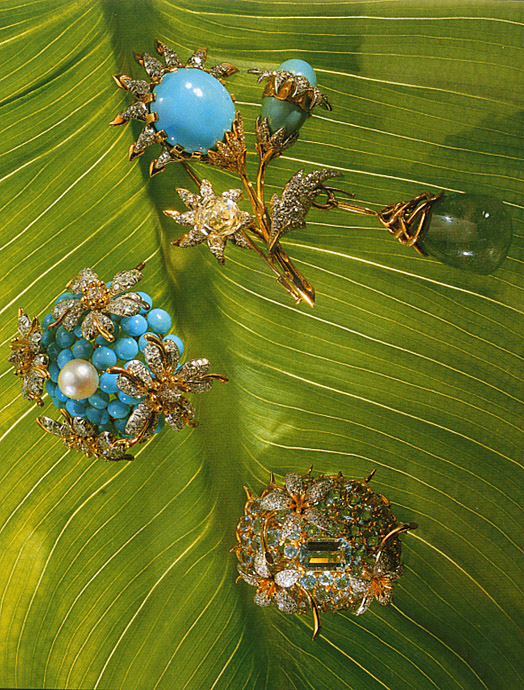 Brooches. 1964/1960/1960 year.
Gold, platinum, emeralds, diamonds, turquoise, aquamarines, pearls.
By 1947, Schlumberger had gathered a team of jewelers, who were able to carry out any, even the most complex and crazy of his projects. A small store at the studios represented an assortment worthy of admiration. Necklaces with clusters of precious stones in the most complex frames of gold or platinum, with intricate hidden clasps, bracelets that turned into brooches or pendants, hairpins and clips, massive and miniature brooches, intricately shaped watches, table pieces, art objects. All products were of unsurpassed beauty and amazing quality. Schlumberger's works were legendary. All New York community came to admire the boxes, pineapple-shaped clips, salamanders, birds of chased and stamped gold... Louis Feron, a consummate specialist in chasing and stamping made those sophisticated gizmos. Boxes by Schlumberger were inter ana an exclusive product, produced in series of only ten pieces and enjoyed great success. For three years, these lovely "things" were sold only in America. Jean kept the Studio in Paris, but before the opening of the store in 1950 could not deliver works from the States to France. In return, in the New York storefront, jewelry from French workshops were exhibited in great numbers. The American public considered unique jewelry made by Victor Purr with delight (and purchased with great pleasure), objects, jewelry and leather cases by Roger Stoffel in addition thereto. Enameler Yves Beraud, at the request of Jean Schlumberger, perfected the technique of applying enamel on a gold foil. The enamels served as part of the colorful palette that the designer used to convey the impressions of the trip to Bali, and the jewelry from the East Street exploded with new, even more delightful shades.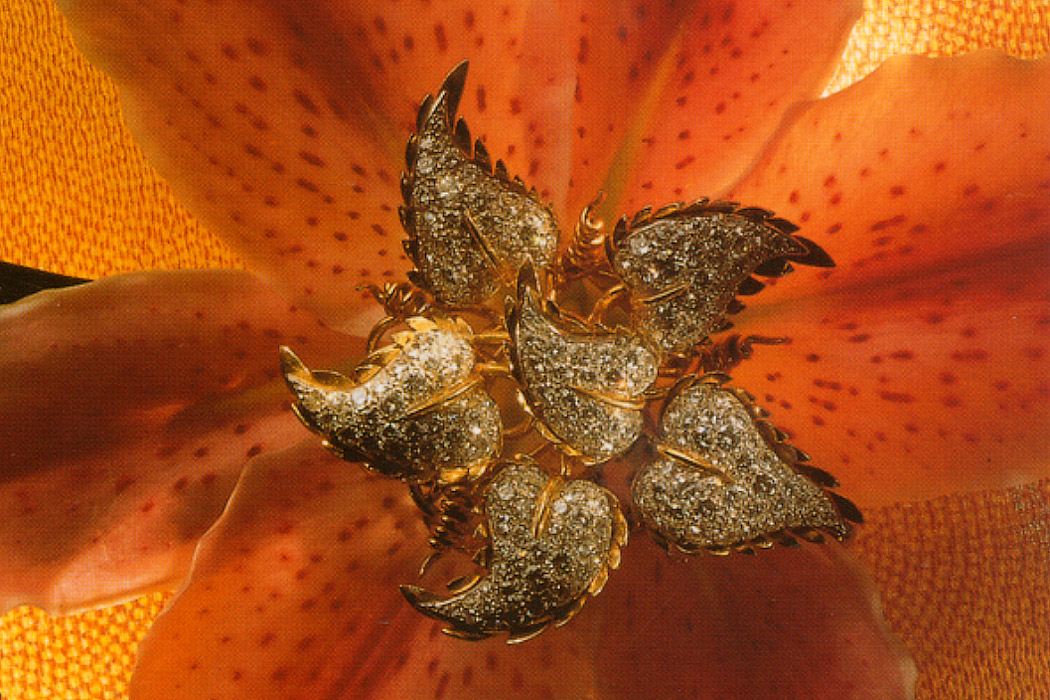 Brooch. 1959. Gold, platinum, diamonds.
Too calm, "homely" 1950s came to an end. Something was changing. There were new ideas, new currents. It seemed that the world had frozen in anticipation of some magical event. Such sentiments are felt most subtly by politicians, businessmen and artists. The administration of Tiffany & Co. noted with displeasure that customers buy their products somewhat sluggishly, there are slightly less orders from the gilded youth. The decisive actions were needed, and the company of Tiffany & Co. started the formation of a unique team of renowned designers. The candidacy of artisans, who had already carried out orders for the House, were considered first. Among the "freelance" artisans of jewelry, there was Jean Schlumberger, to whom Tiffany & Co. appealed for over a decade.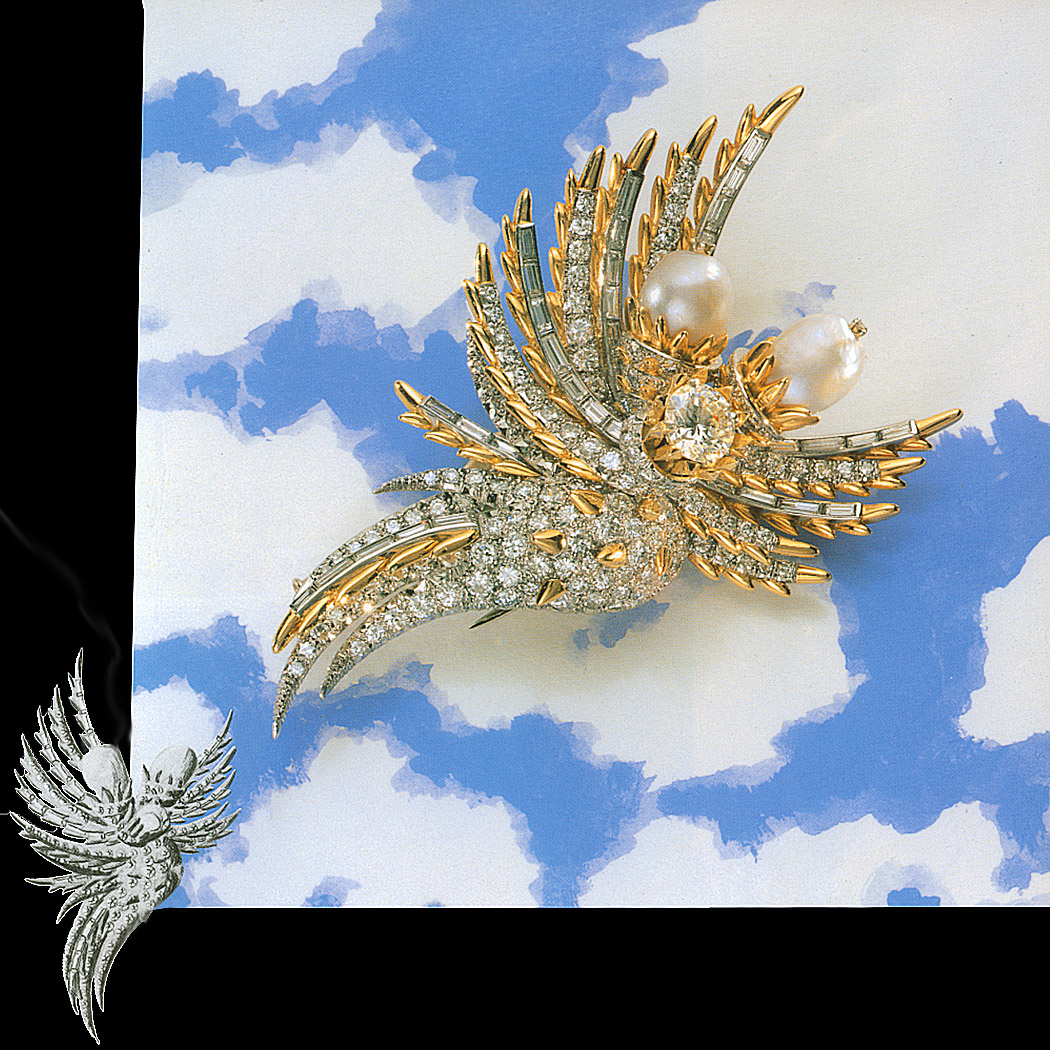 Brooch. 1958. Gold, platinum, diamonds, pearls.
Figure of the brooch. Musée des Arts décoratifs. Paris
February 20, 1956, Walter Hoving, the President of Tiffany & Co., invited Jean Schlumberger to head the company's independent department, and a few months later to take the post of Vice President of Tiffany & Co. Together with Schlumberger, goldsmiths, with whom the designer worked for years, came to the famous House.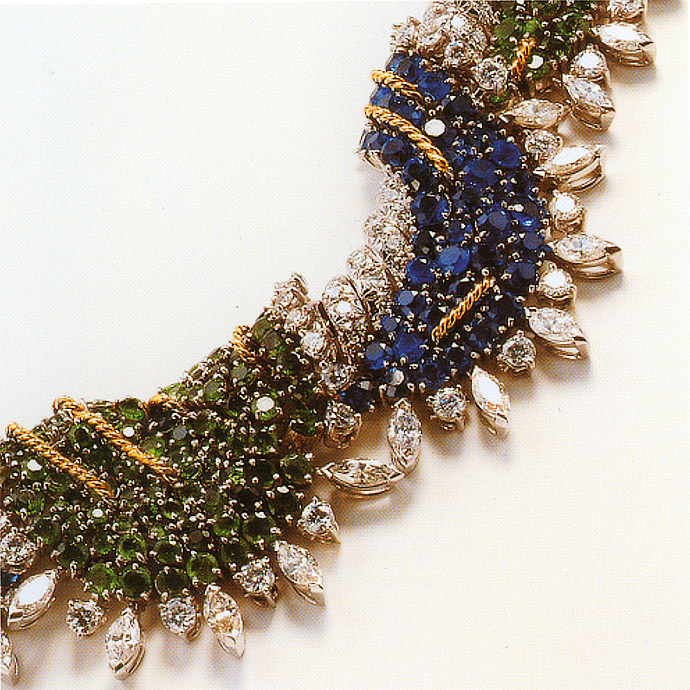 Necklaces. Fragment of 1956. Gold, platinum, diamonds, emeralds, sapphires.
And the world has really changed. The 1960s-1970s are a remarkable period in many ways. Snobs from high society, although with caution and timidly, but still let him in into the world of the latest design achievements. Exquisitely elegant haute couture peacefully coexisted with democratic jeans and pret-a-porter collections. Alongside aggressive rock music, nice fashionable tunes sounded. Broadway musicals and classical theatre attracted the audience of not less than cutting-edge productions. Abstractionism and figurativeness came back to the artists' studios. Pop art and kinetic art shamelessly pushed painting aside. Suddenly there was a place for a variety of currents and trends. Traditional jewelry with cascades of masterly processed precious stones was still in demand. However, with the helping hand from experimental artists, there appeared jewelry with meaning, in which the value of the materials was secondary; the form was the main thing.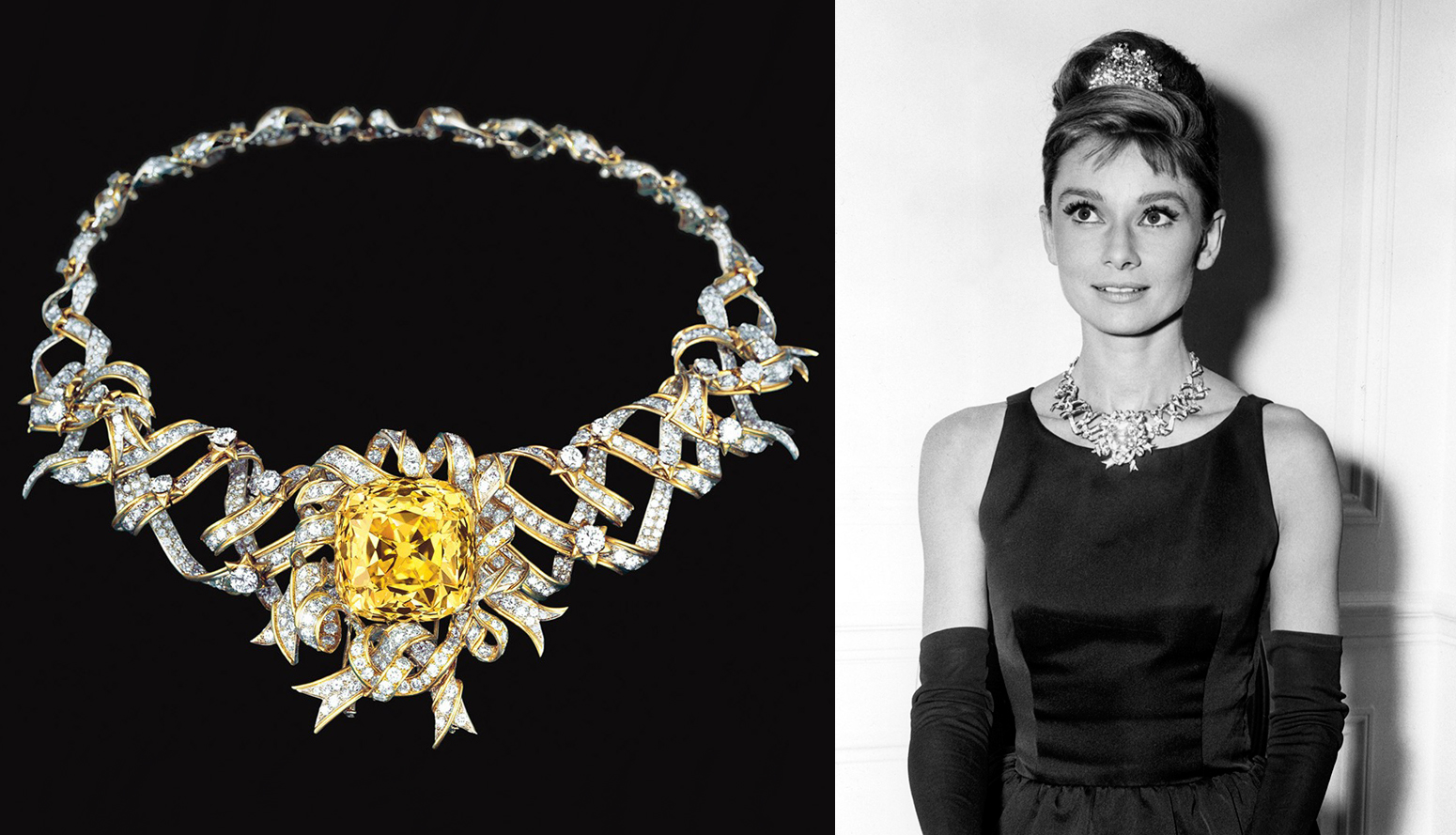 The Tiffany Diamond in the Ribbon Rosette necklace. Audrey Hepburn.
The Schlumberger's creativity, however, was not touched by this cultural revolution. He remained true to himself, to his inner world of sensations. The main topics of his works were flora and fauna. Maestro did not recognize flat jewelry. All his works are voluminous, convex, and therefore even more attractive. From a handful of various stones, different in color, cut, shape and size, he put together a beautiful harmonious composition. Moreover, in the hands of master Stoffel stones dutifully took their places in the intricate mounts. Yellow gem next to the pink one, the mauve stone surrounded by blue or green ones. Schlumberger adored rubies, often used amethysts in combination with turquoise, sapphires and pink tourmalines, emeralds with blue sapphires and aquamarines. Whatever the color and size of the stone is, the shape dominated: catchy and expressive; it suggested the idea of the work being complete. To give the decoration more expressiveness, to pour more light thereinto, the designer often shaded off colored stones with small diamonds. He subordinated even stone-processing to his artistic vision: some products cut the lower part of the cabochons, and the light literally passes through the stone.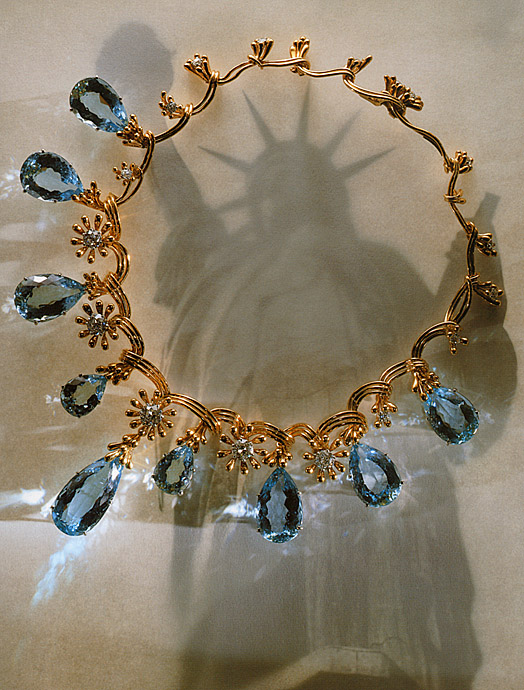 Necklace. 1972. Model 1955.
Gold, platinum, diamonds, aquamarines.
It was impossible to remain indifferent to the works of the great designer. Contrasting colors, disparate shapes, too much intricate valuable mounts for relatively inexpensive stones. Bright and bold jewelry by Schlumberger, was absurd and eclectic according to some people. Others considered it being refined. However, all of them agreed on one: the designers equal to Schlumberger are born infrequently.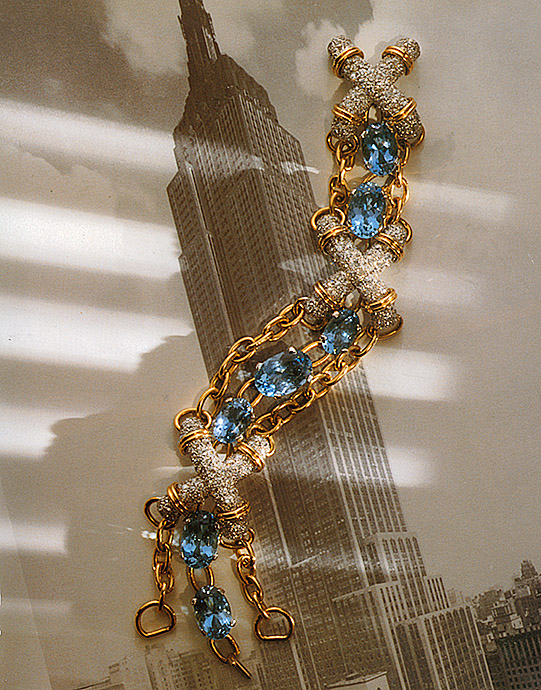 Bracelet. 1975. Gold, platinum, diamonds, aquamarines.
His works were much talked and written about, he was scolded and praised to the heavens. He received orders from monarchs and presidents, from oil magnates, artists, nouveaux riches". President John F. Kennedy presented his wife with strawberry earrings made of rubies and diamonds on the day of his inauguration. Actor Richard Burton bought the dolphin-shaped earrings for Elizabeth Taylor upon filming the Night of the Iguana, Schlumberger made Wisteria cufflinks for the Director John Logan in memory of his play's Broadway premiere of Wisteria Trees.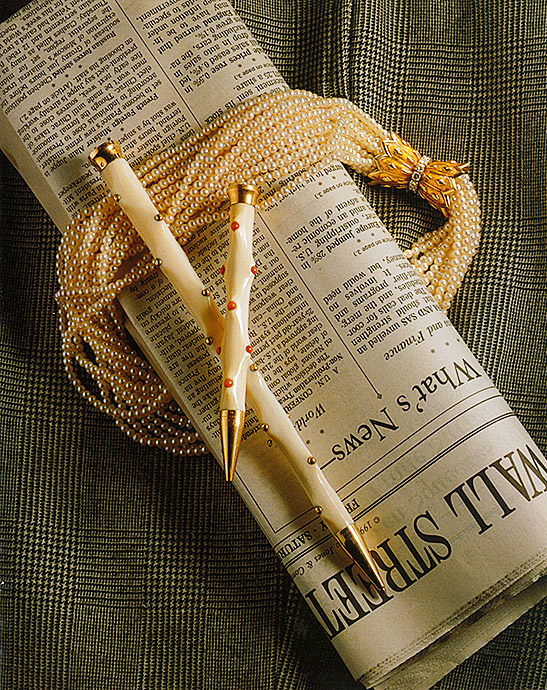 Necklace, pen, pencil. 1958/1961/1961. The 1957 model.
Gold, platinum, diamonds, ivory, coral, enamel.
"I want to show the diversity of the Universe," Jean Schlumberger once said. And he seems to have succeeded. The impression of traveling to Guadeloupe, Indonesia, Antilles was reflected in exotic color combinations, flashy contrasts. Flowers and plants gave the maestro Florid, ornate settings. Petals and leaves, stems and fruits... everything has been carefully studied and used without a trace. Empty conchs, starfishes, sea urchin shells washed ashore by the wave. Fantasy, fiction, a huge amount of materials, techniques of skilled artisans and these samples of wildlife turned into jewelry and art objects.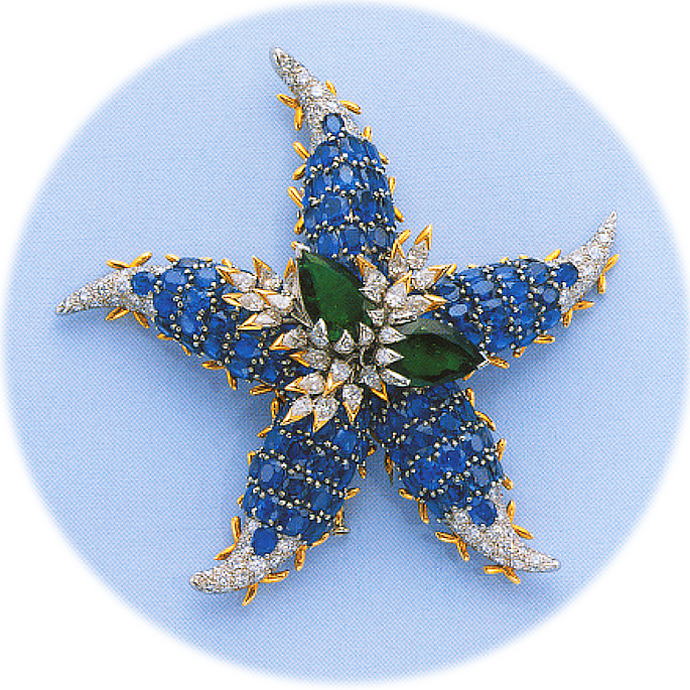 Brooch. 1962.
Gold, platinum, diamonds, emeralds, sapphires.
The Musée des Arts décoratifs stores sketches by Jean Schlumberger. Flowers, seahorses, blubbers, fishes, scallops, twisted spirals of shells, birds are drawn with a confident hand on the smooth pages of the old album. In the shell of a sea urchin lime "box" of five tight-fitting plates with bulge thorns, the artist saw something special. Over time, this inhabitant of the seabed has become an elegant case for travel clock, simple and impressive. Another product similar to sea urchin was added to the collection of boxes. There were boxes and pendants in the shape of shells, jellyfish brooches, fishes and seahorses. Starfishes, exotic plants, strange and ordinary birds, comets and stars turned into exclusive items and jewelry of amazing beauty. An endless string of "rebirth" of animals, plants, minerals, household items.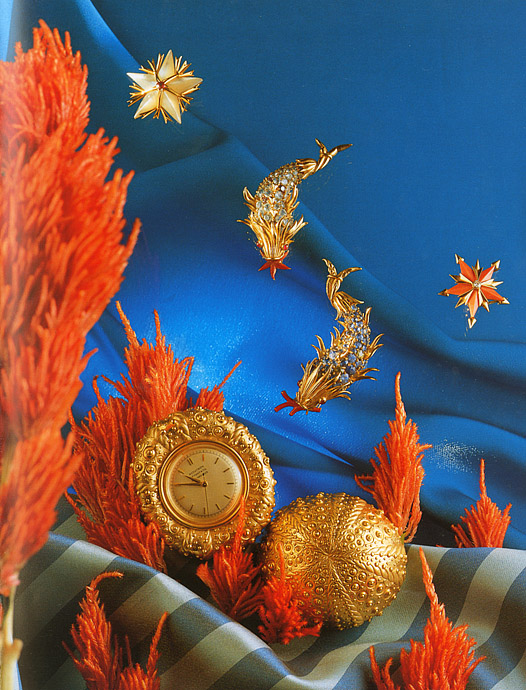 Brooches. 1956/1966. Gold, sapphires, mother of pearl, amethyst,
chrysolite, coral, aquamarine, red lacquer, rubies.
Schlumberger invented all the pieces on paper. His collection of sketches and drafts is priceless. Paper stores each step of transformation. Here are the products that have been created, and those that have not been realized in precious materials, here is the smallest dash, which is absent in the finished piece, and here is the element that appeared in the course of work.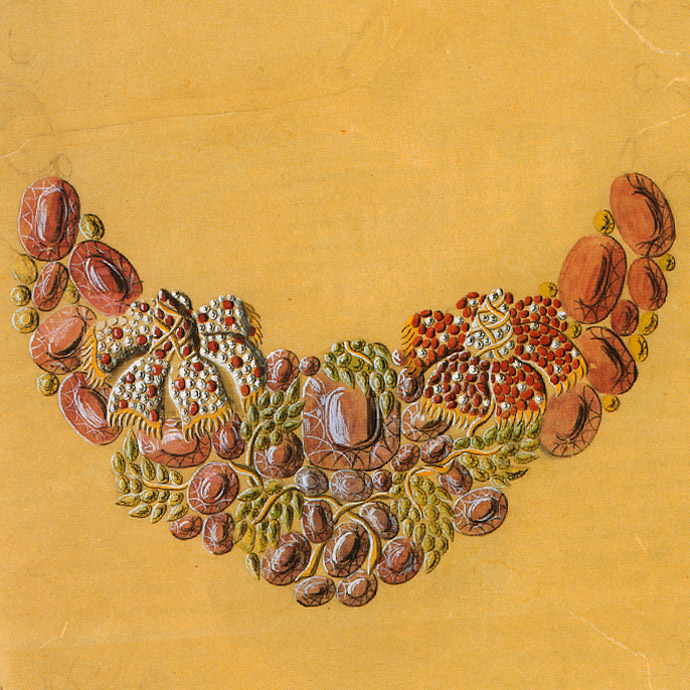 Picture of necklace. Musée des Arts décoratifs. Paris
Jean Schlumberger died on August 29, 1987 in Paris in his apartment on the Champs Elysees. He was buried in the cemetery of San Michele in Venice, the city that he loved and frequently attended. The department, which was headed by Jean Schlumberger in 1956, has existed until today. After the death of the Maestro, his friend and faithful assistant Nicolas Bongar led it. A year before his death, Tiffany & Co. held the first retrospective exhibition of his works. Another coincidence: Schlumberger celebrated the 40th anniversary of working at Tiffany & Co. that year, and the Company celebrated almost the anniversary date – 149 years from the date of its foundation.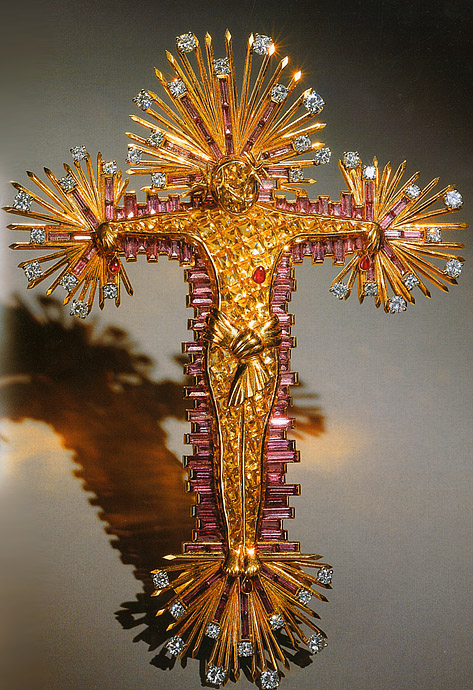 Cross. 1955. Gold, amethysts, topazes, rubies, diamonds.
Bespoken by the French government for His Eminence
Paul II Peter Meouchi in honor of his elevation to the rank of Patriarch of Lebanon.
"Why are your pieces not like all the others? What techniques do you use, what is the secret," assertive journalist once asked Schlumberger. "In jewelry, everything depends on the artistic idea. If the embodiment of the idea is possible, the finished jewelry will certainly surpass its graphic form. We use the same techniques, as well as everyone does, we resort to the help of artisans, who studied the classical rules of jewelry. The only difference is that we ask the artisans to do the things, which at first glance seem impossible. We have to try, experiment, and the very process of work is exciting and inspiring," the Maestro replied.