The Art of Perfection by Michelle Ong
"There are painters who transform the sun to a yellow spot,
but there are others who with the help of their art and their intelligence,
transform a yellow spot into sun."
- Pablo Picasso
Michelle Ong is a Hong Kong-based designer of stunning jewelry, which is simply mesmerizing with its skillful perfection and elegance. "Be true to your creative vision, never compromise". This perfectionist philosophy of Michelle is being carefully implemented in every jewelry masterpiece until it becomes an exact similarity of her plan.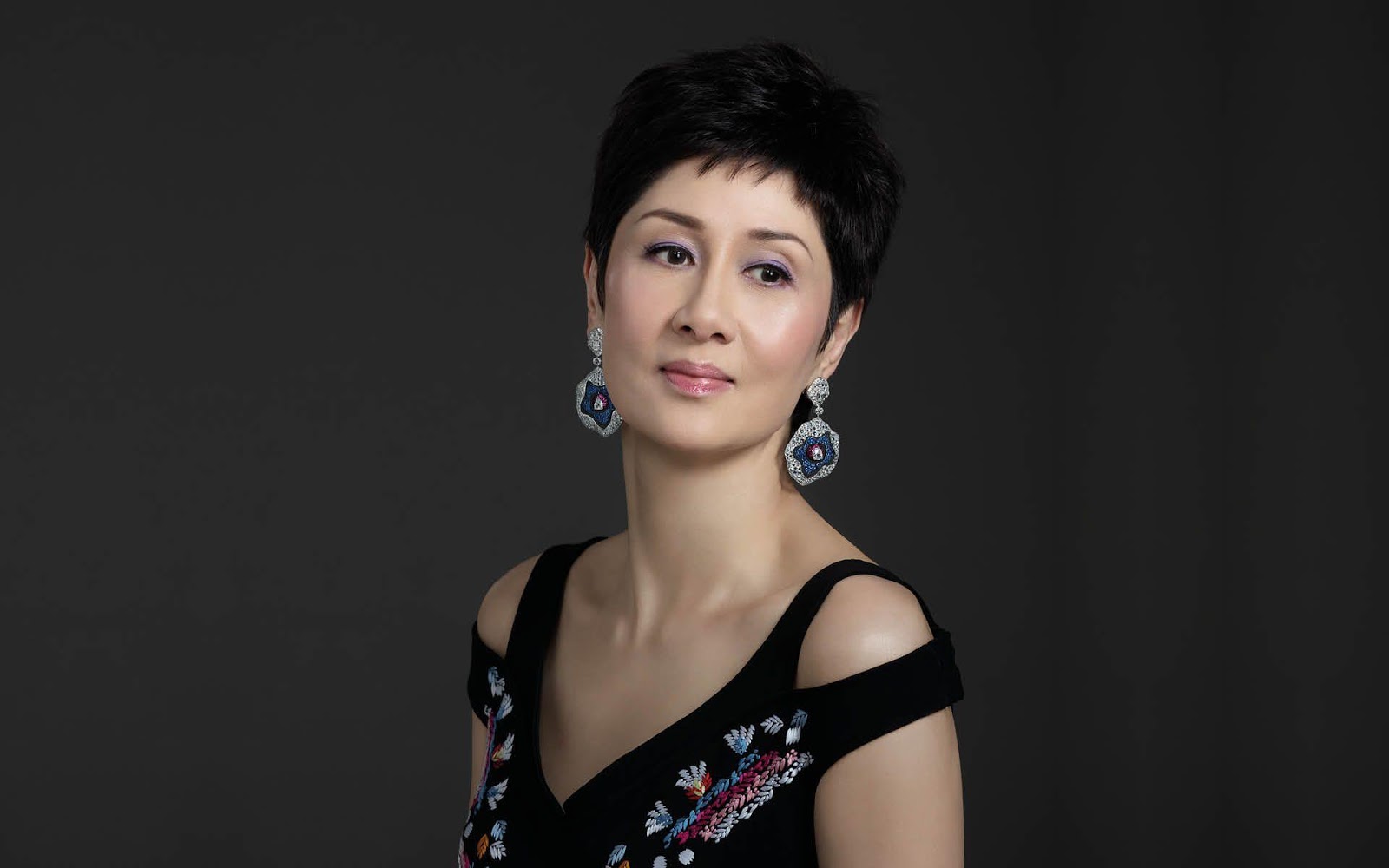 Michelle Ong
Michelle is self-taught, and has no professional education, her unique talent, boundless imagination, artistic vision, attention to every detail and professionalism of the layman, surprisingly quickly elevated her to the world jewelry Olympus, and allowed to enter the top ten jewelry designers of our time.

Michelle Ong Ocean's Fantasy Brooch.
Michelle was born in Hong Kong in a family of very successful doctors with great connections. Parents predicted daughter a serious career, by sending her to Canada to study for a sociologist at the University of Toronto. In 1979, after going down from her study in Canada, Michelle soon realized that her profession is of little interest, and she wanted to surrender herself to her hobby – the design. From the very childhood she was making something with her own hands, and gradually began to create jewelry that, basically, was distributed among friends and family. "I just didn't find what I wanted from other designers," Michelle admits.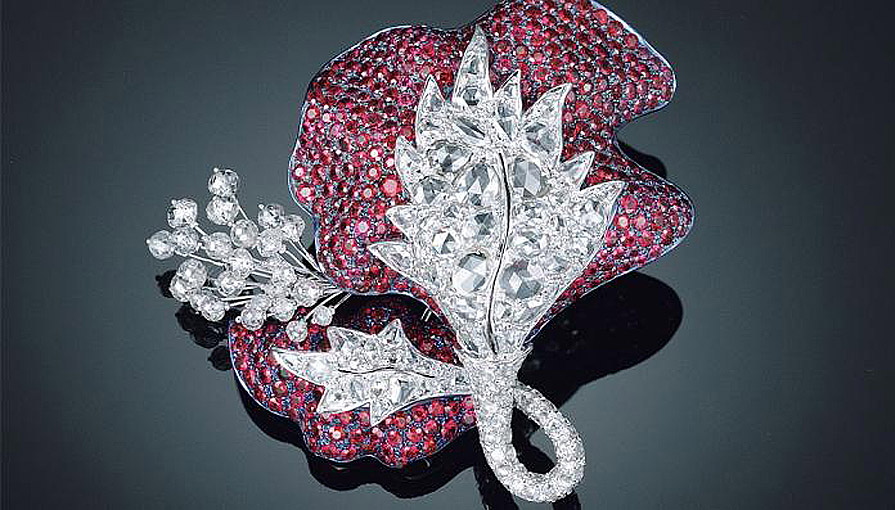 Nature-inspired brooch. Michelle Ong for Carnet.
Owing to her parents' connections, Michelle begins to work as an apprentice in a large company engaged in the diamond imports in Hong Kong. According to Michelle, it was a great experience, it helped her learn more about precious stones, i.e. their textures, quality, colors, properties, types of cut and all modern materials used in jewelry. In 1985, Michelle met her future business partner Avi Nagar, an Israeli gem expert, at the dining-hall of the Diamond Importers Association. They decided to found the company of Carnet together.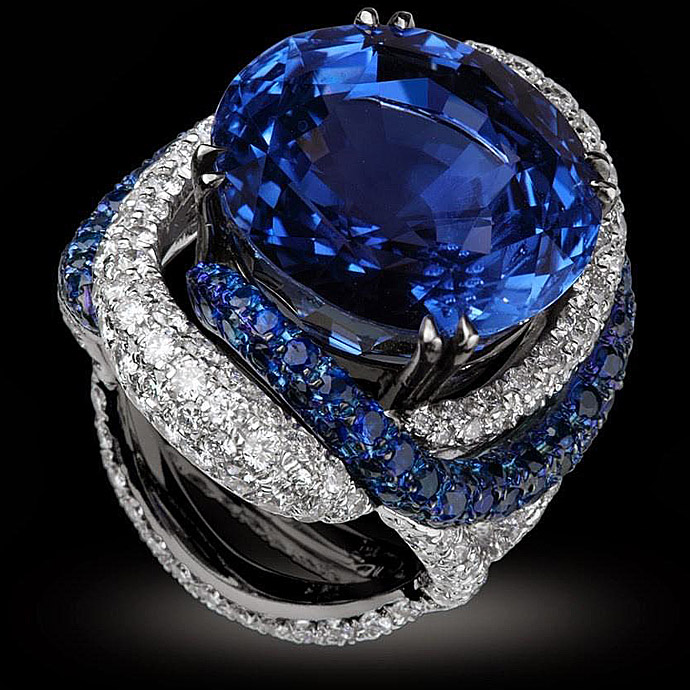 Bejeweled Nile Ring. Michelle Ong for Carnet. 18K gold, titanium, purple-blue and blue sapphire, white diamonds.
The absence of frameworks and stereotypes helped Michelle to find new directions in jewelry and to develop them faster than others. She was the one of the first ones to work not only with gold and platinum, but also with titanium. She considered the brilliance of diamonds, rubies and sapphires not just a play of faceted stones, but a kind of palette that the artist uses to breathe life into his or her jewelry.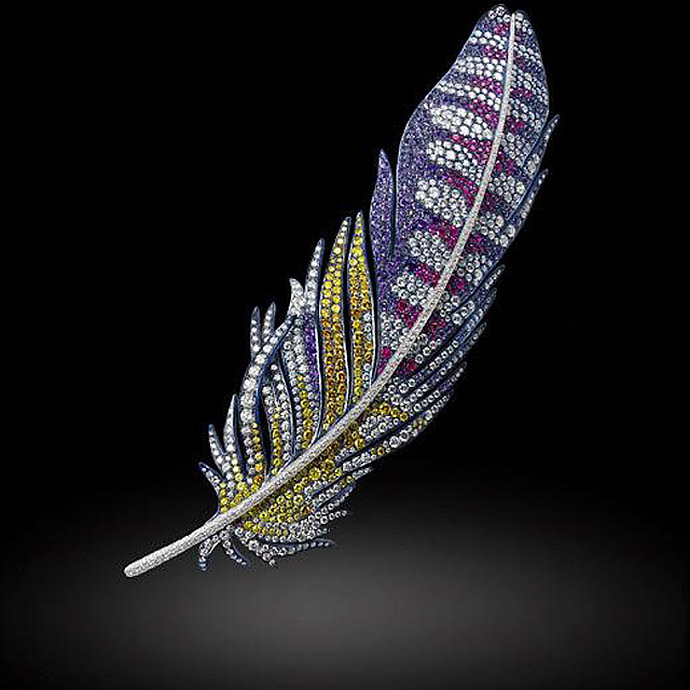 Precious Plume Brooch. Michelle Ong for Carnet. Platinum, titanium, white and yellow diamonds, rubies, amethysts.
Her creations surpass the impossible, she approaches jewelry design as an art and combines traditional things with modern ones, East with West, many works are reminiscent of the "beautiful era" of Art Deco in the early twentieth century, when jewelry was light and airy, like lace and very feminine. It is this symbiosis that breathes life into Michelle's work. Like a florist, Michelle collects bouquets of natural materials, ably combines precious stones, by creating feminine, elegant and stunning jewelry masterpieces.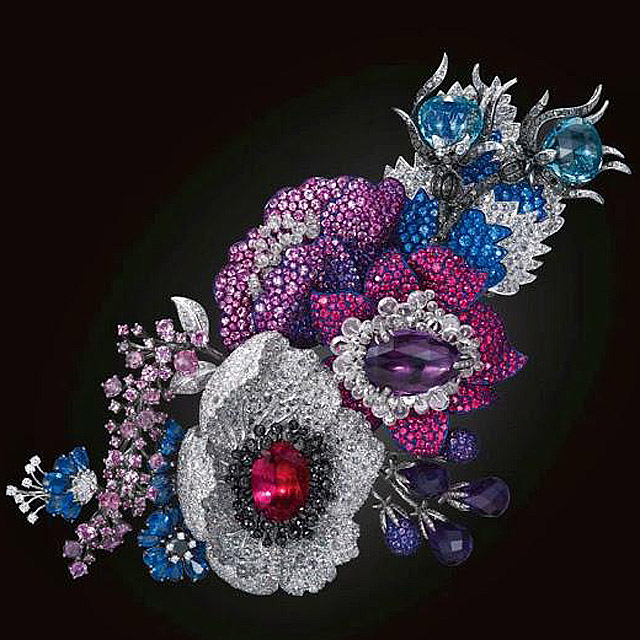 Enchanting Blooms Brooch. Michelle Ong for Carnet. Titanium, white and black diamonds, rubies, blue, pink and purple sapphires, amethysts, rubellites and topazes.
In pursuit of perfection, Michelle can work on one piece for up to 4 years. Harmonious combinations of colors and materials are served with great taste and refinement. Michelle would not release jewelry on sale, until it seems perfect to her. Jewelry created by Michelle, combines the unique complexity and filigree elaboration of the smallest details, amazing tack and a combination of stones of different shapes and sizes give volume and depth to the piece of jewelry.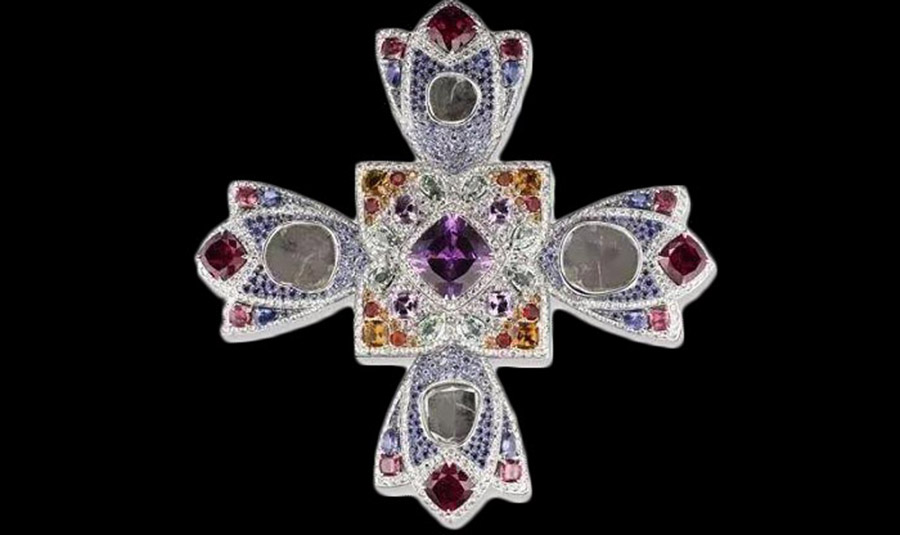 The cross-shaped brooch. Michelle Ong for Carnet. Platinum, white gold, silver, diamonds, sapphires, fire opal, garnet, amethysts, citrines.
"I always let the jewelry designs speak for themselves," claims Michelle Ong". "Choosing just the right jewelry is like finding a life-long partner, a soul mate. Jewelry works of art become part of your personality, you and your jewelry should become one, complementing each other."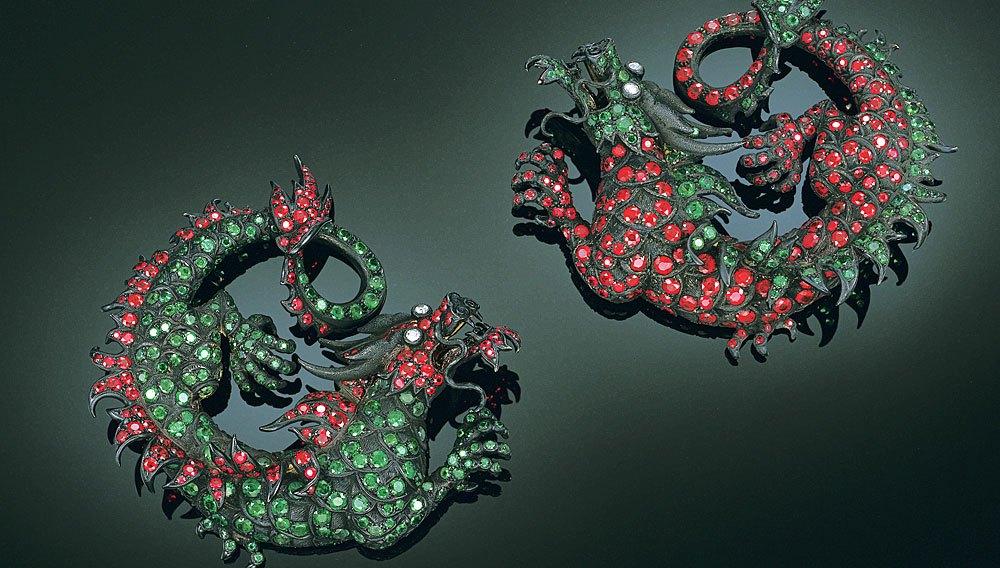 Dancing Dragon Brooch. Michelle Ong for Carnet. Platinum, silver, emeralds, rubies, white diamonds.
In 2003, by having formed a small but loyal group of regular customers, Michelle decided to open her first own jewelry boutique in Chater House, Hong Kong, which she called "Carnet by Michelle Ong". She dedicates all her time free from creativity to her husband and three children.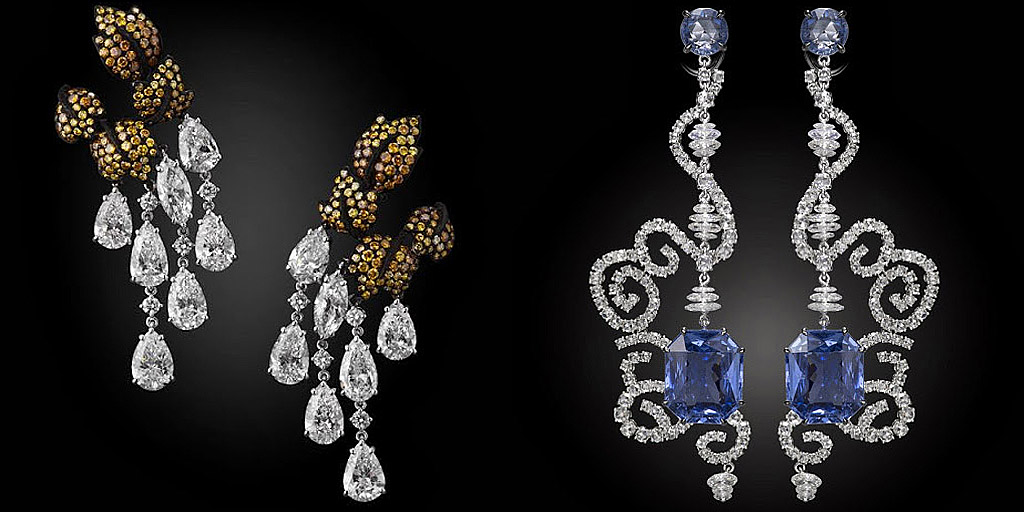 Golden Leaves drop earrings. 18K white and yellow gold, white and yellow diamonds. | Spellbound earrings. 18K white gold, sapphires, white diamonds.
Michelle's creations meet all international standards of jewelry, and at the same time, manage to stand out from the works of other goldsmiths. Moreover, the compliments she got from the unsociable Joel Arthur Rosenthal in the preface of the book about the Carnet Jewelry House is a high praise for each modern designer.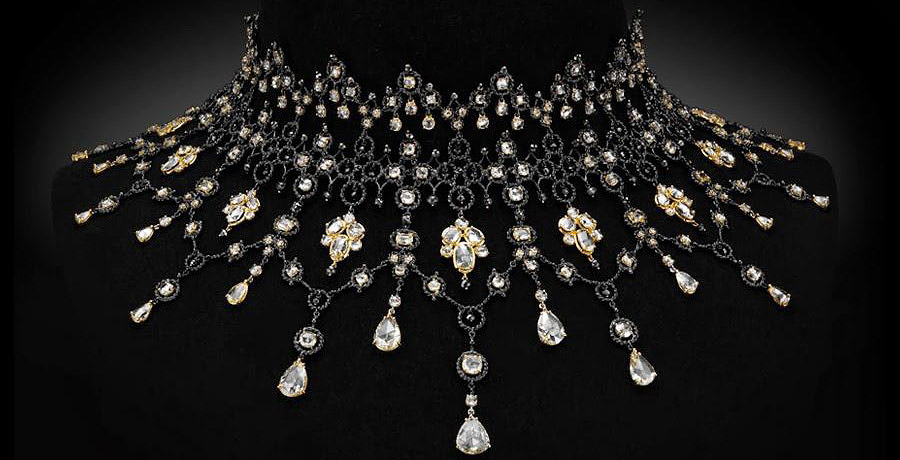 Stars of the Night necklace. Michelle Ong for Carnet. 18K gold, yellow and black diamonds.
Jewelry created by the artisans of Lobortas combines the unique complexity and filigree elaboration of the smallest details, carefully thought-out combination of colors and materials and non-trivial style solutions.
Jewelry Set «Legend of the East». Lobortas House.
Photo by Vladislav Filin