Exceptional Talent of Jérémie Pauzié
It doesn't matter what you do to the stone, but what does matter is what the stone does to you.
Henry David Thoreau
Jérémie Pauzié glorified his name not only with incomparable jewelry masterpieces, but also with talented memoirs. In the 18th century, unlike their contemporaries – painters and sculptors – goldsmiths rarely gained popularity during their lifetime, and even less saved it post mortem. At that time, only representatives of the reigning dynasties, their environment and very wealthy people could afford to buy the creations of jewelers of the highest qualification. Goldsmiths and silversmiths created the most beautiful things. The beauty of those was taken for granted, and the artisans were forgotten immediately after the order was paid.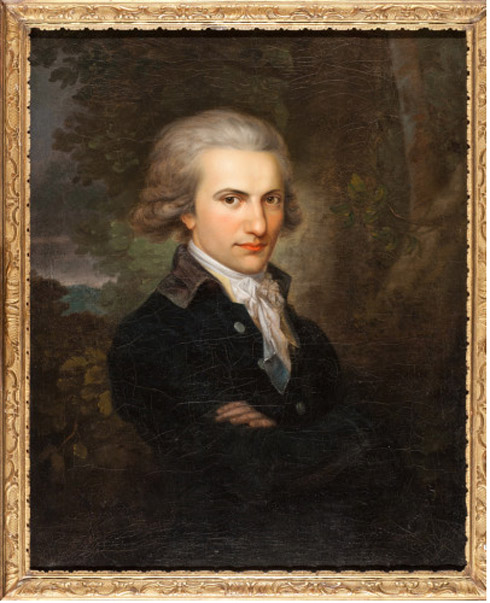 Jacob-David Duval.
Artist: Gerhard Franz von Kügelgen, 1799.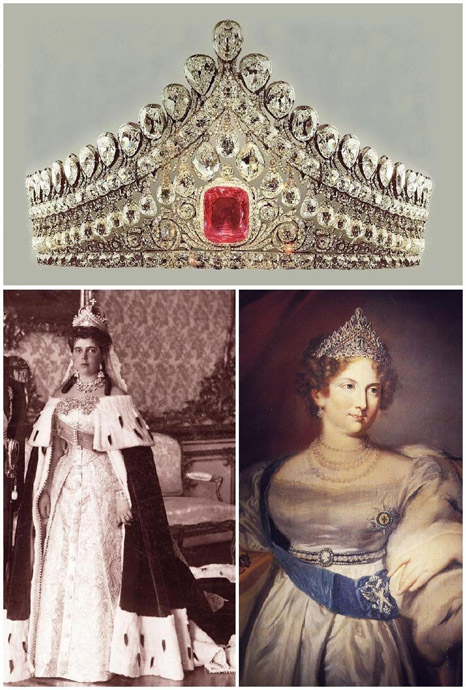 Tiara of Empress Elizabeth Alexeievna
Artisan: Jacob-David Duval (approx. 1800).
There were, however, rare exceptions: jeweler Jérémie Pauzié, unsurpassed artisan of cut gems and diamond design, gained fame owing to the executed orders for the Russian Imperial Court. His work had a great influence on European jewelry, which was later marked by such names as Luis-David Duval, Jacob-David Duval, Jean Pierre Ador and, later, Louis Cartier, Carl Faberge, Franz-Peter Birbaum.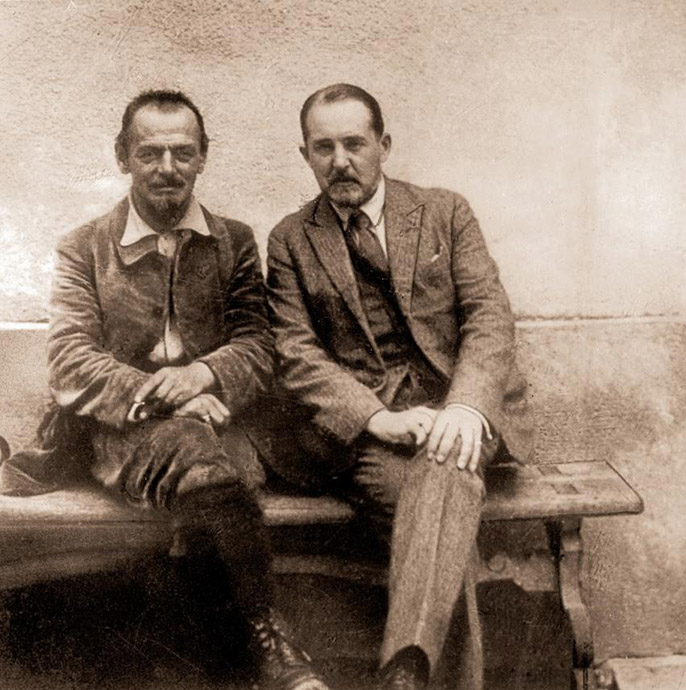 Franz Birbaum (left) and Eugene Faberge. 1922 Switzerland, Aigle.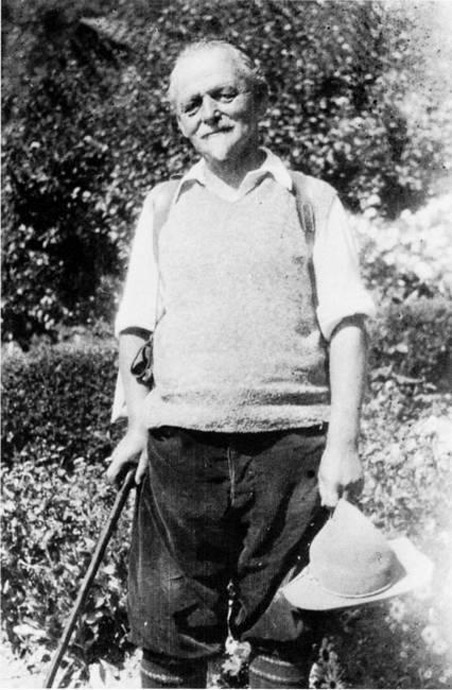 Franz Birbaum, 1936.
Jérémie Pauzié was born in Geneva in 1716. The Pauzié family was large and poor. Therefore, when Jérémie was 13 years old, his father Etienne Pauzié went to Russia along with him and another teenage son Philibert in search of a better life, where his brother Pierre Pauzié served as a surgeon at the court of Peter II.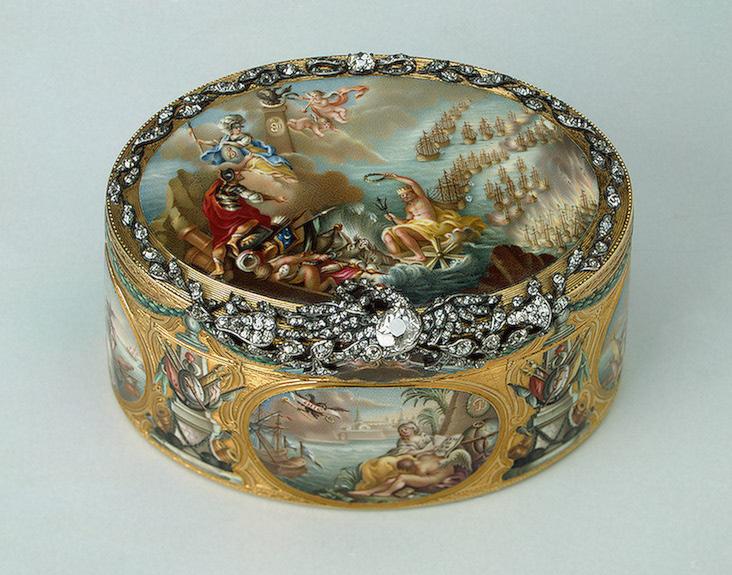 Chesme Snuffbox. Jean-Pierre Ador. 1771.
Gold, silver, diamonds, ruby, enamel; chasing, painting. 4.2x7.5x6.1 cm.
Not having enough money, the Pauzié family went across Switzerland, the Netherlands, Germany on foot. In Hamburg, their financial resources were very scarce, so Etienne was forced to sell his younger son Philibert as an apprentice to a cutler, and he sat with Jeremy on a small ship, which brought them to St. Petersburg in August 1729. In his memoirs, Jérémie describes this event so: "My father decided to apprentice my brother Philibert in Hamburg to Mr. Dumas, the cutler. This separation was extremely difficult for me, as I was used to endure hardship and need with him; we parted filled with the strongest grief. My poor brother did not take his eyes off our ship until we were out of sight; my poor father, who was no less distressed by this separation, made every effort to console me."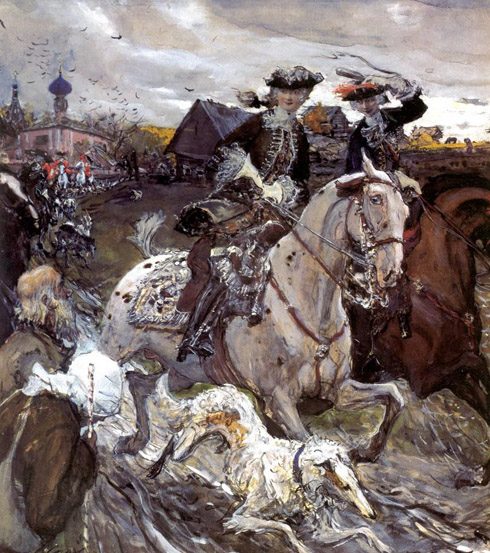 Peter II and Princess Elizabeth Petrovna Riding to Hounds.
Valentin Serov 1900.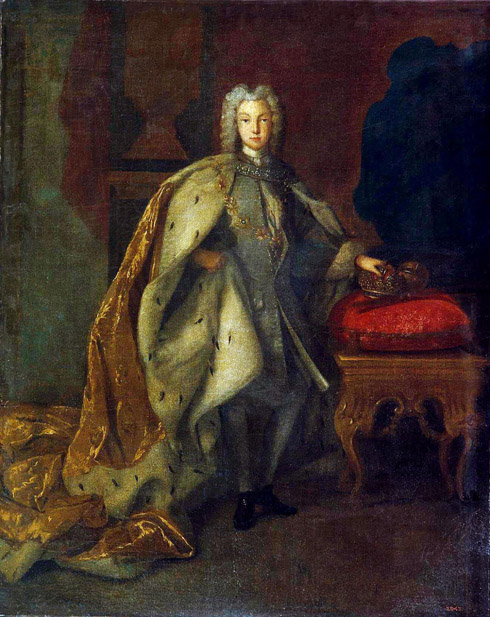 Portrait of Peter II. Johann Paul Ludden. 1728 year.
At this time, the Russian throne was occupied by Emperor Peter II, the same boy as Jérémie Pauzié, a year older one. The Imperial court was in Moscow, and the young crown-bearer was scampered like a madman about the vast possessions of Dolgorukov princes near Moscow. Father and son hit the road again, and on foot anew. They followed a passing cart, the driver of which agreed to load their modest belongings. Moreover, travelers who did not know the Russian language, had to explain with him in dumb show. Six weeks later, the Pauziés were in the Moscow, the first capital, but contrary to their hopes, they found a bleak picture here: the city has just survived a terrible fire, almost completely destroyed the German quarter, where Pierre Pauzié settled.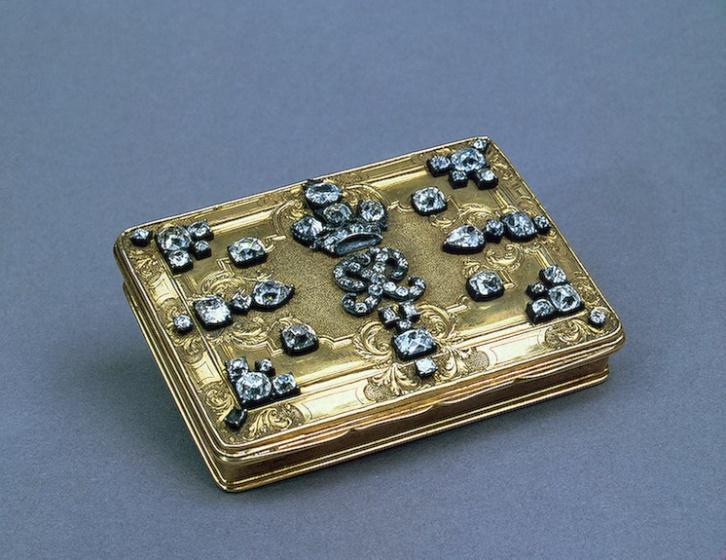 Snuffbox with the monogram of Peter II. Between the years of 1727-1730.
Gold, silver, diamonds, miniature; stamping, polishing, engraving. 1.3x7.2x5.4 cm.
Pierre Pauzié could not help his brother and nephew with something significant. Miraculously, he was able to fix them up with the foreman Roland, who just received the appointment of commandant at Archangelsk. So Pauzié father and son were in a new place of service of their patron. Due to the sudden death of Roland, the Pauziés were forced to return to Moscow. At the same time, they managed to write the younger Pauzié out of the lists of the Vologda Regiment with great difficulty, so that he was not a deserter. In 1731, in Moscow, after so many hardships and upheavals, Etienne Pauzié died. However, before his death he arranged Jérémie Pauzié to be apprenticed to the Frenchman Benoît Gravereaux, the jeweler.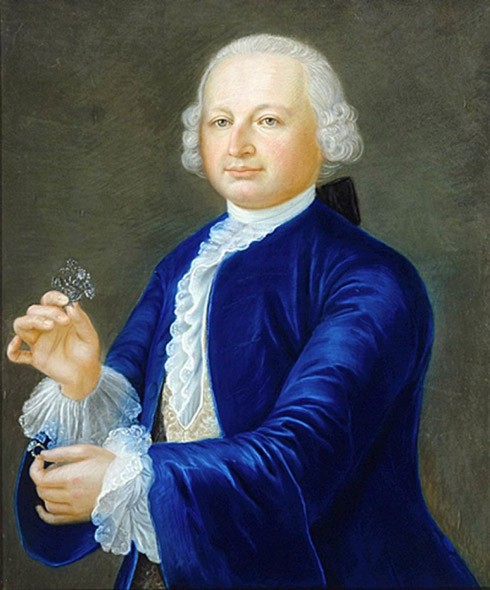 Jérémie Pauzié.
In 1732, the history of Jérémie Pauzié, the diamond-cutter, thus started. Here is how, after many years, the great Pauzié characterized his teacher: "He was an extremely handsome, witty and funny man. Many foreign gentlemen called him to them, and he never refused invitations, because he loved to play and drink as well as other pleasures, so that he spent whole nights in a spree for months, returning home not earlier than in the morning. In the hops he was so angry that he attacked as the beast everyone sleeping in the house. If he found no one to work off his anger on, he beat the tar out of his poor wife.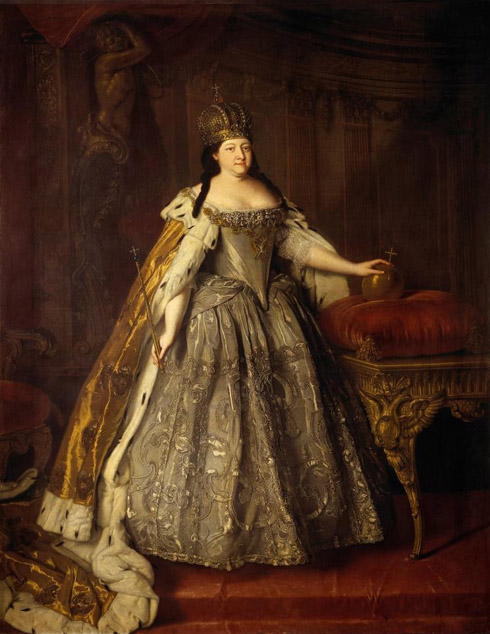 Portrait of Empress Anna Ioannovna. Louis Caravaque. 1730.
It was in the Benoît Gravereaux's workshop Jérémie to have fully revealed his talent, grasping the complex technique of cutting precious and semi-precious stones, and the intricacies of jewelry easily. Empress Anna Ioannovna, who used to order Gravereaux to come with his artisans to her chambers and work there before her eyes, turned her attention to Jérémie, because the young student had significantly surpassed the skill of his teacher. Work in the Palace brought Pauzié great benefit. He had connections in court circles, which allowed the young man to leave Benoît Gravereaux and start his own business. Under the patronage of Empress Anna Ioannovna, in 1740, Jérémie Pauzié opened his own small workshop in St. Petersburg, received the title of the court jeweler and chief diamond artisan.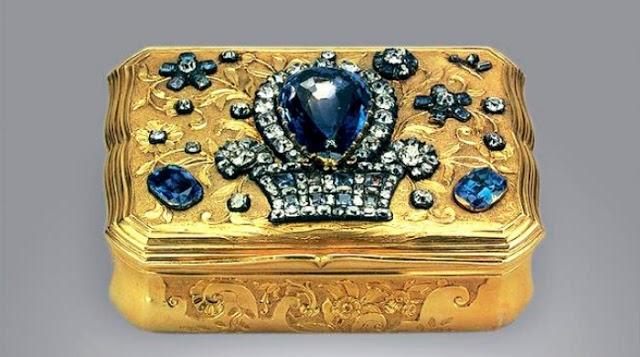 Gold, silver, diamonds, sapphires, quartz; casting, embossing, engraving.
Jérémie Pauzié. Mid-18th century.
Twenty years of the Empress Elizabeth Petrovna's reign was the period of the Pauzié's triumph. The luxury of the Elizabeth's court was indescribable. Moreover both women and men wore jewelry of unthinkable value made of rare stones and diamonds. By that time, Pauzié had already had some status, he began to be called Yeremey Petrovich, had small, but sufficient means for the capital's life, workshop and, most importantly, the exceptional talent of the goldsmith. He perfectly faceted diamonds and precious stones by himself, while selling gems smuggled from China without settling down to elaborate jewelry.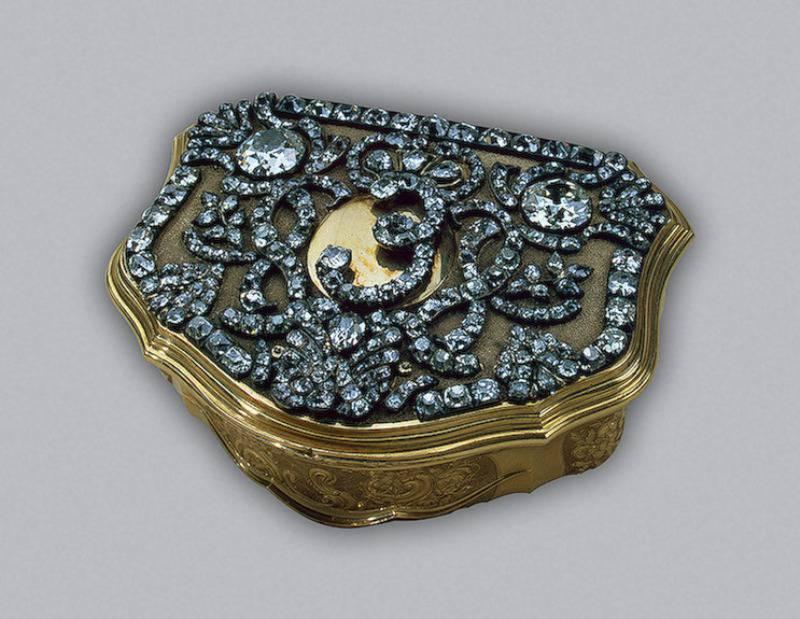 Snuffbox with the monogram of the Empress Elizabeth Petrovna.
Jérémie Pauzié. Gold, silver, diamonds; chasing, polishing, and punching.
Elizabeth Petrovna had a reputation of a great seeker to live in grand style. So, by having become a Russian autocrat, she enthusiastically continued the policy initiated by Anna Ioannovna to transform the Russian Imperial court in the most brilliant one in Europe. A capricious Empress ordered to break all the precious jewelry of their hated predecessors so that the field of activity revealed spazioso for Yeremey Petrovich. At the same time, he had to work not only on Empress's personal orders, but also to serve the top of the court nobility: Vorontsov, Shuvalov, Razumovsky. At the same time, Pauzié established a trusting relationship with the "minor court": the future Peter III and Catherine II.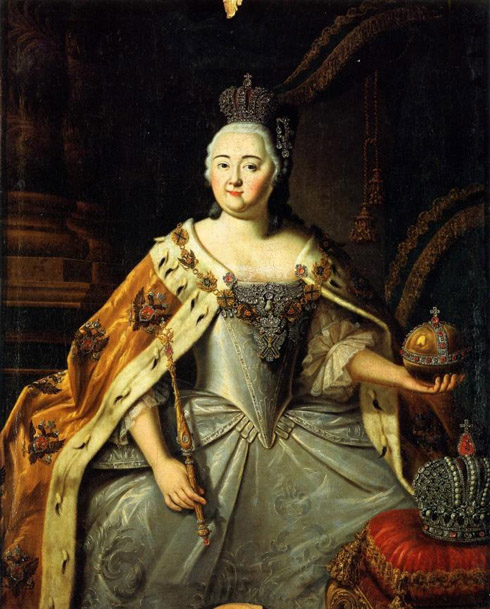 Portrait of Empress Elizabeth Petrovna.
Alexey Petrovich Antropov. 1755.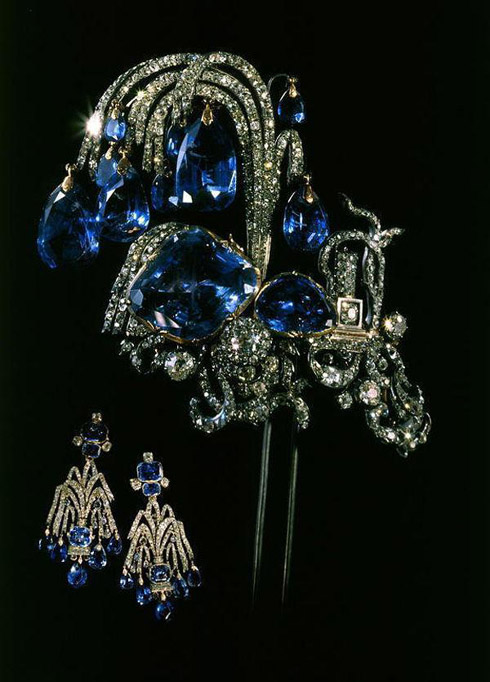 Sapphire set of Empress Elizabeth Petrovna.
Jérémie Pauzié. Fountain aigrette and Cascade earrings. 1755.
Gold, silver, sapphires, diamonds.
With such a luxurious court life, Pauzié had more than enough orders. Now he was the owner of a full-fledged workshop, the staff of which worked as stonecutters, goldsmiths and silversmiths. In addition, the artisan successfully traded pieces of jewelry made by other jewelers, which he received from abroad. In those years, Pauzié made a huge number of luxurious snuffboxes, "bouquets", which decorated women's hairstyles, insignia, tiaras, rings, earrings. "Elizabeth often sent for me at night and asked me to do some work, which would be generated by her imagination," Pauzié recalled, "and I sometimes had to stay all night (in the Palace - auth.) and wait for her to recollect the thing she was to demand from me."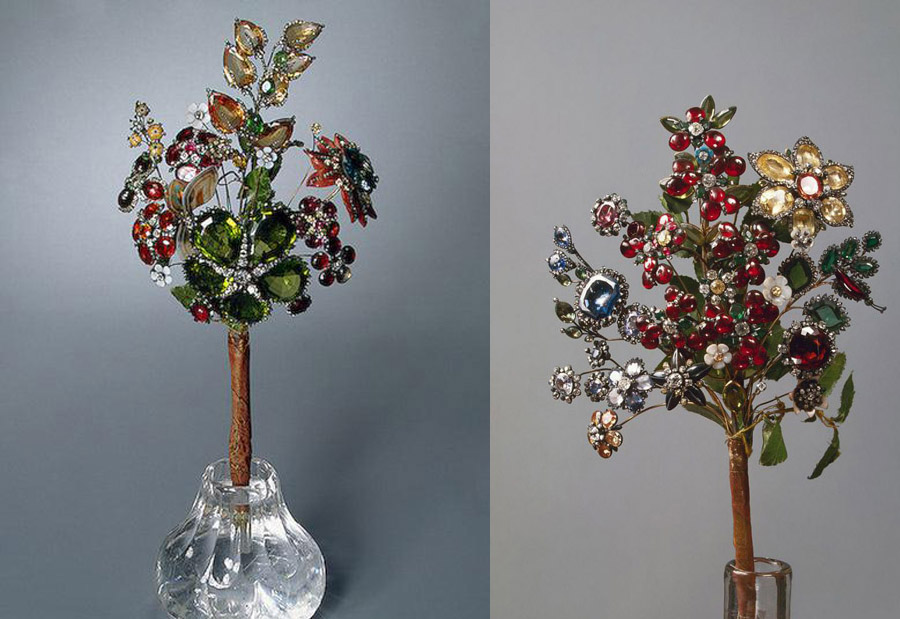 Bouquets of flowers. Jérémie Pauzié. The 1740s. When in the XIX century jewelry bouquets were shown in the State Hermitage Museum's Jewelry Gallery, special vases were made for them.
Agraffe, a huge brooch-buckle, which the Empress used as a fastener for the ermine mantle, should be called the most significant work of Jérémie Pauzié for Elizabeth Pertrovna.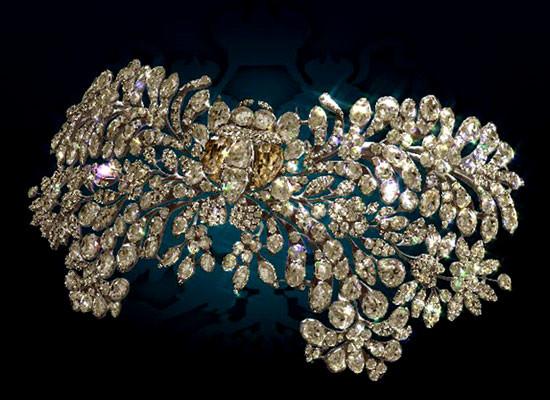 Buckle-brooch of Empress Elizabeth Petrovna.
Silver, gold, diamonds. Jérémie Pauzié. Ca. 1750
During the reign of Elizabeth Pertrovna, Pauzié became one of the most influential court artisans. In the last months of her life, when she was seriously ill, Elizabeth Pertrovna lost the will for entertainment, was not engaged in public affairs, appeared in public a little and received only those close, whom she wanted to see, Pauzié was the one of those few who were well in with the Empress.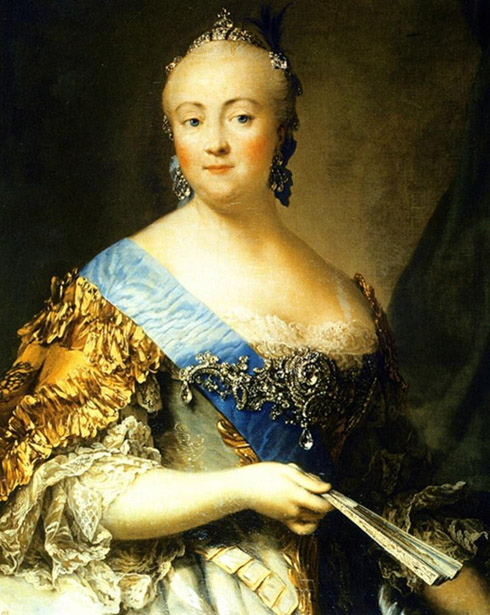 Portrait of Empress Elizabeth Petrovna.
Vigilius Eriksen. 1757
Oil on canvas. Tsarskoe Selo State Museum Conservancy Area
Elizabeth died on December 25, 1761. Peter III took the throne; he was very good to Pauzié, even awarded him the rank of brigadier, which gave free access to the inner imperial chambers. But not everything was so cloudless! The fact that the relationship between Peter III and Catherine II was not that intended to be between good spouses was known to everyone at court by that time. By having plunged into the execution of Emperor's orders, Pauzié did not forget to provide services to his wife as well. Despite the fact that the connection with Catherine II was very dangerous in those days, as the Emperor strictly forbade him to communicate with his unloved wife. The fact that Catherine II was smart was known to everyone, and many knew that she was very ambitious and determined. Catherine II needed 186 days to ascend to the Russian throne on June 28, 1762.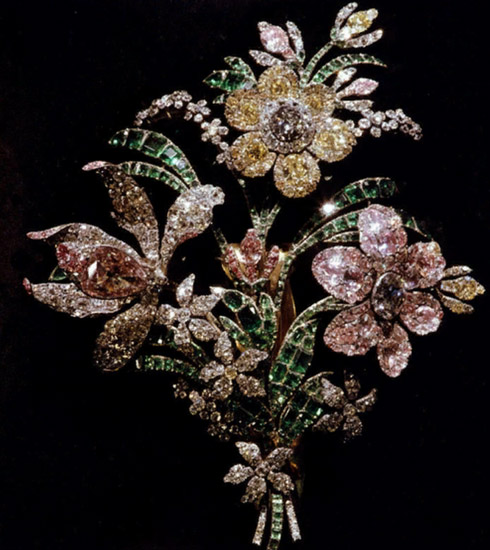 A large bouquet of Catherine II. Jérémie Pauzié. 1760.
Emeralds, diamonds. Foil is placed under the diamonds. It creates the effect of multicolouredness.
The only 15-carat diamond has a natural lilac-pink color.
The new Empress knew how to be grateful and in fact proved that true monarchs always pay their bills. Pauzié was the only jeweler who has received orders directly from the Empress Catherine II through the Chancellor Vorontsov. A few days passed after the beginning of her reign, as Yeremey Petrovich has received a job, which would spin the head of any jeweler. It was to create the coronation crown for the Empress. It was urgent: Catherine II didn't want to make mistakes of her spouse, who failed to become crowned. The ceremony, symbolizing her assumption of power, was to take place as soon as possible. It was Jérémie Pauzié together with the most experienced chief court jeweler Georg Friedrich Ekart to create the Great Imperial Crown, his best jewelry creation, the main coronation attribute, through which all Russian autocrats starting with Catherine II were crowned.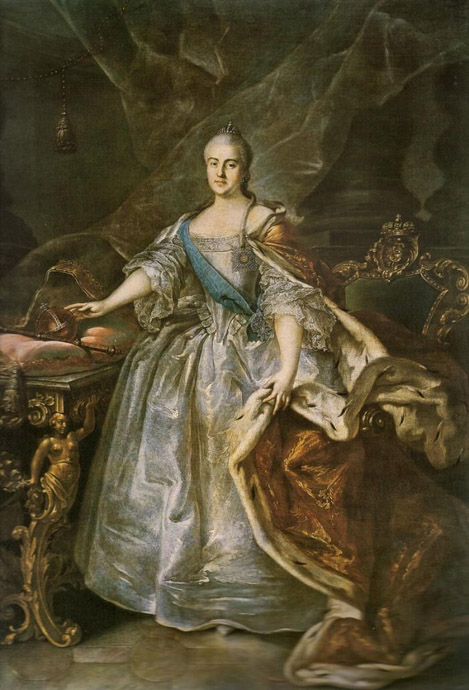 Portrait of Catherine II. I. P. Argunov. 1762.
For a little more than two months, Ekart and Pauzié managed to create a true masterpiece of jewelry. It was established that Georg Friedrich Ekart was the author of the sketch and the frame of the Great Imperial Crown: here he left Pauzié, who also offered his drawing, behind. Ekart's sketch was perfect, but it was Pauzié who was entrusted to set the precious stones into the crown. In preparation for stone-setting, Pauzié used his original method: he made a wax model of Ekart's slotted frame and tested various options for the location of the stones thereon. This study allowed to place each diamond most advantageously, hide defects and emphasize the advantages. The Empress was allowed to break all the outmoded state-owned jewels and to choose the stones for her crown.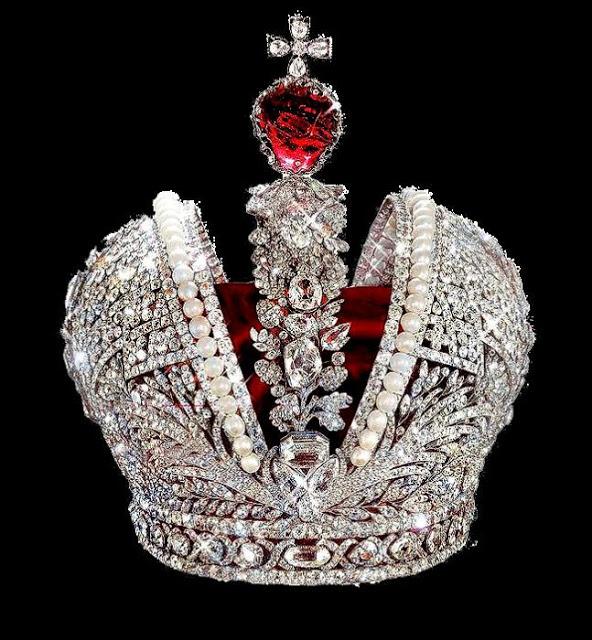 Great Imperial Crown. Jérémie Pauzié, Georg Friedrich Ekart. 1762.
In the end, the Great Imperial Crown was adorned with 4936 diamonds with a total weight of 2858 carats and 75 large pearls with total carat weight of 763, and was crowned with a magnificent dark red noble spinel in 398.72 carats. The total weight of the crown was 1993.8 grams, the length of the lower circumference – 64 centimeters, and the total height – 27.5 centimeters with the cross inclusive. This work was the crown of Pauzié's creativity. It showed all his skill in working with noble stones, the ability to subtly feel their nature, representing stones in the light most favorable for each one. Six jewelers from Austria and a diamond mounter from France helped in the work of Jérémie. "State-owned Russian artisans", Ivan Estifeev, Ivan Lipman, and apprentice Ivan Nikiforov, took part in the creation of the crown as well.
In his memoirs, Pauzié describes creation of the crown so: "A few days after her accession to the throne, the Empress Catherine called me to her and told me to check the treasury things and ordered me to break everything that would not be in modern taste, and to use for making of the new crown, which she wanted to have for the coronation. I selected between those things everything that could be suitable for this work, and since the Empress told me that she wanted this crown to remain in the same form after the coronation, I took all the biggest stones that are not suitable for fashionable trimming, partly diamonds, partly colored ones, which made the richest thing existing in Europe.
Despite all the precautions I took to make the crown light and to use only the most necessary materials, in order to hold the stones, it was five pounds in weight. I fit Her Majesty's crown. Catherine said that she was very happy with it and would hold this weight for four or five hours somehow."
I fit Her Majesty's crown. Catherine said that she was very happy with it and would hold this weight for four or five hours somehow."
The artisan managed to please the customer, who received a great object in a very short time, and "the richest thing existing in Europe" was estimated at a fabulous sum for those times: two million rubles! September 22, 1762, in the Assumption Cathedral of the Moscow Kremlin, Catherine II solemnly had the creation of Pauzié and Ekart laid on herself.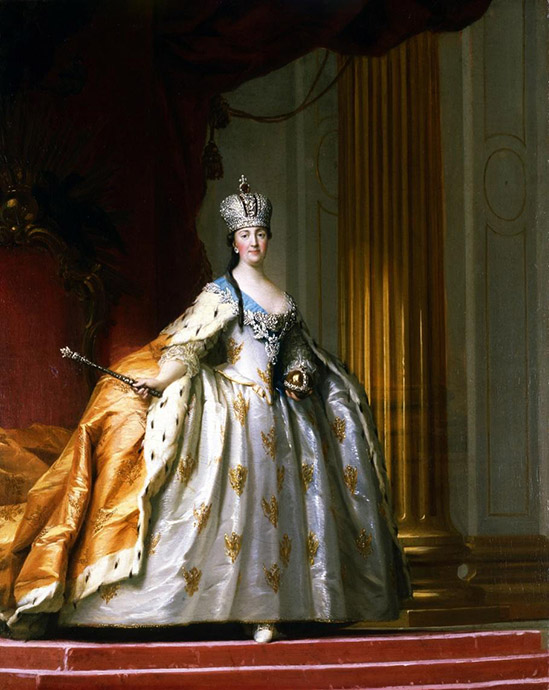 Empress Catherine II wearing the Grand Imperial Crown, 1766-1767. The Virgilius Eriksen.
Jérémie Pauzié was serving at the court of Catherine the Great for another two years. In January 1764, however, he took his wife and three daughters and left Russia forever. He went almost secretly, leaving all the real estate, having told his crowned lady, and everyone he knew in Petersburg that he was coming to Switzerland for medical treatment and seeing his relatives. The accumulated funds were enough for him and his family to have a comfortable, but unpretentious life in Switzerland. Pauzié family settled in Geneva, in the old part of the city, first on the Verdun Street, then on the square of Fusteri, where Jérémie lived another 15 quiet years and left this world in December 1779.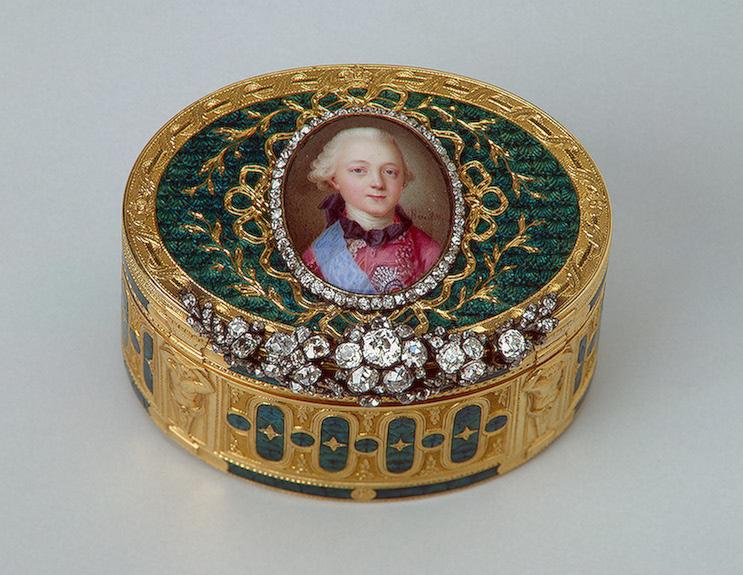 Snuffbox with a portrait of the Grand Duke Pavel Petrovich. Jean Pierre Ador. 1771.
Gold, silver, diamonds, enamel; chasing, painting. 3.3x7.1x5.5 cm.
The path of Jérémie Pauzié to the position of Court Jeweler, whose jewels adorned one of the most luxurious royal courts of the XVIII century, was difficult, and sometimes dangerous. Along the way, there were hardships and privations, the envy of colleagues, and the intrigues of the powerful ones. To overcome all this, Pauzié needed a lot of patience, prudence and diplomacy to survive the repeated change of power, retaining the title of Court Jeweler throughout his life. Cautious native of Geneva was lucky to be endowed with all these qualities in full.
Over the years, the General public almost forgot Jérémie Pauzié, but not goldsmiths, his colleagues. Representatives of the following generations have tried to learn many of the secrets of his art. And in early 2011, the name of the Swiss artisan entered the world of high fashion jewelry once again. Brand of Jérémie Pauzié became the property of Vendôme Private Trading, French company for the production of luxury goods.