Hobbies and Crazes as a True Delight
Hobbies and passions contribute satisfaction and exhilaration to our everyday life. In the flow of many vicissitudes hobbies become the islets, which give an opportunity to get rid of negative emotions, and the realization that there are hobbies in our lives brings a sense of satisfaction. Many of us do not have much time for favorite way of spending as would like to, and not many people make hobbies their main activity.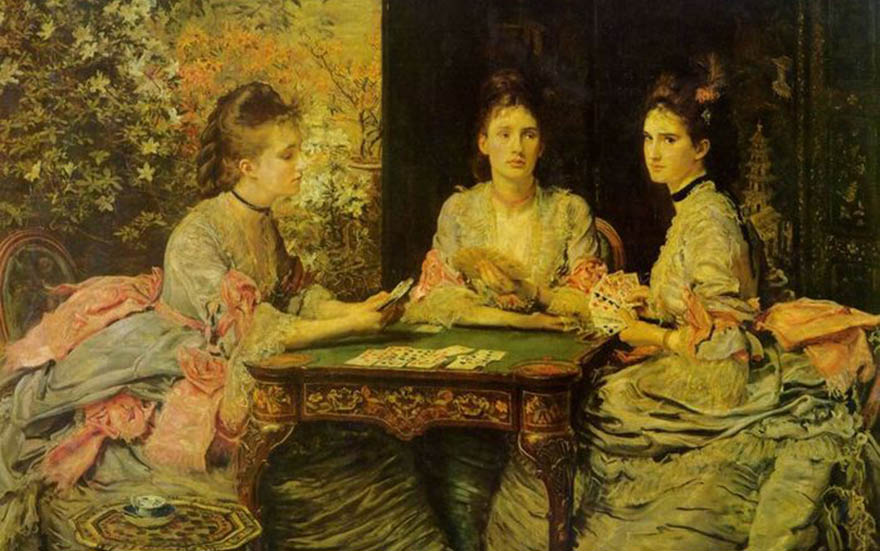 Classic Jewelry House "Lobortas" provides a unique opportunity for anyone to capture your favorite hobby or craze in jewelry masterpiece.
Cufflinks, created together with the artisans of the House "Lobortas" will stress individuality, will tell all about your passion, and once again will be a reminder of your favorite hobby or interest in the everyday fuss.
The world's most courageous people are those who managed to conquer the heavens. Not everyone is able to enjoy the vast expanses of the skies. But one day, after gaining the wings and having conquered the heavenly expanse, feeling like "steel bird" humbly veering in your hands, having enjoyed the feeling of absolute freedom I would be hard to part with that element.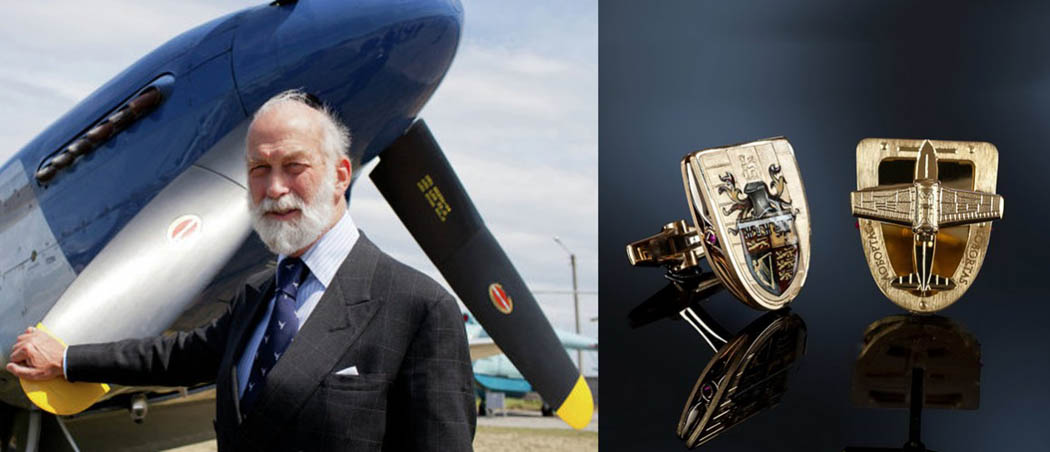 Prince Michael Of Kent | Cufflinks "Prince Michael of Kent Air Squadron.
We can say with confidence that this kind of active rest, as hunting is popular in every corner of the globe. It is worth noting that hunt is a primeval fight between wild beast and man, through which people have managed to survive for centuries. Much later, sometime in the middle ages, hunting became a privilege only for the elite, the royal nobles and aristocrats. The walls of almost all old castles are richly decorated with trophies, indicating that the owner of the castle was an avid hunter.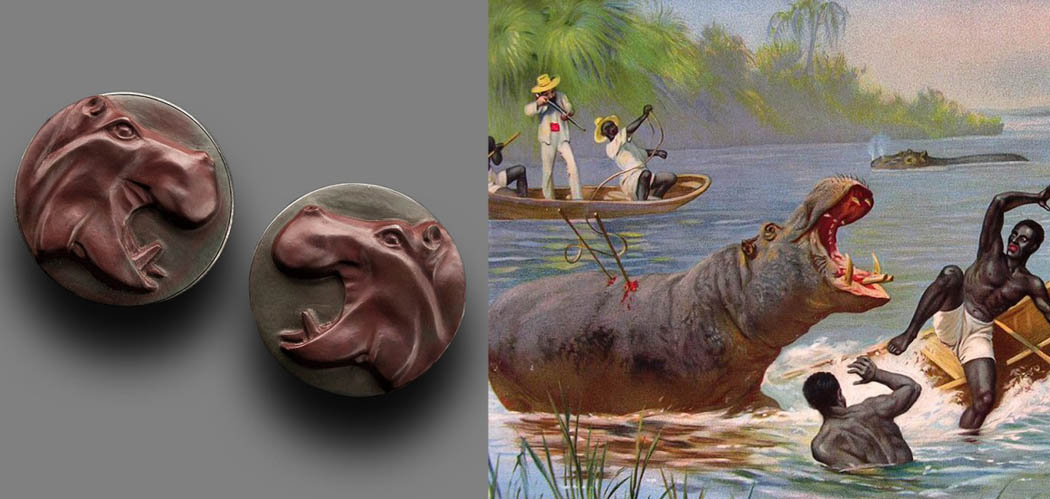 Cufflinks "Hunting the Hippopotamus".
To date, hunting is a hobby for people who are in a different kind of Safari, who want to escape from the life of robots, computers, and stuffy offices and hear the breath of nature, feel the excitement of chasing the beast and win this duel.
Having an own machine is convenient and generally prestigious. Owners often perceive the cars by far not as mere property, and refer to it literally as a human being. Therefore, having a 4-wheel friend turns into a hobby, all the worries are not painful and are pleasant, because they can relax and switch their attention from day-to-day family and work worries for something simple and straightforward.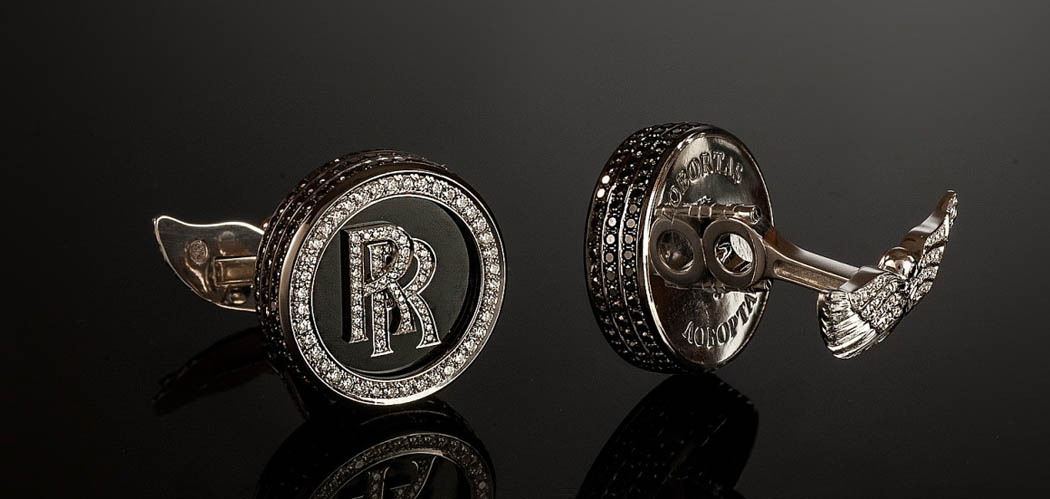 Cufflinks "Rolls-Royce". House of Lobortas.
Photo by Vladislav Filin
Many drivers get great pleasure from feeling of speed. When they ride fast on the city road, family difficulties, health problems become pushed to the sidelines and there is only the road and traffic, which is to be fought with.
Three hobbies – chess, billiards and cards – as ancient as the world, were given to humanity.
About the essence of chess players discuss, perhaps, since their inception in India about two thousand years ago. Some consider chess an intellectual game of chance. Other think it to be entertainment and good spending of spare time. Some consider it arts. Still others cite the analogy of a military battle. However, there are two of the most popular views, especially now. The first – chess are a sport. Moreover it is professional one. The second – it is just a hobby.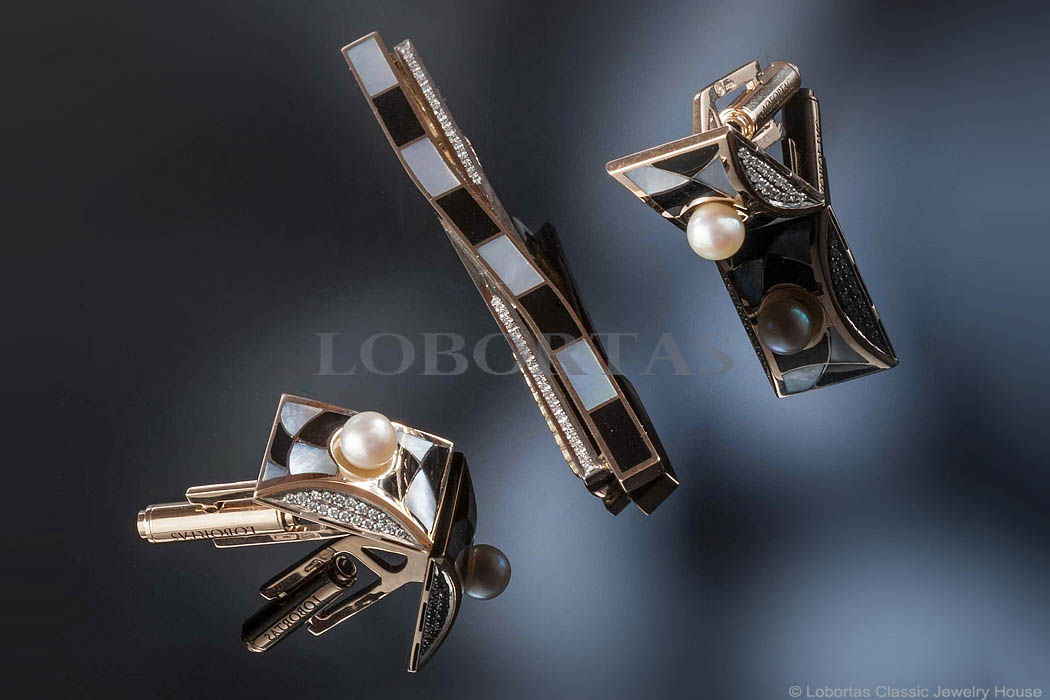 Cufflinks «Queen's Move» | Tie Clip "King's Move".
Lobortas House. Photo by Vladislav Filin
Playing ball was hardly the first invented by man. Speaking about the origins of the billiard game, it is impossible to establish the exact time of its appearance. We only know that it, like chess, is of very ancient origin and birthplace of billiards is Asia, according to some — India, others — China. By a strange the national mentality, the most important Chinese inventions were rarely brought to perfection. But together with silk, gunpowder and compasses, Genoese merchants brought a new game to Europe as well.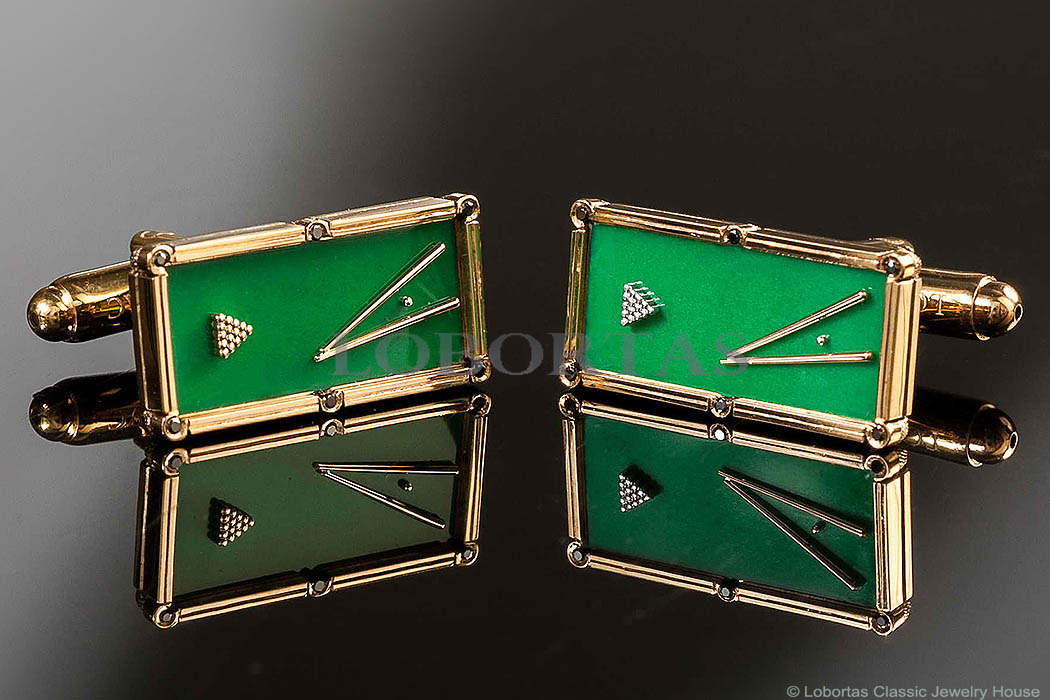 Cufflinks «Billiards». Lobortas House.
Photo by Vladislav Filin
Billiards combines strategy, knowledge of geometry and psychology needed to win. Axis and rotation direction, strength and angle of impact... no detail should be missed. Billiards is a game that clearly shows how important it is to think about each move, and this skill is necessary not only for the pool table, but also in life.
The invention of the card game, inexhaustible source of joys and sorrows, is imputed to astute Egyptians and fatalistic Indians, and the cheerful Greeks in the face of Palamedes. However, during the excavation if they found "tools" of gambling, mostly in the form of hexagonal dice.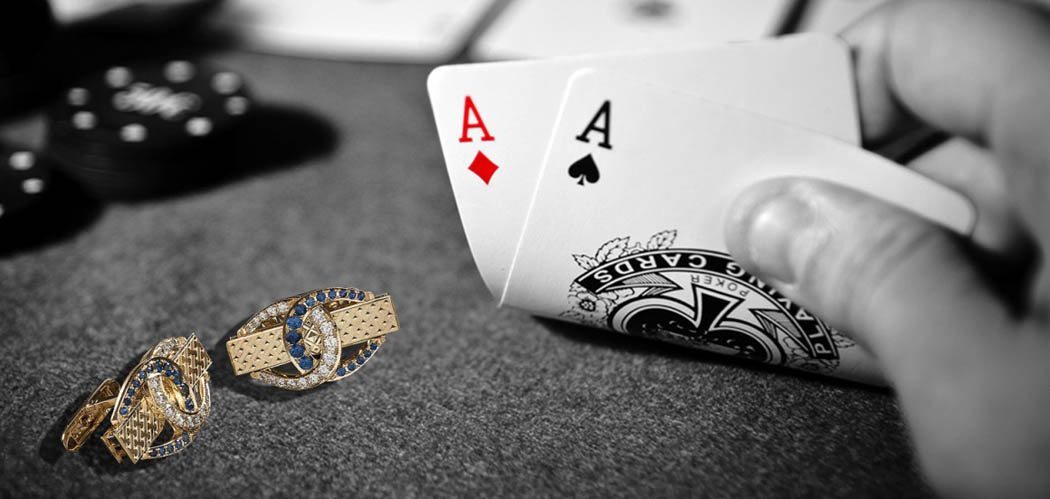 It is widely accepted that the first cards came later, in the 12th century in China. From a dictionary of Ching Jie Tung we know that the first playing cards were made in China in 1120. Masters of filling their leisure time, courtiers, and aristocrats found aesthetic fun first in small pictures with allegorical characters of animals, birds and plants. Then that was a convenient way of transferring secret information in the trade of court and amorous intrigues. And later that was the possibility of playing the risky games with omnipotent fate.
Card games are one of the most popular hobbies among people. Passion, rivalry and a burning desire to be the winners do this hobby incredibly popular and fascinating. It is called the number one sport in the world. It excites the hearts of millions of people on Earth. This is more than a game. This is football!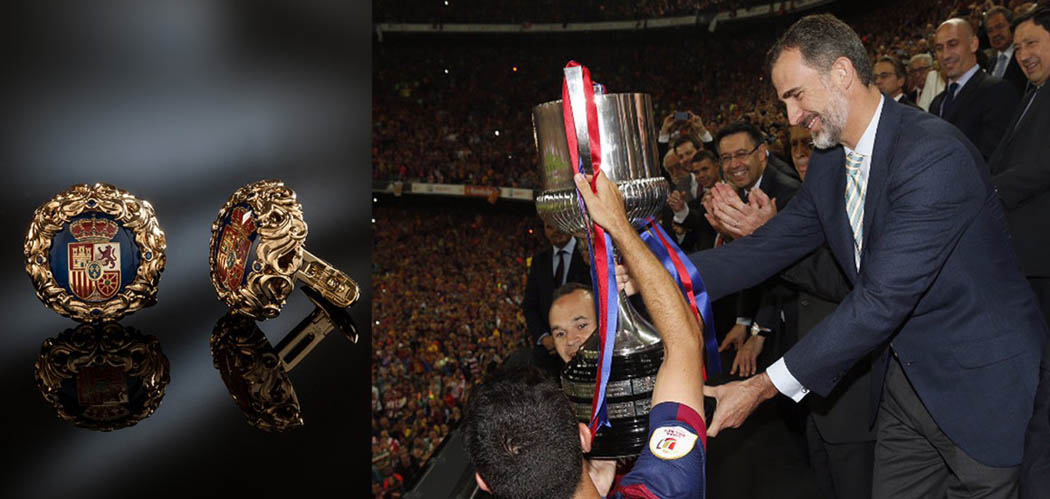 Cufflinks of the King of Spain. House Lobortas. | Philip VI, King Of Spain.
Nowadays football is perhaps the most popular sport. So there is a huge number of football fans around the world. It is played, as they say, by young and old, professionals and amateurs, large audience keeps up with football, millions of admirers root for their favorite teams. In short, football is life. Excellent and well-known hobby is singing, playing musical instruments, and composing music.
Music is not only a great way to distract yourself and have fun in your spare time; it has still been the industry of art that stimulates brain activity. Doing music help not only to relax, but also to put the nervous system in order.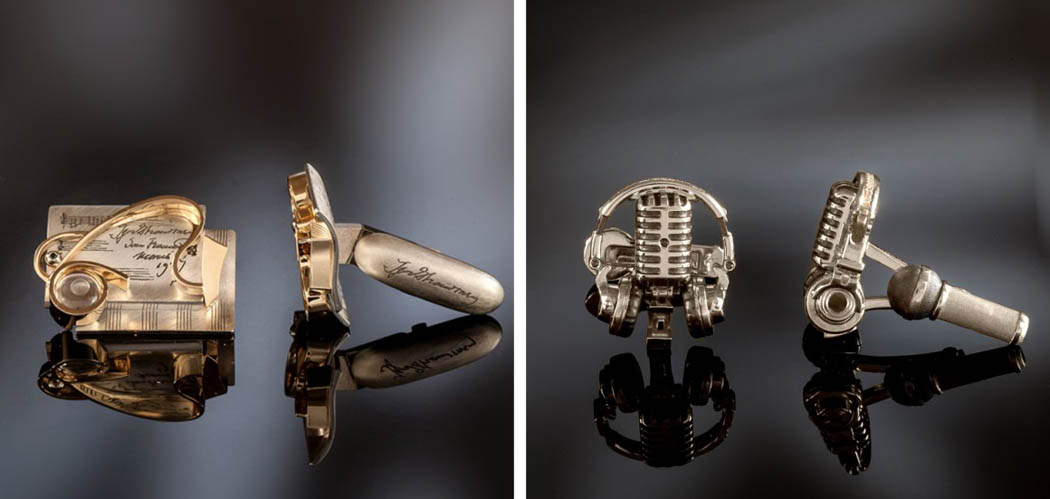 Cufflinks "Stravinsky". | Cufflinks "Golden Voice".
Lobortas House. Photo by Vladislav Filin.
Many studies conducted by different scientists proved that music helps to develop two hemispheres of the brain, while the exact sciences involve only the left hemisphere. Passion for music cannot only be fun, but also a huge favor. Artisans of the House "Lobortas" translated some of the most popular hobbies of modernity into unique jewelry masterpieces. If you have any idea, be sure to implement it!