Pygmalions of Modernity. Glyptics
Рart three
Russian style. Heritage
C&E: What if we compare Faberge and such famous companies as Cartier, Boucheron, Tiffany?
К.Ф. : K. F. : ...But they are merchants, not goldsmiths.
Interview with Karl Gustavovich Faberge to the grand magazine of Capital & Estate January 1914
In the second half of the 19th century, 26-year-old Louis Francois Cartier opens a jewelry workshop of Cartier in Paris. At the same time, in Petersburg, Gustav Fabergé founds the jewellery firm of Fabergé. Louis Francois II, the grandson of Louis Francois Cartier, and Karl Fabergé, the son of Gustav Fabergé, will bring the true glory to these brands.

Louis Francois Cartier | Peter Karl Gustavovich Fabergé
Louis Cartier II ably took over the experience of others. For example, he mastered the art of enamel, by studying the works of the great Karl Fabergé. Louis Cartier II was a kind of rival of Karl Fabergé at the world jewelry Olympus. By the beginning of the 20th century, the relationship between Cartier and Fabergé was reminiscent of the David-and-Goliath Battle. Louis thoroughly followed the assortment and all the novelties of the Fabergé firm and almost always repeated them in his own style. This was especially true for the stone cutting. Over time, Boucheron joined their company.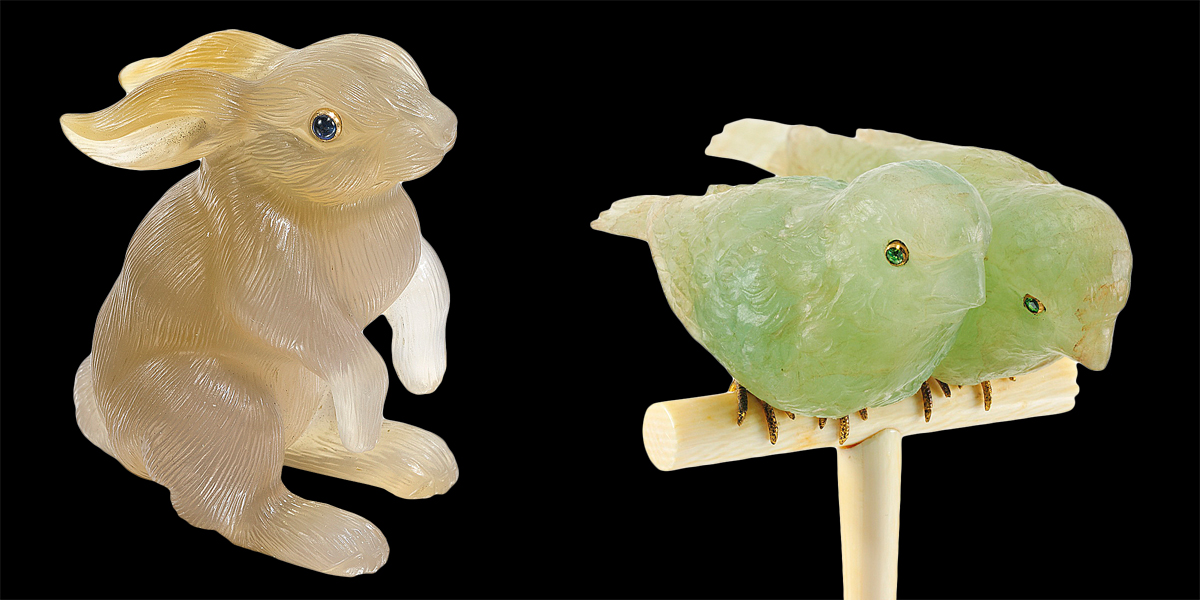 Fabergé or Cartier, circa 1905. Sotheby's London | Cartier, circa 1910 Sotheby's London
According to Franz Petrovich Birbaum, chief designer of Fabergé, almost all stone-cutting works until 1908 were performed according to the drawings and models of the company at the Karl Fedorovich Werfel's plant in St. Petersburg and the stone-cutting firm of Stern in Idar-Oberstein (Germany). It would not sound ridiculous, but it is documented that both Cartier and Boucheron placed orders for stone-cutting works there as well. Moreover, gems for the manufacture of products were purchased from the same suppliers.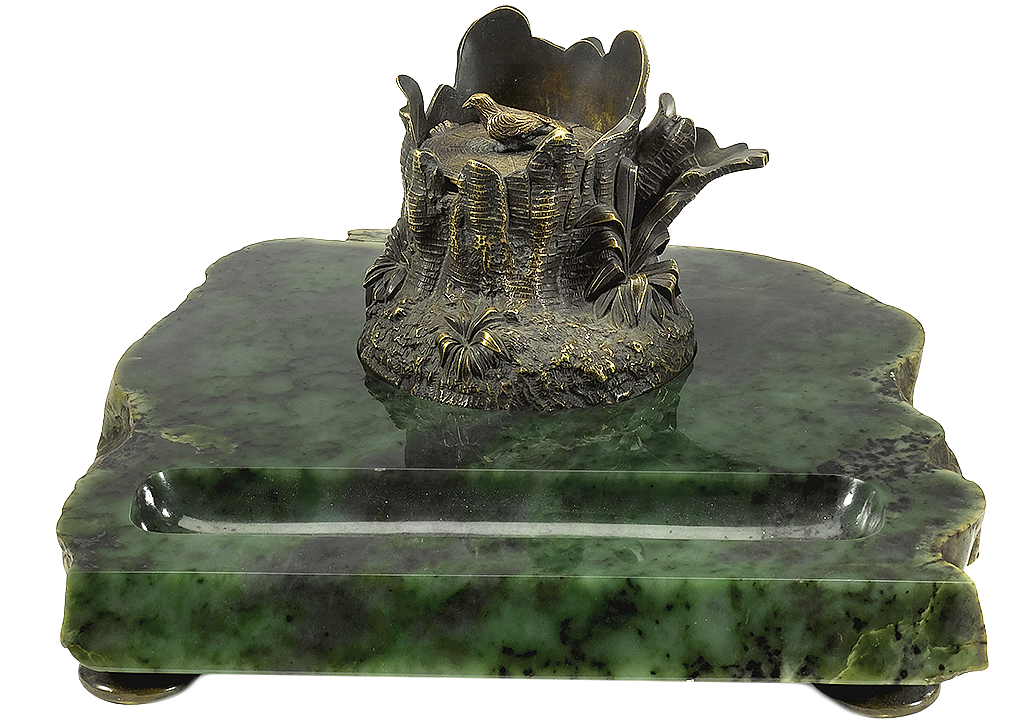 Inkwell. Werfel's plant. Late 19th century.
Sotheby's London
Cartier and Boucheron did not make fakes, they made their own amazing high-end jewelry and decorative works, but we cannot say about them as geniuses of art, because initially they were aimed at mass production, while Faberge along with mass production created very expensive unsurpassed masterpieces.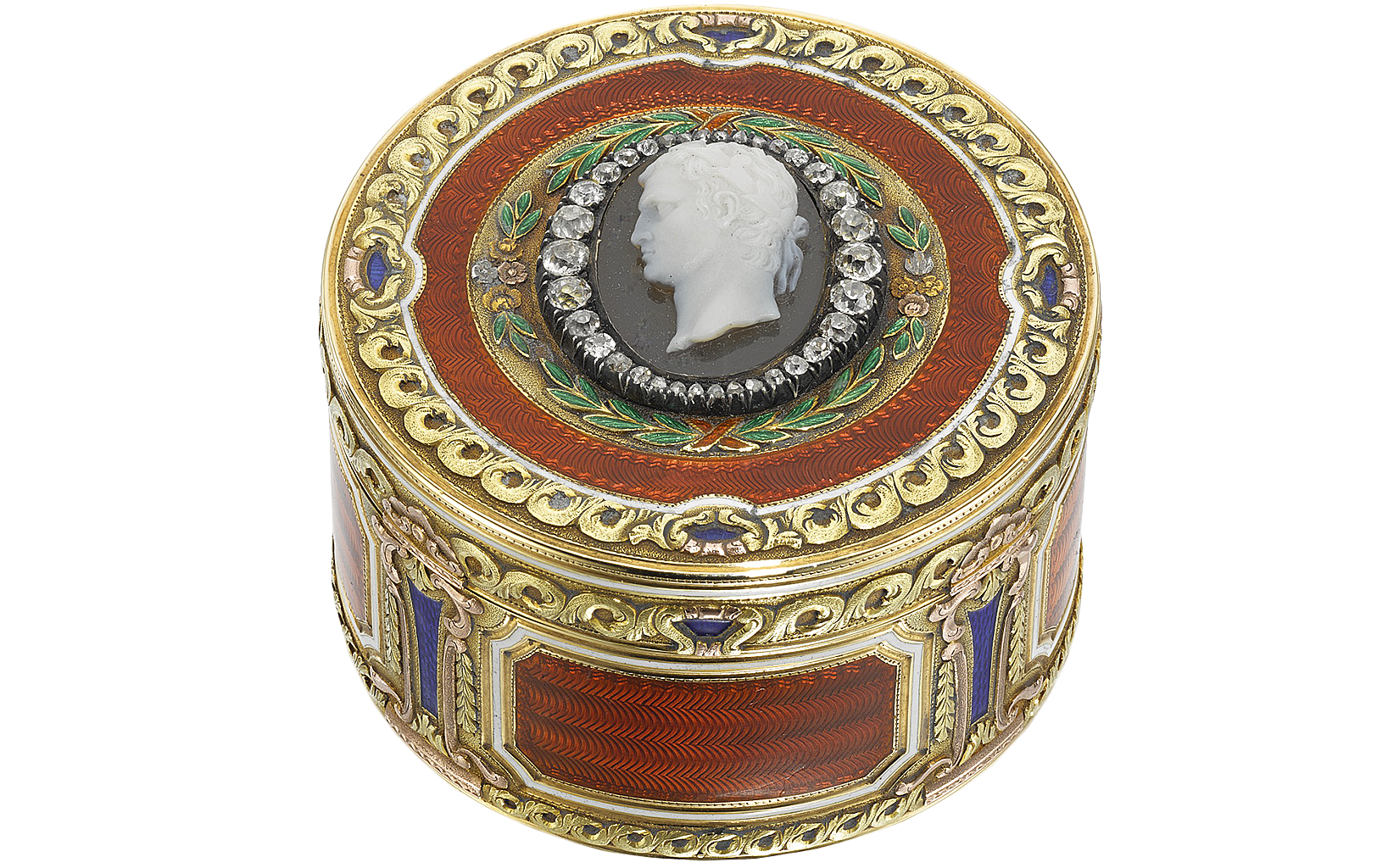 Fabergé, circa 1890.
Sotheby's London
Sculptural figures of animals and floral arrangements by Fabergé have always been more elegant, in great demand and valued very expensive. On the wave of mass interest in stone-cutting figures, they became collectibles, and the strength and hardness of the material made them eternal works of art.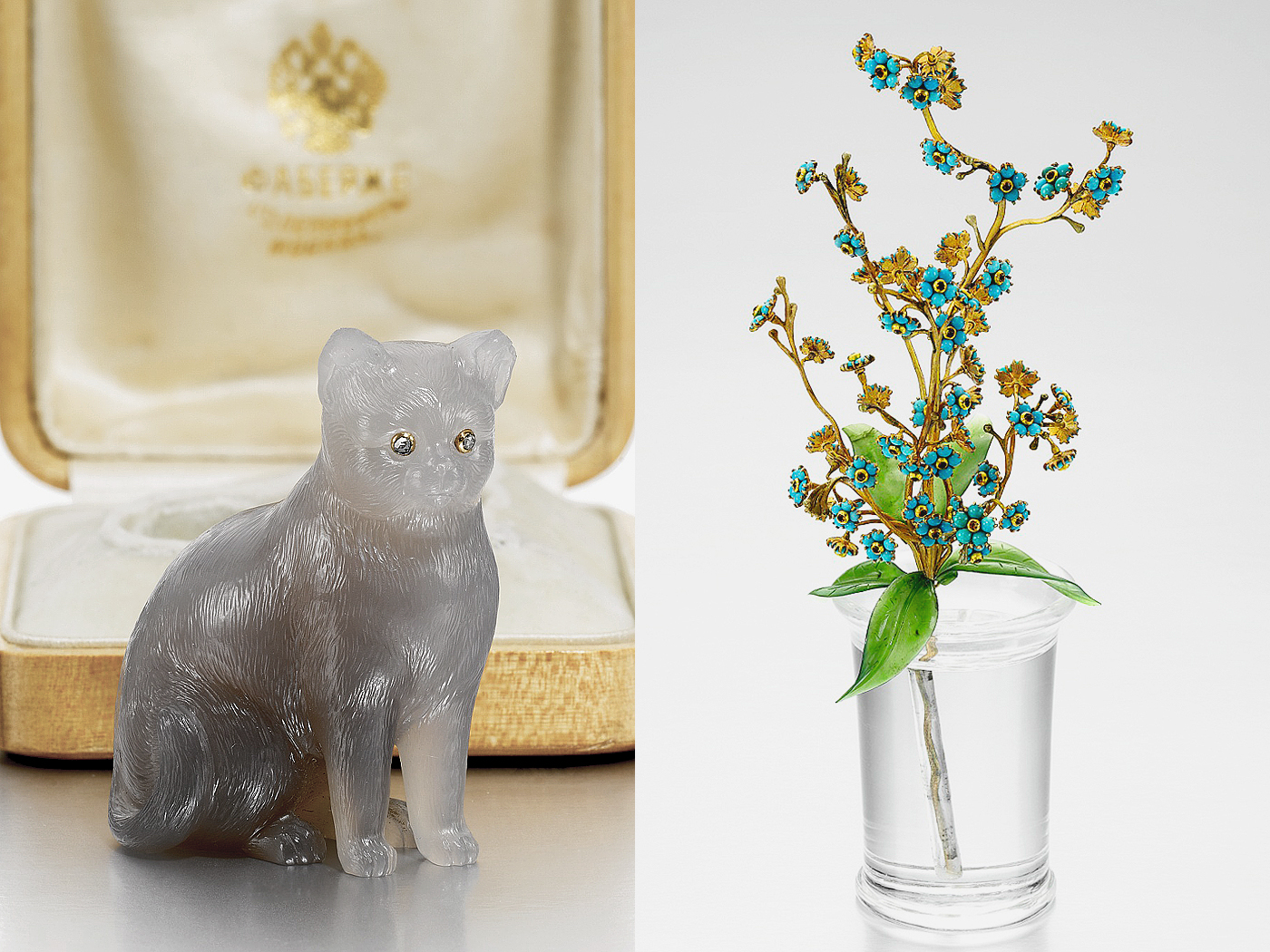 Fabergé, circa 1900.Sotheby's London | Fabergé, circa 1910.Sotheby's London
One of those is the collection of stone-carving miniature sculptures by Fabergé, stored in a large collection of artistic masterpieces of Queen Elizabeth II. It is the so-called Sandringham zoo – there are about two hundred figures, and they are still charming, graceful and sweet.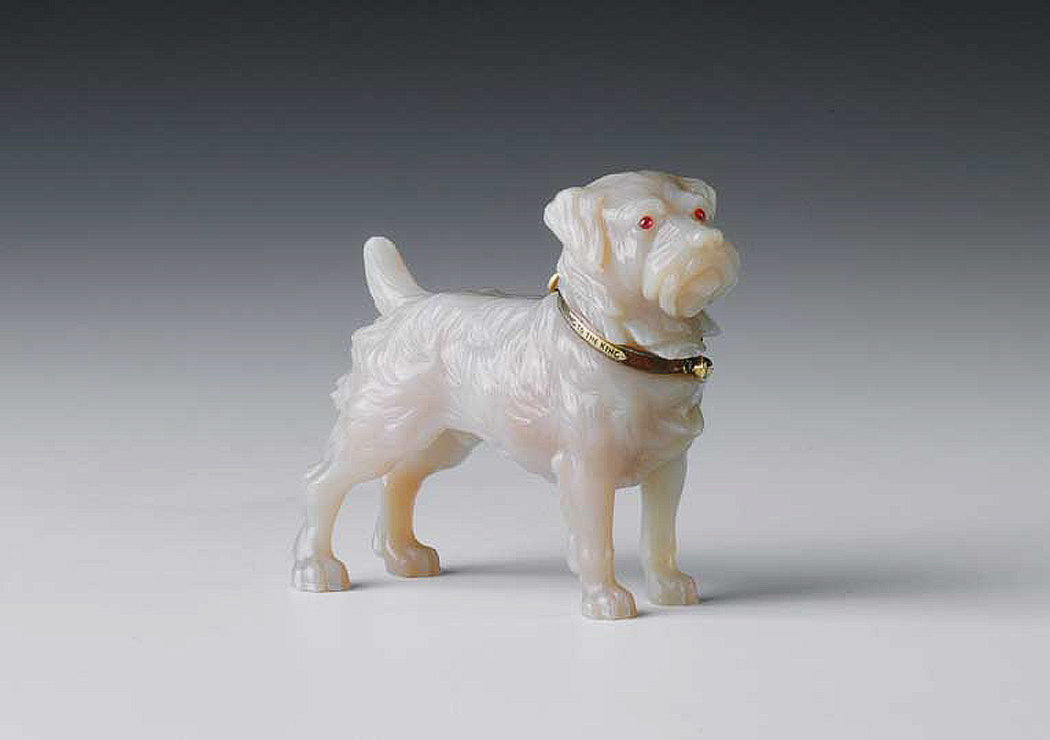 Fabergé. Collection of Queen Elizabeth II of England.
At the World Exhibition in Paris in 1900, Russian art stone products were a huge success. After the exhibition, Fabergé opens its branch in London, which served England, France, the USA, India and Siam. To be continued...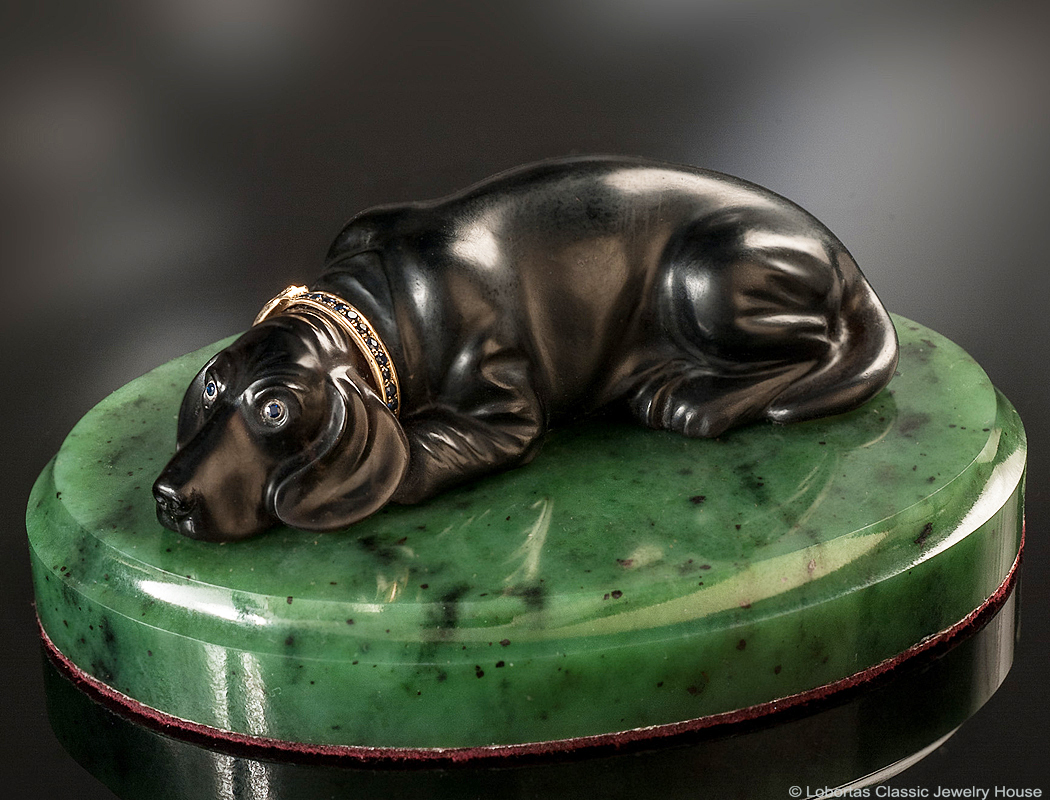 Dog Sculpture. Lobortas House
Photo by Vladislav Filin
The Lily of the Valley Stone Carving Sculptural Group. Lobortas House.
Photo by Vladislav Filin