The Inimitable "Menagerie" by David Webb
David Webb is a founder of the eponymous jewelry house, creator of jewelry with very unusual style and design that distinguishes the brand "David Webb" among many competitors. He left an unforgettable legacy in the history of jewelry design.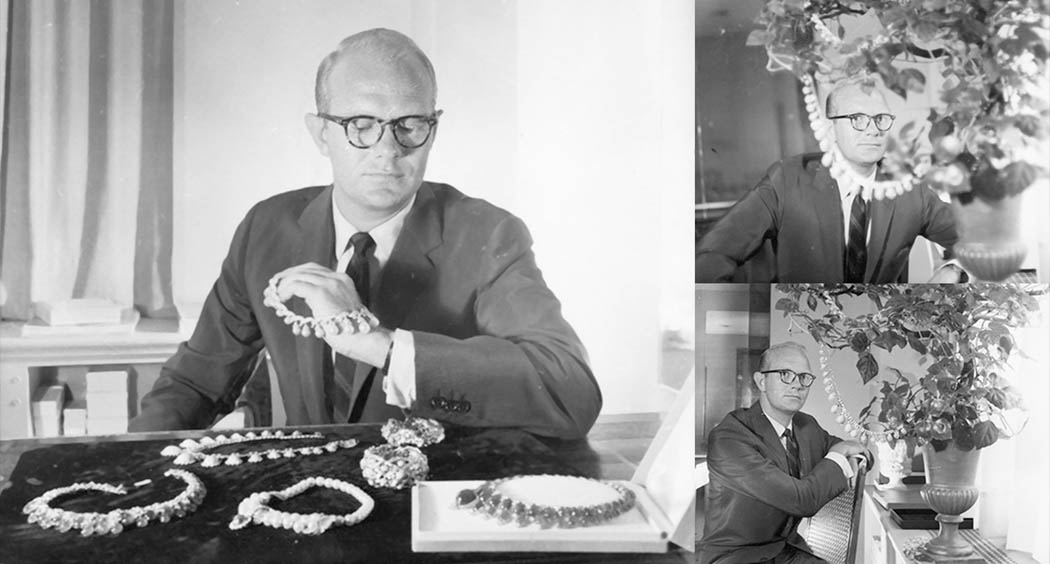 David Webb. 1925-1975
David was born in Asheville, North Carolina in 1925. David started thinking about the creation of jewelry yet in his childhood. The boy frequently visited his uncle, a talented goldsmith, who owned a large workshop. Even then, the young Webb was interested in the secrets of stone cutting, which fascinated him with splendor and mysterious shimmer of edges. The uncle taught his nephew David some curious secrets of jewelry that impressed him more and more. In 1941, when he turned 16, for the first time he visited New York, the city of contrasts, which conquered the amateur jeweler with its beauty and grandeur. David decided to stay in New York. He worked as a jeweler and jewelry designer for a long time, and, to his credit, he reached a considerable success in his activity.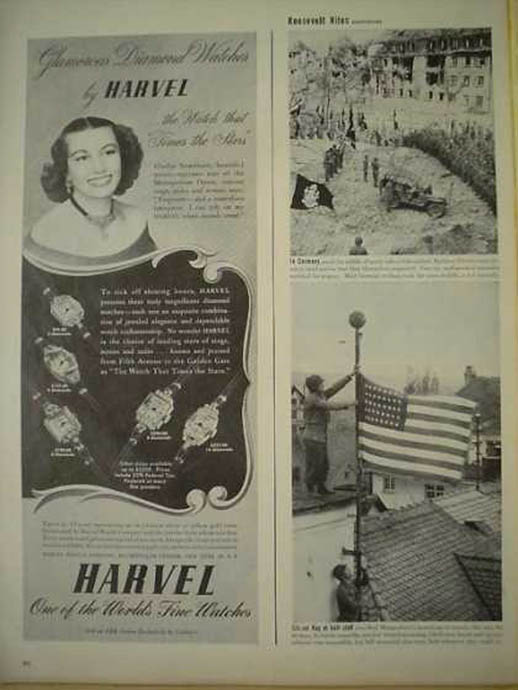 Advertising jewelry, United States, 1945

.

Meeting with Antoinette Quilleret, wealthy Lady and admirer of luxury jewelry, was a real gift of destiny for David Webb. She was able to see a talented and unique artist with a great future in a young jeweler.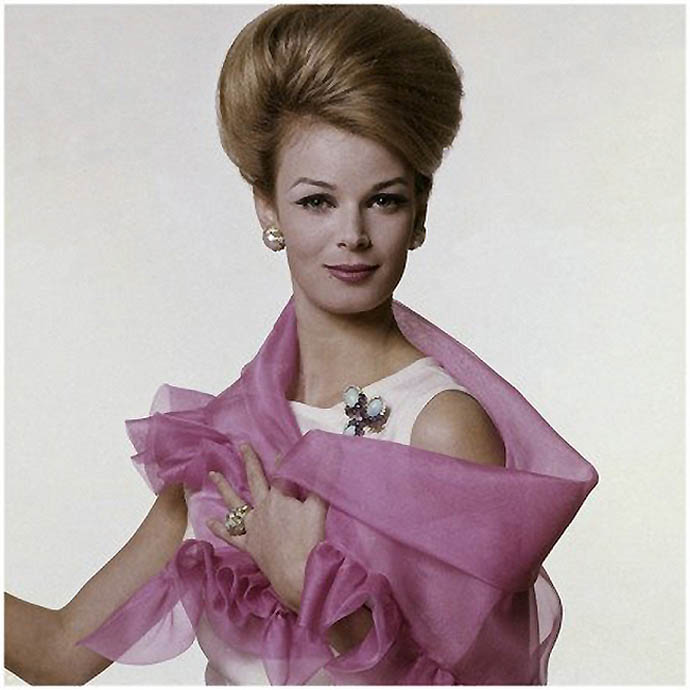 Antoinette Quilleret. 1962
July 28, 1948, supported by Antoinette Quilleret, Frenchwoman with exquisite taste and a flair for talent, David registered a company "David Webb Inc." and opened a shop at the 57th Street, Madison Avenue, 2 West 46th Street.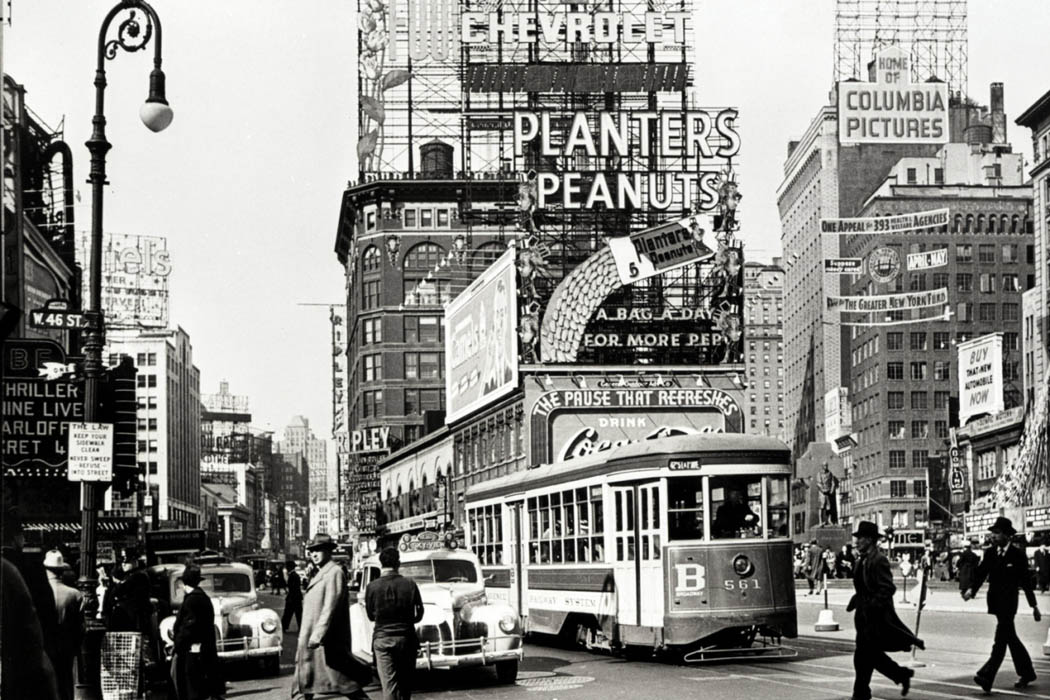 West 46th Street, New York City, 1946.
It soon became clear that Webb was endowed with rare talent as a goldsmith and designer. In the post-war era, when people wanted a peaceful and beautiful life after the hardships of wartime, jewelry by the workshops of David was noted tenderness, femininity and a more or less traditional design. Nevertheless, from time to time, his love for nature and all living things broke in the collections, and there appeared rich floral motifs and images of animals.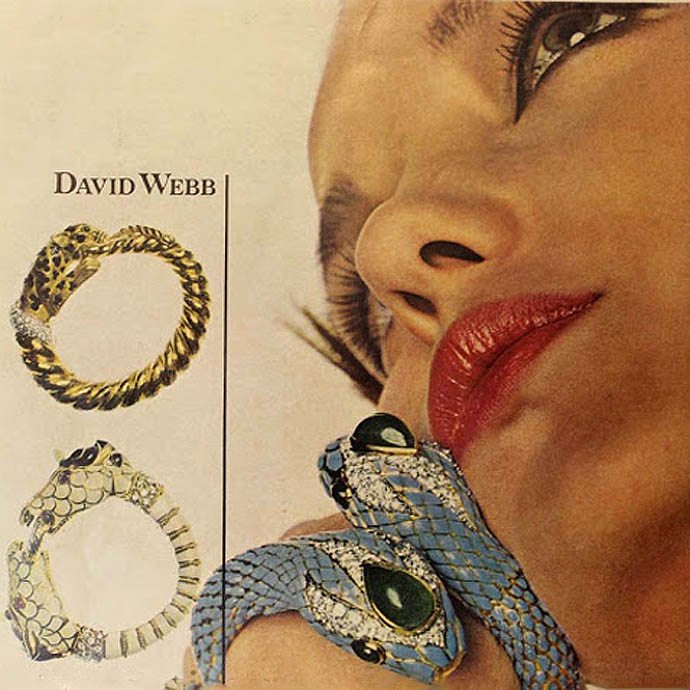 Vogue, 1964.
David closely followed trends in the fashion world, but tried to take experiences of the past into account in his works as well. In the mid-1950s–early-1960s, many avant-garde designers believed him to be irreversible, conservative, but to call Webb a standing man they could not. Direct proof of this are the jewelry, released by David Webb Jewelry House, great variation in colors and shapes of ornaments that do not have much in common. Around the same time, the very first collection of David Webb titled "Menagerie", which traced the motives of the animal world, saw the world. A line of jewelry included rings, earrings, cufflinks and other items depicting various animals: pandas, dolphins, frogs, butterflies, zebras. David, who occupied a niche in the vast world of jewelry, reflected the "animal" theme in other works later. However, they could not outshine the success of the very first collection "Menagerie".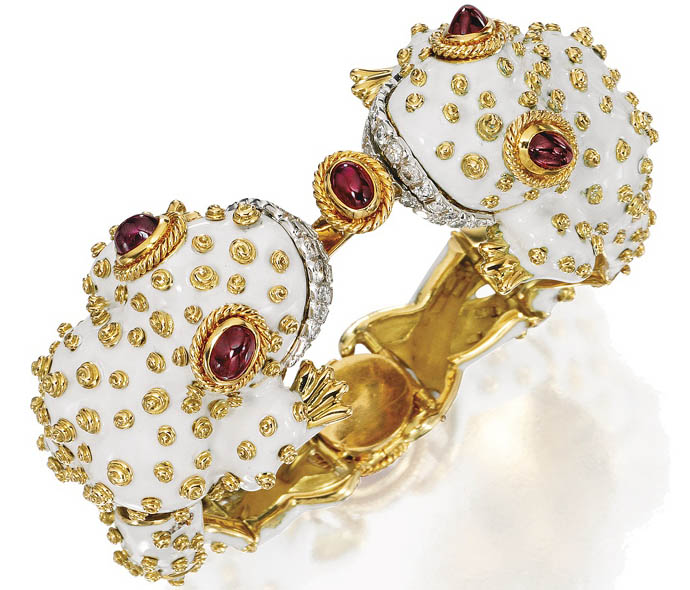 David Webb. 1960s. Bracelet. Gold, platinum, diamonds, rubies, enamel.
Sotheby's New York.
Nevertheless, times changed, tastes were changing, and David Webb understood that perfectly. Already in the middle of 1960s, his collections gained an innovative style, a bold new design and unusual materials, colors, textures and forms… in short, a new geometry, bright rebellious spirit of 1970s. David did not stop experimenting. In his jewelry, such seemingly incompatible materials perfectly "coexisted": shells and rhinestone, coral and gold, silver and platinum. Of course, it would be a lie, if we say that nobody tried to combine uncombineable before Webb. Nevertheless, the jewelry masterpieces from David Webb look quite differently — harmoniously and very beautifully.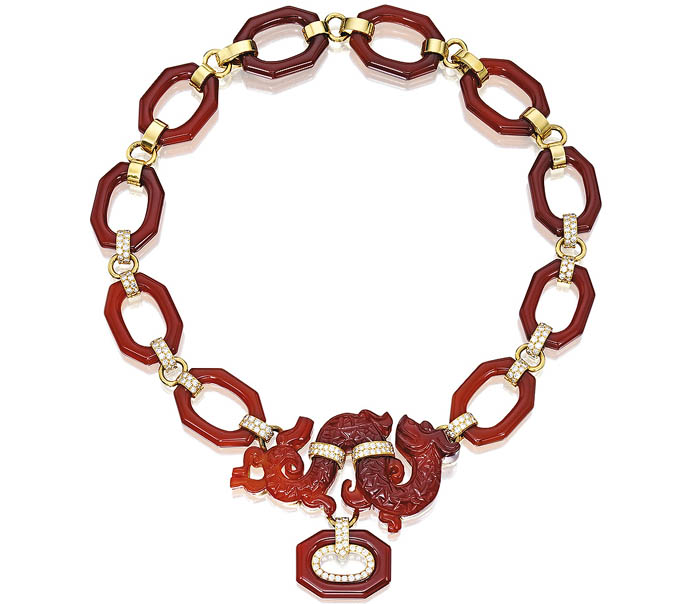 David Webb. 1970s. Necklace. Gold, diamonds, cornelian.Sotheby's New York.
David Webb created many wonderful jewelry, including not only famous jewels in animal style, but also ethnic jewelry and accessories in the classical style. All the same, David Webb jewelry house became famous for elegant and a bit funny accessories, dedicated to beauty, originality and diversity of wildlife.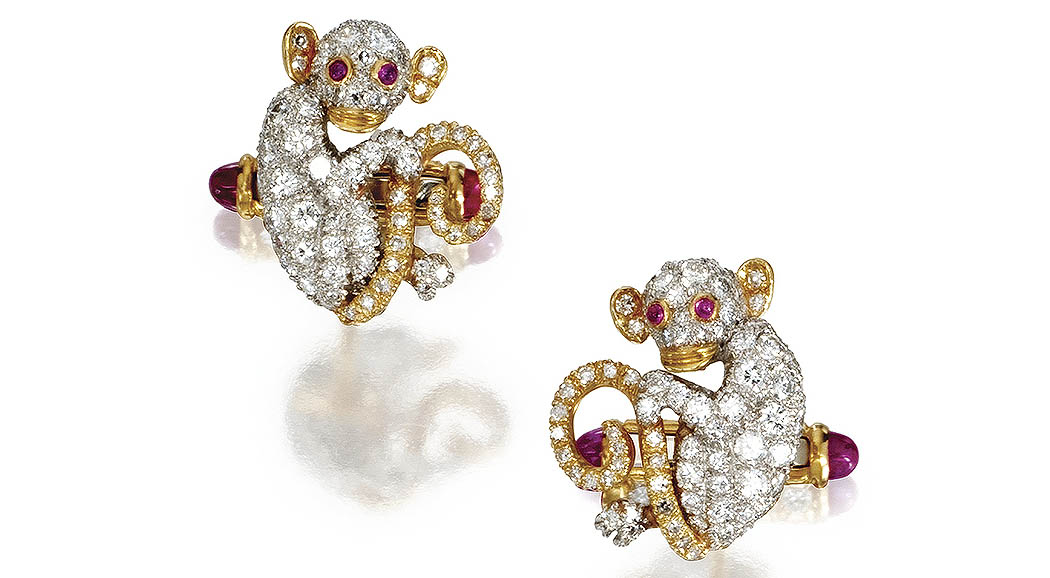 Cufflinks. Gold, platinum, diamonds and rubies. David Webb. Sotheby's New York.
Throughout his life, David Webb created a reputation as a jeweler, who worked with selected clients, representatives of high society living in Manhattan. In his two workshops, more than 150 highly skilled jewelers were employed. He owed his success not only to a rare artistic gift, but also to a wonderful charm, which attracted people to him. Very often unique jewelry, made to order, were created in the workshops of David.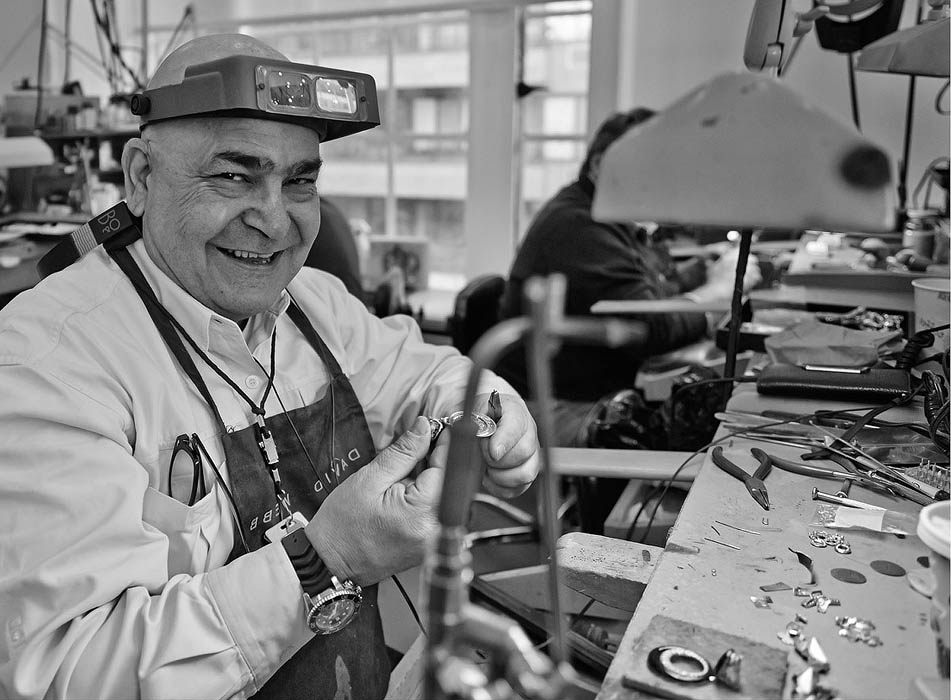 Workshop of the David Webb Jewelry House.
Perhaps, David Webb and now would delight us with his works, but unfortunately, that was impossible. In 1975, founder of the David Webb Jewelry House died because of severe illness, having left us a great legacy of amazing jewelry. His jewelry masterpieces commanded great popularity from style icons such as Elizabeth Taylor, Lauren Hutton, Diana Vreeland, Jacqueline Onassis-Kennedy, Barbra Streisand and the Duke of Windsor.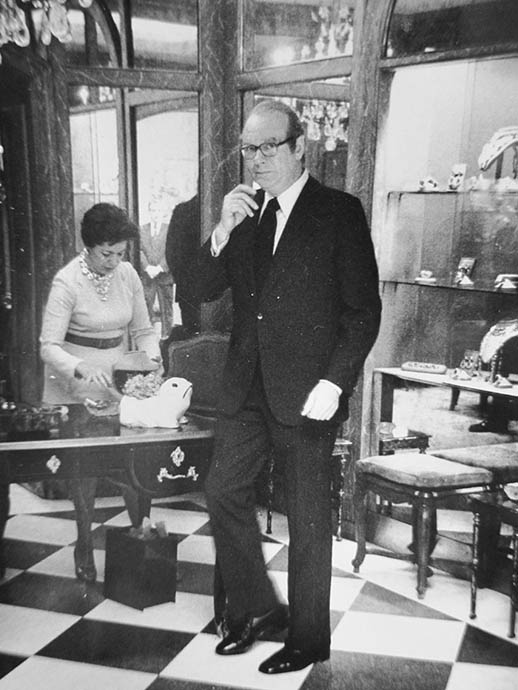 David Webb in his salon on the 57-th Street in New York. 1975
Webb's followers kept his trade, the creations of which he could be proud. For a long time, more than 35 years, Silberstein family headed "David Webb" Jewelry House. Since 2010, David Webb LLC significantly increased in size over the past half-century and conquered new markets. Sima Ghadamian, Mark Emanuel and Robert Sadian have ruled it. They were determined to continue the rich traditions of design, artisanship and creativity based on huge archives of illustrations, models and templates, which represent the legacy of David Webb.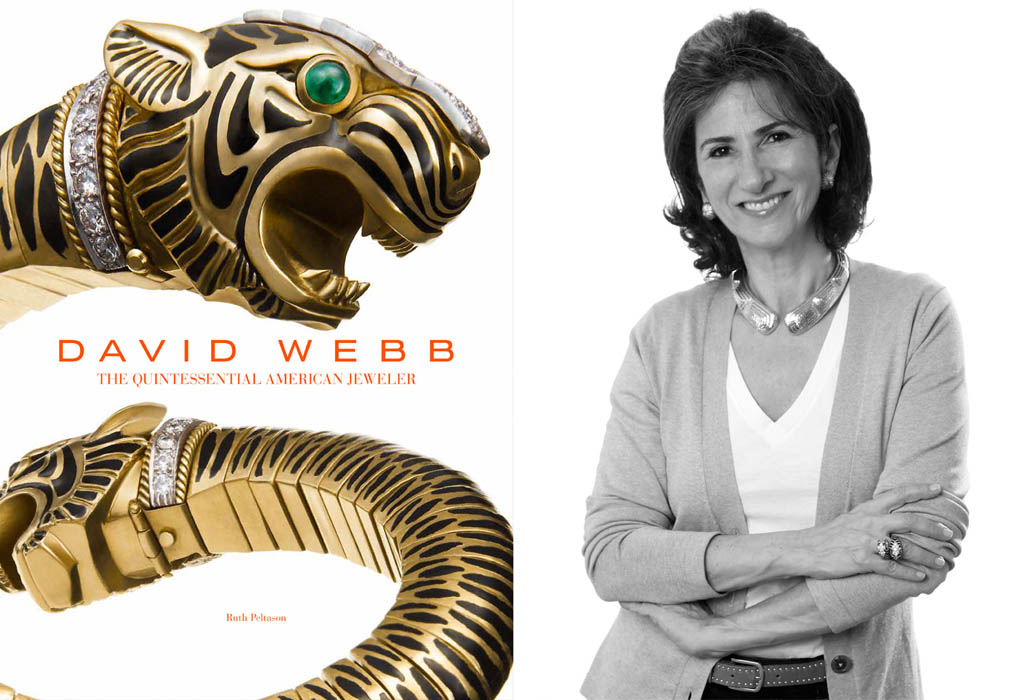 "David Webb: The Quintessential American Jeweler".
Ruth Peltason. 2013
Jewelry made by David Webb, still have great success on the international market — there are jewelry shops in different parts of the world: in Europe, South and Central America, the Middle East and Far East. Jewelry by "David Webb" will definitely attract the attention of many connoisseurs of unusual pieces. Funny animals, made of precious metals and precious stones, can hardly leave somebody indifferent. The truth is, not everyone can afford to buy these amazing accessories, but high product prices of "David Webb" do not stop connoisseurs of the beautiful.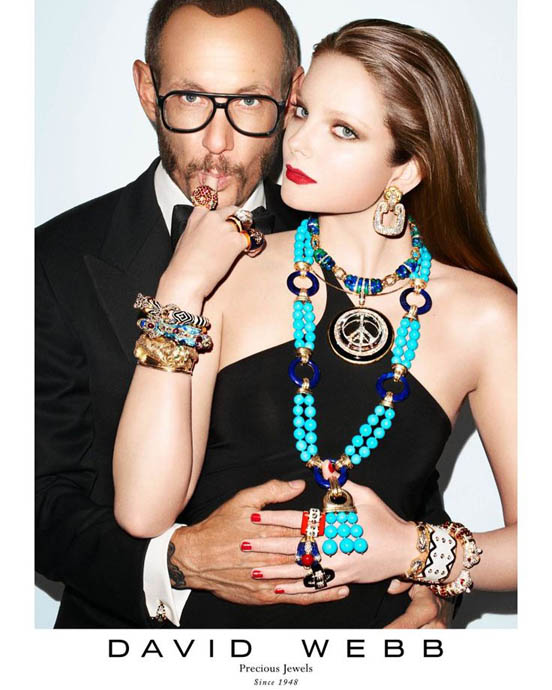 David Webb. Advertising campaign of 2012 featuring supermodel Enikő Mihalik and photographer Terry Richardson.
Jewelry masterpieces, made by artisans of Lobortas Jewelry House, as well as jewelry by David Webb were targeted at people who love to attract attention and who are not afraid of daring designing solutions. If you are among them, you'll fall in love with the unusual and charming luxuries by Lobortas Jewelry House. They will make your image bright and unique and will certainly cheer up!
Ring «Still Linger, Beautiful Moment». Lobortas House.
Photo by Vladislav Filin.