Suzanne Belperron. "My Style is My Signature"
"My style is my signature" — these words were loved to be repeated by Suzanne Belperron, one of the most talented and original designers of jewelry of the twentieth century. Manufacturer's trademark is really missing on the products of Suzanne Belperron, since Susan rightly thought her jewels could not be confused with any others. Everything new that was brought to the 20th century in the world of jewelry was created or proposed by Belperron. Both jewelers and art historians acknowledge it.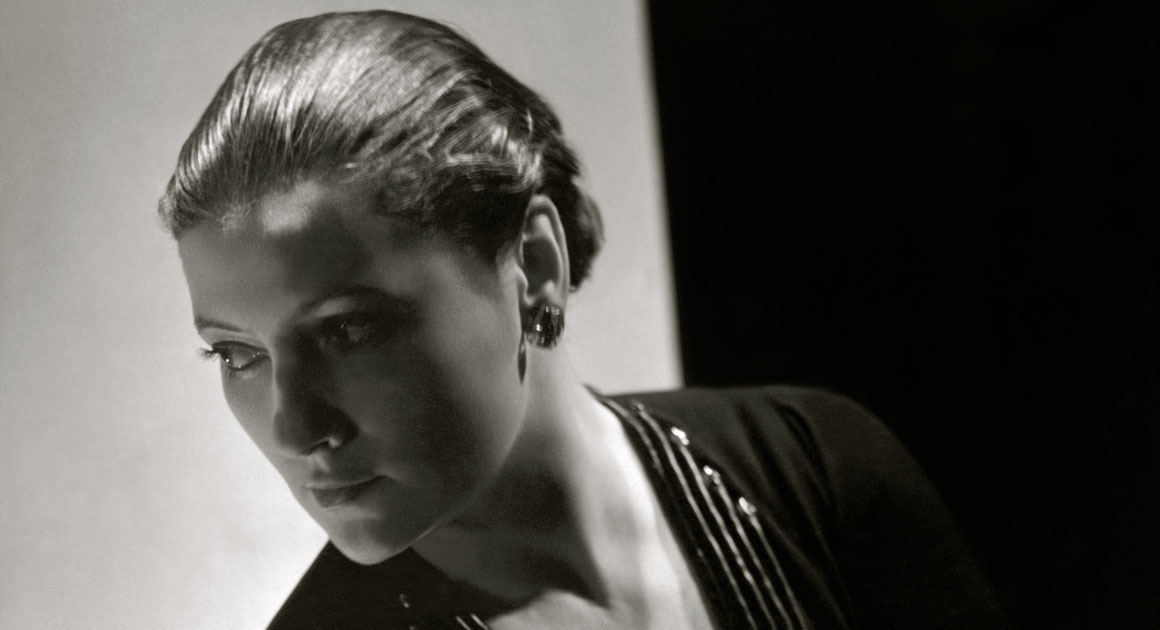 Suzanne Belperron. Vogue 1933.
Suzanne was born in late September 1900 in the town of Saint-Claude, Jura Department, located in the mountains in Burgundy. The city lies at the foot of the mountains and the confluence of the rivers Bienne and Tacon. It can be called unique because of the unusual nature of these places. The town of Saint-Claude is called the capital of tobacco pipes, and in the period from 1885 to 1929, it was one of the world's major diamond processing centers. It was here the most skillful cutters turned unattractive and footy stones into sparkling diamonds. Here people live with gold hands and borderless fantasy.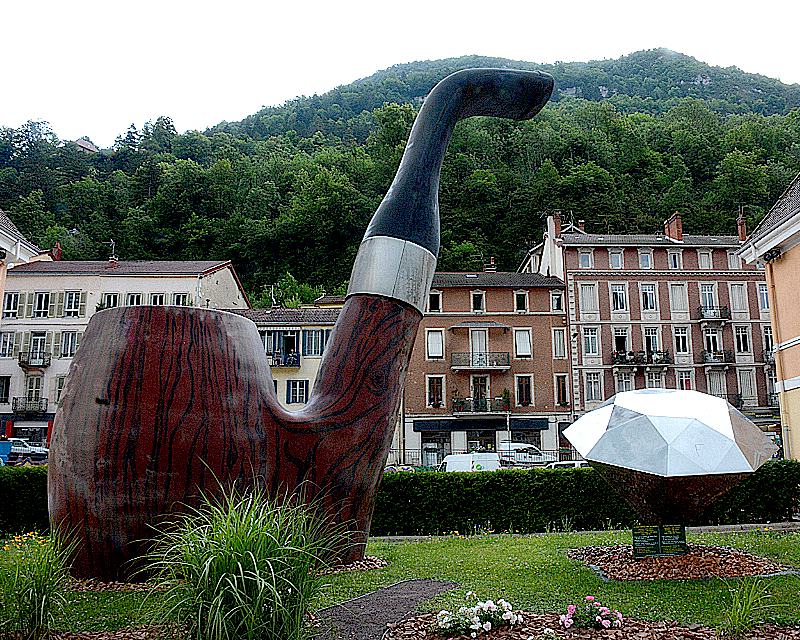 Tobacco pipe and a faceted diamond are the symbols of Saint-Claude.
The parents were astonished by Suzanne's long-time watching grass, petals, seashells, tree branches, bent by the wind, and other things ordinary at first glance. Moreover, having returned from a walk, the girl drew everything with gusto. She painted, sparing no time, carefully locking each vein of a leaf or butterfly wings. Then Suzanne was sent to art school of fine arts of Besançon, which was founded in 1773, where she learned drawing, composition and manufacturing of jewelry. The school was located next to the Museum of fine arts and archeology of the city, the oldest State Museum of France, which houses one of the largest drawing collections in France. It was founded in 1694, long before the creation of the Louvre Museum in Paris.
In the 1918, being best student, Suzanne won the annual competition "decorative arts" by the art school of Besançon, which become the reward for many years of study. Talented girl, of course, could not be satisfied with the province, and sees the "Golden Twenties" in Paris, where she had moved to in March 1919, where she very quicklgot the position of jewelry designer at the Renée Boivin Jewelry House.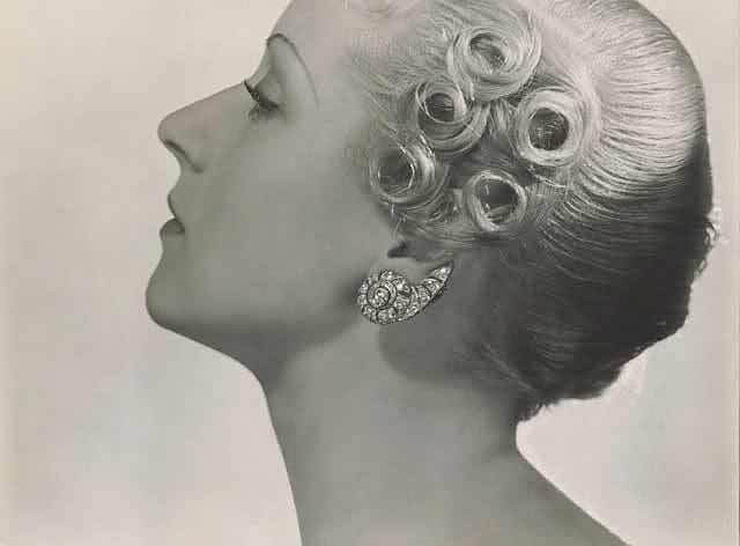 Renée Boivin. Earrings with diamonds.
Starting from 1920 onwards, the jewelry, made by Suzanne during her studies at the school of fine arts, appeared in the collection of Renée Boivin. Suzanne's decorations contradicted very much the aesthetics of the art-deco style dominant at that time. Not only the design, but also the combination of materials was bold for that time. Suzanne perfectly united precious and semiprecious stones in one jewel. In 1924, Suzanne got married. In the same year, Suzanne Belperron became co-director of the Renée Boivin Jewelry House. The career moved more than successful.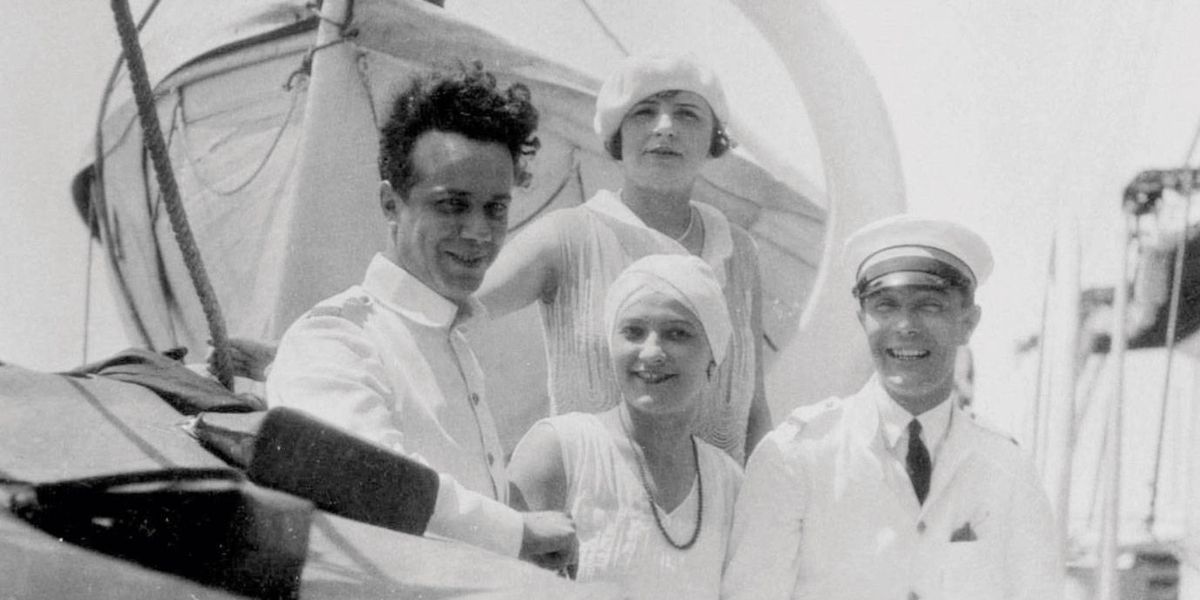 Suzanne Belperron (in the first row).
Nevertheless, that turned out not be enough for Madame Belperron. What did she want? Of course, the recognition of the names of the authors of jewelry, who were hidden from general public according to tradition. World fame and recognition of her products… that's what Suzanne was dreaming about and what she sought.In February 1932, Suzanne left the Renée Boivin Jewelry House, found a kindred spirit in the person of Bernard Herz, and became the "authoritative artistic and technical manager of the Herz Company.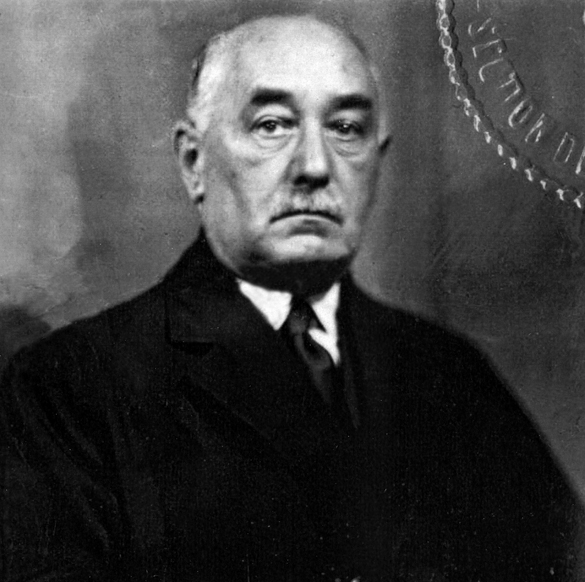 Bernard Herz.
Herz offered total freedom to Belperron. She equipped and opened her own studio, sought cooperation with well-known jeweler Adrien Luartes, made the Groëné et Darde workshop her exclusive manufacturer.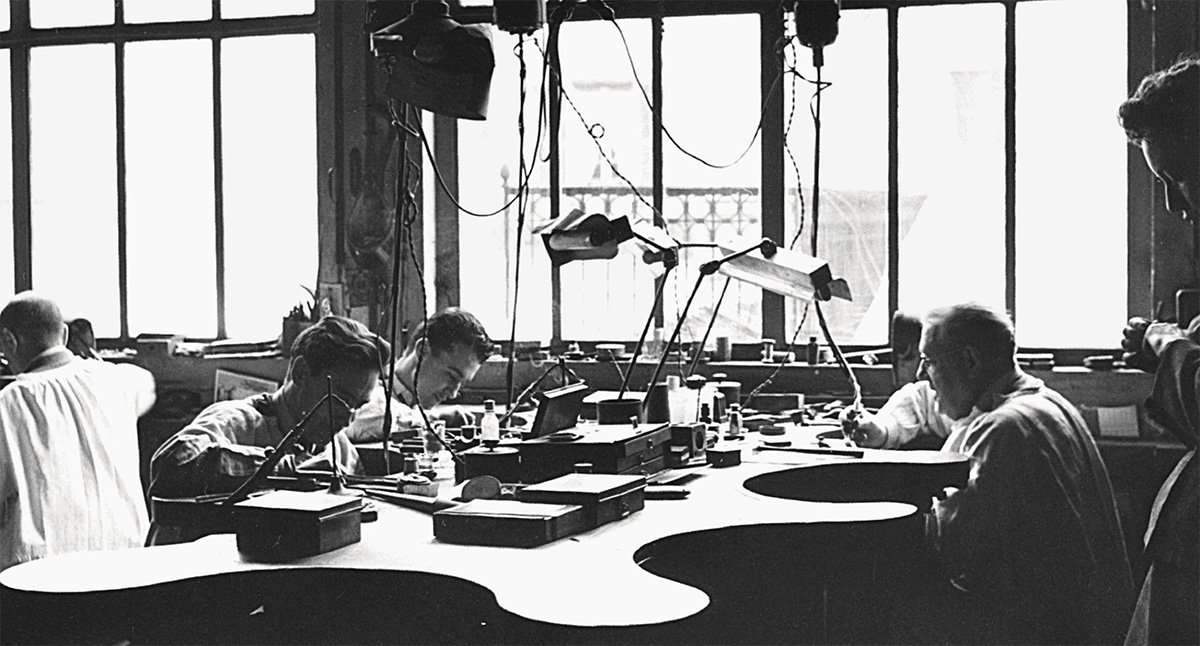 The Groëné et Darde workshop.
This period becomes the sidereal hour of Suzanne Belperron. Her jewelry brought the worldwide fame to the Herz company; unique masterpieces, made by her and worthy of jewelry houses such as Boucheron, Cartier or Van Cleef & Arpels, regularly adorned the pages of Harper's Bazaar and Vogue; her unique style was admired by colleagues and representatives of the fashion industry, Elsa Skiapareli, Diana Vreeland, Nina Ricci, Christian Dior.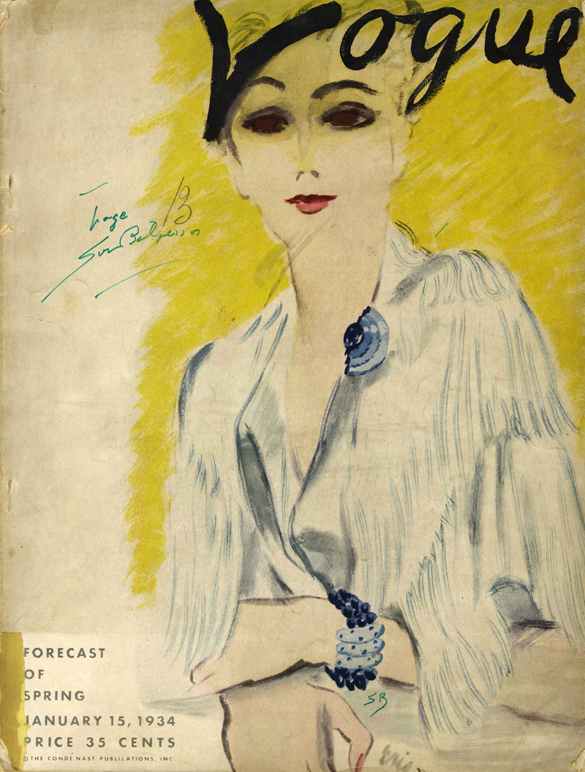 Cover of Vogue USA (January 1934),
Сlip and bracelet with chalcedonies and sapphires, Suzanne Belperron.
Suzanne never tried to open a jewelry store, believing that her works spoke for themselves and did not require advertising. Her salon's address was available only to selected clients, who appreciated the originality of her works, thanks to which the name of Suzanne Belperron was getting more and more famous both in France and abroad.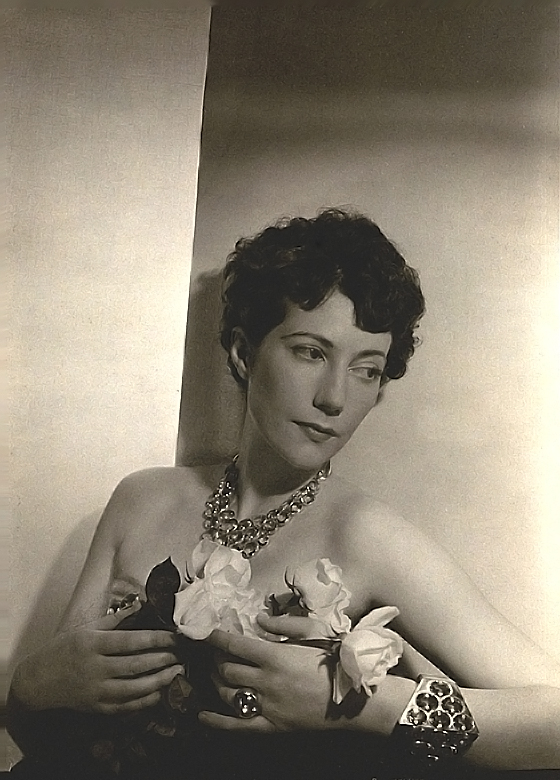 Madame Max Ernst (Marie-Berthe Aurenche).
Necklace, bracelet and a ring by Suzanne Belperron for Herz. Gold, topazes.
Vogue France, 1935.

Suzanne's reception salon was on the third floor of the building located at 59 Rue de Châteaudun, Paris. Belperron took visitors only by appointment.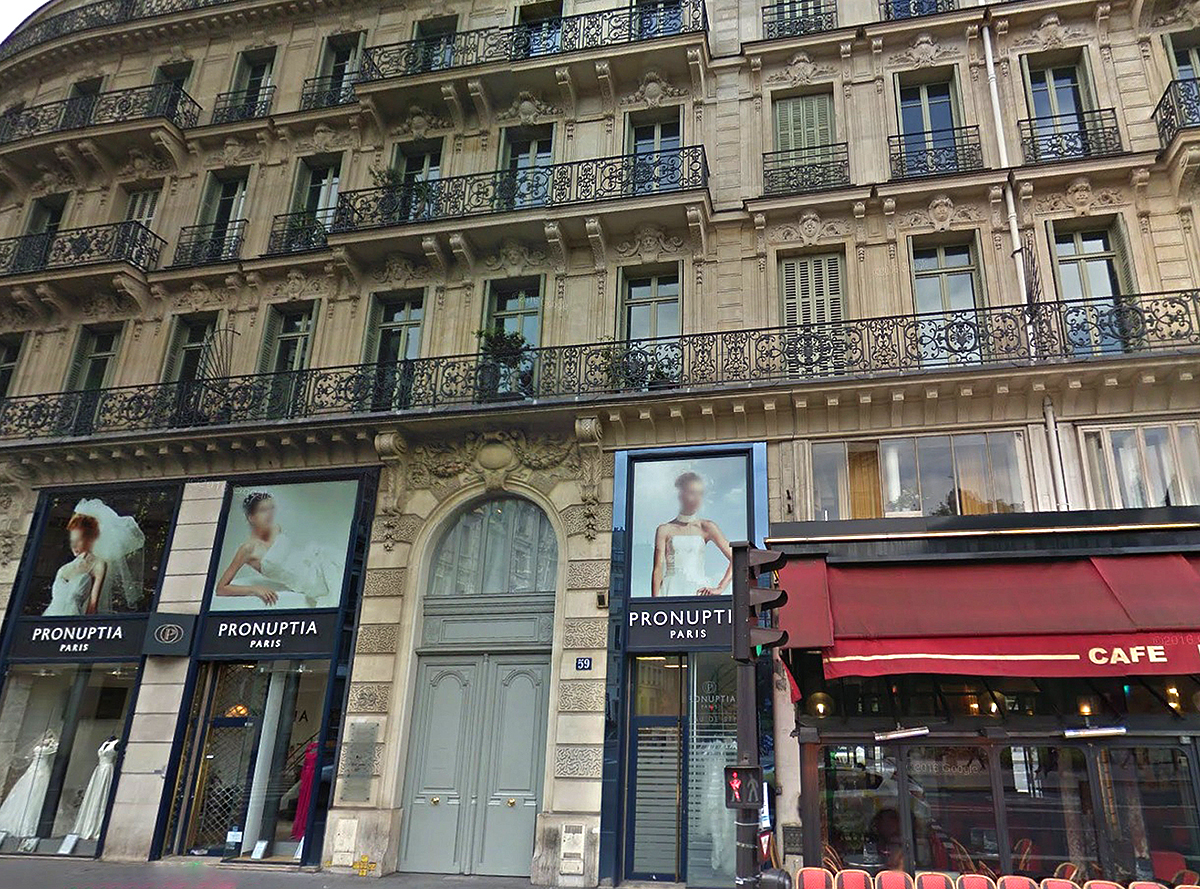 59 Rue de Châteaudun, Paris.
One of the most interesting features of Suzanne was her manner to arrange the whole show out of the order. At least an hour she spent to figure out whether the jewel would fit her client or not. Belperron's fittings were no different from the "Haute Couture" ones. She explained her habit so that a self-respecting person won't buy even an inexpensive dress without trying it on. So why shouldn't you treat purchasing the jewelry, which will accompany the client's life for decades and then be transferred to heirs, with the same care?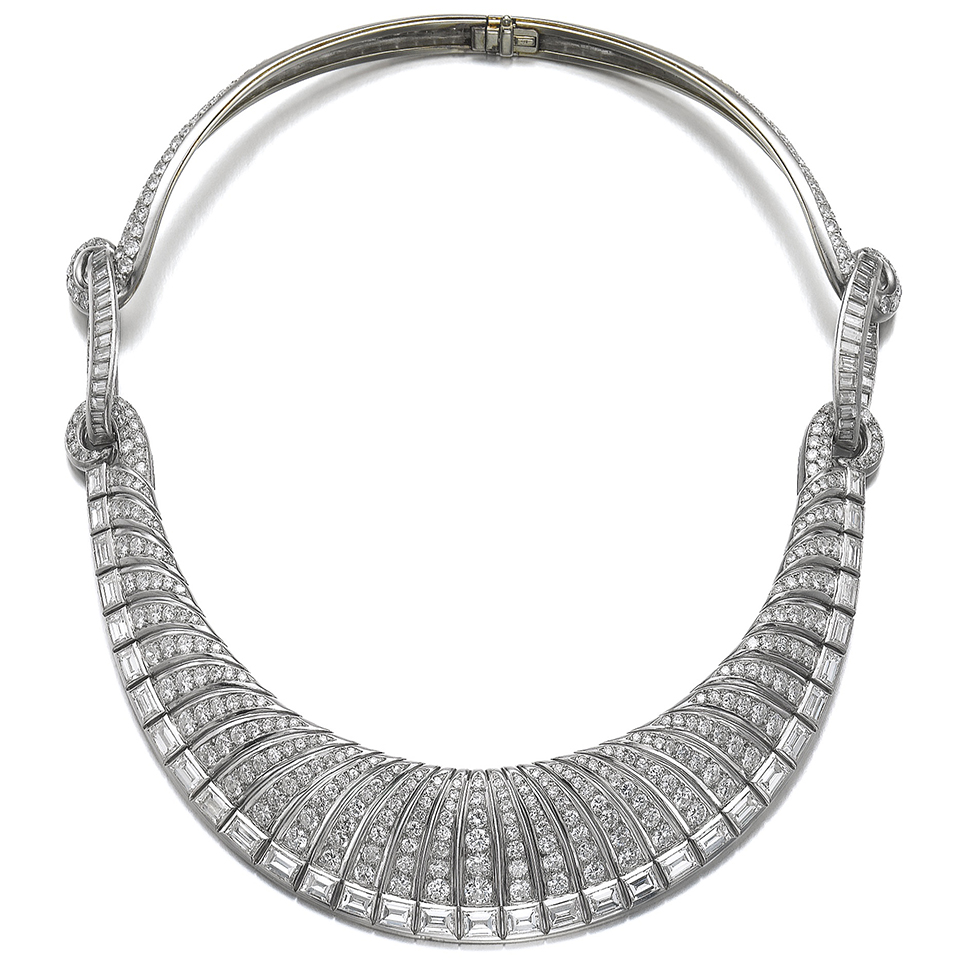 Diamond necklace by Suzanne Belperron, circa 1940. Sotheby's Geneva.

In addition, Suzanne Belperron closely followed all the stages of production, took care of high quality execution and never relied on chance. To do this, she conducted daily meetings with artisans and jewelers.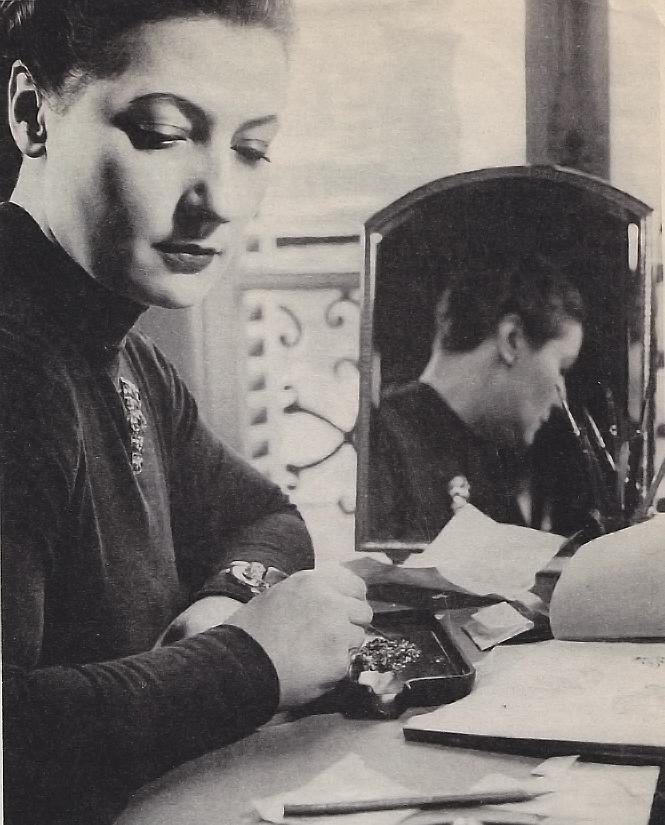 Suzanne Belperron.
During the German occupation of France, Suzanne was arrested together with a partner, Bernard Herz, for the company bearing the Hebrew name. After the first arrest of Bernard Herz in 1941, she, following his will, registered the new joint-stock company "Suzanne Belperron" in the commercial register.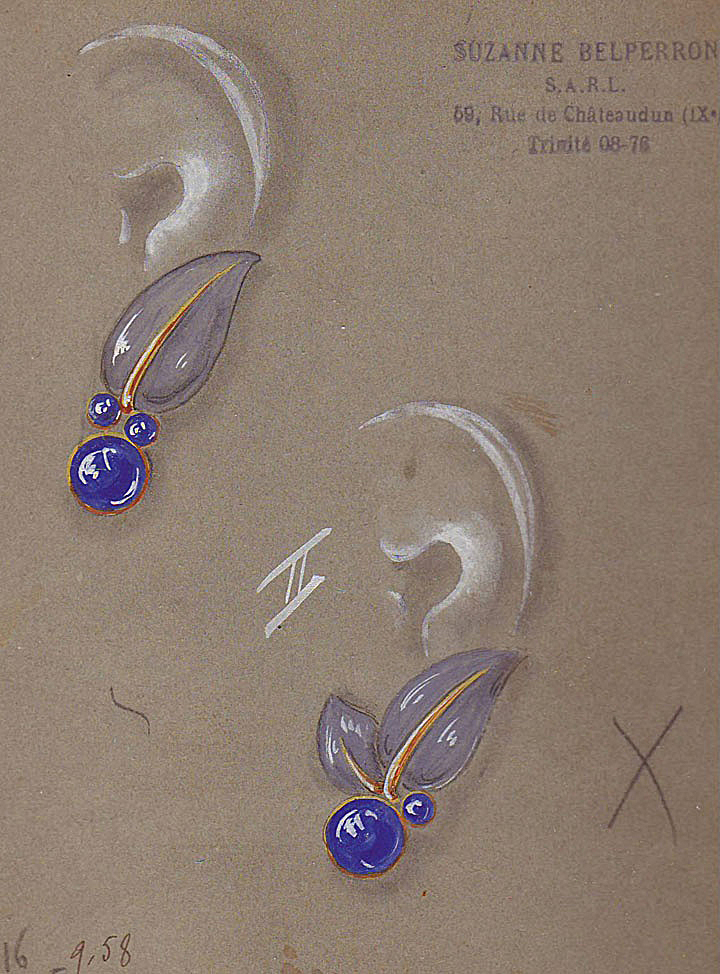 Scatch by Suzanne Belperron, 59 Rue de Châteaudun.
Suzanne realizes that she was entrusted with the responsibility for the future of the whole campaign, and throughout the occupation has continued to work tirelessly, despite difficulties with the acquisition of materials needed for the production of jewelry.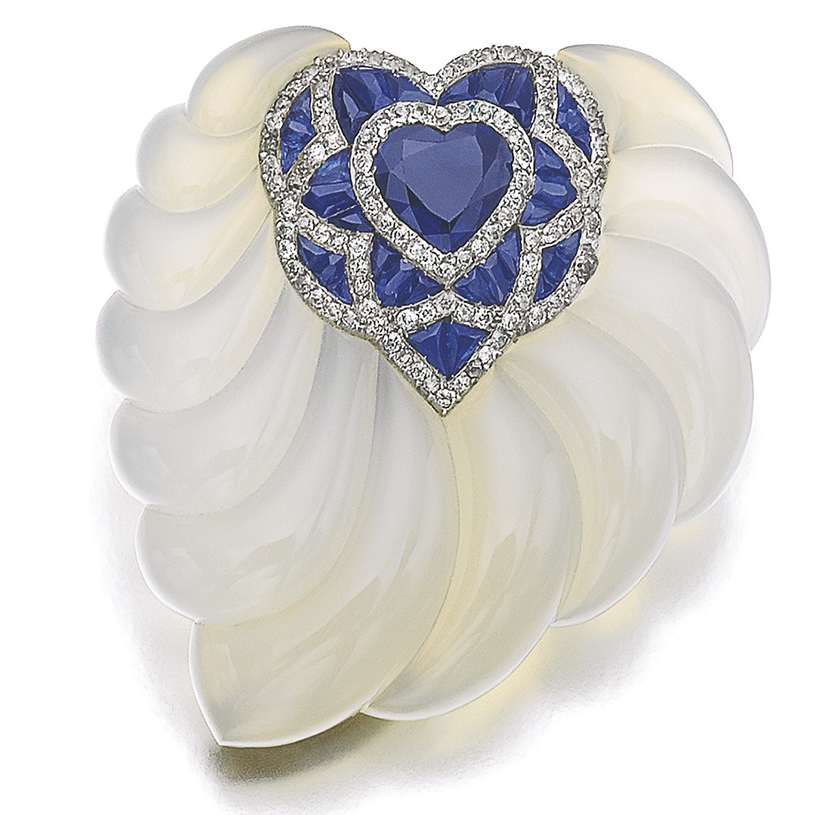 Suzanne Belperron, 1942 год. Sotheby's
During the occupation, Suzanne joined the resistance movement. In that not easy time, some American campaigns offered Belperron to do a jewelry design in the United States, but she preferred to stay in Paris.Jean Herz, son of Bernard Herz, freed from Nazi captivity, returned to Paris in June 1946. According to the will of his father, Jean became equal co-owner of the new comany, which from that time was called "Herz-Belperron».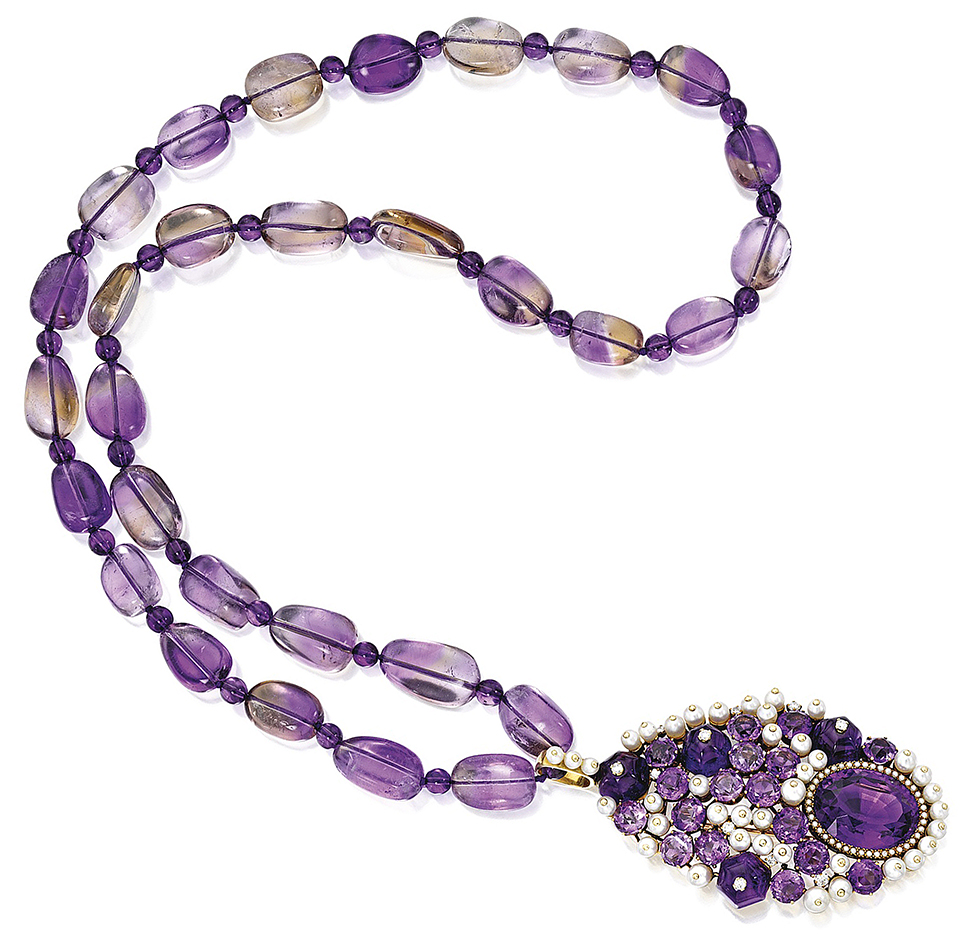 Suzanne Belperron. 1970-1974
Sotheby's
Business partners Jean Herz and Suzanne Belperron fruitfully cooperated for over 30 years.On July 12, 1963, the designer of jewelry Suzanne Belperron was awarded with the order of the Legion of Honour. Jean Marsh, her close friend, participant of the resistance movement, Chevalier of the Legion of Honour and a sociétaire of the Comédie-Française, handed the award to her..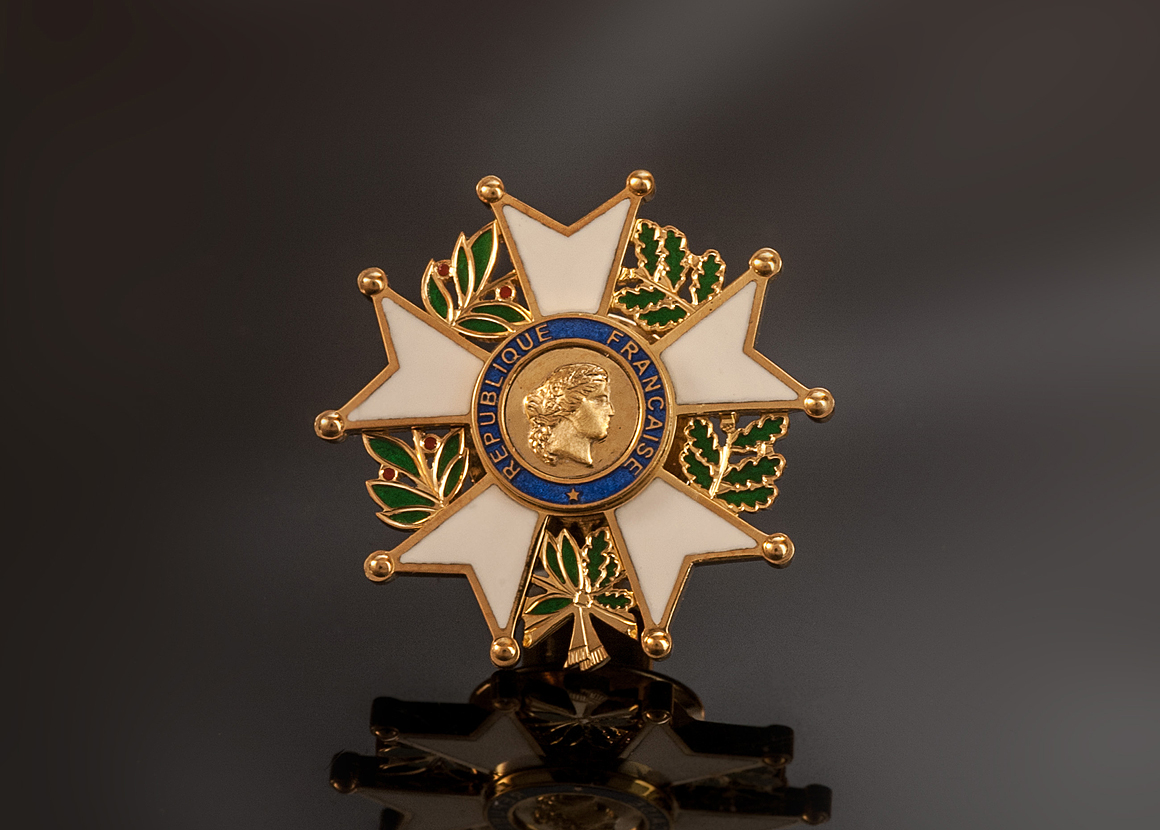 "Legion of Honour of France" Breast badge – silver, gold, enamel. House of Lobortas.
June 28, 1974 year, four years after her husband's death, Suzanne Belperron and Jean Herz held a general meeting of the company and decided on its liquidation by mutual agreement. The company "Herz-Belperron" was abolished on December 31, 1975.On March 28, 1983, Suzanne Belperron was tragically killed in an accident. She was eighty-two years old. Her career lasted for fifty years, and each of her works won constant admiration from many fans, among whom there were the representatives of Royal Houses and aristocratic dynasties of Europe, America's millionaires, artists, show business stars and, of course, representatives of the world fashion. Many of them were her personal friends. Suzanne was extremely proud of her creations, never made more than one copy. Now this is not just a jewelry, it is a work of art, made by Suzanne Belperron, the Queen of jewelry fashion..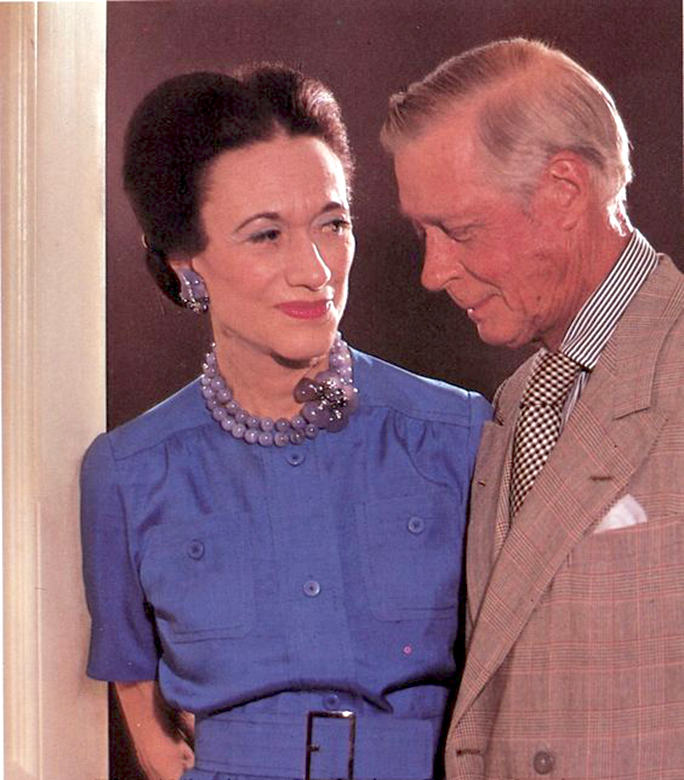 The Duke and Duchess of Windsor.
Duchess is wearing blue necklace and earrings of chalcedony with diamonds and sapphires
by Suzanne Belperron.
Suzanne had no children, and all their possessions she bequeathed to a close friend. American collector Niko Lendrigen, President of Verdura, who bought a large number of original sketches of Suzanne Belperron, is planning to make several collections from them soon.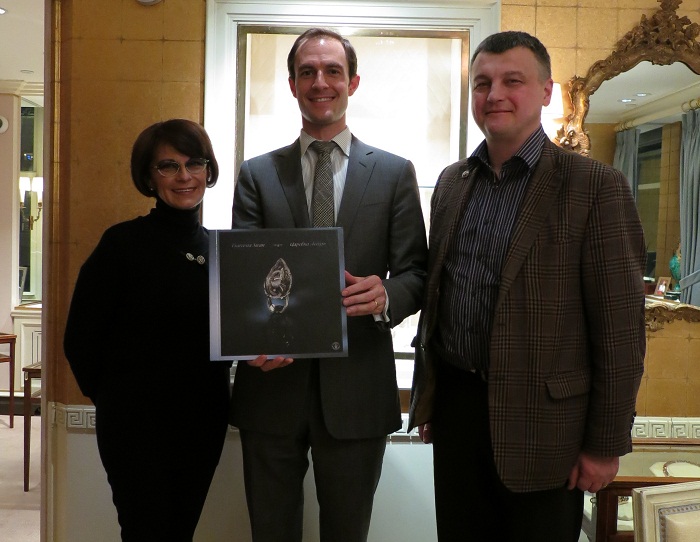 Nico Landrigan (in the center) – the President of the Verdura Jewelry House
on photo: Natalia Sergeeva, Nico Landrigan and Igor Lobortas
There was no equal to her in creating the jewelry with great innovative twist. She became a trendsetter in jewelry. This was the gift, with which Suzanne Belperron was given. She was female jeweler, whose works still make people swoon with delight.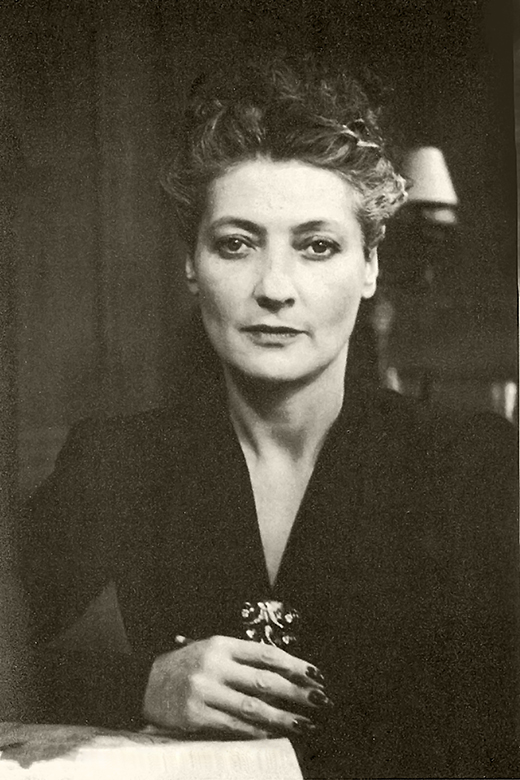 Suzanne Belperron
Jewelry, created by the artisans of the House "Lobortas", can be considered as masterpieces of the jeweler's art, which through a combination of all kinds of aesthetic concepts and images, use of the materials and design solutions, which had not been used in jewelry before, possess great artistic value and remain valid beyond time.