Original Philosophy of Wallace Chan
The original philosophy and unique story follows each masterpiece of jewelry, made by Wallace Chan's hands. His motto: "Nature creates, I reflect". Never before goldsmiths could pass the beauty of natural colors as much as Wallace Chan does. Wallace Chan is a legendary jeweler, who entered the world of antique jewelry in life and is one of the world's most unique and pricey goldsmiths. For his creations, connoisseurs are willing to pay any money.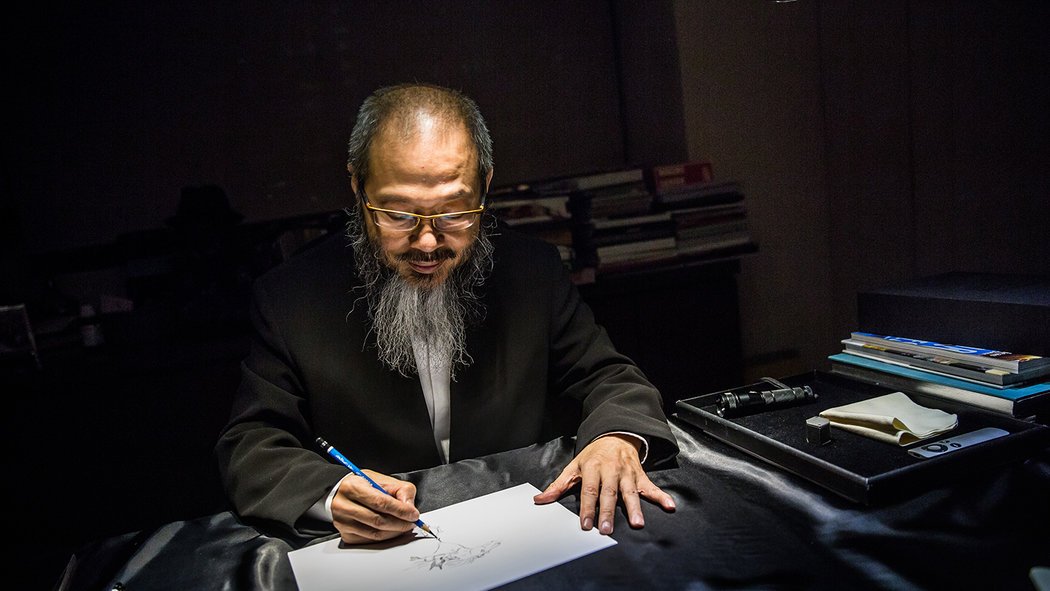 Wallace Chan
We can safely say that what Wallace Chan does in jewelry has not been available to anyone else yet today. He is one of a few artisans who occupy a strong position in the highest segment of the international jewelry market. His masterpieces are not displayed on the shelves. Collectors, whose perception stepped the magic and charm of the famous jewelry brands over long ago, are hunting for them. One of the most important artists of jewelry, Wallace Chan, was born in 1956 in the Chinese city of Fuzhou, and grew up in a traditional Chinese cultural environment. At the age of five, Wallace with his parents moved to Hong Kong. The biggest problem at the new place was not poor knowledge of Cantonese, because of which Wallace's parents were unable to find work, and he could not go to school himself. Wallace starts to speak Cantonese by nine. At his thirteen, Wallace leaves school to work and help his parents to feed two brothers and a sister. At sixteen, Wallace Chan, being apprenticed by a Buddhist sculptor, begins to learn the art of carving in ivory and stone.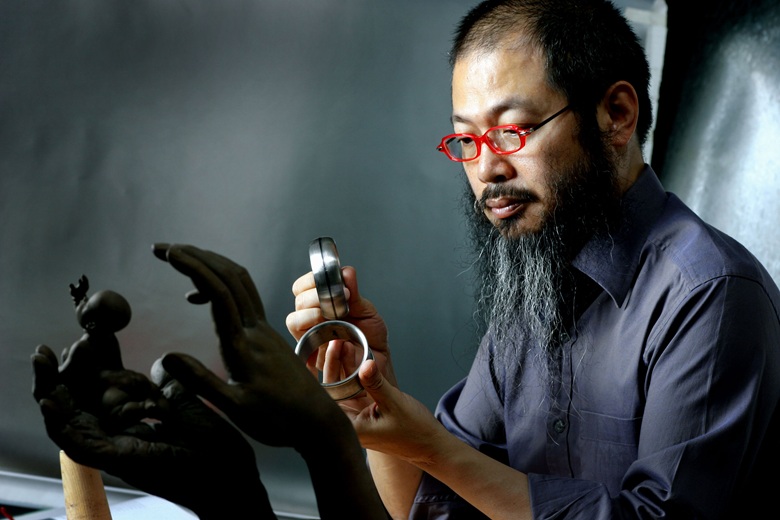 Wallace Chan
In 1974, at the age of 17 years, Wallace founded his workshop. By working not only with stone and ivory, but also with crystal, Wallace perfectly masters the European jewelry techniques and all the secrets of carving on the precious and semi-precious stones. These were difficult years for him, but neither financial difficulties, nor other life twists and turns could stop him. And after thirteen years of painstaking work and experimentation he achieved the result. In 1987, he invents the Wallace Cut with deepened pattern that combines a carving on stone, cameo, intaglios and cut. With this invention a ten-year creative period has begun. During this time, his name became famous in Japan, Singapore and Germany.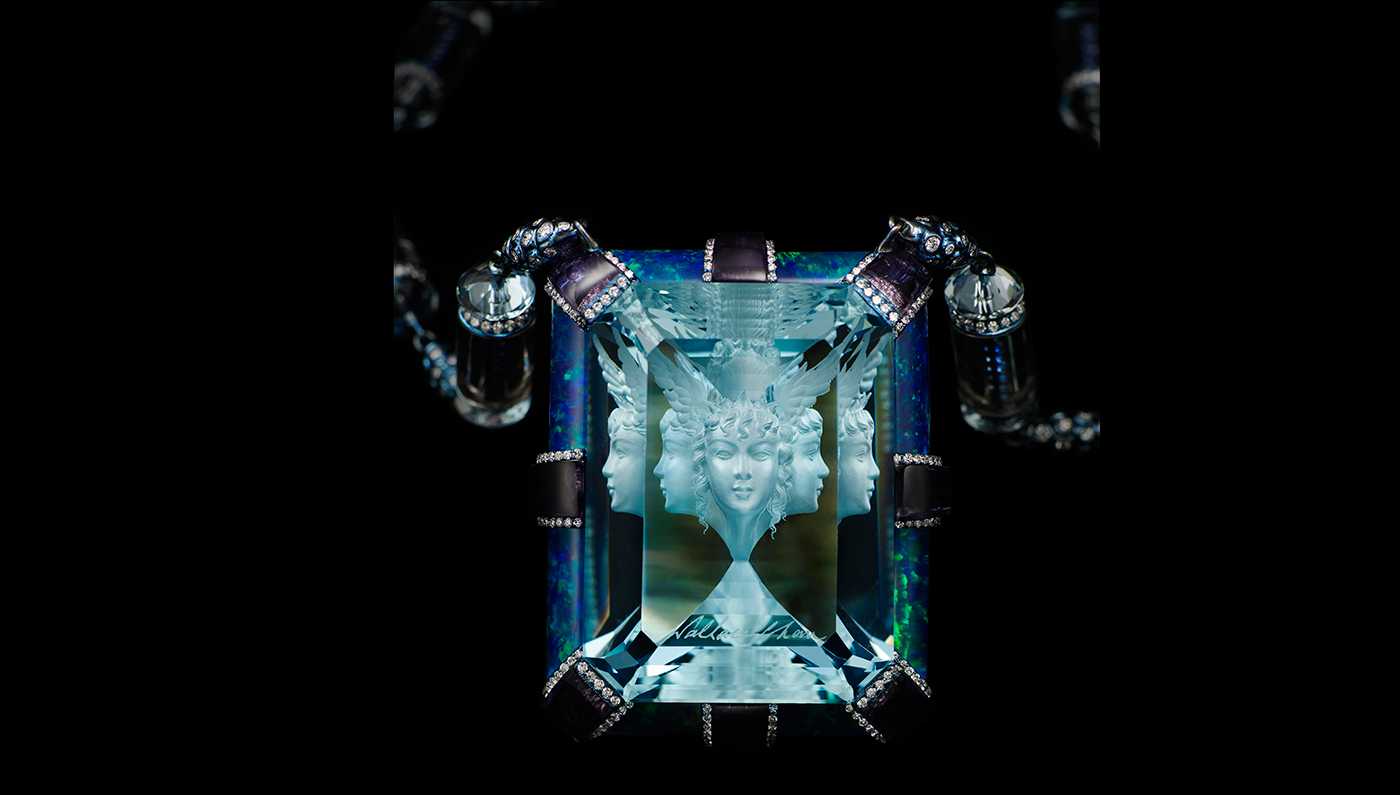 «Wallace Cut»
In 1996, the "Buddhist period" comes. During this time Wallace creates several large sculptures for the monasteries, becoming well known in Asia, primarily among connoisseurs of the Buddhist art. A sculpture made of gold set with precious stones becomes the most important work of this period. Wallace took two years and seven months to create it. Now it is stored in the Fo Guang Shan Buddha Museum.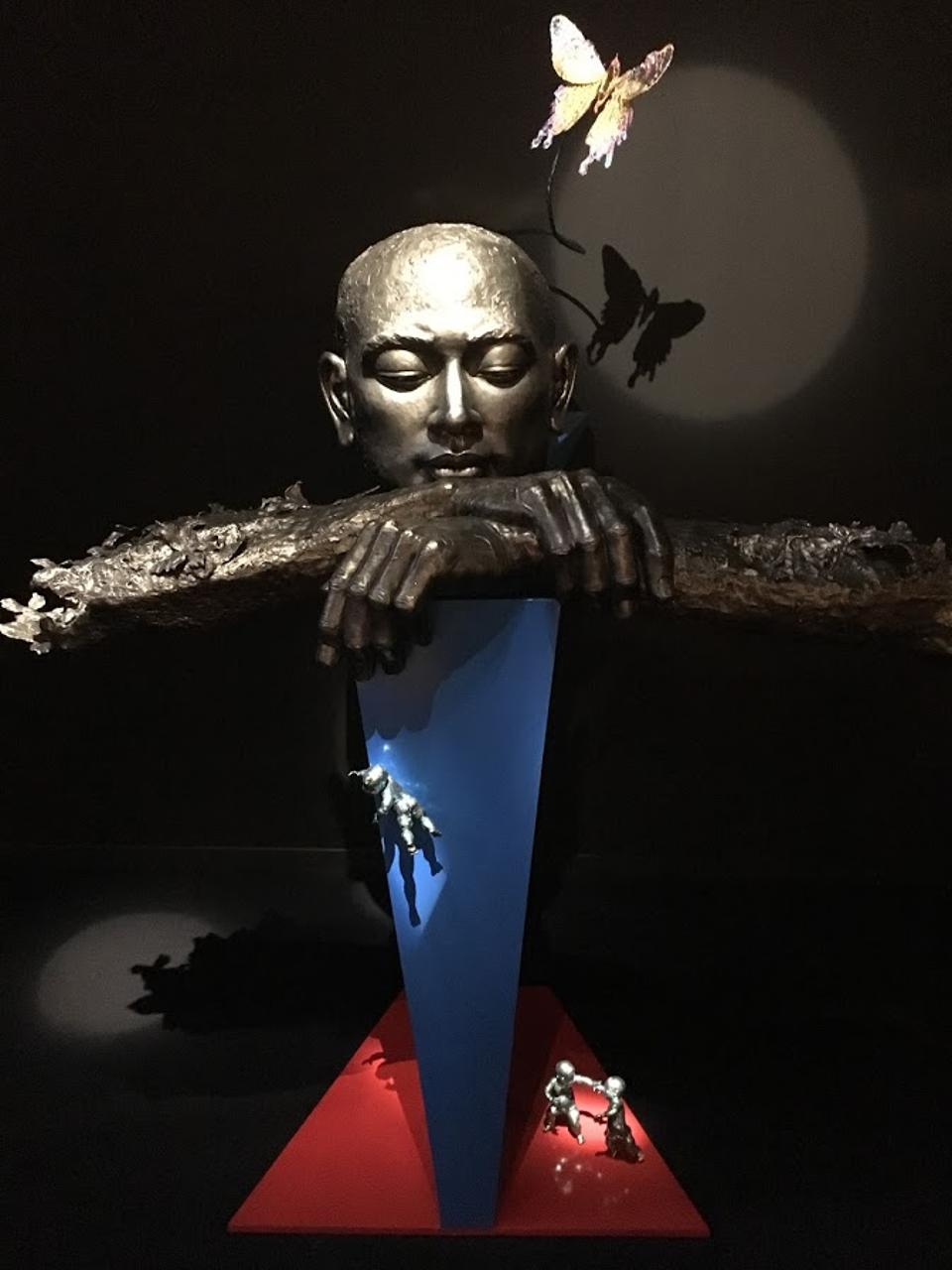 Sculpture "Dream of Generation". Wallace Chan
The beginning of the second millennium becomes a turning point for Wallace Chan. Death of his teacher forces him to collapse all work and delve into self-awareness. The result was that he decided to devote himself to jewelry art, by having find still unexplored potential in it. Using the practical knowledge in the field of metallurgy and mechanics, by 2002, Chan develops a special technology of fashioning thin and luminous products of jadeite. So in 2007, after years of research of chemical reactions of various metals, he takes out a patent for the original technique of "Titanium Jewelry", which paints the titanium in various shades ranging from gray to bright pink. Chan believes that titanium is much healthier for humans than any other metal, and that titanium has been unanimously recognized as the main innovation of the past decades is his considerable contribution. To this day, Wallace Chan continues to develop unique jewelry techniques and tools for jewelry.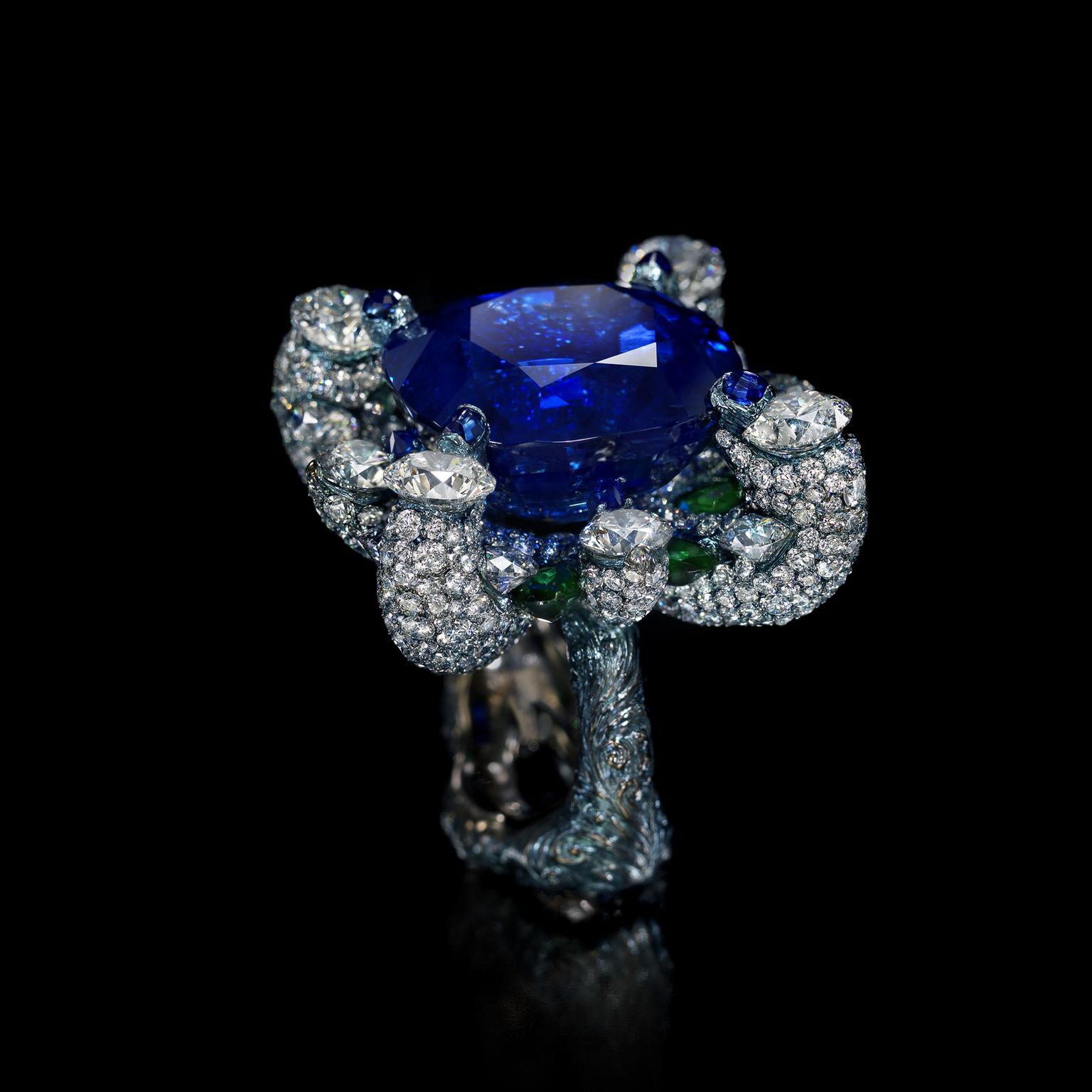 Wallace Chan Titanium Jewelry.
Through his innovative techniques, Wallace produces palm-sized and even larger masterpieces of jewelry. Stone settings are almost not visible in his pieces. Supported by a wealth of imagination, artisan's knowledge transforms into masterpieces, in which Wallace passes motion, fluidity, complex textures, layering, the smallest details of natural objects, being perfectly ergonomic at the same time. All together makes the impression as though precious and semi-precious stones, covered with thin carved crystal, are creating the effect of a velvety surface, growing one from another, melting, flowing from shade to shade and slowly melting on metal. By looking at the work of Wallace Chan, it is not always clear what it is – is it a piece of jewelry or sculptural form? Experts have already solved this issue by offering to call Chan's creations the "artistic sculpture, intended to be worn".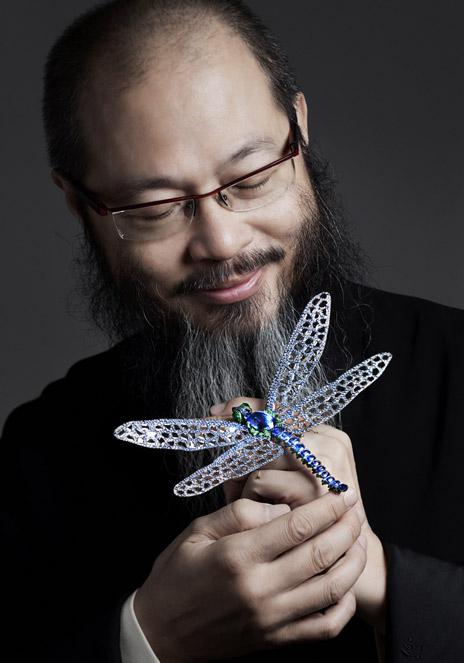 Wallace Chan
Wallace Chan himself says the following things about the concept of his works: "In my works I don't show the beginning or the end of the process. I try to capture some moment of transformation, which is somewhere in the middle. It is some mixture of reality and imagination. In my jewelry I want to capture this process of change. Not the beginning, not the end, but the middle, where all these transformations and changes, releasing energy, are taking place." Each of his whimsical creations Chan enriches with philosophical content and hidden symbolism. For each of his works, master Chan manufactures special stands, so that the client can enjoy his brainchild as a work of art. Philosophical meaning of each jewel is explained in a detailed accompanying text.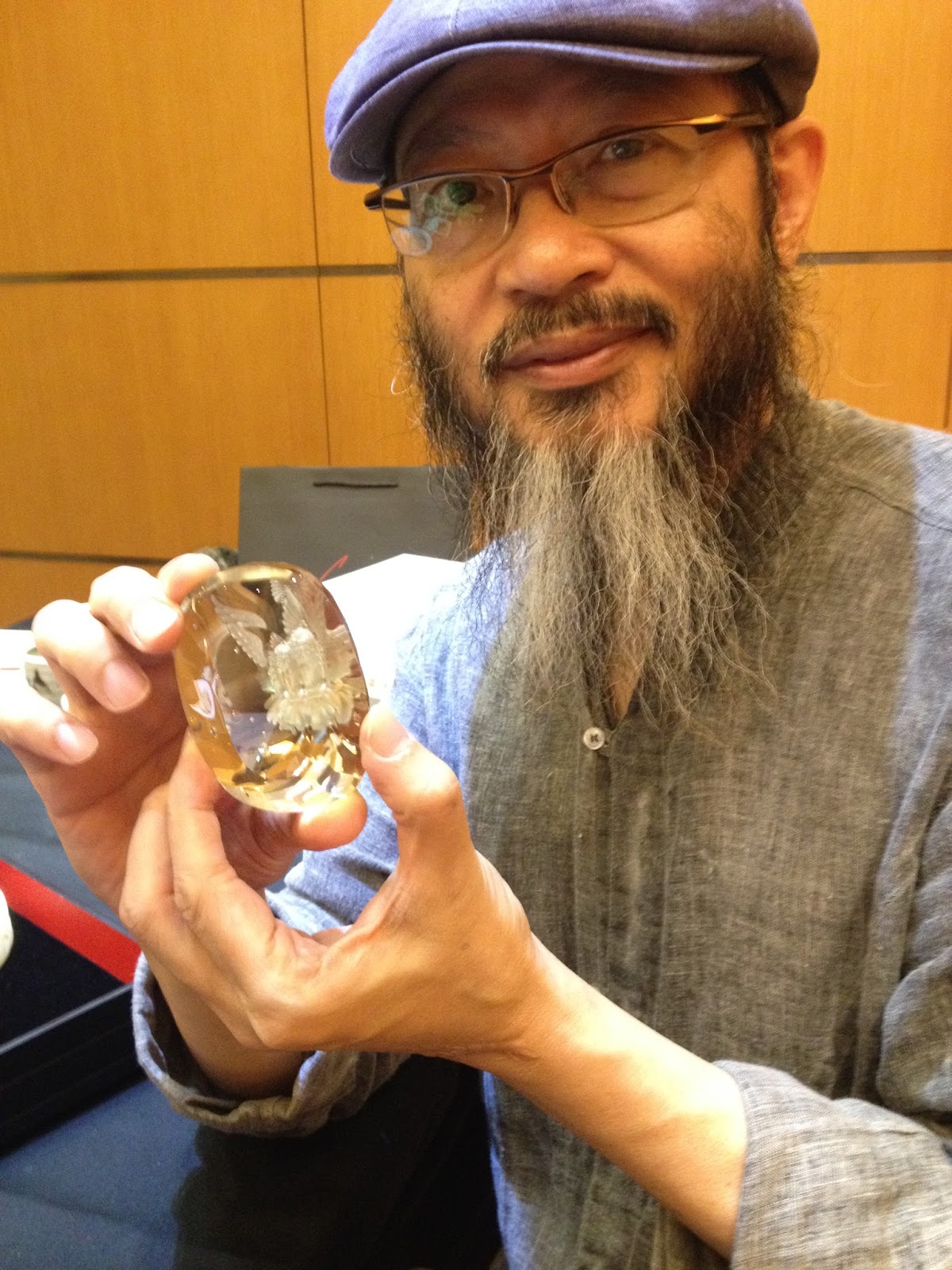 Wallace Chan
"When I'm working on a piece, I don't want to make just a jewel, in which several expensive stones secured in a nice looking combination," master Chan says. "Despite the fact that such a task is quite good in itself, I always head above. I want to create light and movement, to "grab" a breath of nature, put my creations to the world of ancient legends. I want to do dramatic things that will never make their owners bored and will be able to discover something unexpected with each new rotation." Practicing incognito and working for various jewelry brands (some people assume that Wallace collaborated with Joël Arthur Rosenthal), Chan has worked under his own name since recently. Today, Wallace Chan Beyond Jewelry is strongly associated with the names of the biggest collectors of jewelry, records at jewelry auctions Sotheby's and Christie's, rush around the rare exhibitions and still mysterious personality of the jewelry designer.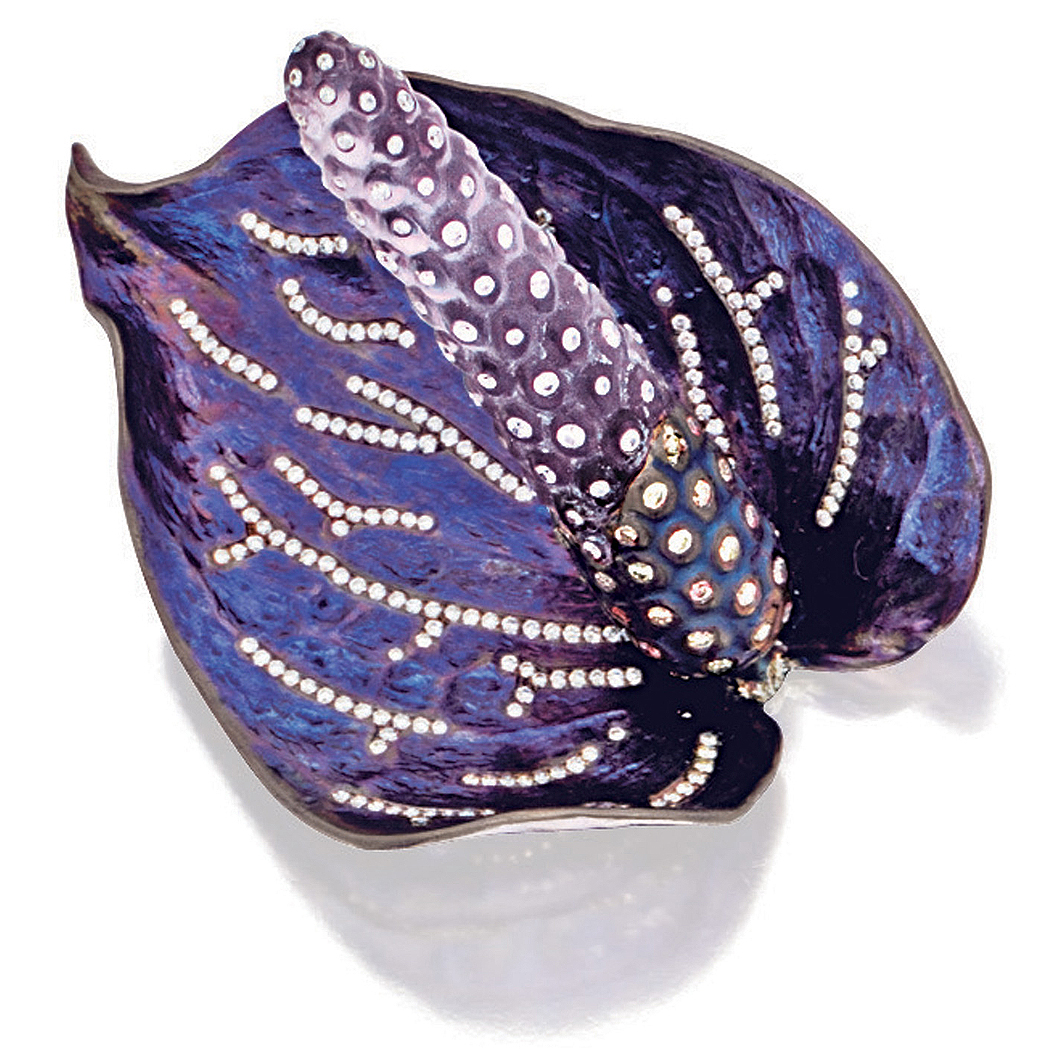 Brooch. Amethyst, diamonds. Wallace Chan. Sotheby's Hong Kong..
Unusual fame and fabulous cost of Wallace Chan's works is explained by their uniqueness. They do not look like the creations of human hands, and as the play of nature, hardly, not excelling it in its natural forms and brightness of paints.
Despite his venerable age, sensei Chan continues to create and philosophically observes "In order to hold jewelry in the history of art, they should go beyond the generally accepted things today. It is not enough just to create something contemporary. It must be truly innovative pieces that destroy the idea of modernity in artistic jewelry. This could be new jewelry techniques or materials that will pass through time and will remain in history."
Jewelry created by artisans of the House "Lobortas" is the original jewelry masterpieces with an amazing combination of storylines, materials and forms. Thay transmit the beauty of the world in sensual and direct form.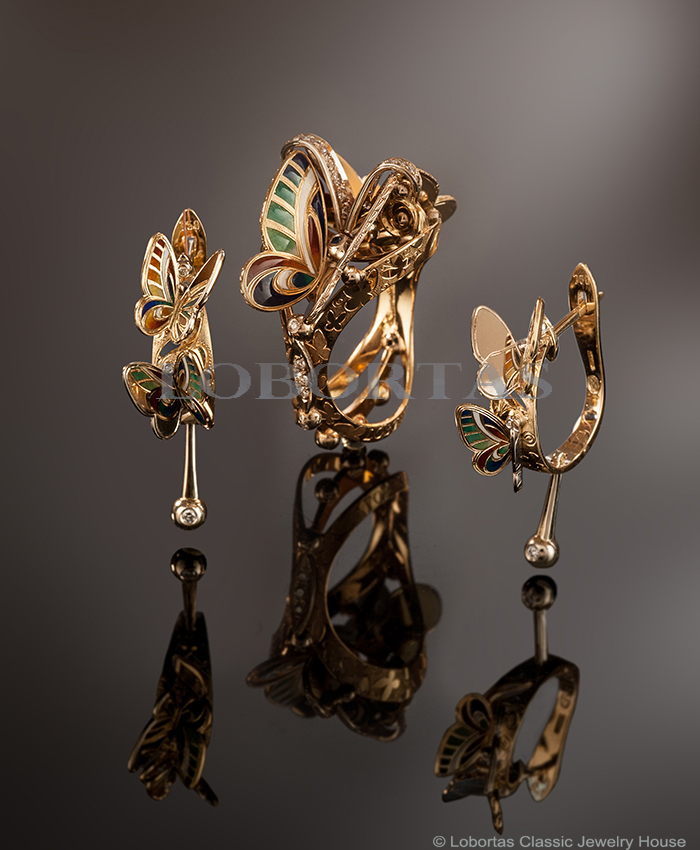 Ring and Earrings Set «Fly».
Lobortas House
Photo by Vladislav Filin