Boucheron. Luxurious and Sensual
Thoughtful image and legends made jewelry of French Jewelry House Boucheron unique, luxurious, sensual, evocative and instantly recognizable, even over a century and a half. Boucheron Jewelry House history begins in 1858, the year when the family decided to combine two of their trades, perfume and jewelry in one shop. The first store was opened in 1858 in Galerie de Valois, Palais-Royal, in the heyday of the second French Empire, Frédéric Boucheron, a talented painter, goldsmith and entrepreneur.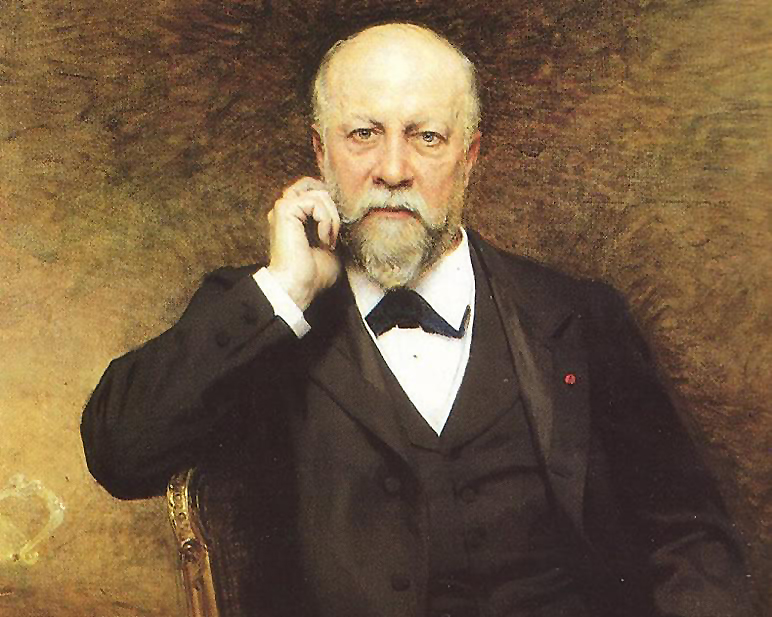 Frédéric Boucheron
In 1785, watchmaker Rousseau invented a new kind of sundial, equipped with cannon, which drove a sunbeam through magnifying glass, set under the Paris Meridian. Every day the cannon shot at noon. In that era, clock was installed in the Palais-Royal. Frédéric Boucheron, whose jewelry shop was in the same place, determined the exact time under the arches of the gallery.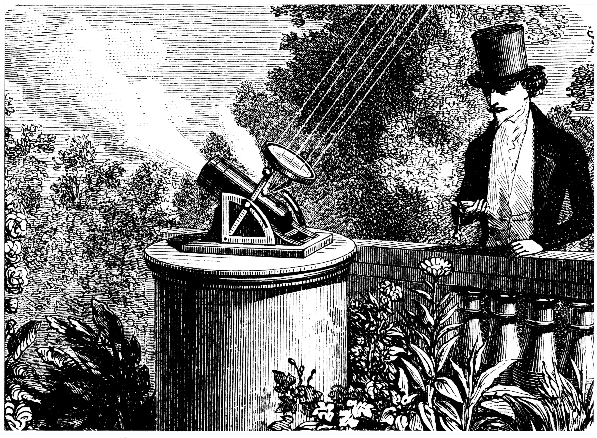 A man synchronizing his watch with the Sundial in the Palais Royal.
The Sundial was marked with words "Horas non numero nisi serenas" (I don't count the hours unless they're tranquil). Admiring such optimistic perception of time and life, Frederic Boucheron decided to make the phrase his motto. This idea became the basis for the making of the first creations by the House of Boucheron. On the one hand, Frédéric Boucheron was the son of his century, and on the other hand, he generated ideas, which were much ahead of his time. Career beginnings of Frédéric Boucheron coincides with the massive jewelry becoming fashionable, which were revived by the Empress Eugénie, wife of Napoleon III. She had a big weakness for the lush stylings of former Queen of France, Marie Antoinette and Louis XVI-era fashion.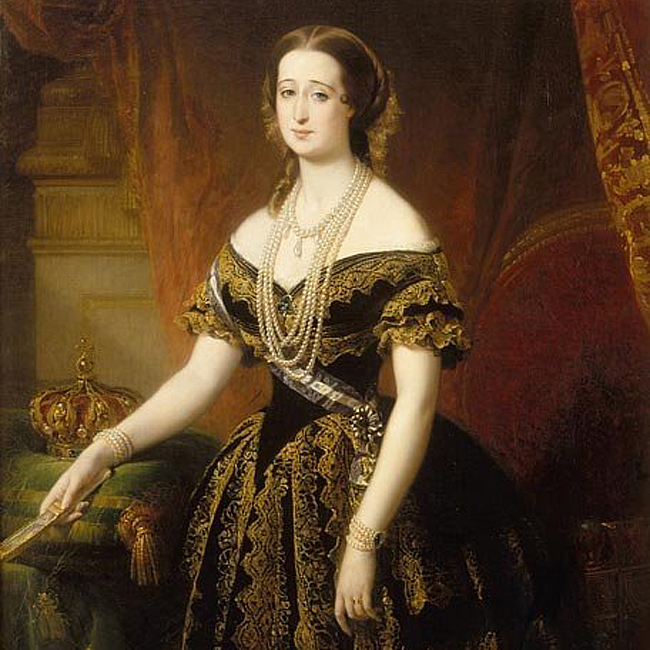 Empress Eugenie, wife of Napoleon III, 1854.
Frederic created his own workshop in 1866, and a year later, in 1867, he won the gold medal at the Exposition Universelle, held in Paris for his imaginative jewelry. Boucheron, being an excellent master and enterprising businessperson and having proved himself in France, soon became known far beyond as well.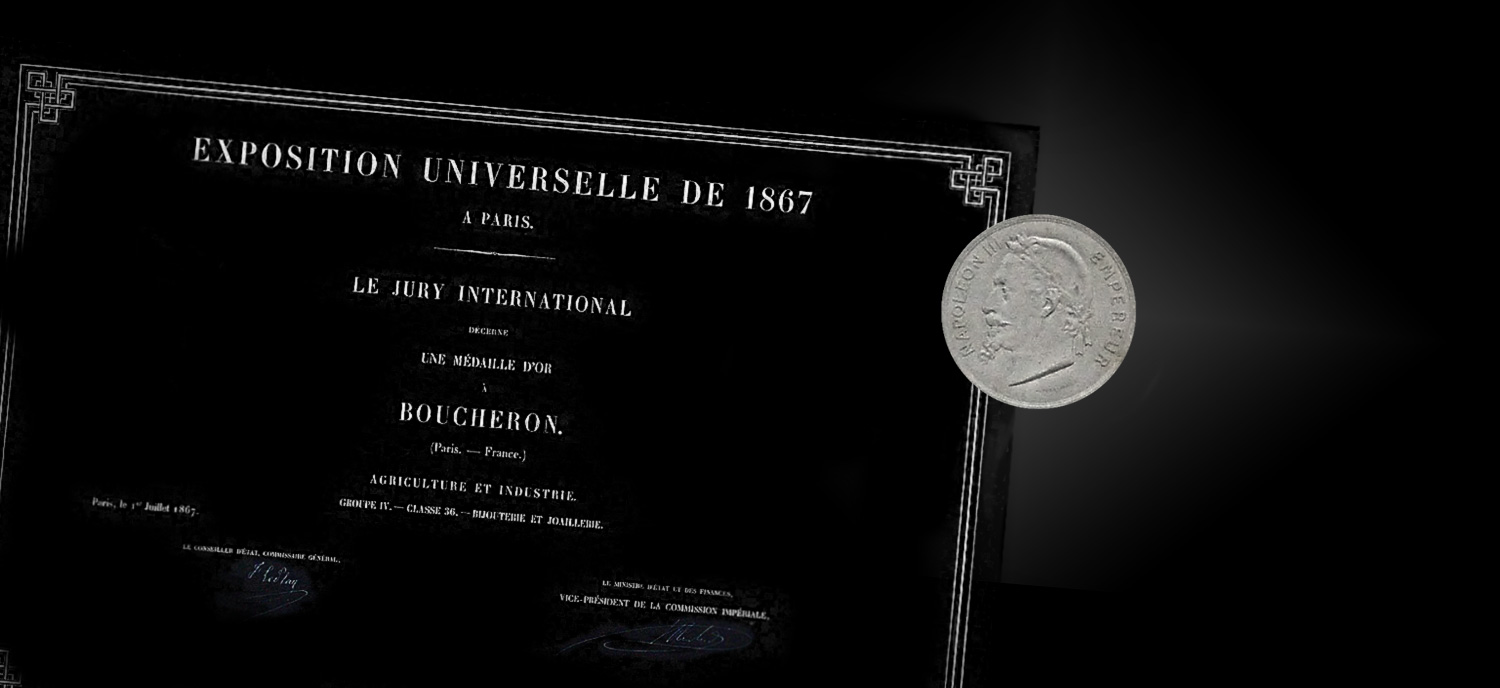 Gold medal at the Exposition Universelle, 1867.
February 7, 1876, Grand Duke Alexander, the future Emperor Alexander III and his wife Maria Feodorovna, entered the shop in the Palais-Royal, intending to buy a watch with rose-cut diamonds. That purchase brought good luck, the Grand Duke asked to add two details: Crown and his lucky number. Hereby, Boucheron pendant watch became the talisman for its owners.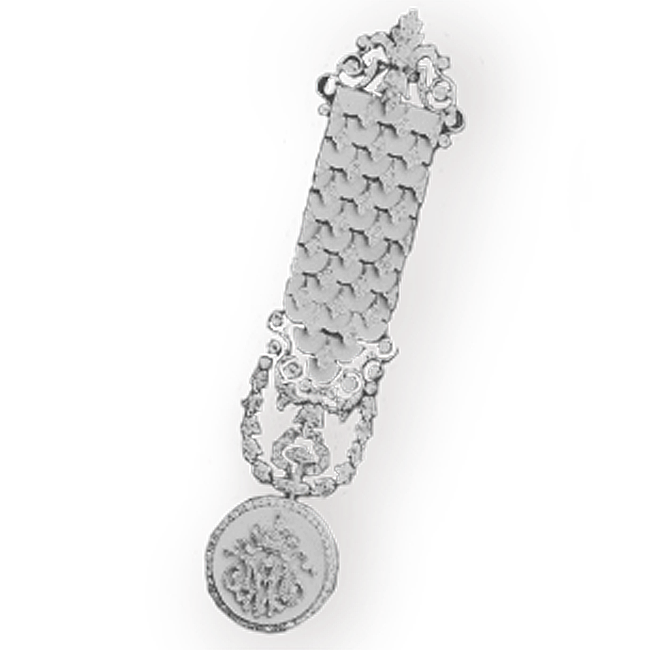 Jeweled pendant watches Boucheron for Grand Prince Alexander and his wife Maria Feodorovna, 1876.
Wealth, luxury and status is shown in secular environment so much that the ladies had to put almost all of their jewelry on at the same time. In the period from 1876 to 1902, surname McKay was mentioned in the register of orders of the House of Boucheron over a hundred times. Wealthy American Marie-Louise McKay ordered jewelry in the most impressive amount in the history of the House of Boucheron. For the first time, she visited Frederick without having a clear idea about what she would like to purchase. She was primarily interested in rare stones. Ultimately, the choice fell on the blue 159-carat Kashmir Sapphire, which adorned the necklace, loved by Mrs. McKay very much. In 1878, at the Exposition Universelle in Paris, House of Boucheron got the first prize once again for the products, which included Sapphire necklace created for Marie-Louise McKay as well.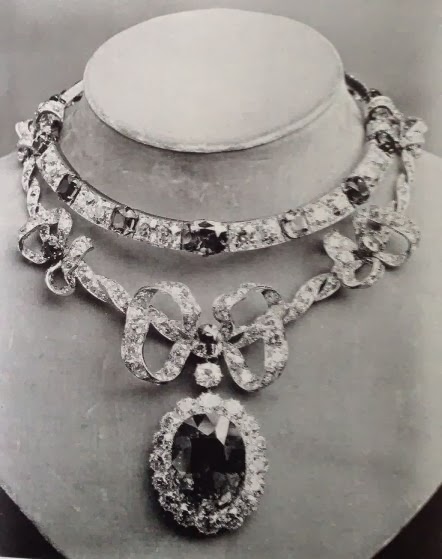 The famous sapphire necklace created for Marie-Louise McKay.
By that time, Frederic Boucheron had already learned that precious stones and jewelry should emphasize an irresistible feminine beauty first of all. By creating his own masterpieces, thanks to his love of experimentation with styles, Frédéric used Persian, antique and Egyptian motifs that and gave some zest to his jewels. Often there is a certain conviviality and mysticism in his jewelry, which was something new for that time. This period saw the creation of the first jewelry sketch depicting a snake. To date, the "snake" has remained one of the major themes in the House of Boucheron.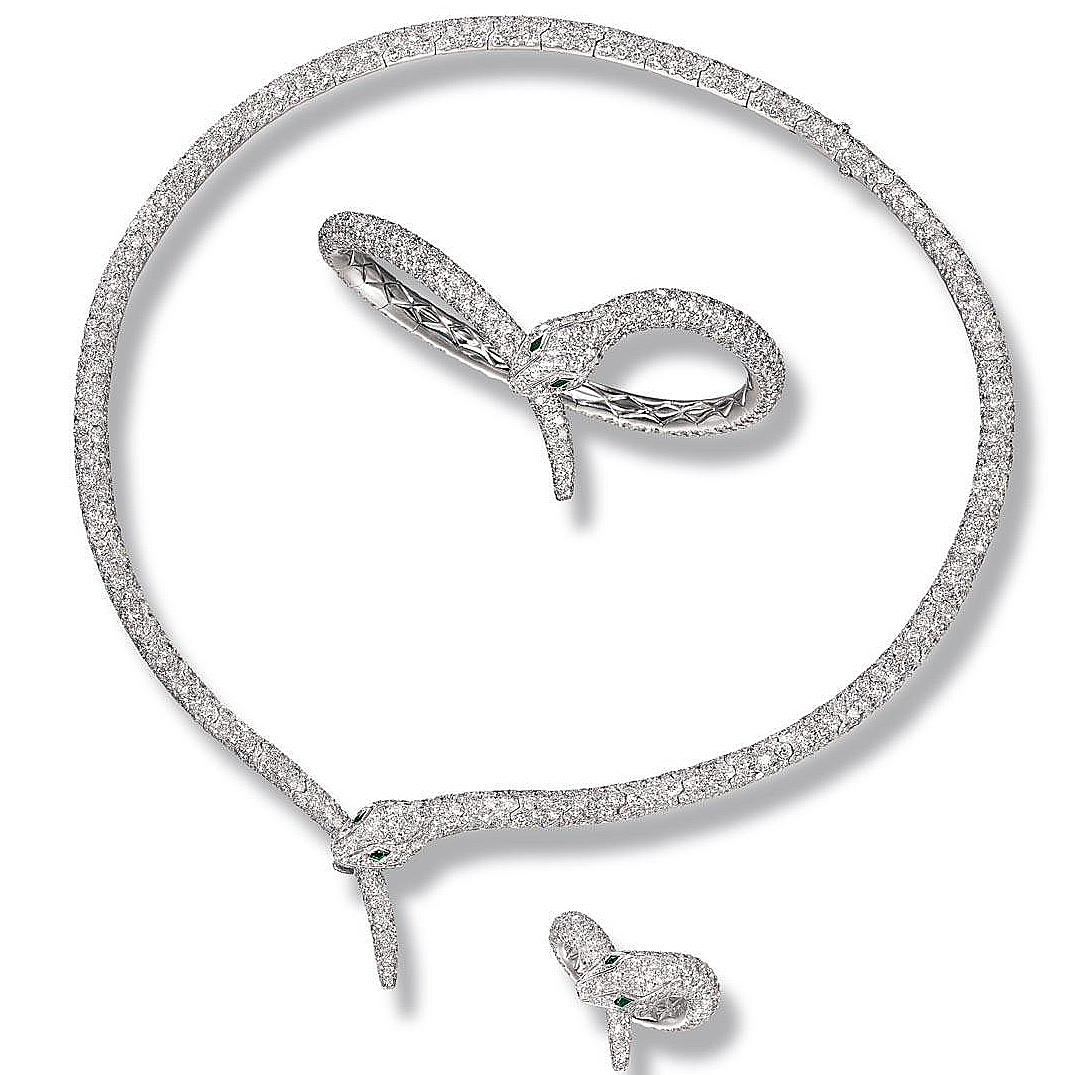 Jewelry set. Gold, emeralds. Boucheron.Sotheby's Geneva
At the exhibition Exposition Universelle held in Paris in 1889 and timed to coincide with the centenary of the Storming of the Bastille, Frédéric Boucheron presented his first necklace "Point d'Interrogation", made in the form of a question mark. Necklace became the basis of one of the iconic stylistic directions in House of Boucheron.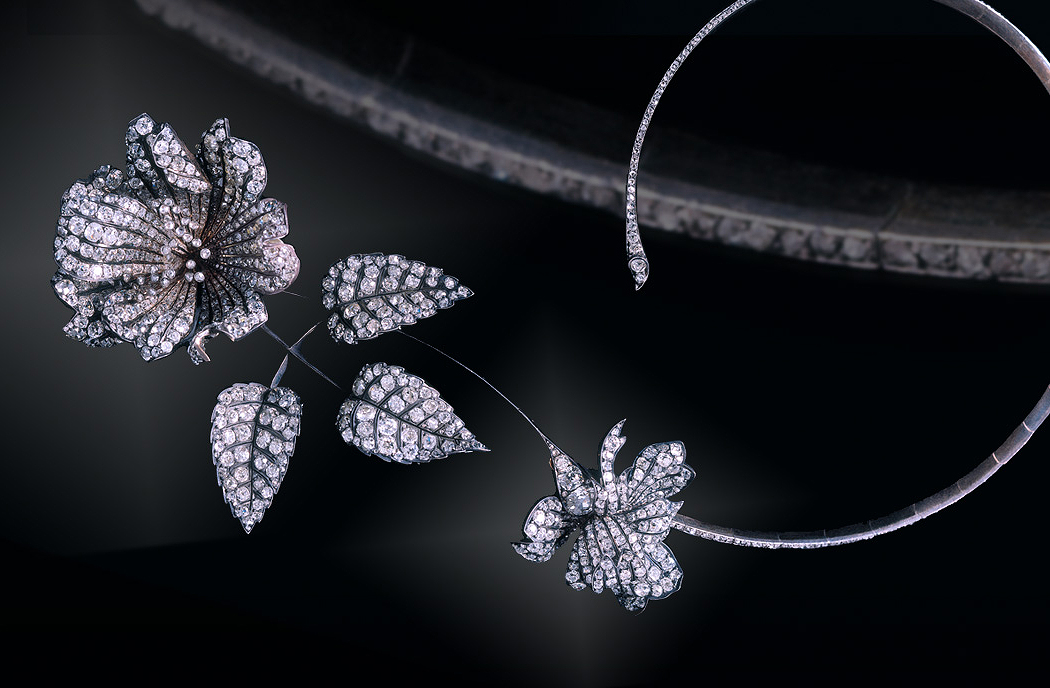 Necklace Boucheron "Point d'Interrogation", made in the form of a question mark.
In 1893, Frédéric Boucheron opened a flagship store at Place Vedôme 26. On the sunny side of the Luxury Square, glass storefront, luxuriously decorated by famous decorator Henri Penone, represented jeweled masterpieces in a favorable light and allowed to admire their radiance and brilliance.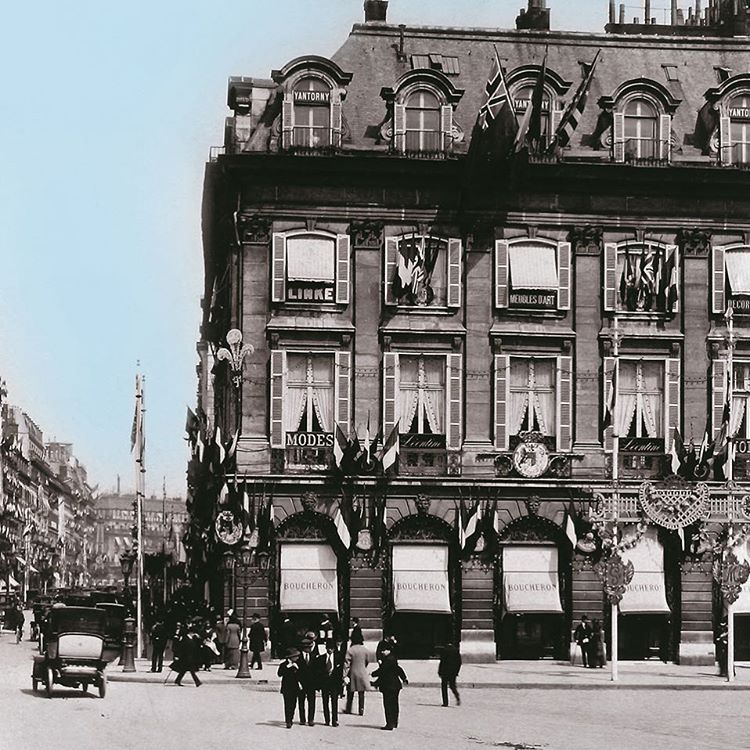 In 1894, future Emperor Nicholas II ordered the most amazing and unusual of the diadem of the time from Frederic Boucheron. Artisans of Boucheron created a small crown of amazing beauty, fully covered with pearls and diamonds, and the Grand Duke would win the heart of his bride Alexandra, by having presented that outstanding creation on the day of betrothal.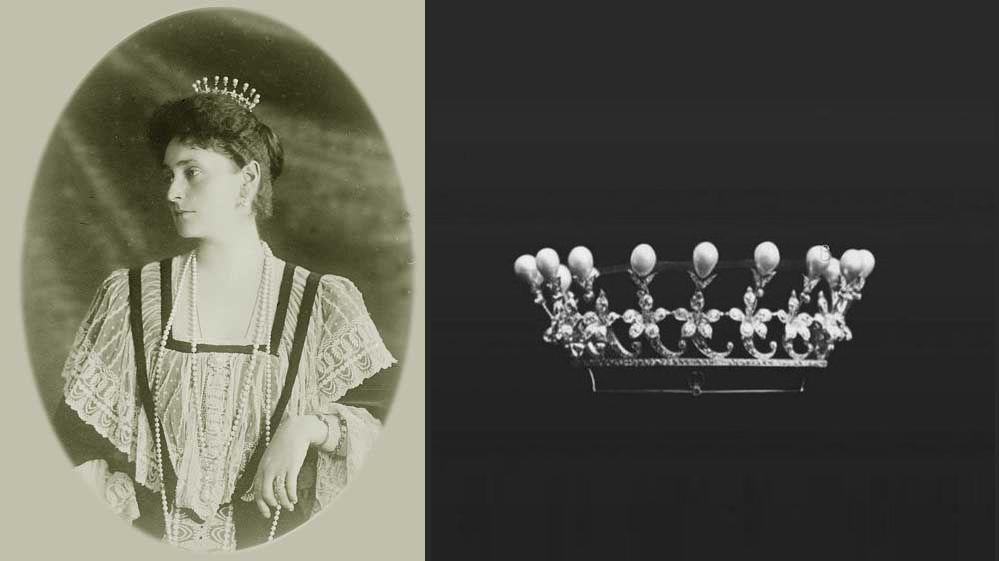 Empress Alexandra Feodorovna with the crown created by the House of Boucheron. 1894
1897. House of Boucheron opened its first store in Moscow.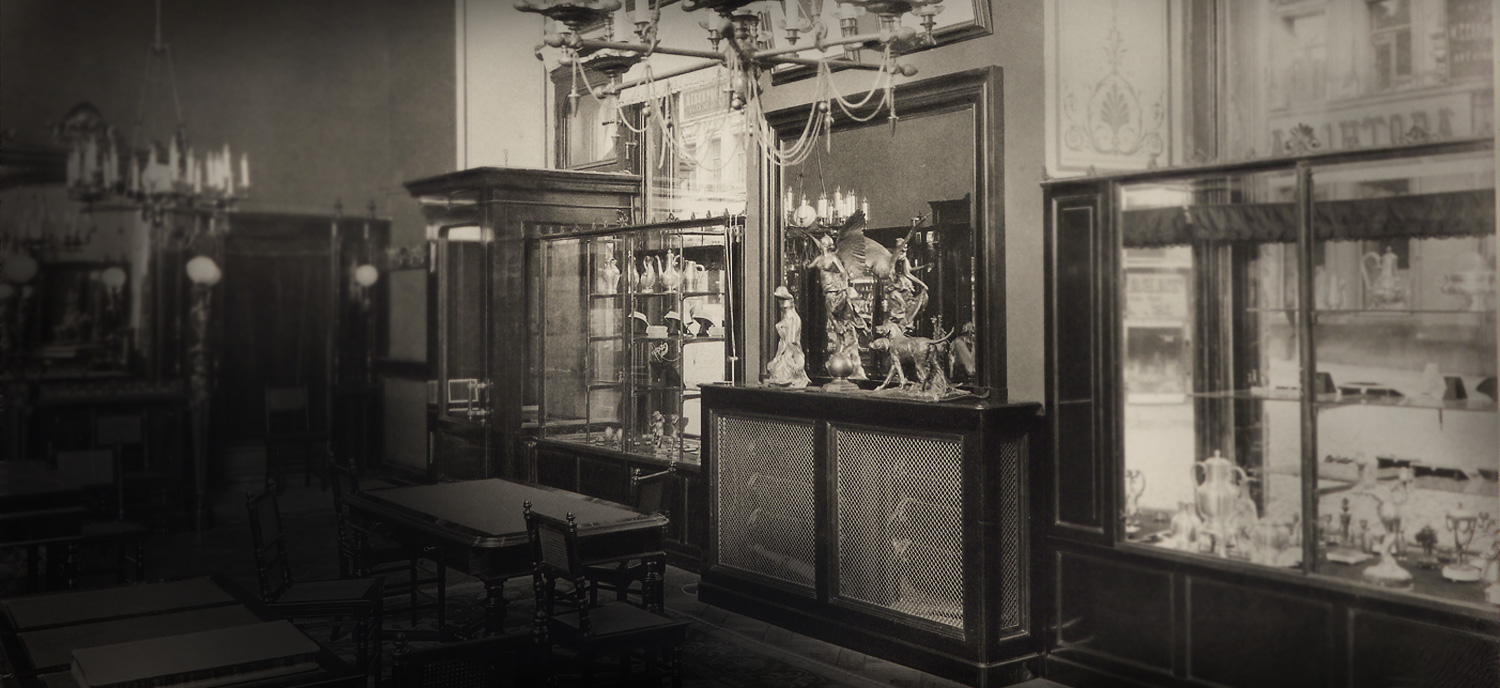 Boucheron shop in Moscow. 1897.
At the Exposition Universelle held in Paris in 1900, House of Boucheron was awarded with the gold medal and was recognized as one of the predecessors of the art nouveau, providing several unique products that impressed the audience and jury members terrifically. Among the jewelry, there was a necklace entitled "Chestnut Leaf" that represents a composition of 13 large emeralds of incredible beauty with a leafy pattern of marquis-cut diamonds behind them.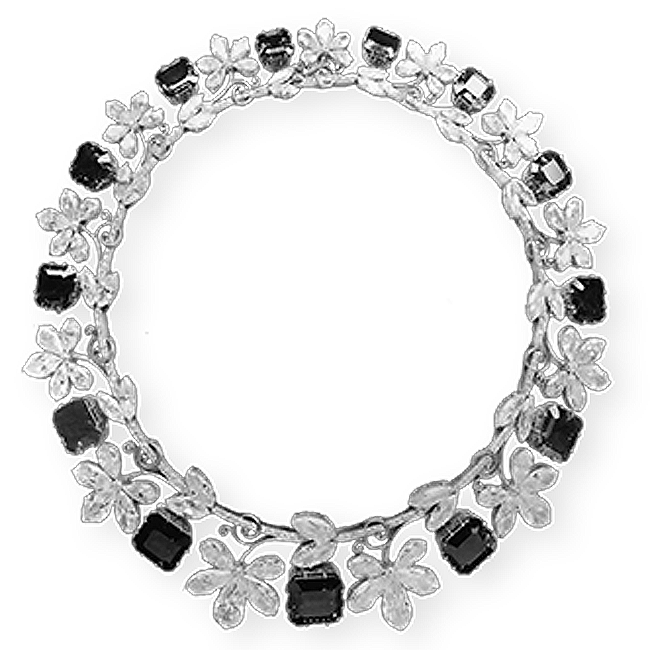 Necklace "Chestnut Leaf"
Frederic adored work styles, resurgent in the 19th century — Japanese, Chinese, Egyptian and Persian. He also excelled in the chic, sleek style of the 18th century "Marie Antoinette," he never missed the "style of Campana", named after Cobaliero Campana, whose collection of ancient Etruscan treasures, subsequently acquired by Napoleon III, was exhibited at the Louvre in the 1860.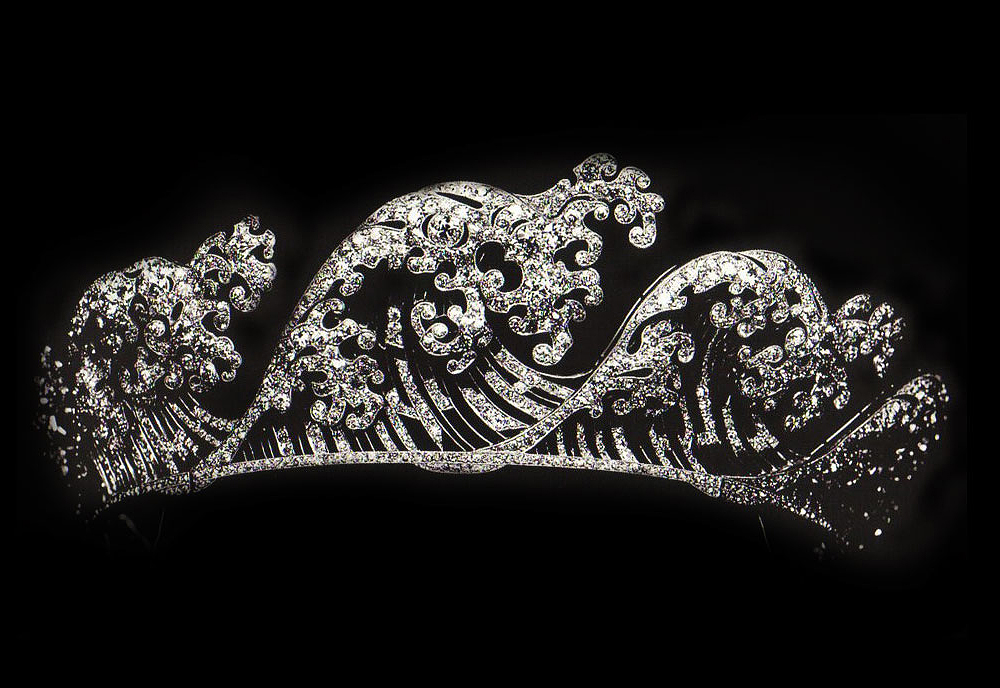 Tiara in Japanese style. Boucheron, 1910.
Jewelry masterpieces by Boucheron are refined, elegant and a bit discreet. Frederic Boucheron fantasized himself and was able to appreciate the work of his designers. He rejoiced and was happy not only to his own success, but the success of his colleagues. It was owing to the friendly and excellent team, in which everyone was able to rejoice and share success, such talents as Rene Lalique, Paul Legrand, and many others were born. Its artisans became famous for their jewelry and impeccable technique. Jewelry with the glass effect were particularly amazing for that time.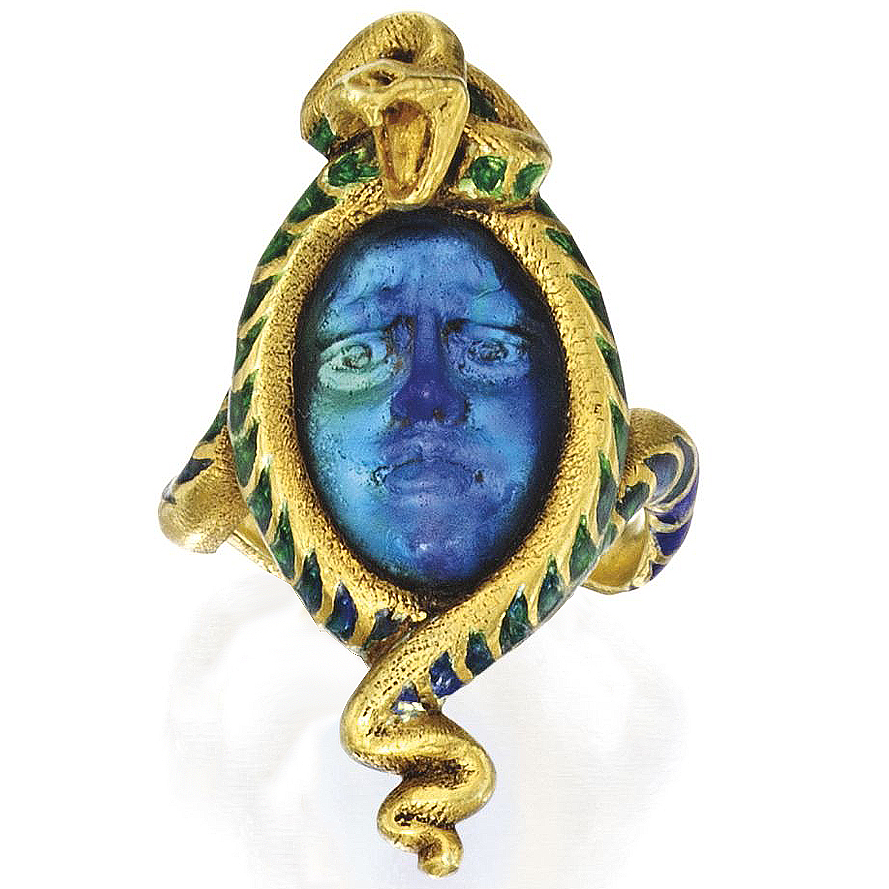 Ring "Medusa and Snake". 18K Gold, blue glass, enamel. Rene Lalique, 1895
Frederic Boucheron's dream was to conquer the world. And it must be said that he succeeded. His products have earned the recognition of the Europe's most influential political figures of the nineteenth century thanks to the elegance of style, luxury, extravagance of forms and ideas.
The life of jewelry genius Frederic Boucheron ended in 1902. His son Louis Boucheron replaced him. Being also a very talented person, Louis was engaged in release of brilliant jewelry, continuing the tradition of the company, creating gorgeous products to implement the unique vision of his designers and artisans, who by that time had become virtuoso.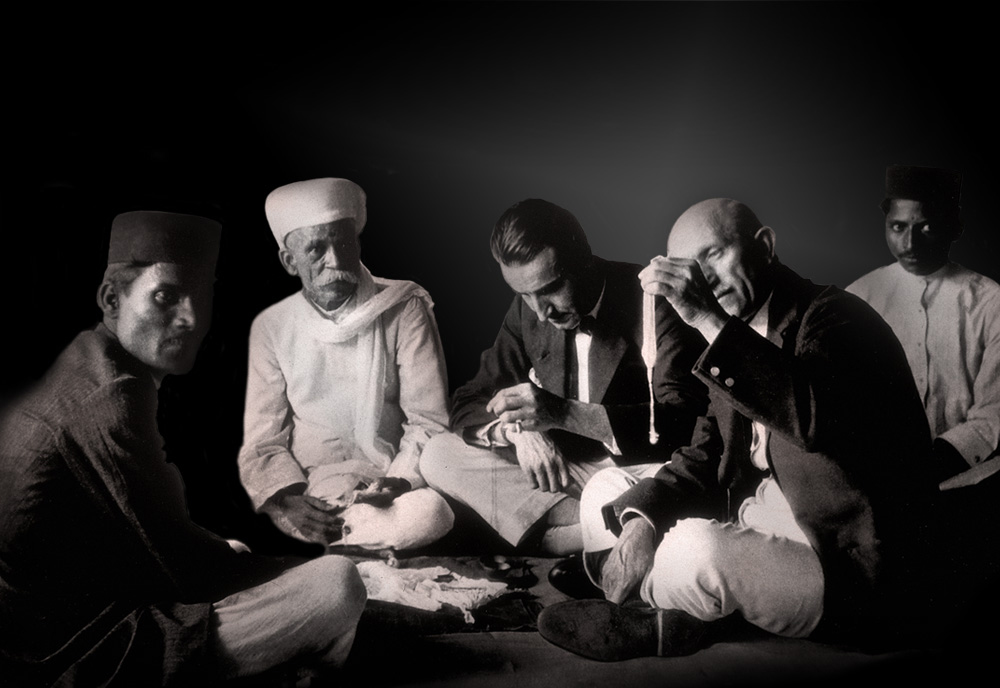 Louis Boucheron sold jewelry and bought precious stones
during his first trip to India.
Having an excellent business flair, Louis Boucheron instantly caught the latest fashion trends. He was the only one in the history of the House of Boucheron, who invented a new type of cut. Embodying the ideas of his father, in 1903, Louis opened branches in New York and London at Bond Street and guided the Boucheron Jewelry House to the world stage. Thanks to his zeal, Louis Boucheron managed to create an incredible amount of amazing jewelry collections for three decades. Collection of Mary Ethel Burns, which was destined to become Lady Harcourt, is considered the most amazing collection of Boucheron creations.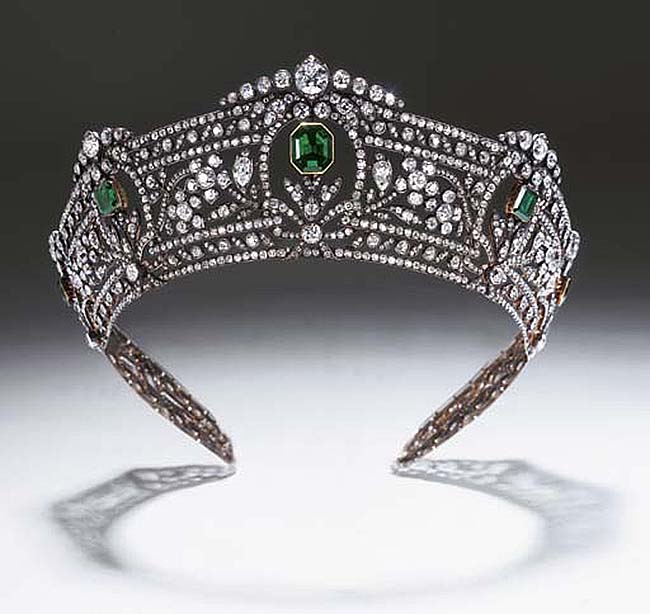 Tiara from the collection of Lady Harcourt. Diamonds and emeralds. Boucheron.
In 1921, artisans of the House of Boucheron created outstanding tiara, which would become one of favorite jewels of Queen Elizabeth's mother. British Queen Elizabeth on many photographs and paintings was captured exactly in it.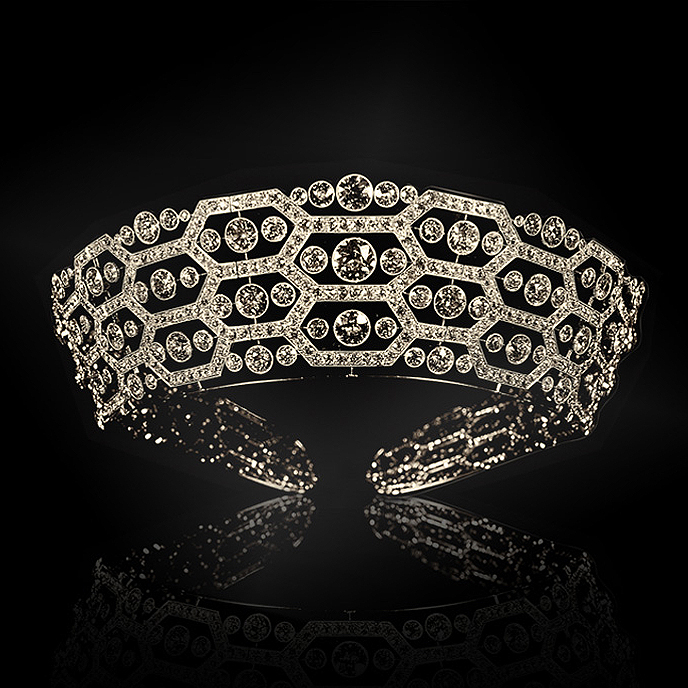 Tiara of Queen Elizabeth's mother.
In 1925, House of Boucheron was exhibiting a delightful collection of armlets, bracelets, tiaras and long earrings that were popular even among girls with short hair at the Exposition Internationale in Paris.
In August 1928, Maharaja of Patiala, in a sign of deep respect to the legendary House of Boucheron, which was tied by a special relationship with India, ordered unique precious set of 149 pieces of jewelry. To this day, this order has still remained the largest and most striking of all, ever placed on the Place Vedôme.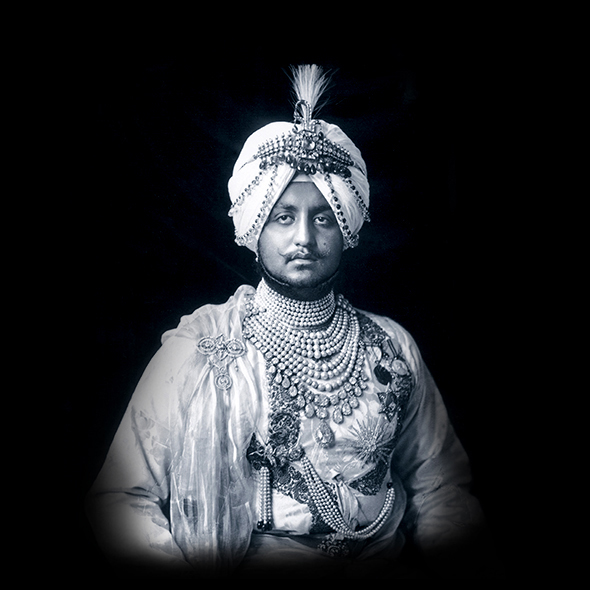 The Maharaja Of Patiala.
Especially brightly and delightfully designers of Boucheron House, succeed in kind of Eastern Art Deco jewelry.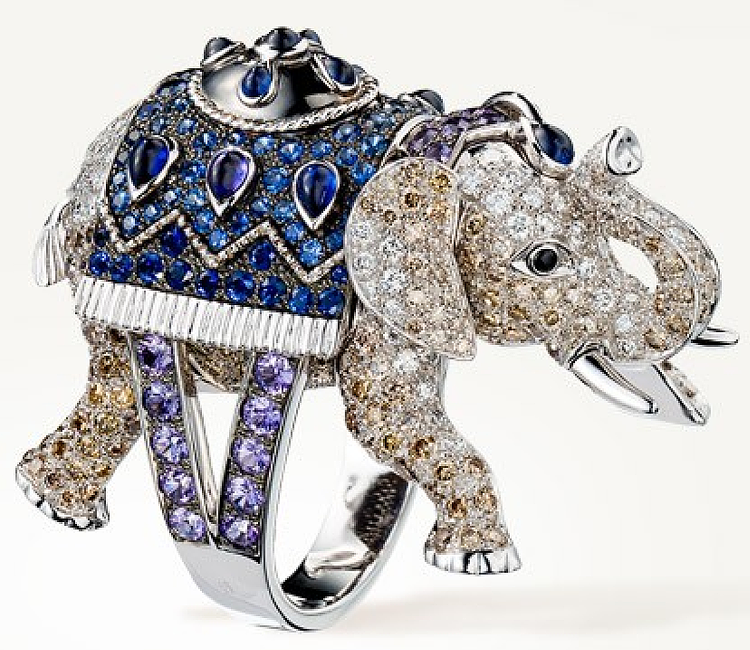 Ring "Elephant". Boucheron.
Artisans of Boucheron House romped around the East, taking orders from people, who already knew that only a jeweler from Paris, Louis Boucheron, was able to handle large gems as no one else.
Shah of Iran Mohammed Reza Pahlavi was so entranced by creations of Boucheron House that entrusted Louis Busheronu to make the first-ever assessment of the Treasury. According to legend, everyone who touched the treasures, was deprived of life. Nevertheless, Louis, solely due to his professional skills, managed to avoid the death penalty.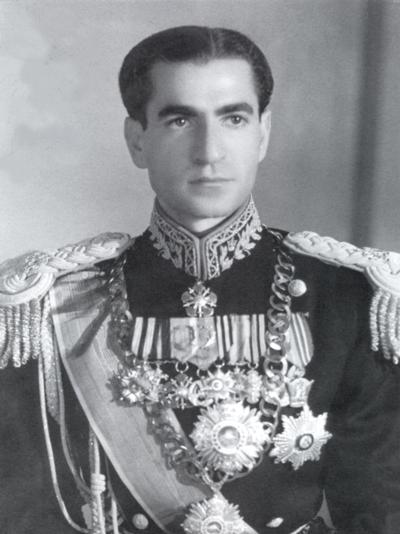 Shah Mohammed Reza Pahlavi.
In 1930 specialists of the House, headed by Louis Boucheron, took several months to produce an expert evaluation, one of the most unique collections of the most incredible stones and most amazing products ever seen by them before. Louis subsequently kept the value of the treasures seen. Louis Boucheron and his descendants were appointed as the official custodians of Iranian treasures in Tehran.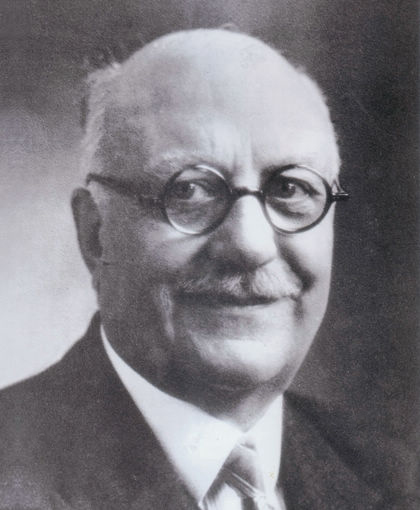 Louis Boucheron. 1930.
In 1937, Fred and Gerard Boucheron became the successors of Louis. At this time, the Boucheron Jewelry House had to return to eternal gold. The words "Boucheron" and "jewelry of gold" have become almost synonymous.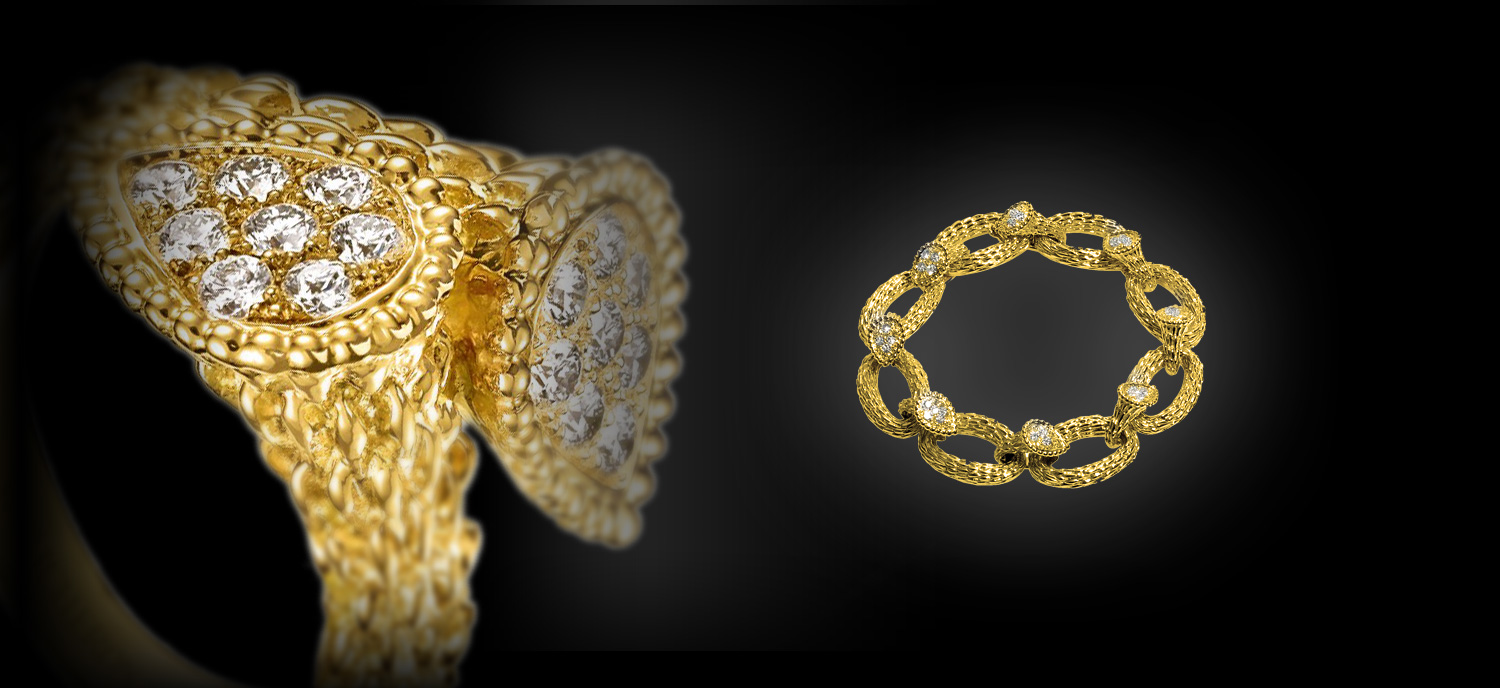 Boucheron. 1968
In 1958, Shah of Iran appealed to the House of Boucheron again, but already to Gérard Boucheron, the son of Louis, to continue making assessments and to establish a Museum of famous jewels. Gerard, like his father, loved the stones and passed their beauty by applying a special cutting technique. He brought the best craftsmen in Iran to restore the famous treasures. In 1960, the Museum was opened.
From 1970 onwards, Alain, Gerard's son, took the family business. He became a worthy successor of the Boucheron's trade. In jewels of the Boucheron Jewelry House, he embodied the harmony of nature, the perfect unity of stone and wood, stone and tortoise shell. It is precisely the combination, which Frederic Boucheron managed to express by drawing inspiration from the diversity of the surrounding world.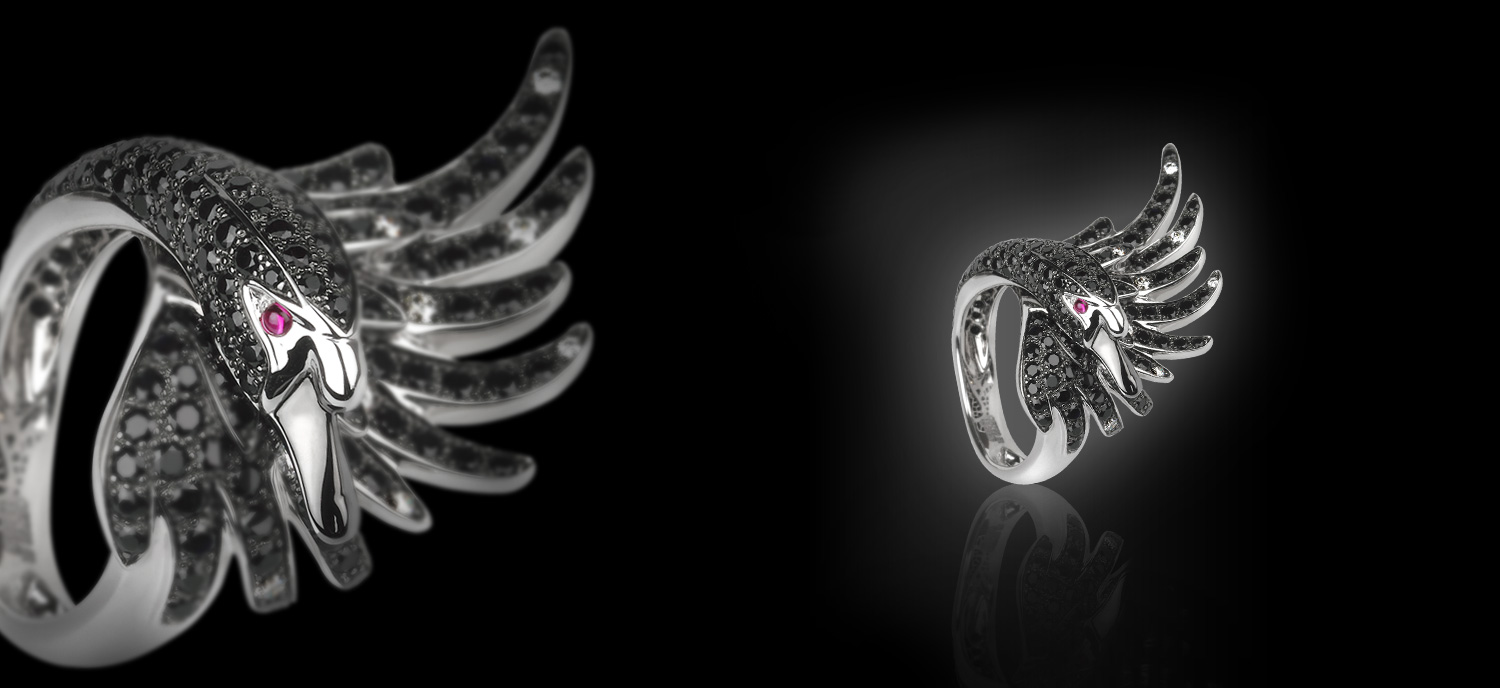 Boucheron. "Swan" Ring.
In 1994, Boucheron family business went to "Schweizerhall" in connection with its sale. Frederic Boucheron achieved unbelievable success only because he was not afraid of bold and daring decisions. That is why the House of Boucheron has still been one of the few jewelry companies, which define the worldwide development of exclusive and precious jewelry collections.
Queens and Kings, emperors and empresses, princes and princesses, dukes and duchesses, the largest representatives of business, politics, world-famous stars always worshiped before the exquisite creations of the House of Boucheron.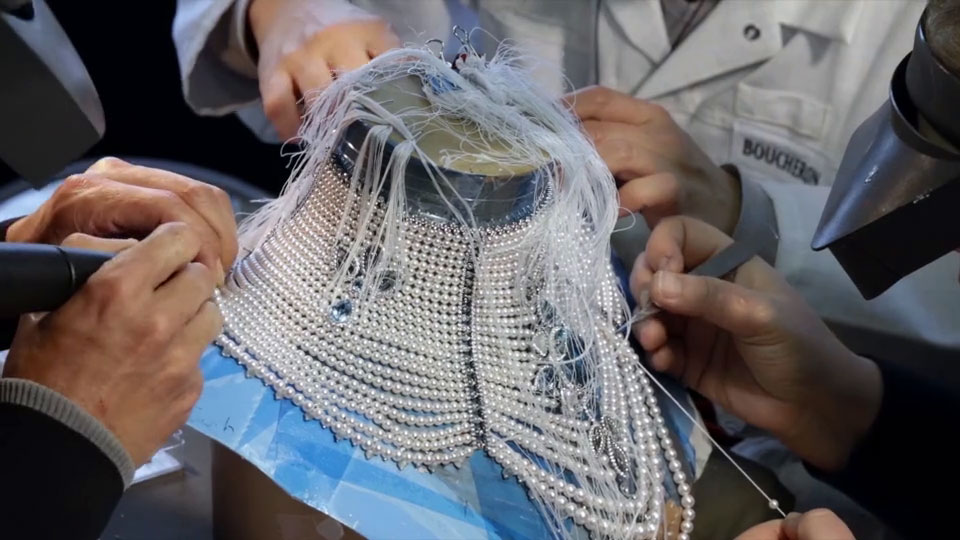 Artisans of Boucheron making "Baikal" necklace (2000 pearls).
Emperor Alexander III and Nicholas II, Her Majesty the Queen of Spain Isabella, Her Majesty Eleonore Reuss of Köstritz, Her Majesty Queen Elizabeth II and Prince Philip, Princess Grace of Monace were the customers in the House of Boucheron. The greatest star, French singer Edith Piaf and a great stage actress Sarah Bernhardt, Ida Rubinstein, the writers Oscar Wilde and Marcel Proust, Greta Garbo and Marlene Dietrich, Ava Gardner, Sophia Loren, Joan Crawford, and many others wore jewelry by the House of Boucheron.
Joan Crawford wearing jewelry from Busheron.
Today, at the beginning of the 21st century, these jewels are worn by the representatives of a new generation of actresses – Angelina Jolie, Demi Moore, Julia Roberts, Nicole Kidman, Penelope Cruz.
Boucheron jewelry cannot be confused with any other and you cannot fail to recognize it. It is called love at first sight. Since the brilliance of colored gemstones and shining of Boucheron gold is casting a spell of its originality and luxury. Exclusivity and individuality are the distinctive features of the products by Boucheron. Luxurious and sensual... They will decorate an admirer's collection with really unique jewelry.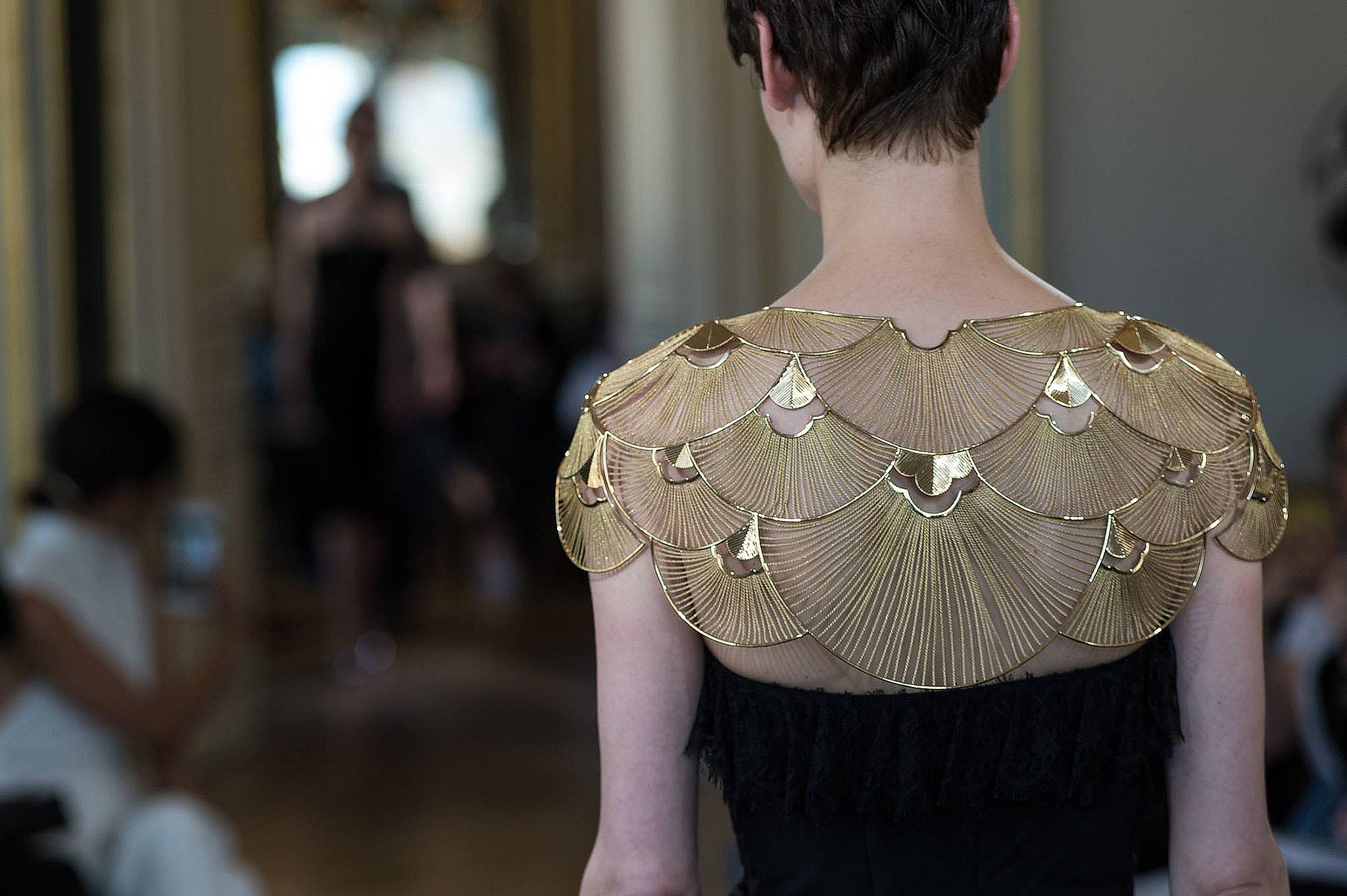 «"Cape of Light". Boucheron.
The combination of the jeweller's art and high fashion.
.
Jewelry House «Lobortas» delight with its extravagant luxury, sensual passion and deep philosophical meaning. Each piece is a story, a special mood, original look and the admiration of the world. Graceful colors, original ornaments, amazing in their design, even innovative interpretation only underline that only professional artisan is working over each product, creating a special mood and the admiration of the world.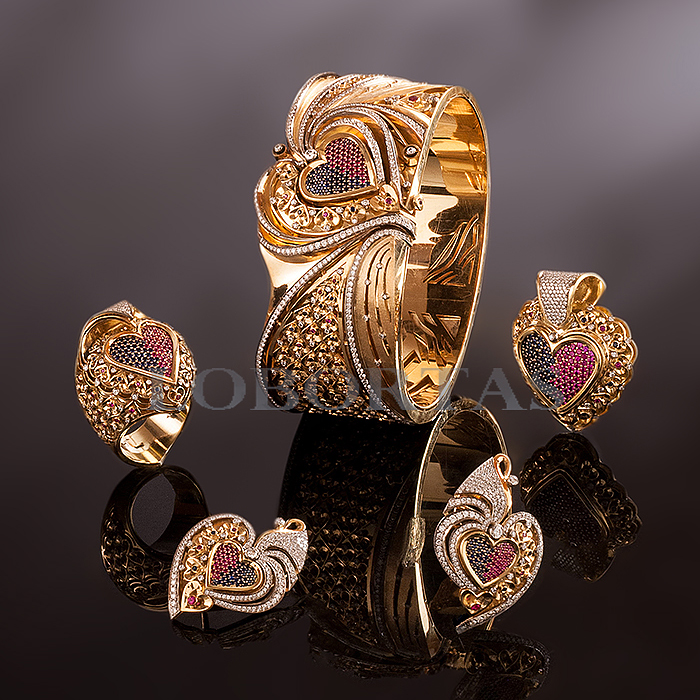 «Breath of Two Hearts». Lobortas House
Photo by Vladislav Filin