Ambaji Shinde
Unrivaled Designer of the "King of Diamonds"
King of Diamonds, Harry Winston, called Ambaji Shinde the most precious treasure of the Harry Winston Jewelry House. Possessing an outstanding creative genius, Ambaji Shinde created a whole constellation of original jewelry masterpieces for Harry Winston, becoming truly a cult figure in the history of the House.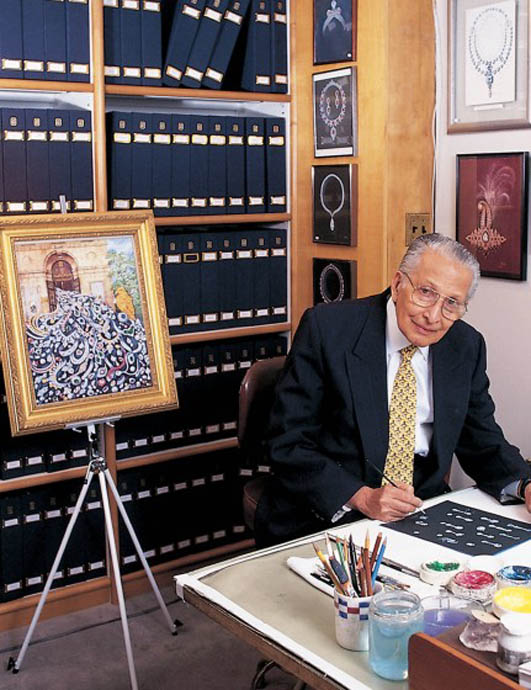 Ambaji Shinde. Spring 2002.
The figure of the America's master goldsmith, Harry Winston, was covered with legends during his life. He was called the "King of Diamonds." They said that he could determine whether there was a real stone in the window, standing on the opposite side of the street from the store. They told that he always took a faceted diamond in his pocket, forbade taking picture of his face and claimed that he had had some knowledge about stones since his birth.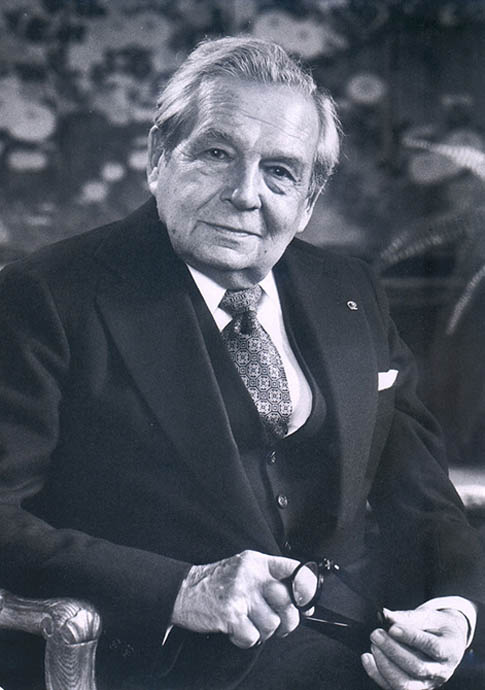 Harry Winston
Harry Winston got acquainted with Ambaji Shinde in 1955 during his regular travel to Bombay. Their friendship would last till 1978, until Harry Winston left this world at the age of 84 years. After the death of Harry Winston, Ambaji Shinde would continue to support the style, established by the Harry Winston Jewelry House and create new jewelry masterpieces.
Venkatesh Ambaji Shinde, a prominent jewelry designer, born on December 22, 1917 in Mapusa, a fishing village in the tiny state of Goa. His father had sold bracelets and copper cookware. Ambaji as a child became interested in theatre and decorations. Ambaji's artistic talent started manifesting itself at the age of seven years. The caricature of the girl of his age, which cost him slapping, was praised by her father. So he stuck it in a frame and hung it in the house. The ability of the young artist were not welcome by parents, and only thanks to the teacher Baskar, who had convinced Ambaji's the parents to educate him in Bombay in the most prestigious art school, the Sir J.J. In 1934, Ambaji Shinde started training artistic craft.

The Sir J.J. School of Art in Bombay
In 1937, Ambaji got the diploma of textile artist and designer. The death of his father, who had left no livelihoods to him, and his younger brothers, forced Ambaji to become the head of the family. This situation obliged the young designer urgently look for the work. Work in the textile industry had not appealed to the young artist, and he got fixed in a job as designer of jewelry to the one of the largest jewelers in Bombay — Narauttam Bhau Jhaveri. Despite the fact that Ambaji never tried his hand at designing jewelry, employers liked his sketches and hired him.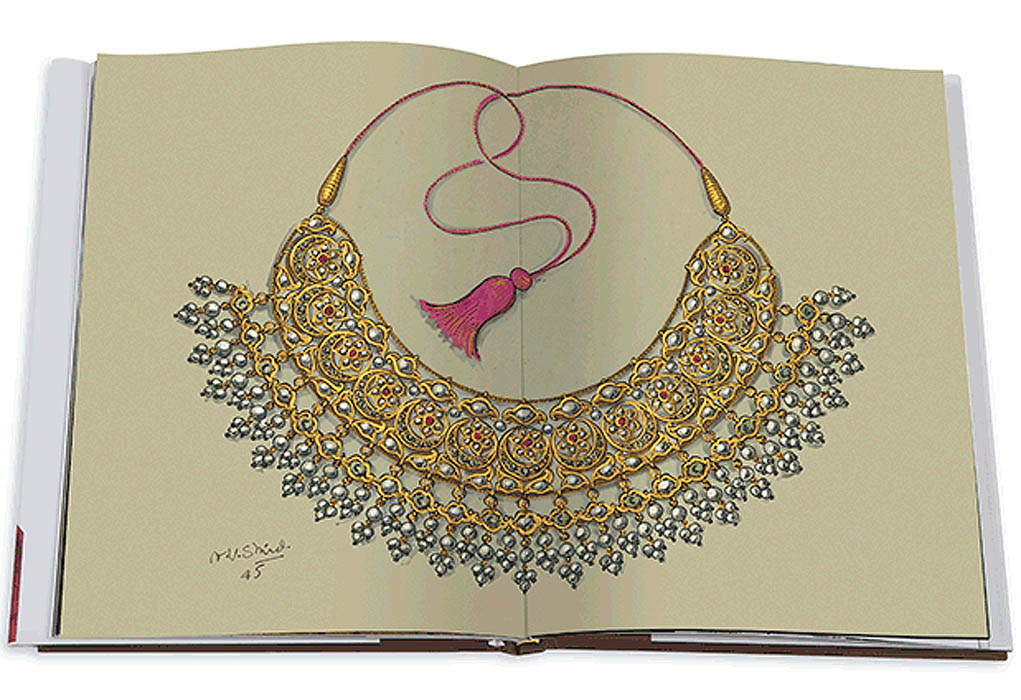 Watercolor necklaces. Shinde.
From the first days, the young artist was improving his skills in the field of jewelry design. In 1938, Shinde got an assignment to create several jewels for the coronation of Maharaja of Baroda, one of the richest and the most respected families in India. Despite initial doubts, Ambaji decided not to miss this chance and showed his talent while creating them. The sketches really impressed the customer. From that moment, Shinde was entrusted with the most difficult and responsible developments. At the same time, Ambaji became acquainted with an experienced designer Ram Pohli, who gave him his experience and taught the technique of drawing the jewelry.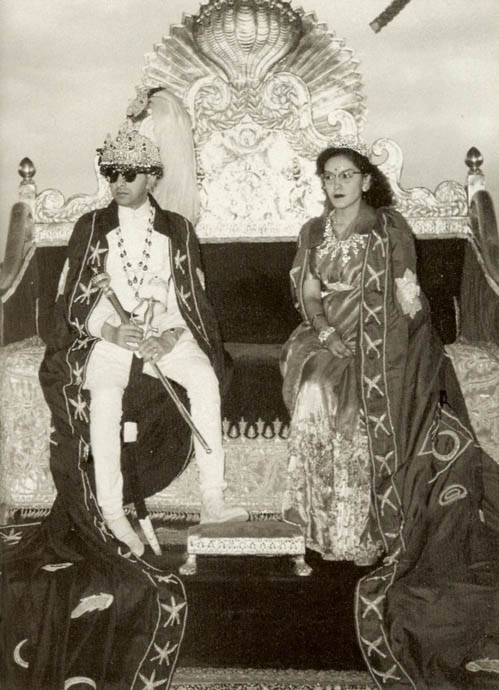 The Maharaja of Nepal on the day of his coronation.
The only drawback during Ambaji Shinde's work for Bhau Narauttam Jhaveri was that he had no idea about the methods and rules of making jewelry; his work was limited to the creation of sketches on paper.
In 1940, he married, and, in 1941, he went into Nanubhai Jewelers, where he was working on creating jewelry for nearly 20 years.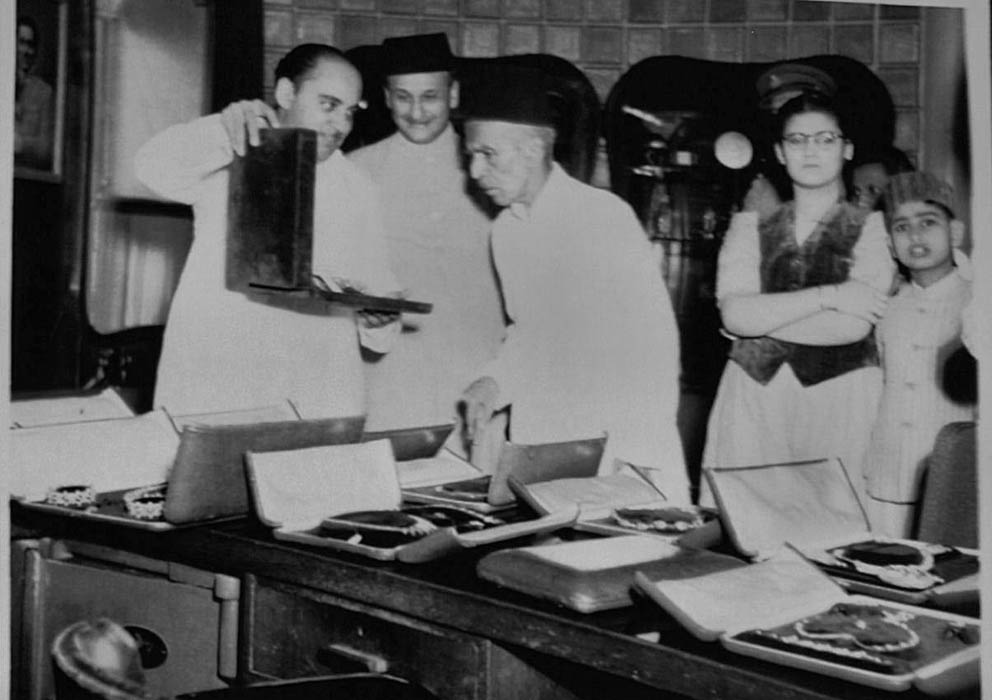 Sales of jewelry. India (archive photo).
It was there his talent of jewelry designer fully revealed. He drew inspiration from everywhere, gradually realizing that everything that surrounded him could turn into jewelry masterpiece. Over the years, Shinde developed his own unique style, constantly experimenting and innovating established Indian tradition of making jewelry for the maharajas. Usually, royal jewelry consisted of huge garlands of precious stones, the weight and size of which was directly proportional to the importance of the owner. Design criteria have changed, when maharaja started travelling abroad. Western-style jewelry was his desire then. Shinde decided to upgrade the very concept of jewelry, joining the typical Indian motifs with ethnic and religious symbols, accented by large gems required by customers, with smaller, thereby making decorating themselves more "luxuriant" and graceful. Thanks to Shinde's ability, Nanubhai Jewelers got major orders from the richest Indian maharajas, including Nizam of Hyderabad, the world's richest person at that time.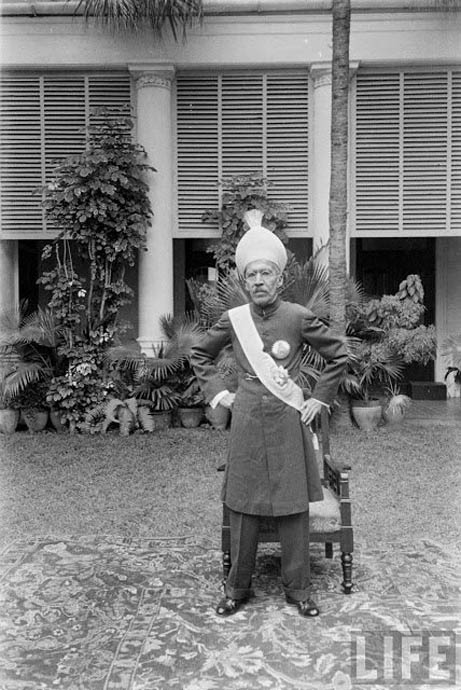 The last Nizam of Hyderabad, Osman Ali Khan
is one of the richest people in the world of his time.
In March 1946, the year of the 60th anniversary of His reign, His Royal Highness Prince Aga Khan III ordered Shinde to create white Sari, out of more than 1,200 diamonds for his third wife.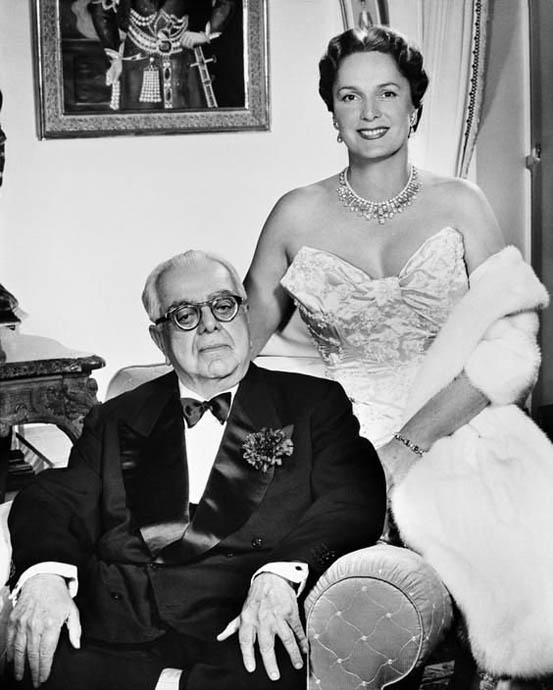 Prince Aga Khan III, with the fourth wife
Yvonne Blanche Labrousse, Miss France 1930.
The golden era of the maharajas, ended in 1947, when, after two hundred years of the British colonization, India would be divided into two states: Pakistan and India. During the Second World War, the political and economic instability of that time pushed maharajas to sell their jewelry secretly. Improbable quantity of ancient gems and diamonds of highest quality that had fallen to the western market via Van Cleef & Arpels, Harry Winston, Tiffany, Cartier, Boucheron Jewelry Houses appeared on the market…
Shinde shifted very quickly in this situation. Instead of bulky jewelry, he created a more discreet and modern jewelry that drew both old and new customers to Nanubhai Jewelers.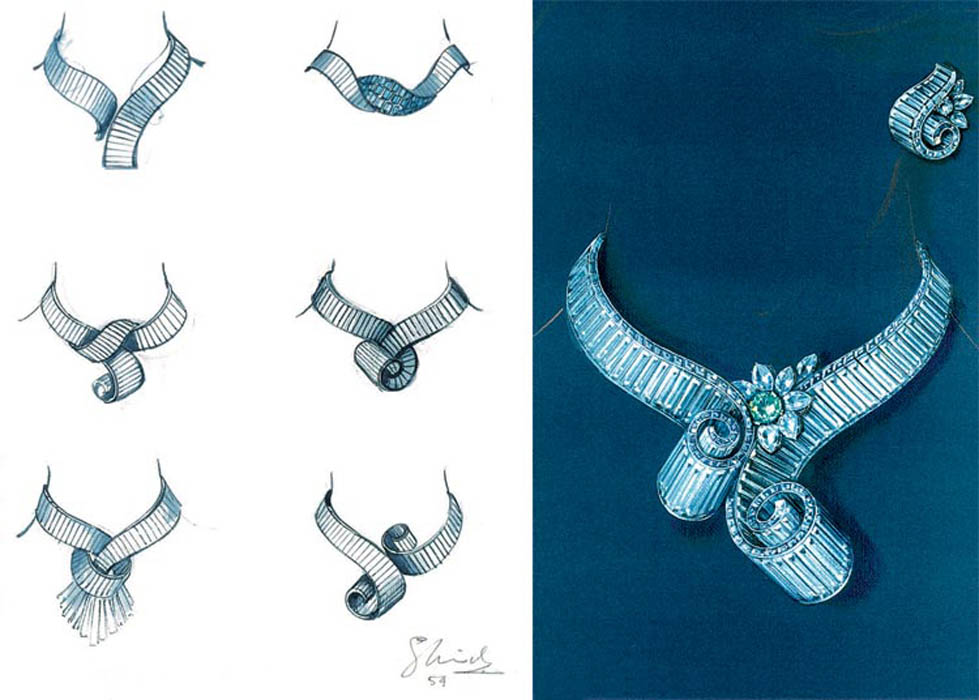 Nanubhai Jewellers. Shinde, 1954.

Nanubhai Jewellers. Shinde, 1954.

In 1953, Nanubhai Jewelers purchased huge quantities of Indian diamonds of highest quality from bankrupt maharajas. Shinde created an unprecedented elegant collection of earrings, necklaces, bracelets, and rings that were purchased by the maharajas of Gwalior, and Harry Winston. The incredible beauty of Ambaji's works made an indelible impression upon Harry Winston.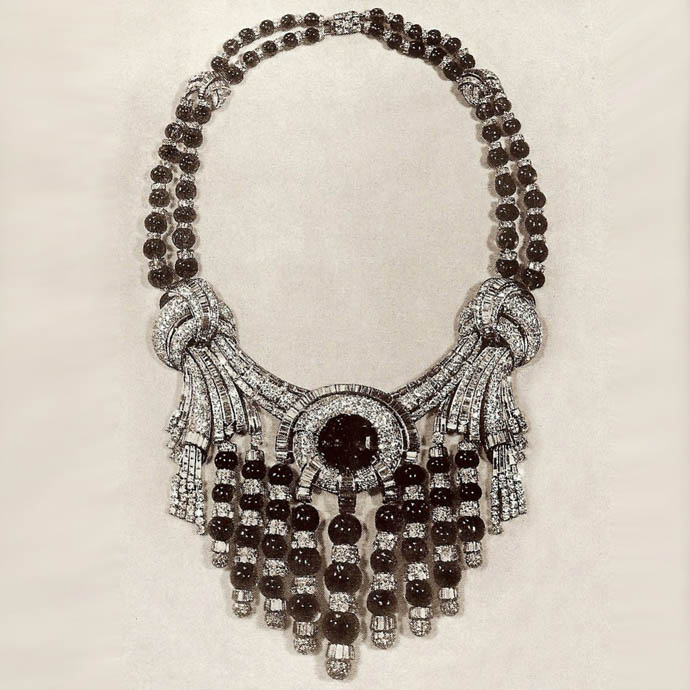 Necklace. Emeralds and diamonds. Shinde for Nanubhai Jewelers, 1952 (private collection).
In 1955, during one of his trips to Nanubhai Jewelers in Bombay, Harry Winston personally met with Ambaji Shinde. Every year the works by Ambaji Shinde were less and less in demand of the Indian aristocracy, he felt that he was spending his talent in a country, which no longer appreciates his skill.
In 1959, Harry Winston offered Shinde the position in the designing atelier of the Harry Winston jewelry house in New York. Ambaji had to take a tough decision. The work had to be in the country, which he had never seen. He had to leave a large family: six children who studied in the school, and his wife, whose poor health would never allow her to move to the United States. As a result, Shinde accepted the offer. While the U.S. visa was being issued, Ambaji was working for the Geneva Office of Harry Winston.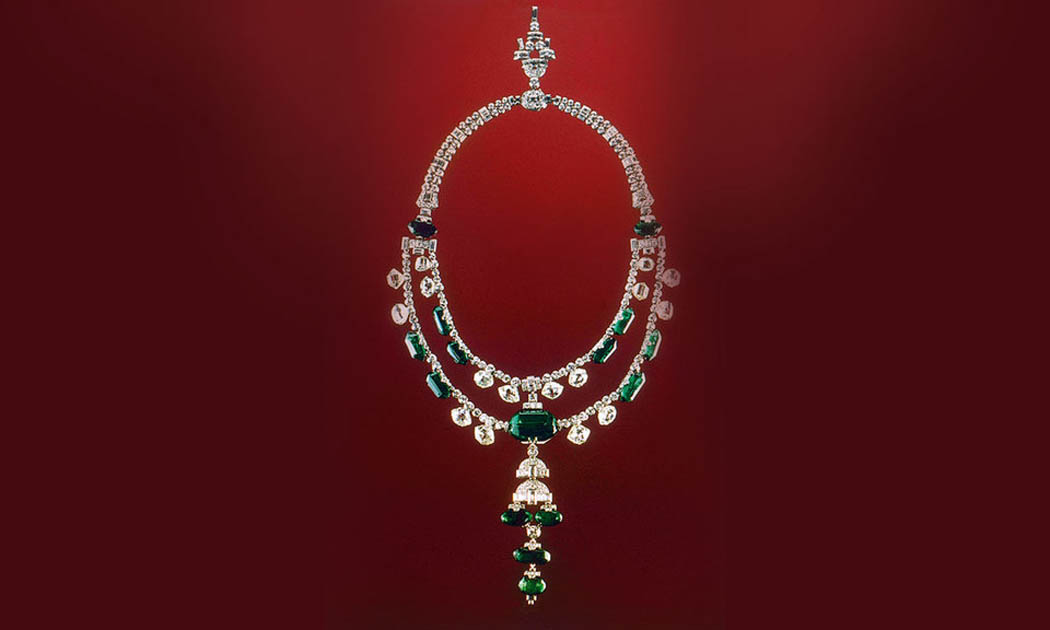 Necklace "Inquisition" of Maharaja of Indore. Shinde.
Three years later, at the age of forty-four years Ambaji Shinde came to New York, and began working under the guidance of Nevdon Koumriyan. Nevdon was the Chief Designer and Engraver of Harry Winston. Due to the extremely poor character, Nevdon disliked Ambaji. He constantly carped and scolded for every little thing. Koumriyan was upset that Harry Winston chose Shinde instead of the more famous European designer, as it befits the House of the legendary Harry Winston.
Shinde was at this time to work on the idea of creating very new style of jewelry to give the impression that the stones as if "floating in the air", supporting each other.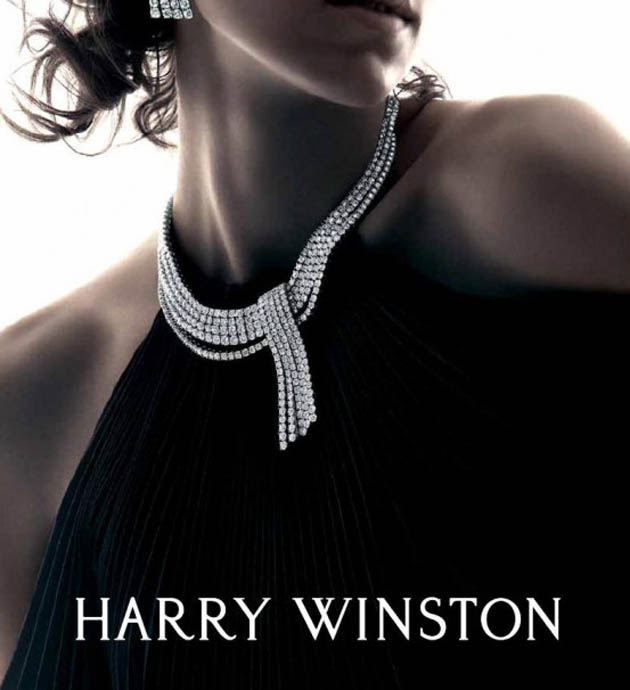 Harry Winston
Hard work during two years ended with nervous breakdown, Shinde returned to India. He ceased to work, being as a freelance designer of the House of Harry Winston, he lost many of his old customers.
In 1966, the health of Nevdon Kumrian rapidly deteriorated and suddenly for everyone, he appointed Ambaji Shinde his successor!
In 1966, Ambaji Shinde became the head of the Design Studio of Harry Winston. Letter from Harry Winston dated June 10, 1966 read: "I've always been impressed with your work and felt that, having the opportunity to work freely and independently, you'll create great things for us. People will watch them. Make them worthy of their attention.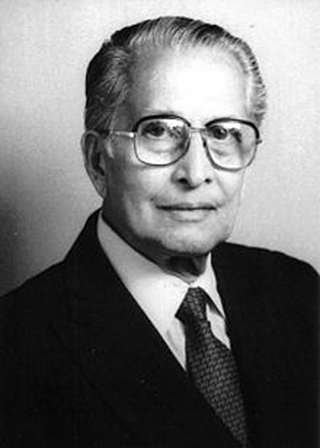 Ambaji Shinde
In the days preceding Shinde, Harry Winston himself began to question traditional Western jewelry techniques. Instead of simply mounting stones in flat casings, Winston started experimenting with subtle, intricate stone setting. Shinde brought it to perfection. Together they developed a new style: now the design of Harry Winston starts from stones – white and colored (pink, blue, yellow and very rare green and orange) diamonds. In addition, heavy casing disappears. Almost imperceptible platinum setting appeared to replace it. They also invented the famous "cluster", diamond setting of different cuts at an angle to each other and at different heights. They obtained a sort of 3D-sculptures with amazing brilliance and play of stones. The results were impressive. Fame of Ambadzhi Shinde's works spread quickly outside the country; their innovative design and exceptional quality of gems from Harry Winston were discussed everywhere.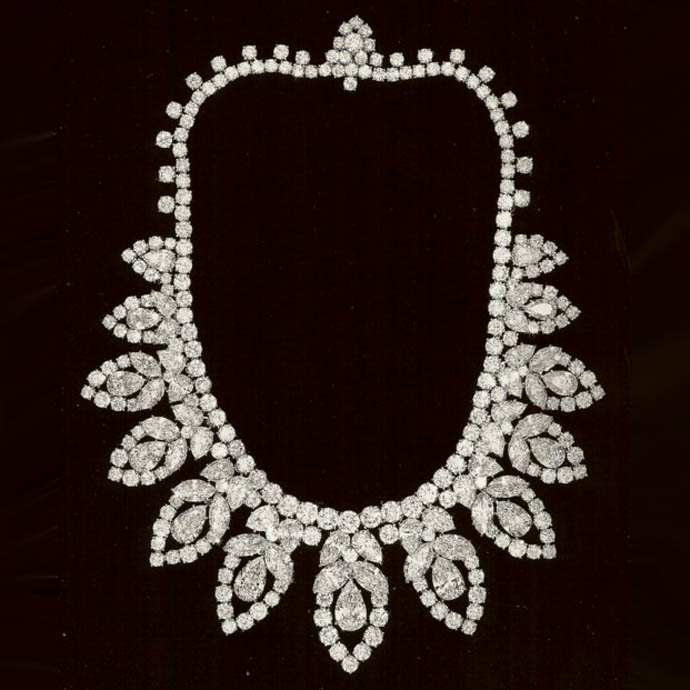 Necklace with more than 283 carats of diamonds, created by Harry Winston in 1980 (Archive of Harry Winston).
Shinde created gorgeous jewelry masterpieces with Harry Winston! In 1966, Shinde developed one of his first important works: necklace with a 69.42-carat pear-shaped diamond, later known as the Taylor-Burton. In 1975, one of his masterpieces, necklace "Star of Independence" astounds with 75.52-carat flawless pear-shaped diamond.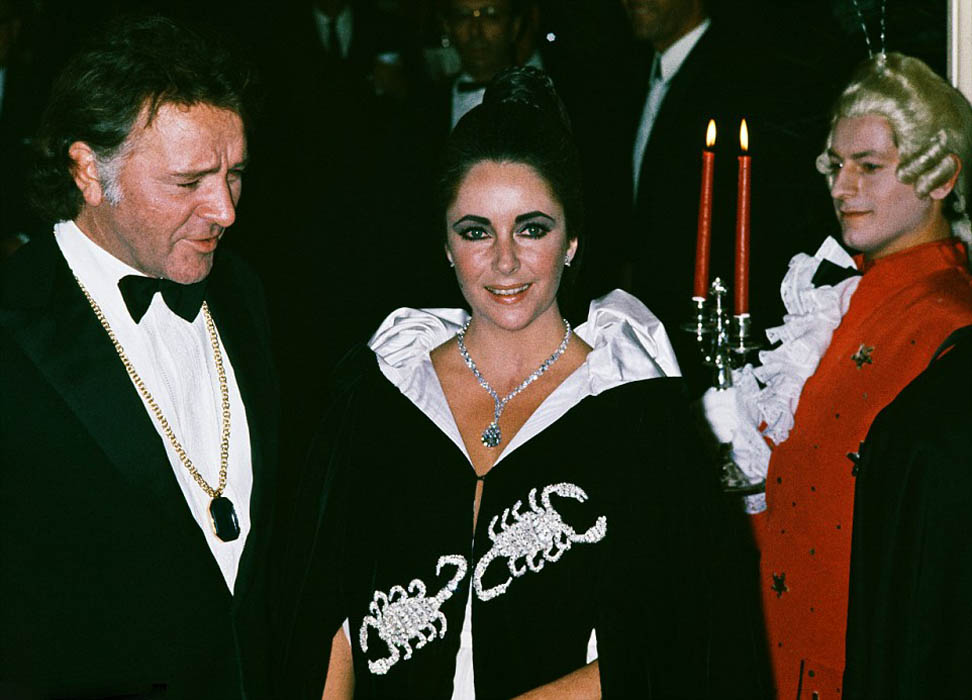 Richard Burton and Elizabeth Taylor and Taylor-Burton Diamond.
In his work, Shinde was happy. Harry Winston recalled, "Ambaji threw the real emeralds, rubies and diamonds on his desk and gave free rein to his imagination. Watch for his incredible ability to create jewelry masterpiece in real time is a real pleasure. With tiny brushes, he instantly creates a detailed watercolor of the future masterpiece on his easel, each of which, in itself, is a work of art. "Ambaji Shinde's work amazing looked directly with the customer," Winston continues his story. "Customers are experiencing great difficulties with visualization of the precious stone in three dimensions, and Shinde can do several strokes on the paper, and nobody in the world can draw a jewel so that it already sparkled on paper," says Winston, remembering their surprise, "when Shinde, impeccably dressed, sometimes used the space between index finger and thumb as a palette".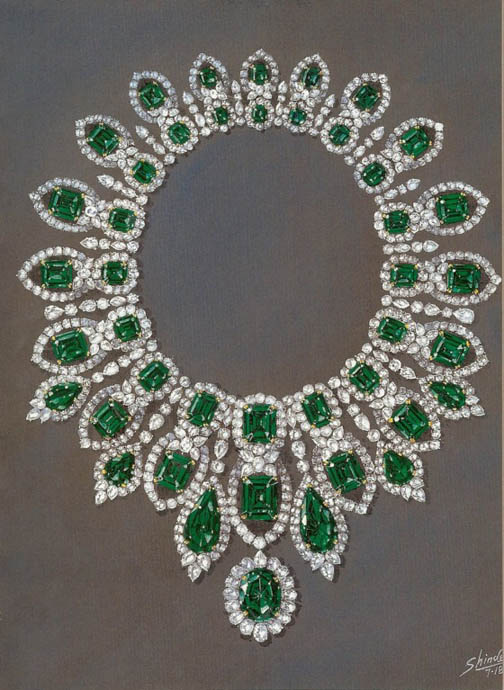 Tempera, watercolor necklace of emeralds and diamonds
created by Harry Winston in 1984 (archive of Harry Winston).
An important part of Shinde's work was re-faceting of huge quantities of gemstones, which once belonged to the Indian maharajas to meet changing tastes of jewelry fashion. Thanks to his exceptional sense of proportion and scale, and understanding how to arrange gems next to each other to make them soar and dance in the air, new necklaces, earrings, bracelets, which have been purchased by the mighty of this world, are born.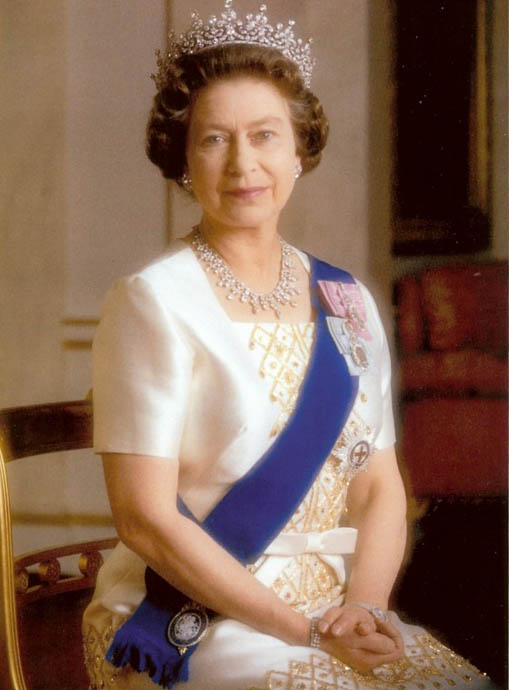 Queen Elizabeth in jewelry of diamonds Shinde from Harry Winston (1982).
In one of his interviews, Shinde recalled how to handle enormous pear-shaped diamonds of Indore, "clear as water" for the necklace of the Duchess of Windsor, and how at the social event, when the Duchess met with wife of Maharaja of Baroda, the latter said that diamonds, which were in the Duchess's new necklace, used to adorn her anklets until recently.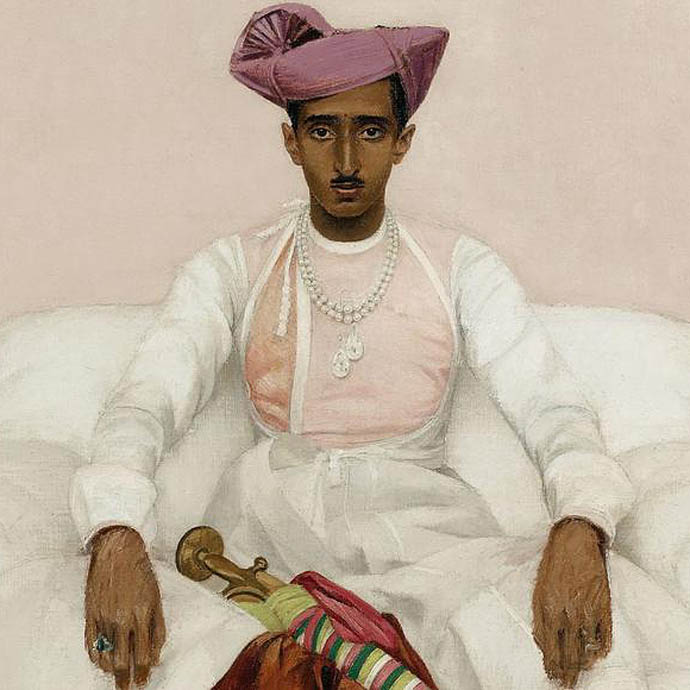 Pear-shaped diamonds of Indore.
A parure, created in 1977, for the daughter of Emir of the Middle East, valued at sixteen million dollars, and consisting of diamonds, emeralds and topped with 80-carat pear-shaped diamond "Star of the East", has been a memory worthy of him. Being envious of his daughter, Emir's first wife demanded such a magnificent gift for herself. Thanks to this whim, Shinde created a necklace with a 50.67-carat diamond "Etoile du Desert" and with more than 250 carats of diamonds in total.
In 1990, Shinde created a tiara for the Harry Winston, dedicated to the 100th anniversary of the Jewelry House. Seven fantasy diamonds with intensely saturated colors, which were the rarest ones with total weight of 100 carats and more than 43 million dollars' worth, presented it.
For nearly 40 years of work at the House of Harry Winston, Ambaji Shinde had linked with the richest people on the planet, as well as with some of the most exceptional mineral treasures in the world.
Queen Elizabeth II, Imelda Marcos, King Farouk of Egypt, Sheikh Ibn Saud of Saudi Arabia, Michelle Pfeiffer, Sharon Stone, Oprah Winfrey, Madonna, Gwyneth Paltrow, Elizabeth Taylor, Sophia Loren, Julianne Moore, Halle Berry, Mira Sorvino and many the other had his creations.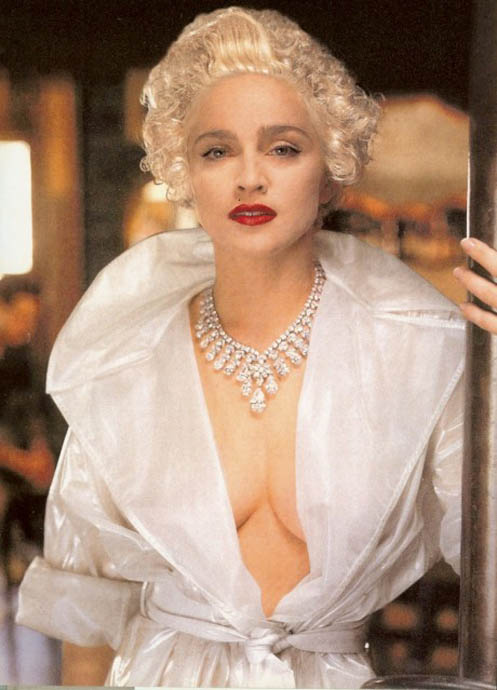 Necklace "Madonna's Diamond", 1991 Harry Winston.
Photography by Helmut Newton.
Despite the surrounding luxury, Ambaji Shinde always lived very modestly, he was personally engaged in housework, and traveled by bus every day in his studio in Harry Winston from his apartment in the suburb of Queens, New York. He was very fond of Indian classical music and spicy food, and all his free time he dedicated to many friends.
In December 2001, Ambandzhi Shinde retired. In a recent interview, still Chief Designer of Harry Winston, Shinde sums up his more than 60 years of activity.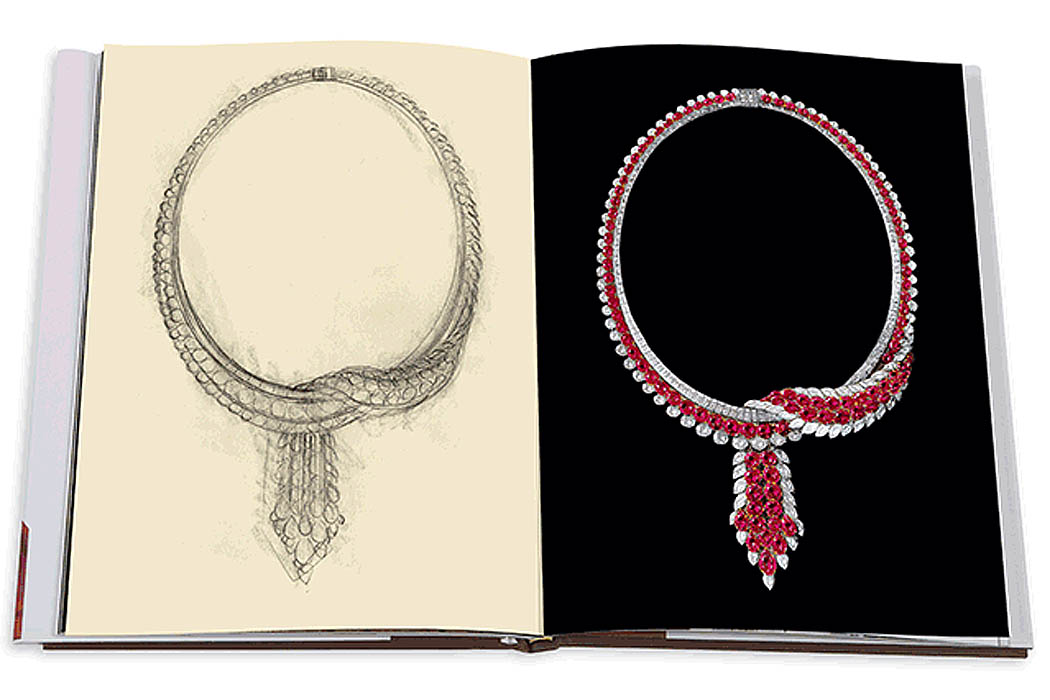 Watercolor necklaces. Shinde.
"I have studied jewelry design as art. Nature has given us so much that I see jewels everywhere. Designers are just the little people. If someone gives us a small prize for Christmas, we're happy" Shinde begins his narration.
The walls of Shinde's studio were covered with drawings of watercolor projects, which were so perfectly executed that looked like photographs. Shinde indicates emerald diamond necklace designed for Imelda Marcos. "We designed it, but never produced. And here, tiara of Marla Maples, on the occasion of her marriage to Donald Trump, as usual, bought on credit ", Shinde keeps on his story.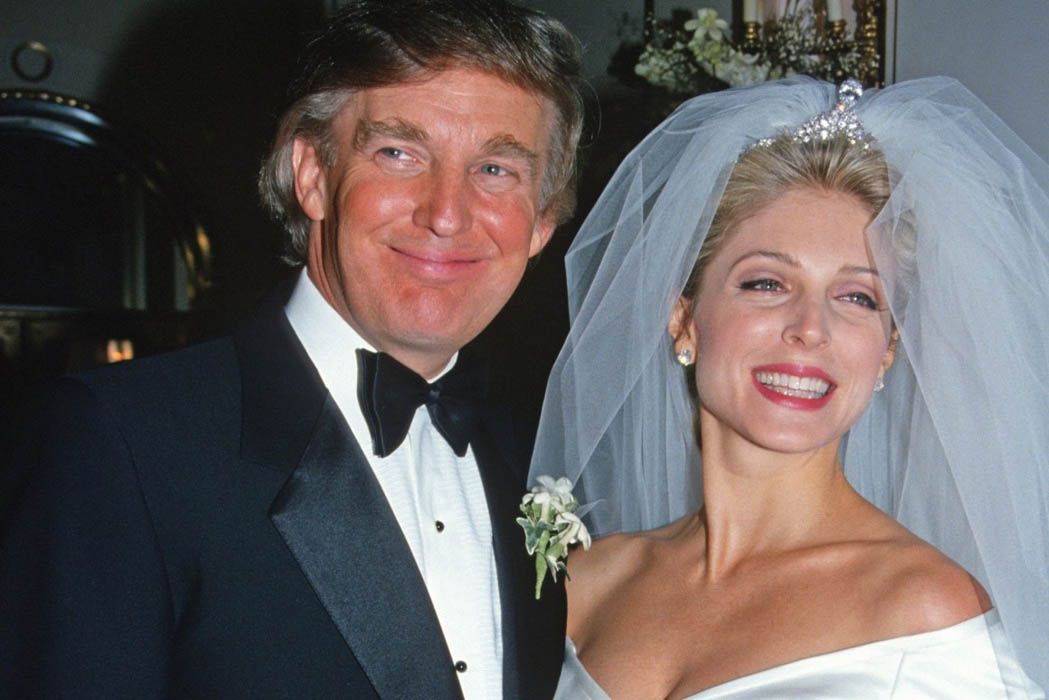 Wedding of Marla Maples with Donald Trump.
"I'm used to my lonely life. I don't want anyone bother me in my profession. There are designers who put their names on their clothing, cars, and other things, I, with the exception of my drawings, never signed anything. For 40 years, I have had my job, and Harry Winston Company respected me. I'm leaving by himself as Mr. Ronald Winston never asked me to leave, and that pleases me" Ambaji Shinde finishes his narration.
Ambaji Shinde left this world in early April 2003 in New York City at the age of 85, having broken, according to the New York Times, "The last link with the world of legendary extravagance and glitz." For decades, Shinde was the driving force behind the international jewelry design, significantly affecting the overall concept of jewelry during this period.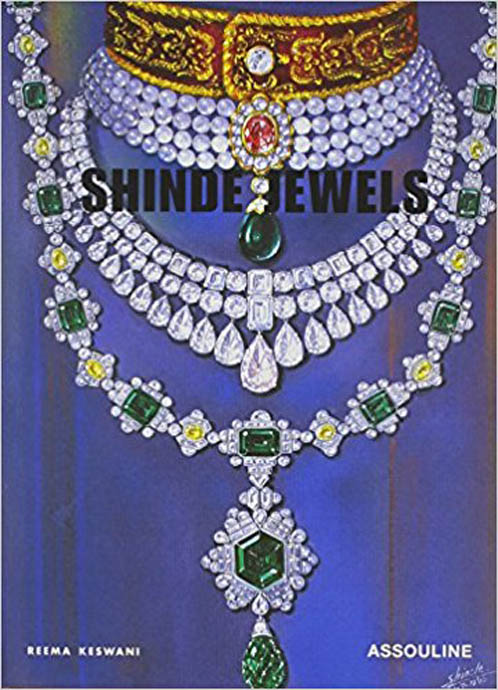 The book, dedicated to the art of jewelry of Ambaji Shinde.
Ambaji Shinde's heritage is impressive. He bequeathed more than five thousand original sketches and studies to the Gemological Institute of America for future students of jewelry design. In contrast to the GIA, Shinde left truly priceless treasure to the Harry Winston Jewelry House. In an interview in 2011 CEO of the Harry Winston said the following: "The art of Shinde continues to thrive. Much of what you see in our archives remains an incredible source of inspiration for our designers. There are over 100,000 original design projects by Ambaji Shinde, in addition to those that have been implemented, and several dozen of works in our collection. Shinde's heritage is often a creative spark that we use to create new masterpieces of jewelry from Harry Winston for the generations to come.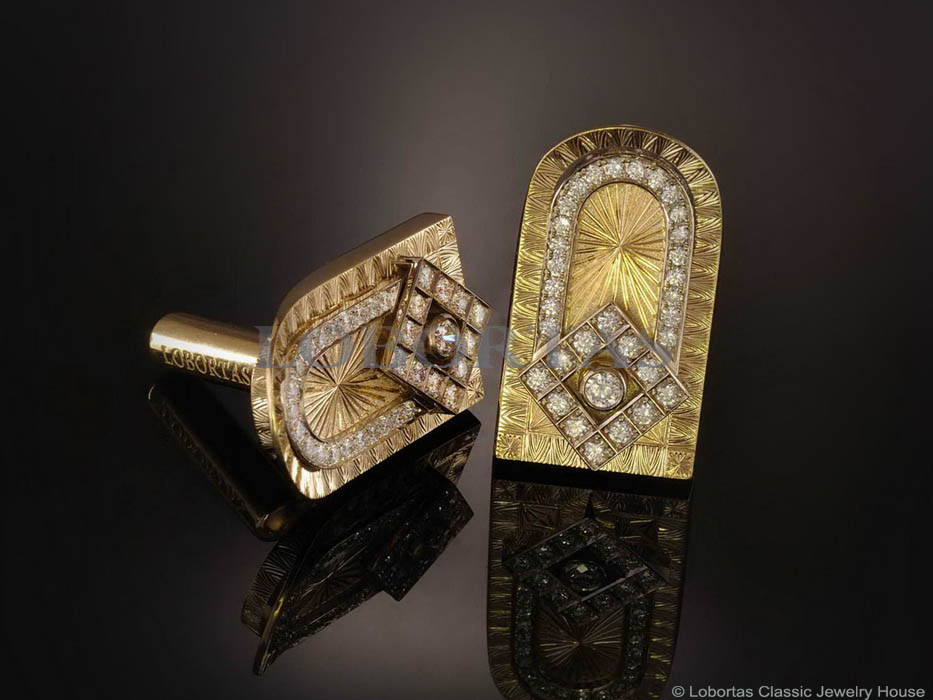 Сufflinks «Triumpher». Lobortas House.
Photo by Vladislav Filin