Only birds sing for nothing. Feodor Chaliapin
"Only birds sing for nothing" was the proverb phrase, used by the great opera singer Feodor Ivanovich Chaliapin in his business negotiations with Opera impresarios and theater directorate.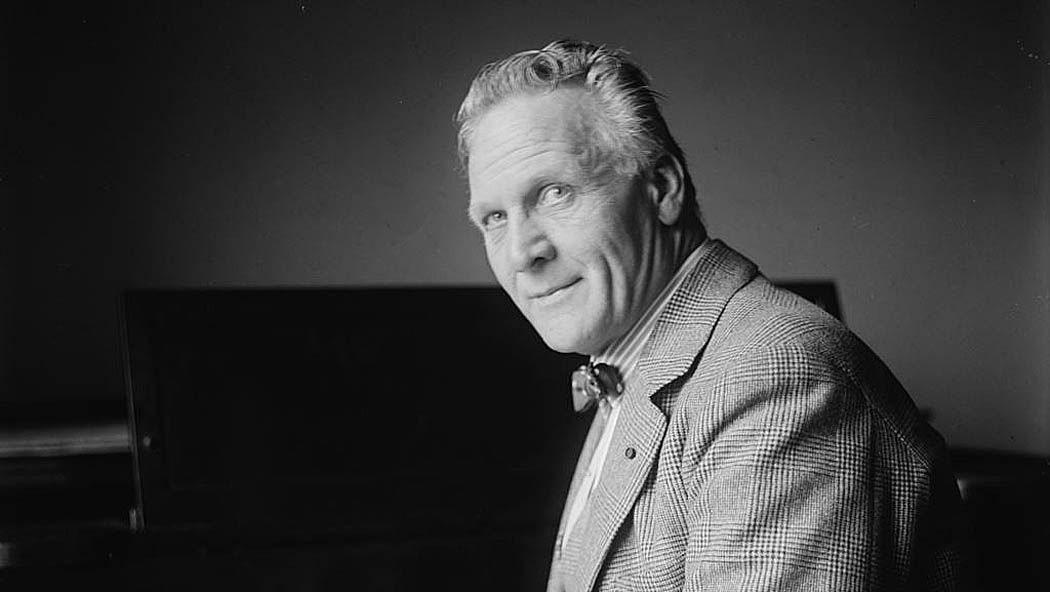 Feodor Ivanovich Chaliapin
The great Chaliapin was a reflection of the splintered Russian reality: tramp and aristocrat, family man and a wanderer, a frequenter of restaurants and a lover of women. Despite all life circumstances, Feodor Chaliapin entered the world opera history forever, being not so much famous for his magnificent voice as his skill of transformation on the stage.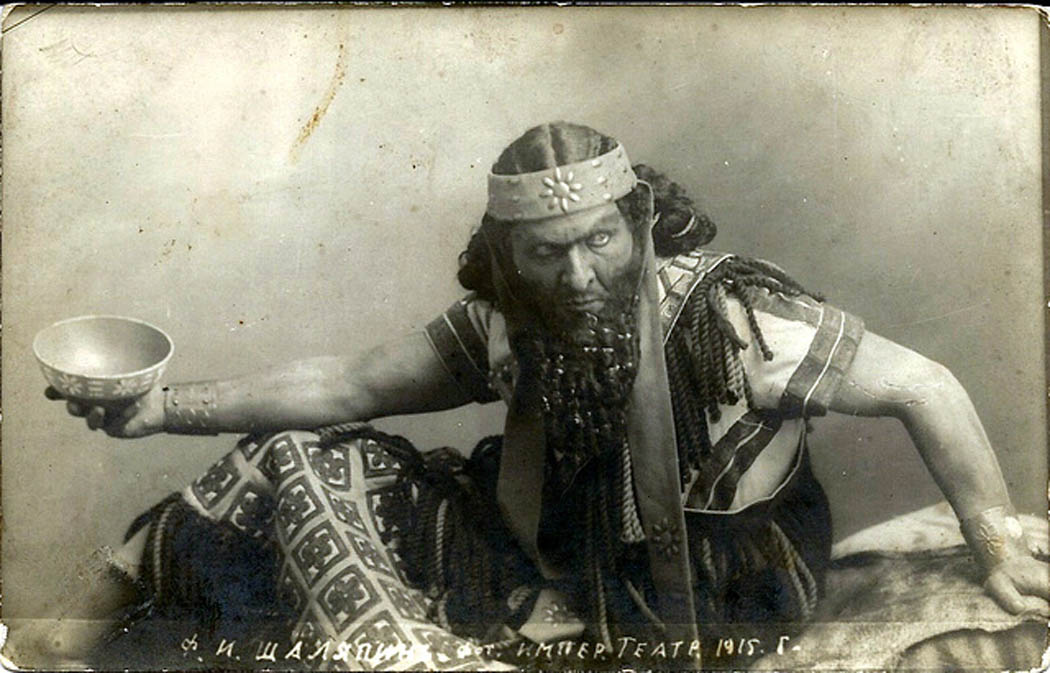 Chaliapin on the stage of the Imperial Theatre, 1915.
Feodor Ivanovich Chaliapin was born in February 1873, in Sukonnaya Sloboda, in Kazan, in a peasant family of immigrants from Vyatka Gubernia. They lived poorly. His father served as a scribe in the district council. He often drank, raised his hand to his wife and children, and his addiction was exacerbating over the years.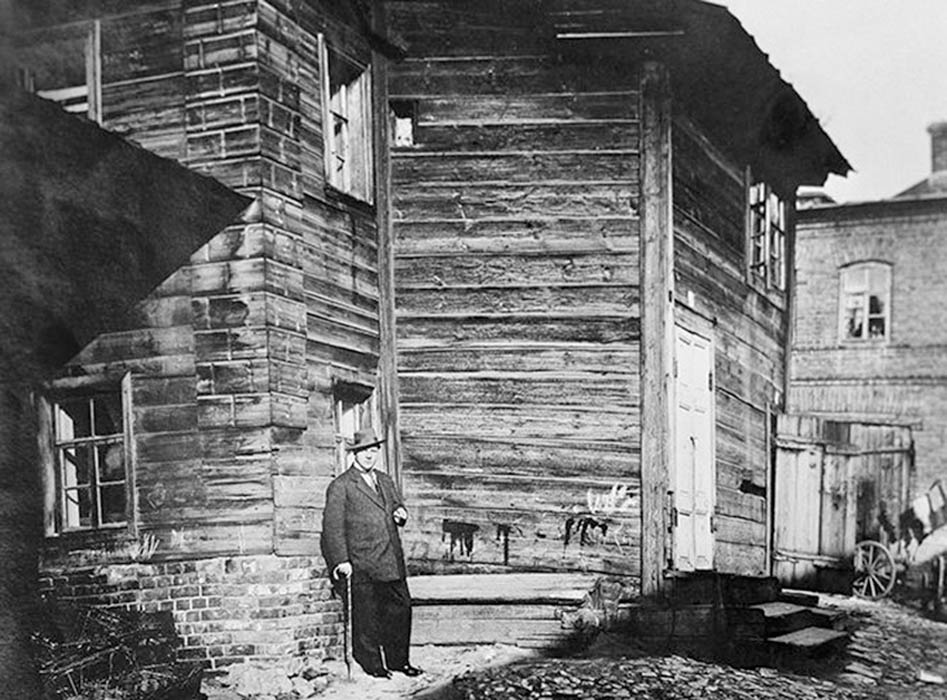 Feodor Chaliapin at his house in Kazan, where he was born. Photo of 1912.
Fedya started singing in his childhood, first with his mother, and from his nine years in the church choir. His first teacher was the regent of the local church choir; he taught him musical literacy.
When Chaliapin was 12, he got to the theater for the first time. From that moment, the theatre was his passion for life. He began to play in performances as chorister and extra. In 1932, in the Paris exile already, he wrote, "All that I will remember and tell will be... connected with my theatrical life. About people and events... I'm going to judge... as an actor, with the actor's point of view ".
His father did not want to see his son as an artist, by predicting him the "career" of street cleaner. Therefore, Feodor had to leave his native Kazan.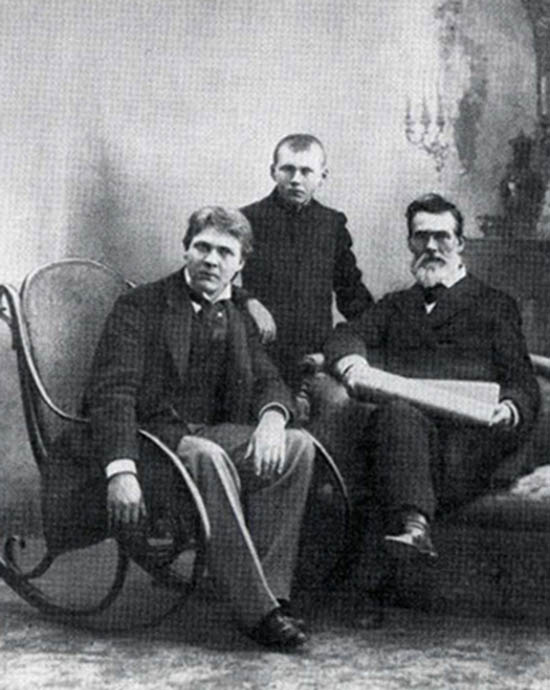 Feodor Chaliapin with his father and brother Vasily 1890s.
Feodor visited the cities of Volga region, Caucasus, and Central Asia with different artistic groups. His being unable to sing because of his breaking voice was especially painful for Fedya. At that time, he signally, as well as wheezingly and squealingly failed the audition in the choir of the Kazan theatre. They took Alyosha Peshkov, a lanky boy more commonly known as Maxim Gorky, instead of him. Feodor and Alexey quickly chummed up and became best friends for many years.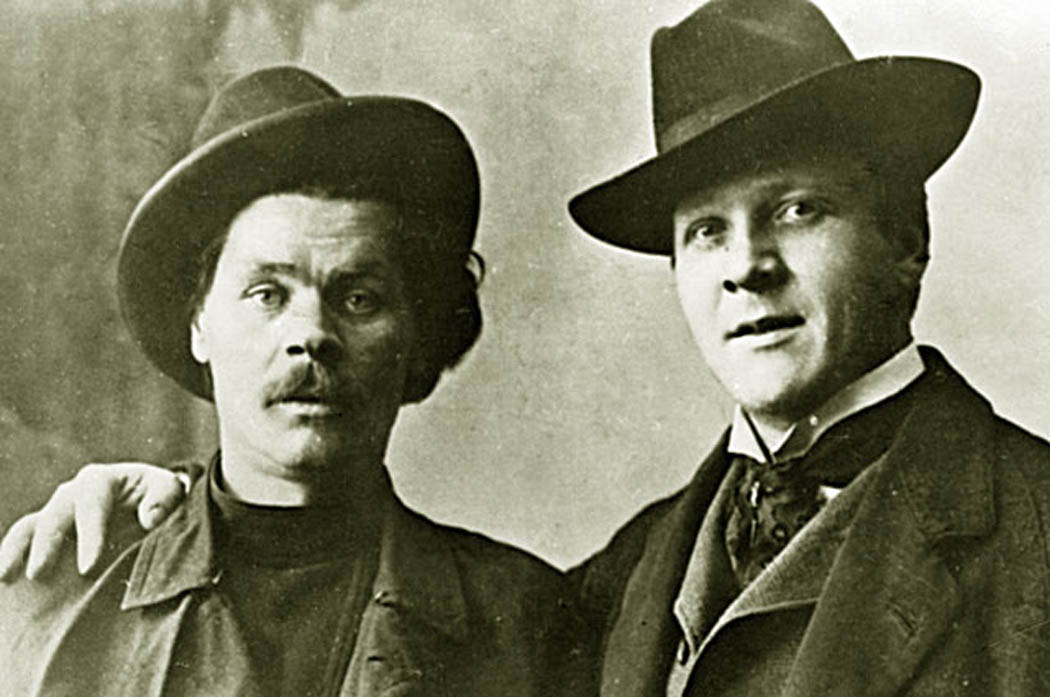 Gorky and Chaliapin. 1903.
Chaliapin's first solo performance took place in 1890 in Ufa. His voice completely restored by that time and turned into a convincing bass. Then young singer moved from Ufa to Tiflis, where he met his first serious teacher, former soloist of the Imperial Theatres, Professor Dmitry Andreyevich Usatov.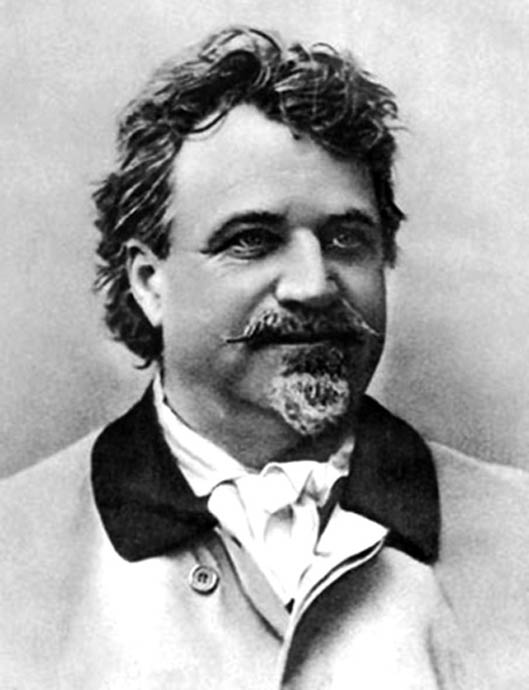 Dmitry Andreevich Usatov
Usatov not only prepared Feodor to perform famous operas, but also taught the basics of etiquette. Usatov was the one, who brought Chaliapin to Tiflis Opera House, where the apprentice of the distinguished professor quickly became the main bass singer. Chaliapin shone in twelve roles and, having successfully played more than 60 performances and having finished the 1894 season, he moved to Moscow and then to St. Petersburg.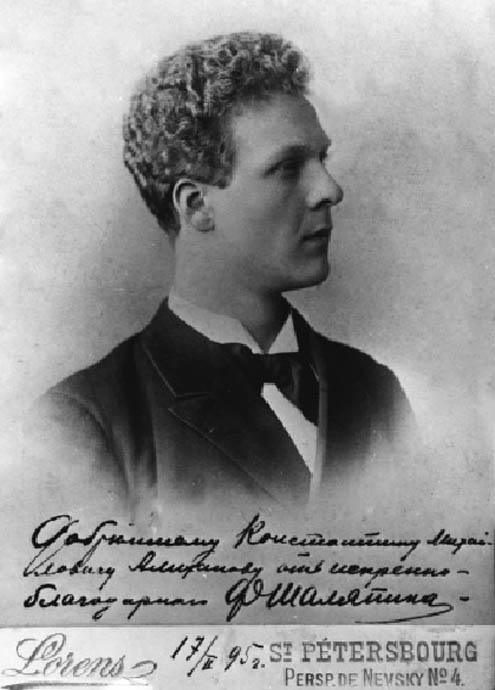 Feodor Chaliapin, 1895.
In 1894, Chaliapin sang in performances, held at the Arcadia suburban garden in Petersburg, then in the Panaev Theatre. In April 1895, Feodor Chaliapin debuted as Mephistopheles in the Opera "Faust" by Charles Gounod at the Mariinsky Theatre.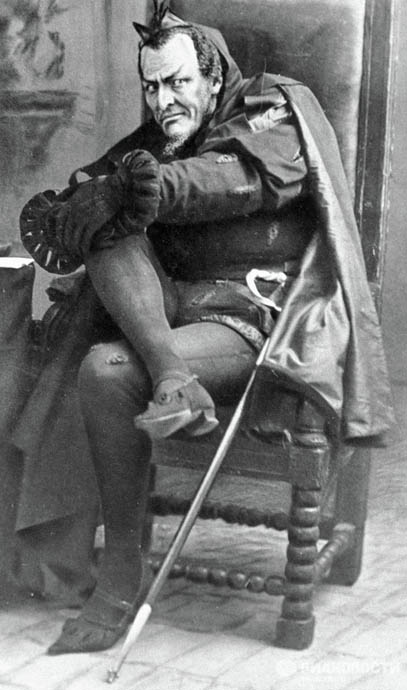 Feodor Chaliapin as Mephistopheles.
Soon Chaliapin met a famous patron Savva Mamontov, who offered him a place of soloist at the Russian Private Opera House. Mamontov called Chaliapin to Moscow, promising huge salaries and freedom of creativity. In 1896, artist had moved to Moscow and was performing for four seasons and perfecting his repertoire and skills.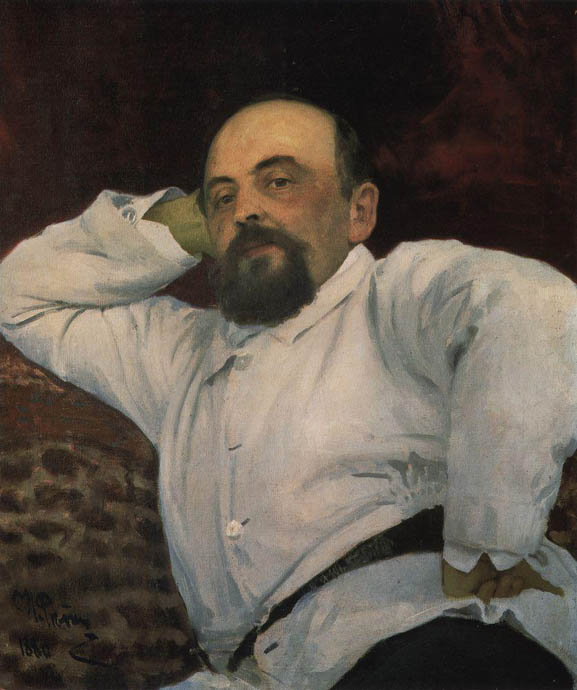 Portrait of Savva Ivanovich Mamontov,
railway tycoon and patron of arts, by Ilya Repin, 1880.
Savva Mamontov, millionaire and philanthropist, could refuse Сhaliapin nothing — neither roles nor money, and communication in the Mamontov's theatre with the best artists of Russia, i.e Polenov, Vasnetsov brothers, Serov, Vrubel, Korovin, Repin and give powerful incentives for creativity to the singer. Their sets and costumes helped him to create compelling stage image.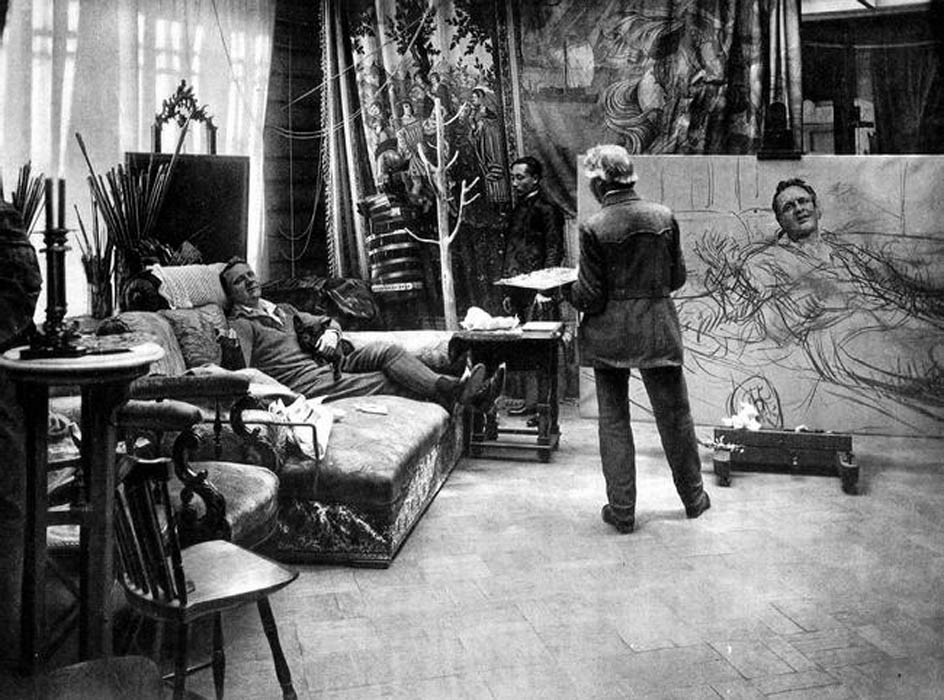 Ilya Repin is drawing a portrait of Chaliapin, 1914.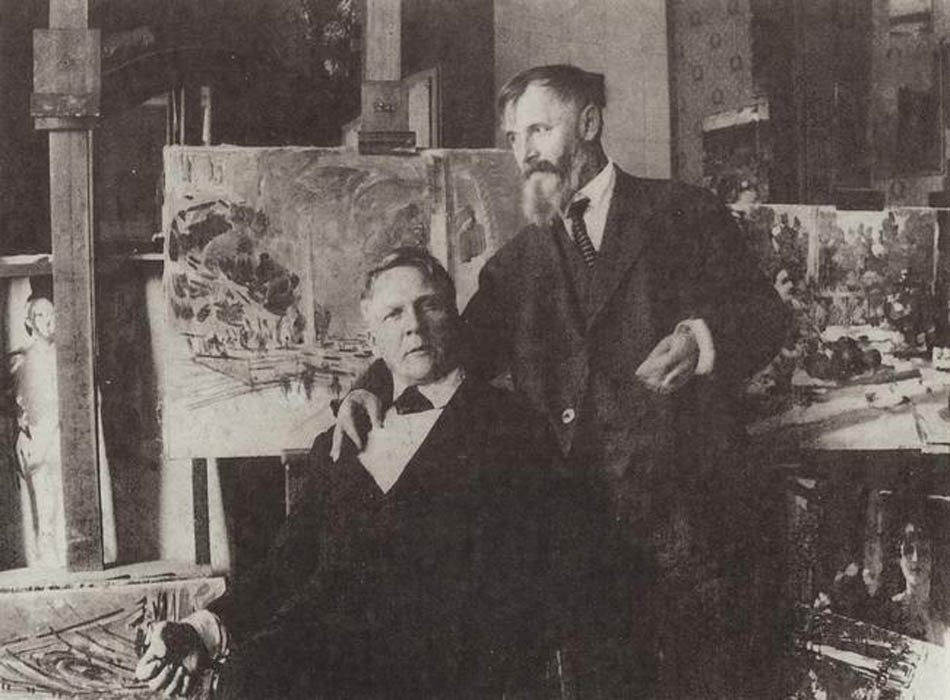 Chaliapin and Korovin
Feodor Chaliapin was not only a singer, but also a painter, sculptor, caricaturist; he staged the operas, and even conducted the performances. Everyone admired his skill of storytelling, poetry and feuilletons. Being a remarkable draughtsman Chaliapin tried himself in painting. Many of his works have survived, including the "Self-portrait".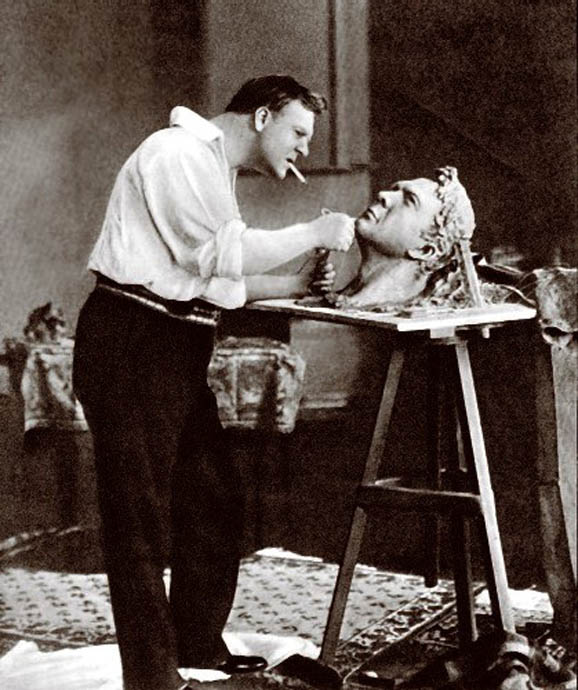 Feodor Chaliapin at work on his sculptural self-portrait, 1912.
Chaliapin prepared a number of operatic roles in theatre with Sergei Rachmaninoff, beginning conductor and composer at that time. The creative friendship united them through life.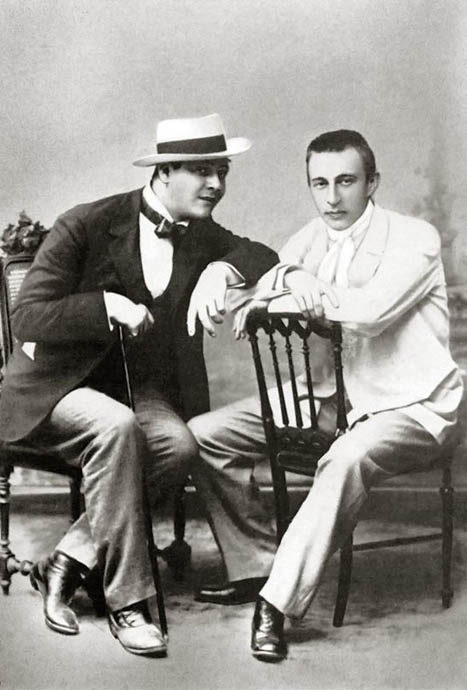 Feodor Chaliapin and Sergei Rachmaninoff.
From 1899 onwards, Chaliapin was a leading soloist of the Bolshoi and Mariinsky theatres, simultaneously with triumphal acclaim abroad. In 1901, at the La Scala of Milan he sang with great success the part of Mephistopheles in the opera with same name by Arrigo Boito with E. Caruso, conducted by A. Toscanini. Touring in Rome (1904), Monte Carlo (1905), Orange (France, 1905), Berlin (1907), New York (1908), Paris (1908), London (1913) strengthened the worldwide fame of the singer.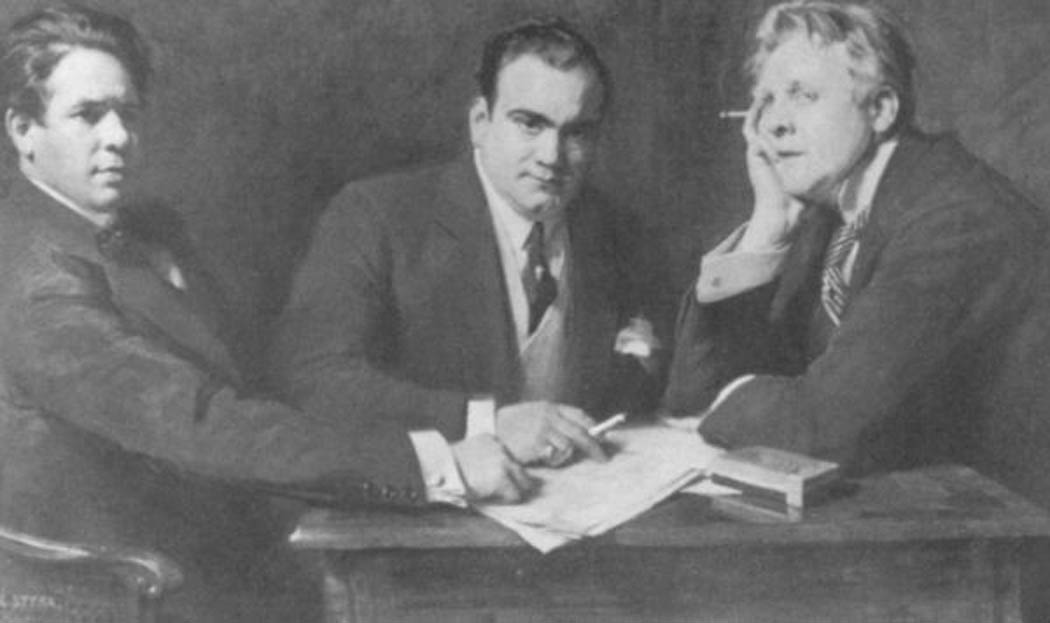 Titta Ruffo, Feodor Chaliapin and Enrico Caruso. Painting by T. Styka
Divine beauty of Chaliapin's voice conquered the listeners of all countries. His high bass, modulated by nature, with a velvety, soft timbre sounds full, powerful and has a rich palette of vocal intonations, and the effect of artistic reincarnation amazes listeners.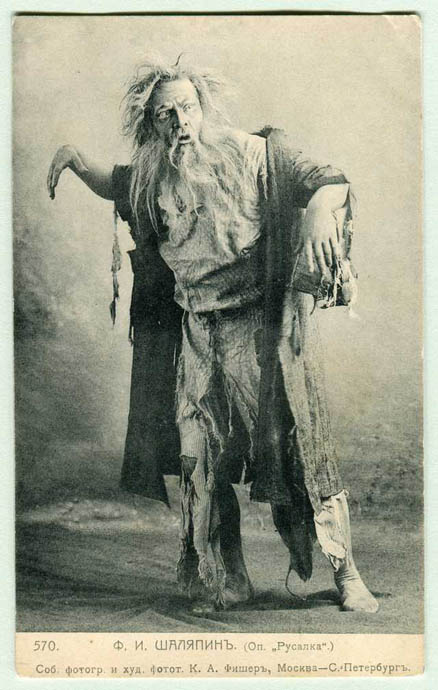 Feodor Chaliapin in the Miller's part in opera
"Rusalka" by A. Dargomyzhsky
Frequent trips abroad burnished Feodor Ivanovich. Chaliapin bought a sable, golden cufflinks, began to visit expensive restaurants, and acquired bohemian friends.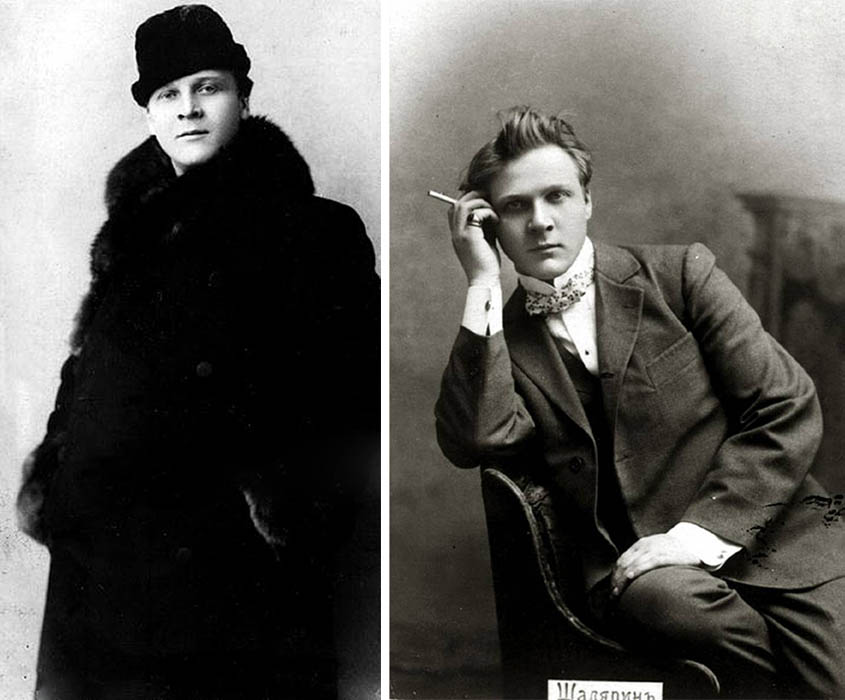 Feodor Ivanovich Chaliapin
Chaliapin got huge fees, but it always seemed that was little for him, because of that many friends reproached the soloist with greediness.
Hungry childhood and youth taught Chaliapin hold every ruble. It is fair to say that he took the money for good reason. In the Mariinsky Theater, there was no person, who would treated to his work more seriously, and the family needs to be supported as well.
Feodor Chaliapin was married twice, and nine children were born from both wives. The singer met his first wife, Italian ballerina Iola Tornaghi, at the Mamontov's theatre. In 1898, they got engaged and six children were born in that marriage from Chaliapin. One of children died at an early age.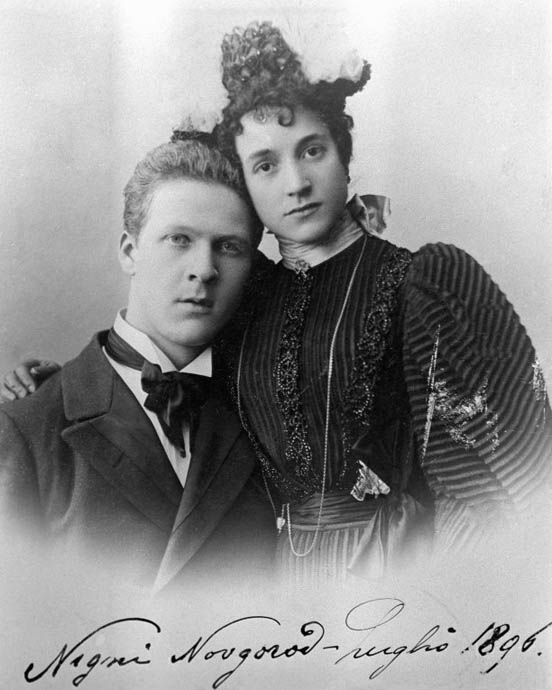 Feodor Chaliapin and Iola Tornaghi
In 1910, while being married, Feodor Chaliapin allied himself with Maria Petzold, who was bringing up two children from her first marriage. The first marriage had not been dissolved, but in fact, the singer had the second family in Saint Petersburg. In that marriage, three daughters had been born from Chaliapin, but the couple would be able to formalize their relationship in Paris, in 1927 only. Feodor Ivanovich held the last years of his life with Maria Valentinovna.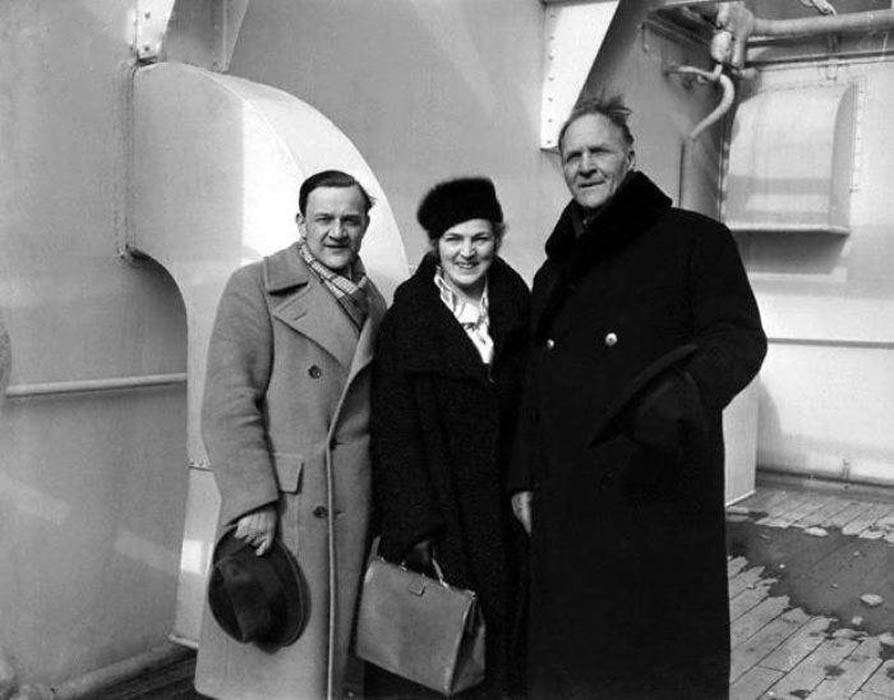 Feodor Chaliapin with his son Boris and his second wife Maria Petzold, 1935.
Marital happiness never prevented Chaliapin to keep living the life to the fullest: to shine on stage, to drink avidly, to make love with women, constantly get into fights (first because of his relationships with foreign women, then because of his hot temper). Most of all, being drunk, of course. "Since my childhood, a tavern has been a place where people are always more interesting, merrier, and freer than at home," Chaliapin confessed.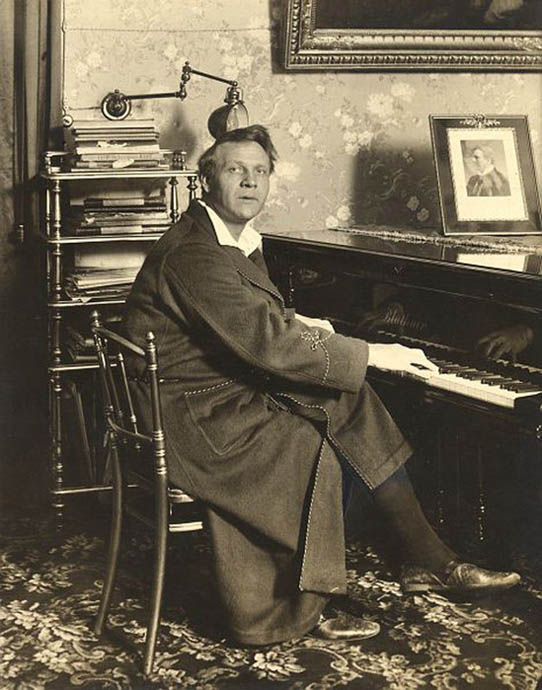 Feodor Ivanovich Chaliapin
The revolution put an end to that jovial life. The Soviets did not fully understand what to do with the former soloist of the Imperial Theatres. They confiscated Feodor Ivanovich's house, car, and all money from his bank account first. Then it came to bottles of wine and collections of weapons, presented to him by Maxim Gorky. The House Committee took the collection of weapons, and then returned it to order of the Cheka Emergency Committee.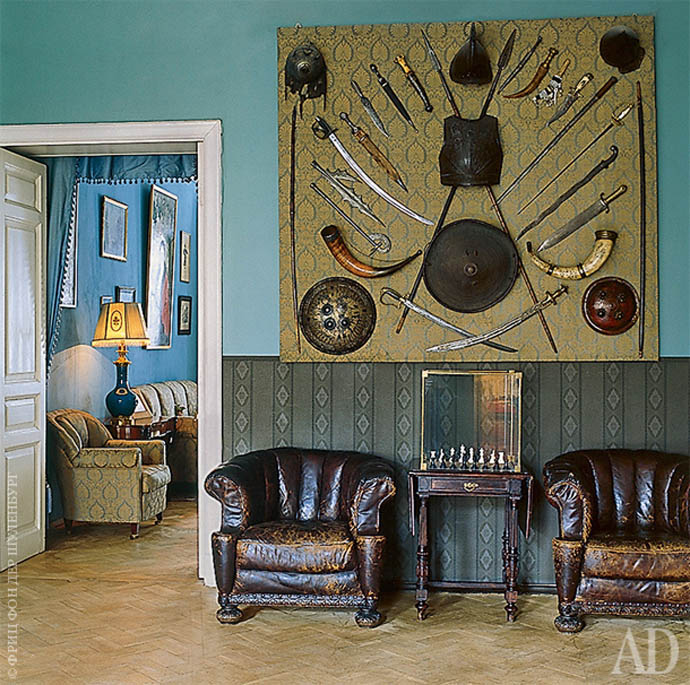 Feodor Chaliapin's House in St. Petersburg. Weapons collection, given to Chaliapin by Maxim Gorky.
After the October Revolution of 1917, Feodor Ivanovich was engaged in a creative reconstruction of former imperial theatres; in 1918, Chaliapin became an artistic director of the Mariinsky Theater and got the first title of "People's Artist of the Republic".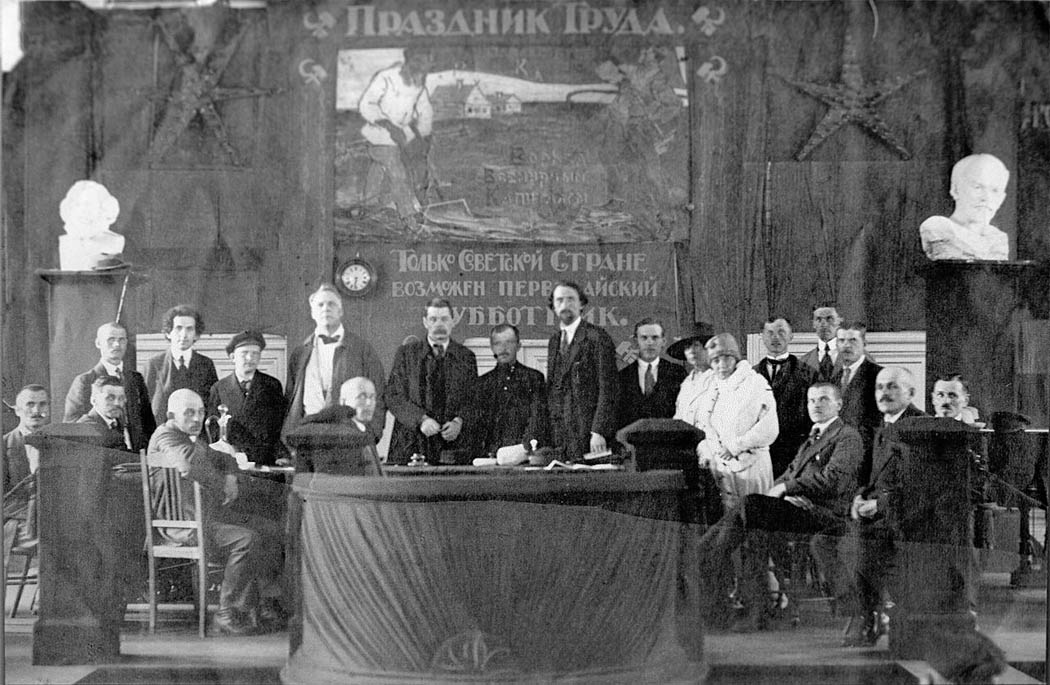 Zinoviev (second from left), ChalIapin, Gorky (1920)
Superficially, it might seem that Chaliapin's life was unharmed and creatively rich. He was invited to speak at official concerts, he performed for the general public, he was awarded with honorary titles, he was asked to take the lead of different sorts of art juries, theatrical councils.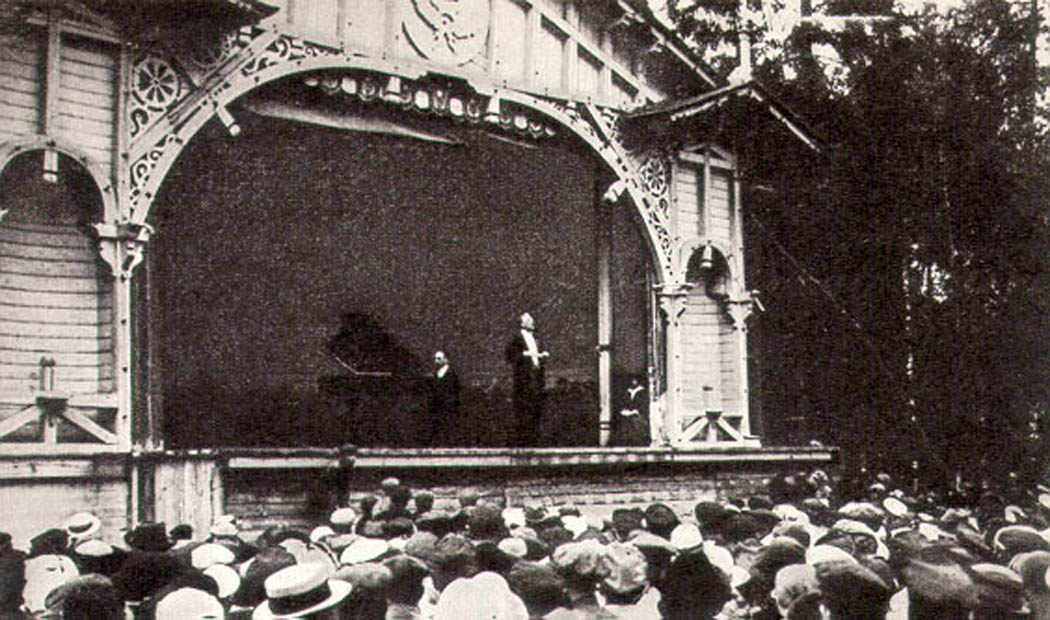 Chaliapin is performing at an open stage in Orekhovo-Zuyevo, 1918.
"I increasingly saw that nobody needed what I could do, that there was no point in my work", the artist confessed.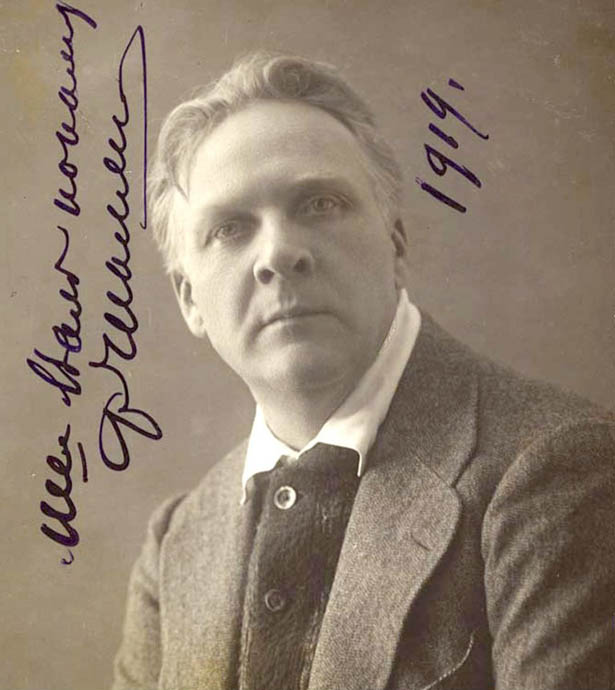 Feodor Chaliapin, 1919.
The idea that he needs to move from that country of happy future and poor present was being formed in the mind of Feodor Ivanovich clearer and clearer. Chaliapin took his final decision to move abroad after his overseas tour in the early 1920s. After having collected numerous permissions to travel with the family, in 1922, Chaliapin left Russia forever.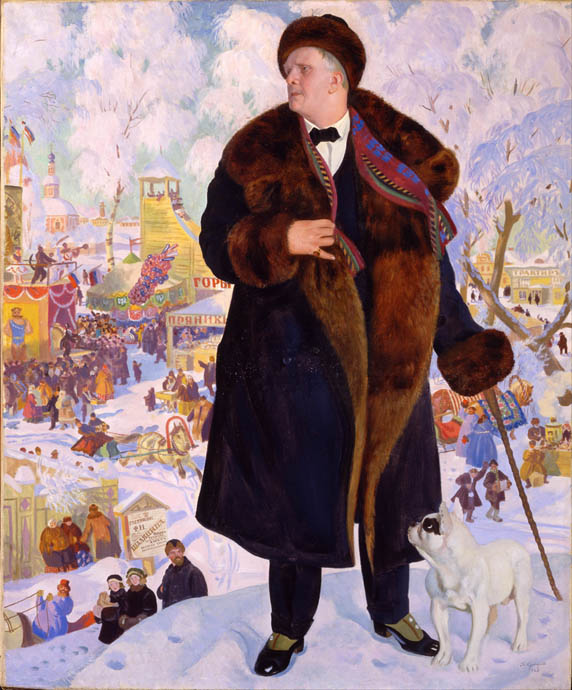 Boris Kustodiev. Portrait of Feodor Chaliapin, 1921.
The world meets Chaliapin's encore. He was not just a singer with an amazing voice; he represented a mighty country, which had just ceased to exist. Feodor Ivanovich barely managed to sign touring contracts: England, The United States, China, Japan...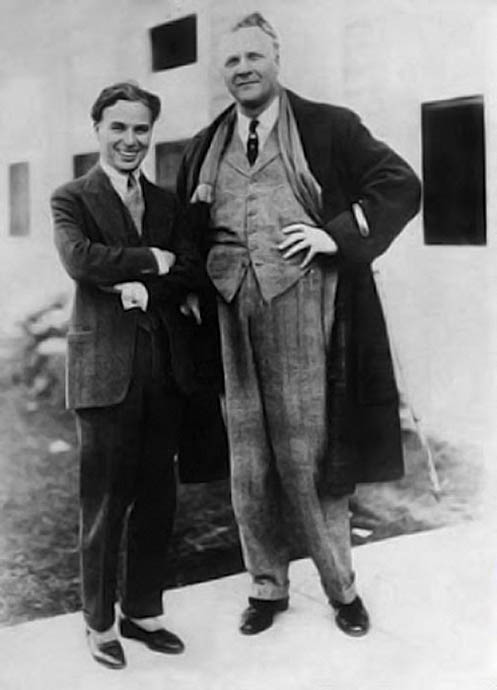 Feodor Chaliapin and Charlie Chaplin, 1923.
Then the family of Chaliapin settled in Paris. In 1927, the Council of People's Commissars deprived him of the title "People's Artist of the Republic" and the right to return to his homeland. In 1935, Chaliapin was elected to the Royal Academy of Music and he was awarded with diploma of academician along with Toscanini.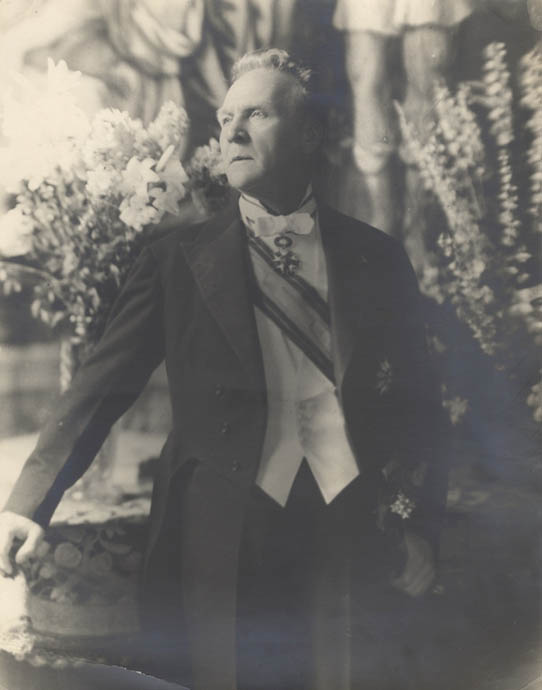 Feodor Ivanovich Chaliapin
Feodor Ivanovich's health started to deteriorate, i.e. the immoderate lifestyle affected him. After touring in May 1937, Chaliapin returned to Paris already sick. Doctors diagnosed leukemia. The great artist passed away on April 12, 1938. Feodor Ivanovich was buried in Paris.

Chaliapin's funeral in Paris, 1938.
In 1984, his son Feodor managed to strive for father's reburial in Moscow at the Novodevichy Cemetery. For achievements and contributions to the field of music, Feodor Ivanovich Chaliapin got a star on the Hollywood Walk of Fame. In 1991, the title of "People's Artist" was returned to Feodor Ivanovich Chalapin.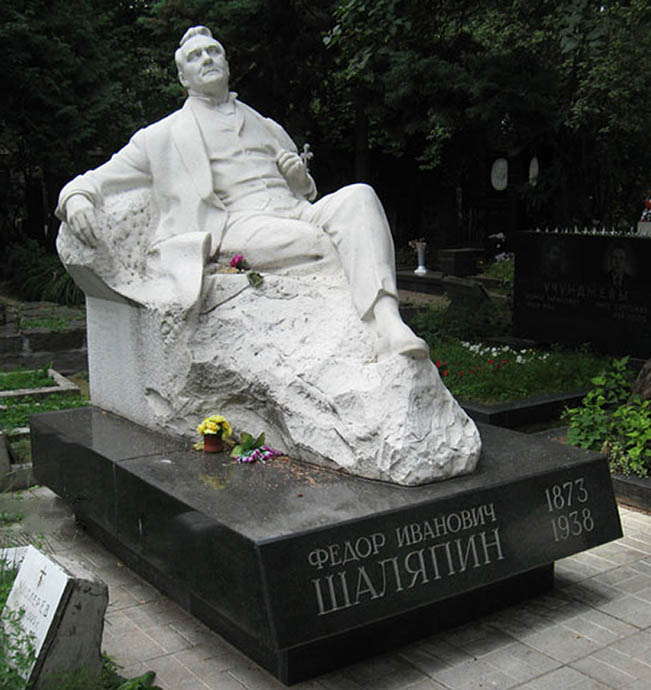 Novodevichy Cemetery, Moscow.
Everyone who wants can hear the power and beauty of Feodor Chaliapin's voice. During his life, he made about three hundred of recordings. "I love the gramophone records..." Feodor Ivanovich confessed, "I care about and creatively excited by the idea that the microphone symbolizes not a specific audience, but millions of listeners".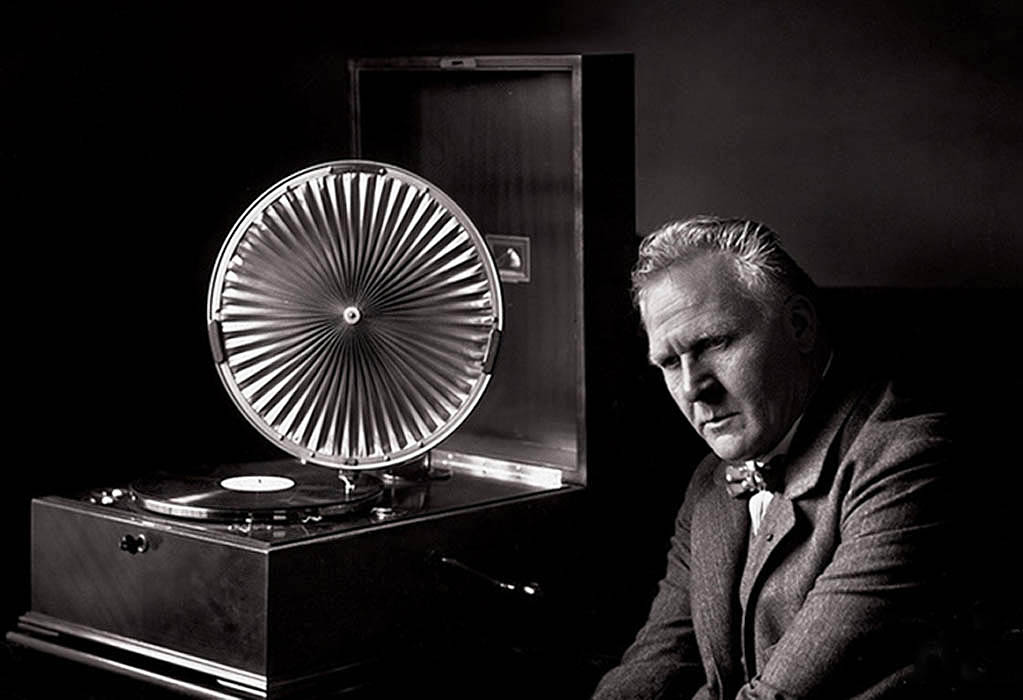 Feodor Chaliapin is listening to gramophone records, 1924.
Not long before his death, Feodor Ivanovich wrote: "I was... in bed... was reading... and recalling the past: theatres, cities, hardship and success... How many roles played! Moreover, it seems not bad. See, that is a peasant from Vyatka... ".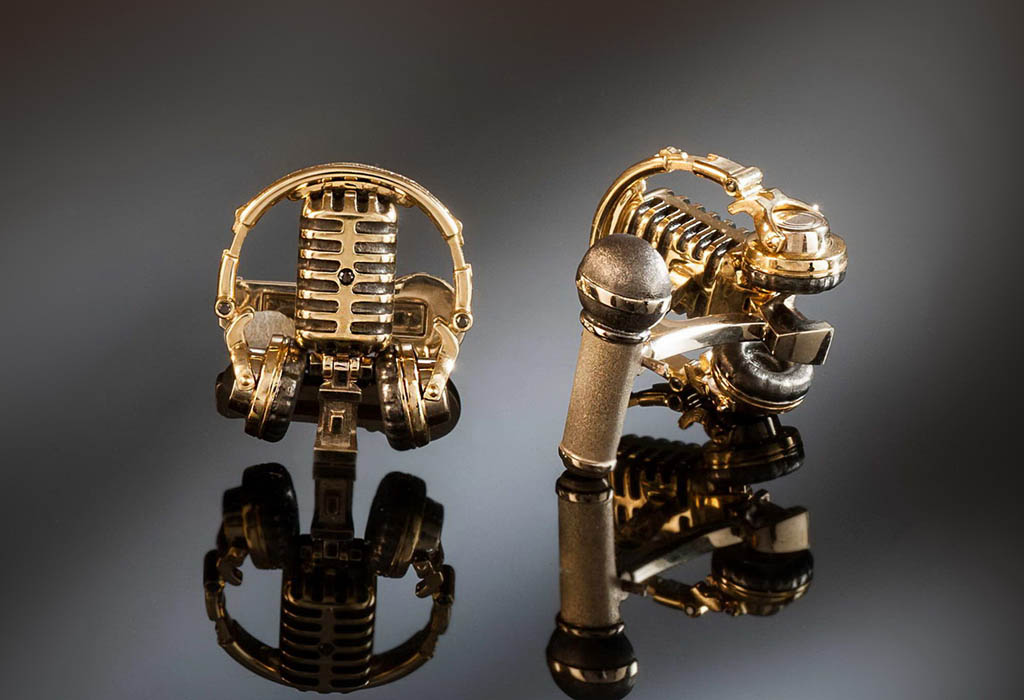 Cufflinks «Golden Voice». Lobortas Hous
Photo by Vladislav Filin
Vido: Cufflinks «Golden Voice» Criation Process