World Chess Olympiad 2018 in Batumi.
Сaissa Women's Chess Cup and FIDE Journalist Awards
September 23 – October 5
The 43rd World Chess Olympiad of 2018 was held in Georgian Batumi. Over a hundred countries and territories, FIDE members, and more than 5,000 chess players took part therein. National teams of China won the women's and men's champion titles..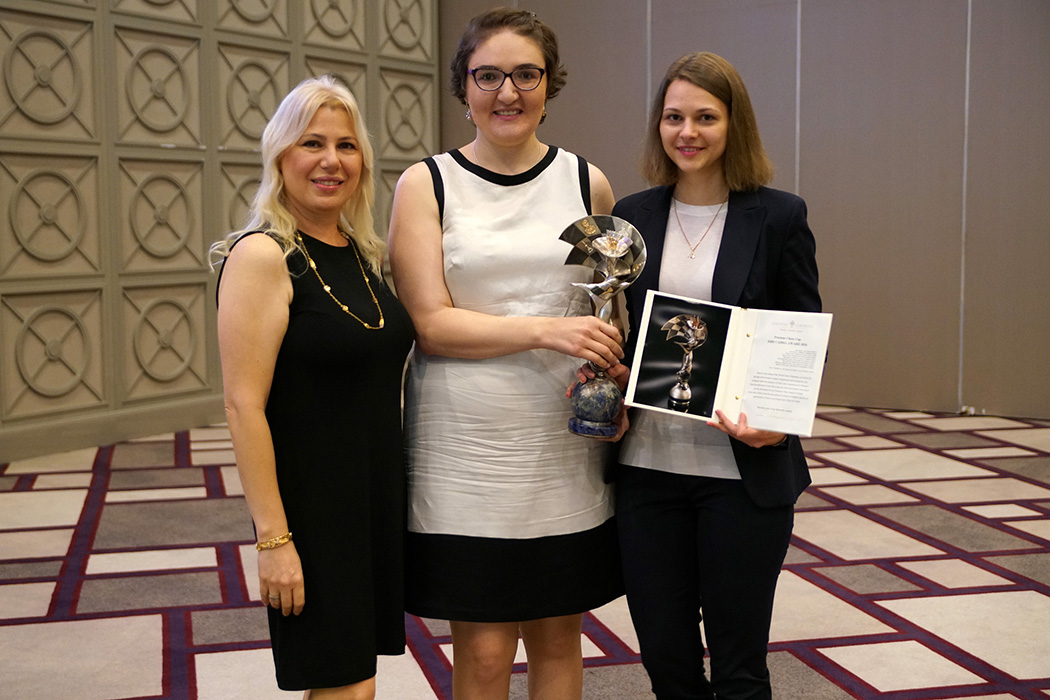 Susan Polgar, Nana Dzagnidze and Anna Muzychuk
Within the framework of the Olympiad, meetings of various FIDE profile chess commissions were held, as well as the 89th Congress of the FIDE General Assembly, under which Arkady Dvorkovich, the new President of the International Chess Federation, was elected.
On September 28, during the meeting of the Commission for Women's Chess, chaired by Susan Polgar, the many times world champion in chess, a solemn award of the Small chess seal cup of Caissa to Anna Muzychuk, the 2016 best chess player, was held, as well as the name of the next owner of Caissa, Nana Dzagnidze, the 2017 best chess player, was determined.
October 2, as part of the Gala Reception of the Organizing Committee of the Olympiad, a solemn ceremony of awarding prizes of the FIDE Journalists Awards 2017 was held. ChessBase.com, the best news website on chess, and the official website of the Turkish Chess Federation winning the nomination of the best website of all national chess federations were the owners of special prizes made by artisans of the Lobortas Classic Jewelry House to order of the Commission of Chess Journalists (CCJ). The award ceremony was held with the participation of Arkady Dvorkovich, the newly elected FIDE President, Zurab Azmaiparashvili, the long-term FIDE Vice President, Georgios Makropoulos, the President of the European Chess Union and Anastasia Karlovich, Chairman of the Commission of Chess Journalists (CCJ).
LINKS:
FIDE Batumi 2018 ChessBase Turkish Chess Federation Batumi 2018 Georgian Chess Federation Chess Daily News