Unique record of diamond falcon in Abu Dhabi, the capital city of UAE
10-13 September 2014
Under the patronage of Sheikh Hamdan bin Zayed bin Sultan Al Nahyan, the chairman of the Emirates Falconers Club, 12th International Hunting and Equestrian Exhibition ADIHEX was held. The opening ceremony of the exhibition was attended by the crown prince of Abu Dhabi Sheikh Mohammed bin Zayed Al Nahyan, sheikh Surour bin Mohammed Al Nahyan and other public figures, government officials and representatives of the diplomatic corps.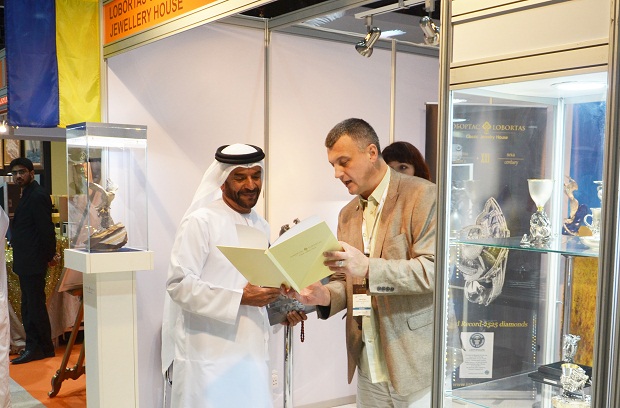 Sheikh Surur bin Mohammed Al Nahyan.
ADIHEX – the largest in the Arabian Peninsula equestrian and hunting exhibition, which has been held in Abu Dhabi since 2003 and has been devoted to the preservation of cultural heritage, traditions and the environment of the UAE and the Gulf region. The exhibition has received international recognition and has become a major venue, which attracts both the local community and genuine hunting and equestrian enthusiasts from all over the world.
Attention of exhibition visitors was deserved by an exhibit of Classic Jewelry House "Lobortas", which presented the unique ring "Tsarevna Swan" with the largest number of diamonds in the world, official world record holder. Sophisticated falconers were amazed by Diamond Falcon jewelry sculpture. It took more than 12000 diamonds to create it. It is their supersmall shine lets precisely convey the pressed by the air flow look of feathers, that reinforced and emphasized very elaborate artisans' work. Quick as a lightning, the diving shot of the bird is incomprehensibly caught, seeming that it is able to outstrip the bow arrow.
The popular event was attended by 119,000 people.