Unique cufflinks to the special order
for Prince Michael of Kent, the member of the British Royal Family
23 September 2013
In the United Kingdom of Great Britain a state reception on the occasion of the Air Squadron Club tour took place. The event was attended by the member of the Royal Family, first cousin of the Queen Elizabeth II and a grandnephew of Tsar Nicholas II, Prince Michael of Kent.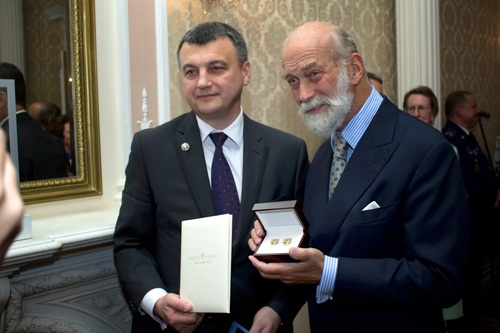 Prince Michael of Kent and Igor Lobortas
Igor Lobortas congratulated the guest and emphasized the importance of the Air Squadron Club visit for the development of international relations in the field of culture. Exclusive cufflinks in the shape of an aircraft's wing with an enameled image of the Royal Coat of Arms, created by the craftsmen of the Lobortas Classic Jewelry House, were presented to the Prince.
Within the framework of the state reception Lobortas Classic Jewelry House presented Guinness World Record, ring "Tsarevna Swan". Igor Lobortas complimented Michael of Kent with the album, dedicated to World Record.
The state reception was attended by Koji Shekimizu, the Secretary General of the International Maritime Organization, Francis Stanton, the Mayor of London Borough of Hammersmith and Fulham, Сouncillor Sam Mackover, Deputy Mayor of Royal Borough of Kensington and Chelsea, ambassadors plenipotentiary of various states to the United Kingdom of Great Britain and other high-ranking guests.