The Royal Residence of the French King Louis-Philippe, the Castle of Château d'Eu
International Arts Festival Les Fèvres 2015
October 16-18, 2015 года
In the ancient Norman city with the laconic name of Eu, in the middle ages former center of the Eu county in the Grand Duchy Normandy, in the luxurious castle Chateau d'Eu, built by Duke of Guise in the XVI century, the seventh annual international festival Les Fèvres was held. The venue itself has already set a very high bar of creativity of all participants. As it is the castle Chateau d'Eu that was particularly loved by French king Louis-Philippe and became a summer royal residence. Its walls were repeatedly attended by English Queen Victoria, and now the castle became a museum, devoted to King Louis-Philippe and his family. Within the framework of the festival in rooms with antique furniture, collections of porcelain and antique paintings the works of the Lobortas Classic Jewelry House, the special guest of Les Fèvres 2015 festival, were exhibited.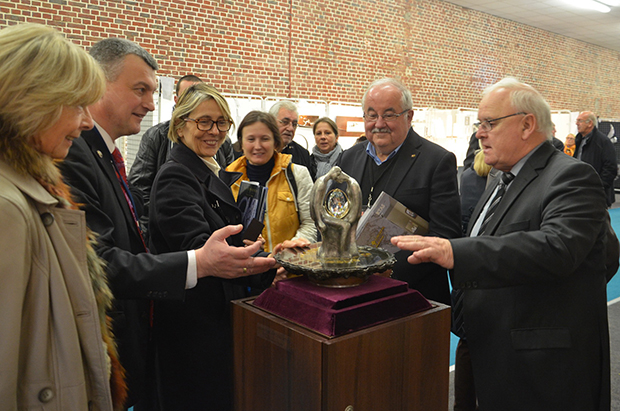 (right-to-left)
Didier Regnier (departmental counsellor of the city of Eu in the Seine-Maritime District), Yves Derrien (mayor of Eu),
Elena Nevoisa, Martine Laquieze (souspréfet of Dieppe), Igor Lobortas and Marie Christine Petit (the first assistant of the city of Eu)
Six sculptural works by the Lobortas House were surprisingly well combined in the space of the recreated royal princely palace together with the comprehensive image, the latest innovative ways of precious material and stone processing, confidently designated by the specialists as the samples of high jewelry art of the twenty-first century.
The festival was attended by the artisans from France, Belgium, England, Ukraine, Spain, Czech Republic, Slovakia and Israel. And everyone made his efforts, applied his skill and experience in the collective creation of the forged three meters height sculpture of the author David Haberman, representing a muse's constellation of five arts: literature, architecture, theater, music and painting.The sculpture, a decent sample of contemporary art, was being created before an audience at the festival, and would be installed in a public city garden.
The cufflinks "Legacy" with the image of the stylized coat of arms of the city of Eu (a bow to the legendary Richard Lionheart, Duke of Normandy, the one who built the city walls and turned the city into the fortress, an allusion to his coat of arms) were presented as a gift to the city from the Lobortas Classic Jewelry House. Lions on each cufflink, by uniting, become the Richard's first emblem. His war deeds made him the one of the most well-known and prominent figures of the middle ages - "two small lions of gold, facing inward toward each other".
Cufflinks were solemnly handed to the official persons - souspréfet of Dieppe Martine Laquieze, mayor of Eu Yves Derrien, departmental counsellor of the city of Eu in the Seine- Maritime district Didier Regnier and will be displayed in the museum of the Chateau d'Eu castle - Chateau Musee d'EU.
Links: