The Meeting of the leaders of world religions
dedicated to the 10th anniversary of the Congress
25 September 2013
Within the framework of the meeting of the world religions leaders the international scientific and practical conference, dedicated to the 10th anniversary of the convening of the first Congress of Leaders of World and Traditional Religions, on the topic "The Role of the Astana Interfaith Forum in the dialogue among civilizations".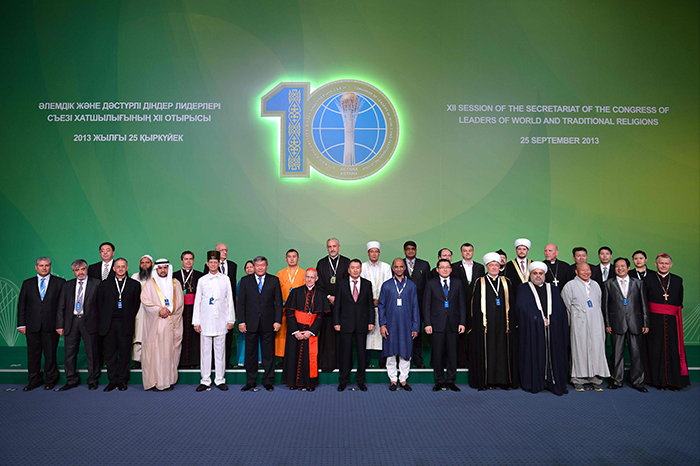 The leaders and representatives of World and Traditional religions took part in the conference. At the opening of the meeting an appeal from the President of Kazakhstan Nursultan Nazarbayev was referred to the participants of the conference. During the meeting the prospects for development of Congress of leaders of world and traditional religions were discussed, as well as topical dialog issues of civilizations.
The meeting of the leaders of world religions was attended by Zarathustra Homi, the President of the World Council for cultural heritage, Samir Somaiya, the Chairman of the Institute for the Research of Indology and Interreligious Dialogue, Sheikh ul-Islam Haji Allahshükür Hummat Pashazade, the head of the Caucasian Muslims Department, Homi Gandhi, the Head of the Federation of Zoroastrian Associations of North America, cardinal Jean Louis Tauran, the president of the Pontifical Council for Interreligious Dialogue, Yuri Novgorodov, the bishop of Evangelical Lutheran church in Kazakhstan, Emmanuel, the metropolitan of France, Sergey Matiushyn, the priest of the Russian Orthodox Church, Rawil Gaynetdin, the chairman of the Spiritual Muslims Department of the European part of Russia and the Council of Muftis of Russia, as well as Igor Lobortas, executive secretary of art history commission with Interreligious Council of Russia of the Russian Orthodox Church and the head of Lobortas Classic Jewelry House.
More: