The Jeweled Unique Double Chess Cup of the FIDE Grand Prix Series
August 24 - September 7, 2014
The final, the sixth stage of women's Grand Prix series was solemnly opened on Sunday, August 24, 2014, in the world's largest chess club, located in the emirate Sharjah, United Arab Emirates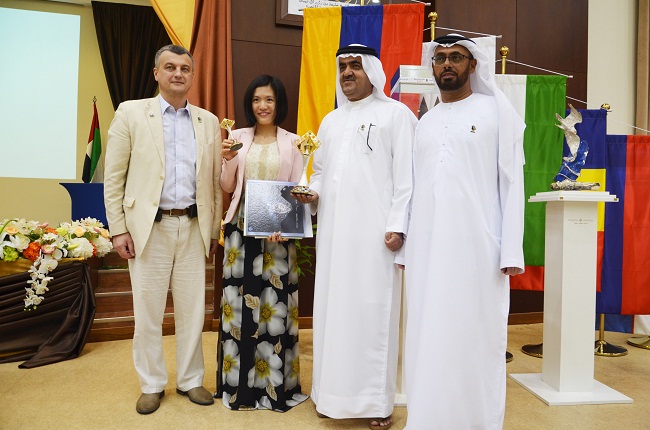 Official persons at the opening of the final stage of Grand Prix series in Sharjah.
The opening of the final stage was held by the Vice-President of the UAE Chess Federation, Sheikh Saud Abdulaziz, the President of the Club, Rajay Alsousi, as well as numerous representatives of local authorities, who showed great respect for the first international professional chess competition held in the United Arab Emirates. For this significant event, the World Chess Federation FIDE ordered the development of a unique Grand Prix Cup from the Classic Jewelry House Lobortas.
Technical and creative innovations in women's FIDE Grand Prix series trophies, developed and created by craftsmen of House "Lobortas", are that the base of small Trophy has the seal stamp with the years of win and FIDE booplate, which can be used by the winner in especially emblematic cases. Also, this seal stamp is replaceable and upgradable in case of subsequent wins. Such solution is the first of its kind used in international awards. It may receive further recognition and be put into practice by the makers of other significant awards. The precious trophy, therefore, is both a work of XXI century jewelry art and an item of historical value, representing the owner's wins in the FIDE championships.
Besides, new Trophies keep on the tendency of double Trophies, when the big Trophy together with the small Trophy at the ceremony of celebration of the winner is solemnly awarded. Moreover, the small trophy becomes the winner's property, while the big one is stored in the Federation.
Hou Yifan, the talented Chinese chess player, the world champion, has become the winner of the entire Grand Prix series for the fourth time. She got the precious trophies, Big and Small Grand Prix Cups by Lobortas House, from the hand of Sheikh Saud Abdulaziz, the vice president of the UAE Chess Federation.
Official representatives and the guests of the ceremony got the opportunity to see the masterpieces of Lobortas House with their own eyes. The exhibition brought to the visitors the world record, a unique ring Tsarevna Swan with 2525 diamonds, as well as the matchless jewelry sculpture "Falcon", in the creation of which more than 12000 diamonds were used.
Designing and creation of unique Grand Prix FIDE Cups, as well as the participation in the organization of the final leg of Grand Prix 2013-2014 by the Lobortas Classic Jewelry House was marked with special Diplomas and Notes of Thanks from Sharjah Cultural and Chess Club, the world's largest chess club.
In commemoration of the Sheikh Saud Abdulaziz's weighty contribution in the development and popularization of chess in the Arabian world and in reward for the organization of the final leg of women's FIDE Grand Prix in Sharjah the jeweled stamp sculpture "Arabian Horse" was presented as a gift to the Sheikh.
More:
Club of Culture and Chess in Sharjah, UAE
Chess, chess news and tournaments by Chessdom