The Handing over of the Bethlehem Fire Vigil Lamp to
the Roman Pontiff Benedict XVI
13-15 October 2012
Within the framework of the popular pilgrimage to the cathedral of St. Sophia, which was held from 13-15 October 2012, His Beatitude Sviatoslav (Shevchuk), the Prior of Ukrainian Greek Catholic Church presented the Holy Father Benedict XVI with a gift from Ukrainian pilgrims, who came to the shrine.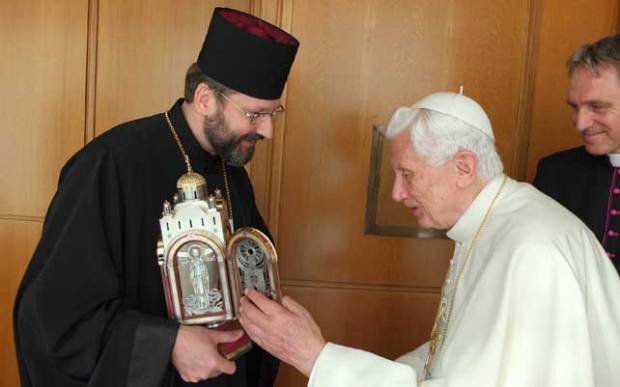 Patriarch Sviatoslav hands over the vigil lamp for the Bethlehem Fire
to the Holy Father Benedict XVI.
The Head of Ukrainian Greek Catholic Church handed over the vigil lamp in the shape of the St. Sophia Cathedral to the Pope Benedict XVI. The lamp was crafted from silver with elements of highest standard gilding to the order of Ukrainian family, who wished to present a memorable gift to oecumenical Pontiff.
"I am sincerely grateful to Ukrainians for this gift, the gift of preservation and giving of the Christian faith, as well as Patriarch Joseph's evidence of faith. This Vigil Lamp will always remind me of the Ukraine and its people, and the main thing about the Church, which becomes continuously the light of faith in the world", - the most Holy Father Benedict XVI noted.
The Vigil Lamp for Bethlehem fire is a unique engineering work, the design of the Lamp protects the fire even from the strongest gusts of wind and provides air flow for the constant combustion.
Links:
Ukrainian Greek Catholic Church