The 56th Congress of the WBC World Boxing Council
1-5 October 2018
The World Boxing Council (WBC) is one of the three main professional boxing organizations. The WBC Congress is a prestigious Boxing forum, which brings together leading athletes, coaches, referees, promoters and media representatives.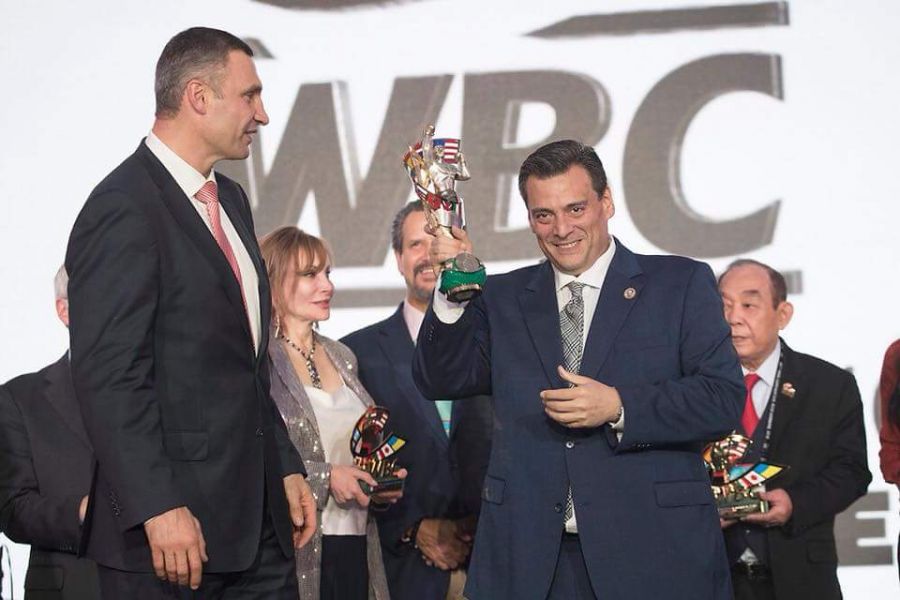 Vitali Klitschko handing the precious prize over to the WBC President Mauricio Sulaimán.
The annual Congress of the World Boxing Council (WBC) was held in Kyiv and gathered more than 600 participants from 164 countries. The WBC President Mauricio Suleiman, as well as legendary world champions in different weight categories, including Lennox Lewis, Evander Holyfield, Vladimir and Vitaly Klitschko brothers, Sergio Martinez, Roberto Duran, Julio Cesar Chavez, Ricky Hutton, Marvin Hagler and many other famous athletes attended the event. Presidents of the federations of the WBC member countries, referees, sports managers and functionaries.
October 1, at the Postal square was held solemn opening of the 56th Congress of the world Boxing Council, with the participation of the WBC President Mauricio Sulaimán and Vladimir Vitali Klitschko, Lennox Lewis and Evander Holyfield – multiple world heavyweight champions.
Moreover, in the evening, during the dinner, star guests and participants of the large-scale boxing event took part in a charity auction, where they collected more than $ 200,000. The funds will go towards the arrangement of one of the children's boxing halls. In particular, the most expensive lot of the auction was a glove signed by the legendary American boxer Muhammad Ali.
As part of the gala evening, Vitali Klitschko presented precious prizes, designed and created by artists and artisans of the Lobortas Classic Jewelry House, for a significant contribution to the development and promotion of boxing in the world. Mauricio Sulaimán was the first one to hold such award.
LINKS:
Klitschko-Brothers.com Kiev.Klichko.org WBC Klitschko-Brothers.com WBC