Jewelry triumph of "Lobortas" in the Donald Trump's Mar-a-Lago
Billionaires' Club, Florida, USA
March 17, 2016
At the invitation of the famous billionaires' club Mar-a-Lago, belonging to Donald Trump, one of the most prominent people in the US, Classic Jewelry House "Lobortas" and the Ukrainian-American magazine INLOVE presented the latest collection of jewelry artworks of the twenty-first century. The unique jewelry show is devoted to the 25th anniversary of the House, which in this year coincides with the 170th anniversary of Carl Faberge and the 175th anniversary of Alfred Cartier, who embodied the most daring modern innovative jewelry achievements in their art, which has been the standard for the entire world.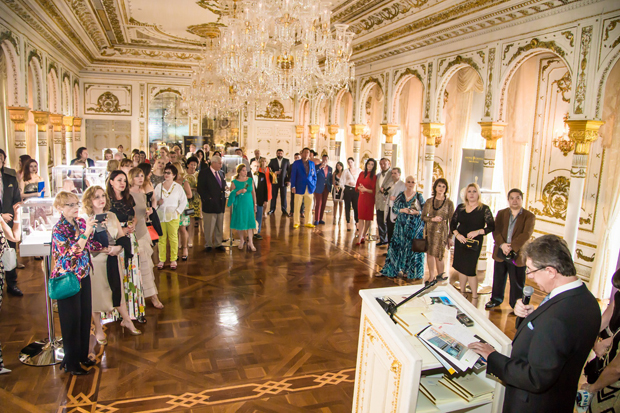 Distinguished guests and the members of the Mar-a-Lago billionaires' club
in the festive reception hall at the opening of the Jewelry Show of the Classic Jewelry House "Lobortas"
The elite public of the club saw the presentation of the innovative types of enchasing the noble metals with diamonds and precious stones, unique jewelry with modern jewelry enamels, collection of diamonds "King on the Throne", the all over the world famous ring "Tsarevna Swan", and the latest solutions in the jewelry sculptures and precious cufflinks.
Patrick Park, the director of Park Corporation, which is listed in Forbes 400 Best Big Companies, Mr. Bernd Lembcke, the Exc VP, Managing Director at Trump Florida Properties, Susan Polgar, famous world chess champion, singer In-Grid and Celine Pelofi, the winner of the Miss USA 2015, were the guests of the evening. The Excell Auto Group (Oleg Kouznetsov), elite vehicle company, presented the latest models of Rolls Royce, Lamborghini and Ferrari.
The Mar-a-Lago club was established in the middle of the twentieth century. Initially, it was the south residence of the American presidents and subsequently became the billionaires' club. The collection shown to the guests was perceived with a large number of orders and purchases. One of the club members presented the unique cufflinks with the latest invention (gyroscopic system) as a gift to its owner Donald Trump as a symbol of his achievements.