International Premiere of Guinness Record -
2525 Diamonds - "Tsarevna Swan" Ring . Milan
19 - 31 October 2011
From 19 to 31 October, in the city of famous Leonardo da Vinci, Milan, the symbol of modern world fashion, an extraordinary success was the exhibition of the Lobortas Classic Jewelry House in the emblematic premises on the corner of Montenapoleone, the street of world fashion that gives exhibitions of great designers and jewelry houses, the street of luxury, the of street Milan's artists of Bagutta.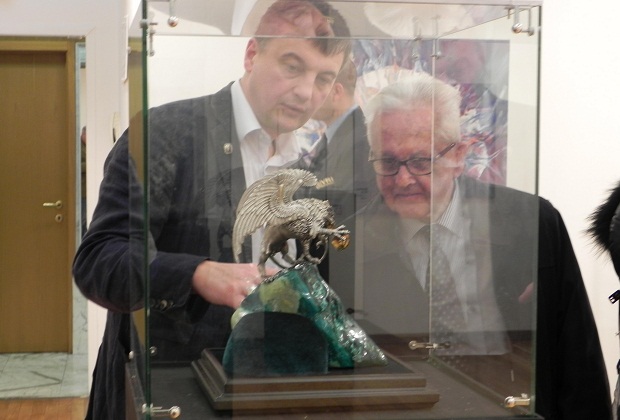 Igor Lobortas presents jewelry symphony "Gryphon" to Guido Posse - the senator of Rome, the President of the Commission of Education and Cultural Heritage.
Shortly before the exhibition, the jewelry record, the maximum number of 2525 diamonds in one ring, crafted by the artisans' hands of the House, was introduced in the Guinness Book of Records in London. The design of the ring uses the image of a bird from the fairy tale, serving as the name for the Tsarevna Swan jewel.
Collections of modern jewelry sculptures and the rings of the third millennium were demonstrated to the Milan public as well.
An important key work of the exhibition was the composition "Time of the World", which is referred by many modern experts to the 100-top work of art of the jewelry world.