Golf. European Challenge Tour. Big and Small Cups.
Special Order for the Kharkov Competition Leg
September 12-15, 2013
From 12 to 15 September 2013, in superior Golf & Spa Resort an International Tournament Kharkov Superior Cup within European Challenge Tour was held.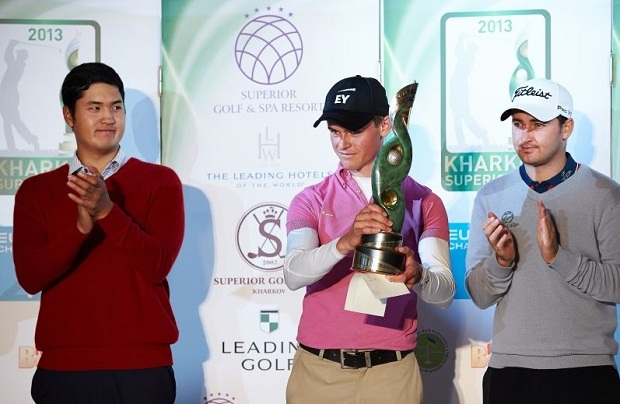 Kharkov Superior Cup winners (from left to right):Sihwan Kim, Daan Huizing, Daniel Brooks.
105 professional players from 29 countries of the world and 27 members of the Superior Golf Club took part in the tournament. Famous football player Andrei Shevchenko and famous tennis player Evgeniy Kafelnikov were among them. At the press conference on the occasion of the start of the tournament the President of Superior Golf Club Yuri Sapronov noted that 16 golfers from European Challenge's Top 20 came to Kharkov.
A prize fund of the Kharkov Superior Cup amounted to 200 thousand euros. A prize for the tournament's winner has become a 32,000 euros check and a cup, created for the tournament by craftsmen of the Lobortas Classic Jewelry House. "This is the most glamorous cup of all that had been previously on our tournaments", - Jose Maria Zamora, the member of the board of directors of the European Challenge Tour, noted.
The winner of Kharkov Superior Cup 2013 has become the Dutchman Daan Huizing. At two last holes he beat the two-day competition leader Kim Sihwan by a two shot margin resulting 15. The third place got Englishman Daniel Brooks.
Big and Small cups were manufactured for the Kharkov Superior Cup tournament. The Big cup will be stored in the Superior Golf Club museum and it will display the names of all winners of the tournament, which will be held annually. The Small cup was solemnly awarded to Daan Huizing and will be created for each subsequent winner of the Kharkov Superior Cup.
Links: