Donald Trump – the first holder of the exclusive gyroscope cufflinks,
Mar-a-Lago Club, Florida, USA
March 20, 2016
The world's first cufflinks with gyroscope now belong to the politician, multibillionaire, businessman and philanthropist, candidate for the US Presidency Donald Trump. The cufflinks were awarded during the meeting of Donald Trump with Igor Lobortas, founder and owner of the Classic Jewelry House "Lobortas", at the Mar-a-Lago club in Palm Beach, Florida.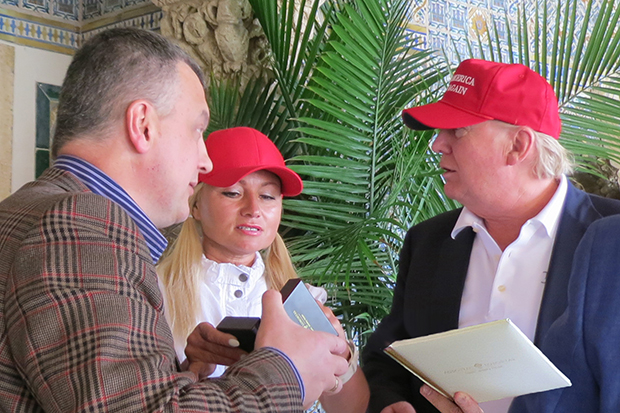 Donald Trump, Angelika Kuznetsova, Igor Lobortas.
The cufflinks "Trump" – an innovative and absolutely individual piece of jewelry. In the central part of the work there is a Donald Trump's portrait, crafted in the finift technique. Сufflink bars are the stylistic embodiment of the Trump Tower skyscraper in New York, as well as a toggle shaped as a part of the golf club with the ball and a fragment of the golf course. Gyroscopic system was applied to the cufflinks for the first time. The central part of the jewelry always remains in the same position – revolutionary solution in the world of male accessories.