Diamond World Record, Tsarevna Swan Ring at JCK,
the Main Diamond Exhibition of North America
1-4 June 2012
The Tsarevna Swan ring was presented at the world's most prestigious diamond jewelry exhibition – JCK Las Vegas, USA. The JCK Las Vegas show is an international jewelry and timepiece exhibition, annually held since 1992.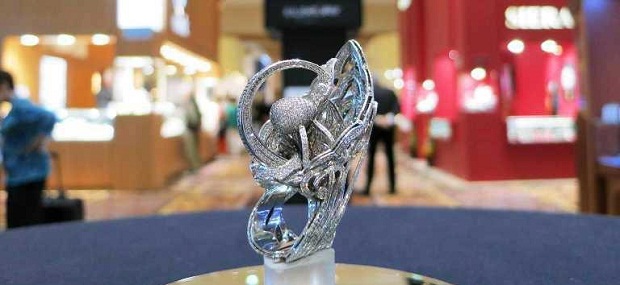 Today, the JCK Las Vegas exhibition acts as the most prestigious event in the world of jewelry industry as the main diamond exhibition in the space of America.
The JCK Las Vegas Show 2012 has become a place, where more than 2500 companies from all over the world managed to meet with each other, competing in a variety of polished diamonds and precious stones in exclusive jewelry products.
Tsarevna Swan diamond ring, represented in the pavilion of Shrenuj, the world's second diamond mining and trade company, became one of the most attractive items of the Las Vegas exhibition.