Danmark. Residence of Royal Club "Sølyst House"
The Masterpieces of the XXI Century Jewelry Art
6 September 2013
September 5th, 2013 on the occasion of the 1025th anniversary of Baptism of Rus', the embassy of Ukraine to the Kingdom of Denmark gave a solemn reception, which took place in premises of Sølyst House, the residence of Royal shooting society, Klampenborg, Copenhagen.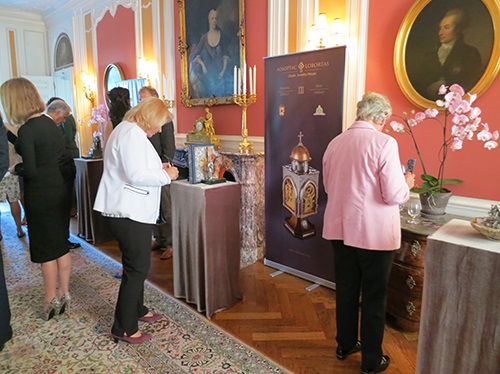 The history of Sølyst House is dated to 1507, when on the place, where today the building of the Royal Shooting Club is located, John, the King of Denmark, built the residence, where lived his wife Christine of Saxony and their four children, one of which, Christian II, succeeded to the Danish crown. In 1666 was built new Royal palace, and in 1724 on the place of former Royal residence the merchant Julius Fröichen constructed a building, extant until today and till the middle of XX century owned by Danish political figures and representatives of Royal Family. In 1949 Sølyst House was bought out by Royal shooting society, whose members are the representatives of the Royal Family of the Kingdom of Denmark, and the chairman of the society is Queen of Denmark Margrethe II, the supreme commander of the armed forces of Denmark.
It is interesting that, next to the "Sølyst House" is located villa Hvidøre, which in 1906 belonged to Danish Royal Family. It is the villa that was used by King Christian IX's daughters as a summer residence during their visits to Denmark. One of the daughters was the Empress Maria Feodorovna, the wife of the Emperor Alexander III, in which to his order was created the First Hen Egg by Faberge's craftsmen. It is the Faberge's Easter Egg that reminded the empress of her favorite object of Danish Royal Treasury - the egg, in which a hen was hidden, by opening of which a crown could be found, and inside of the crown - a ring. Having obtained the present, the empress asked his husband to present her Easter eggs every year, since then the giving of the Easter Eggs has become a tradition of the Russian Imperial Court.
The Lobortas Classic Jewelry House took part in the gala night at the Sølyst House to represent the contemporary jewelry art of Ukraine. Within the framework of the exhibition the House presented: World record of Guinness Book of Records – diamond ring "Tsarevna Swan", as well as sculpture compositions with spiritual motif and hunting themes.
Gala night was attended by ambassadors of various states to the Kingdom of Denmark, by representatives of the diplomatic corps, members of Royal shooting society and other guests of high standing, the members of the government of the Kingdom of Denmark.
More:
Embassy of Ukraine in the Kingdom of Denmark