85 years of FIDE. The 80th Congress
The Nona Gaprindashvili Trophy is Restored!
October 15, 2009
At the official invitation of the FIDE International Chess Federation, the delegation of the Lobortas Classic Jewelry House, took part in the solemn meeting on 80th commemorative FIDE chess congress, which took place in Kallithea, Greece.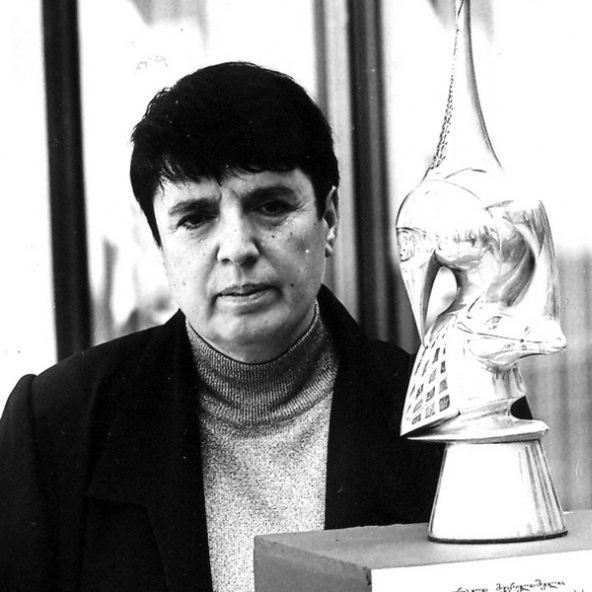 the 16 times winner of world chess competitions, Nona Gaprindashvili
Special thanks were expressed to the Lobortas Classic Jewelry House for renovation of the Olympic FIDE cup, named after Nona Gaprindashvili, damaged during transportation at the Borispol airport after World Chess Olympiad 2008 in Dresden. The destruction was so severe (the metal was torn, some decoration fragments of the cup were broken) that after the refusal of a number of well-known restorers only Lobortas House assumed the responsibility for restoration of trophies. And the restoration of cup with three kilograms of weight of silver and gold was carried out at the House's expense at that, as a donation in support of international chess competitions.
Restoration works lasted about four months, and the precious Olympic chess trophy was restored to the smallest detail and gained a second life.
The Lobortas Classic Jewelry House has received letters of thanks from the International Chess Federation (FIDE), Georgian Chess Federation and Nona Gaprindashvili; honorable deeds from the Ministry of Sports of Ukraine, Ukrainian Chess Federation for restoration of the FIDE cup named after Nona Gaprindashvili and the sponsorship in the field of sports.
October 16, during the working meeting of the 80th FIDE Congress a proposal by the head of the women's FIDE commission, the world champion Alexandra Kosteniuk to hold the annual international Caissa chess tournaments. Design and creation of the main trophy of the Caissa tournament were suggested to the Lobortas Classic Jewelry House.